If you're struggling to decide between Pad Thai vs. Drunken Noodles, you've come to the right place. These two classic Thai dishes are both noodle-based and very tasty. However, they have enough unique ingredients that differentiate these dishes in both taste profile and preparation. As with most of the world foods available to us now, both of these rice noodle dishes came to the U.S. with immigrants from Asian countries. They are now staples in Thai restaurants. Variations of these dishes are served in all kinds of fusion cooking establishments, and they're not too hard to make on your own time.
In this post, we'll take a look at how these dishes are made. We'll talk about some of their history and how the modern dish should taste. By the end of reading this, you'll have a better understanding of the difference between the two dishes. You'll be more prepared to order on your next trip to a Thai restaurant, or maybe a visit to Thailand. Perhaps you'll even feel inspired to take a stab at the recipe yourself. Keep on reading and happy cooking!
Pad Thai vs. Drunken Noodles: How Are They Different?
There are a couple of major differences between Pad Thai vs. Drunken noodles. While they are both prepared with rice noodles, the noodles used in the Drunken Noodles dish are wider than the ones used in a classic Pad Thai dish. They also have quite a different sauce. Pad Thai is generally sweeter, with nuts and other garnishings thrown on top that add some savory to the sweetness. It is palatable and easy to eat.
Drunken Noodles, on the other hand, can be quite spicy, depending on how they're prepared. This dish is savory and hot, with stir fry ingredients added while the noodles are cooking. Let's look at more of the specific differences between these two classic Thai noodle dishes.
What is Pad Thai?
Pad Thai is a sweet noodle dish that can be ordered at Thai restaurants around the world. It is made from flat rice noodles and the flavor is made from a combination of fish sauce, cane sugar, and tamarind paste. It is typically tossed in a stir fry along with a protein of some kind, green onions, chili flakes, and garlic sauce. We'll get more into the recipe a little further down, but let's look at the origins of Pad Thai.
History and Origin
Pad Thai actually has quite a unique and interesting history. According to Mental Floss, the dish wasn't even part of Thailand's cuisine until the 1930s when it was introduced as political propaganda. That's right! This dish was political! The rice noodles and sauces used in Pad Thai are actually traceable to areas of China, where people had been making similar dishes for some 4,000 years before. The dish was introduced to Thailand under the order of Thai Prime Minister Plaek Phibunsongkhram.
Phibunsongkhram's goal was to unite the Thai people under a stronger national identity, and part of this was having a uniform recipe and recognizable dish. The ingredients of the dish were sourced from areas of India and South America, with Tamarind coming from Africa and the chili peppers hailing from parts of Central America. For a long time in Thailand, the noodle dish was still associated with its Chinese roots, but the dish continued to be a staple through the World War, where rice noodles were an alternative to starch, and into the modern day.
In fact, Pad Thai was a big part of a tourism marketing push made by Thailand in the early 2000s. They wanted to open up ThaI restaurants all around the world so that people would want to visit their country. Since 2001, thousands of Thai restaurants have opened up with Pad Thai as a staple dish on the menu. Wherever the dish originated, it is now firmly tied to Thai cuisine.
How is Pad Thai Made?
The rice noodles for Pad Thai are made by grinding down rice into flour and then forming it into a paste (like a dough) that can be rolled into sheets for cutting. There are other ways of processing rice noodles and machines that will make the particular noodle sizes for different rice noodle dishes. For at-home preparation, you can easily buy packages of Pad Thai rice noodles at the grocery store. These will be prepared like other pasta, but because they are rice-based, they will cook pretty fast. So, it's best to pull them from the pot while they're still a bit al dente (slightly firm) so they don't overcook and get sticky.
The sauce is prepared with fish sauce, tamarind, brown sugar (or palm sugar), garlic chili sauce, and water. In a separate pan, add eggs to oil and cook them until they look kind of like scrambled eggs. Next, add the cooked noodles and the combined Pad Thai sauce. This will be stir-fried along with protein (tofu or other meats or seafood) until everything reaches a beautiful golden brown. Add in scallions, peanuts, and bean sprouts, and dig into some delicious homemade Pad Thai (via Bon Appétit)!
Pad Thai vs Drunken Noodles Nutritional Value: Calories For Each Dish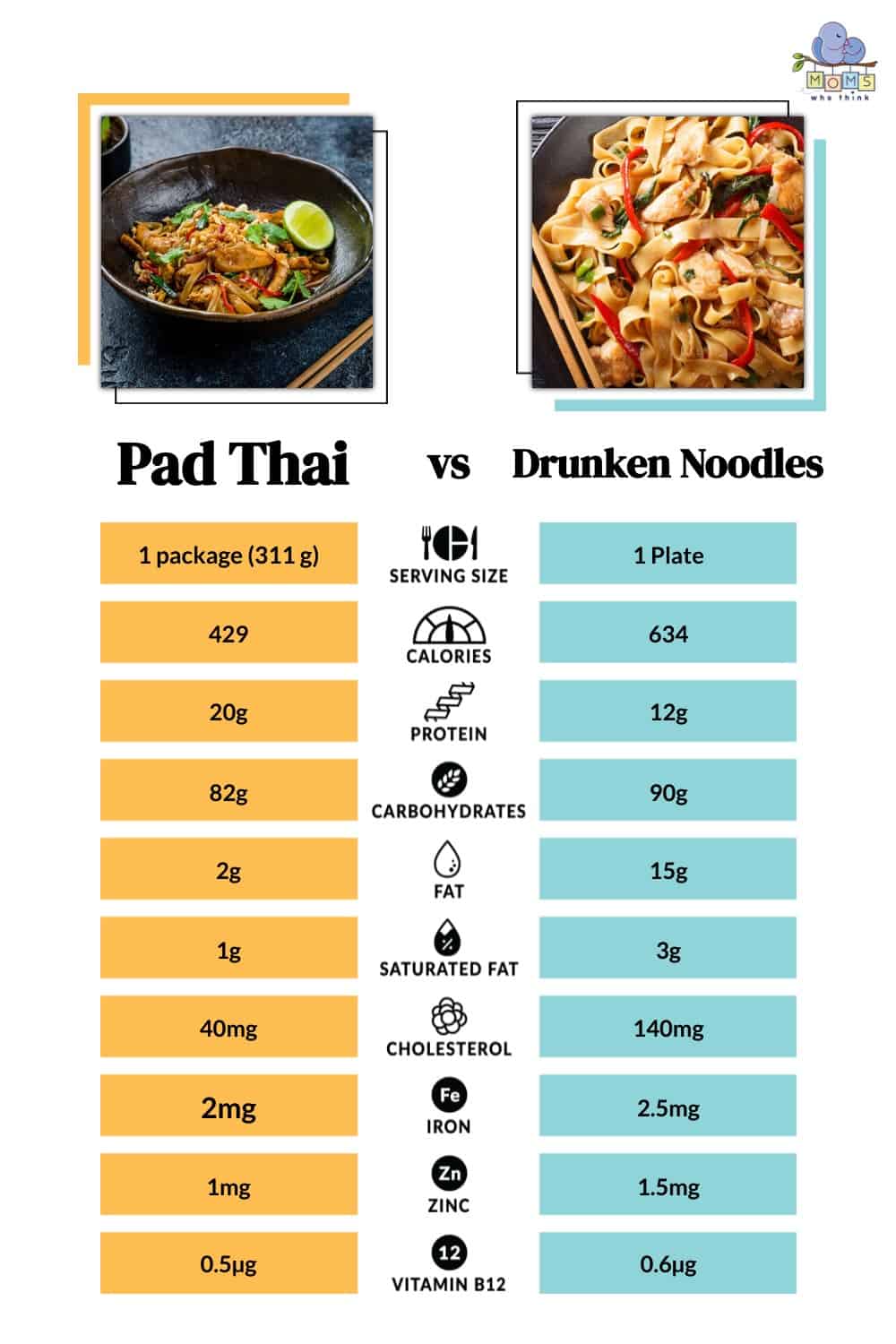 The nutritional value of Pad Thai will change depending on how much of each ingredient is added to the rice noodles, what protein you cook with, and what garnishings are added to the final dish. However, as a baseline, Healthline breaks down a pre-packaged Pad Thai dish with chicken as follows. There are about 429 calories, 4 grams of fiber, 26 grams of sugar, 20 grams of protein, 2.45 grams of total fat, and 82 grams of carbohydrates. There are 659 milligrams of sodium, 0.995 grams of saturated fat, and 40.4 milligrams of cholesterol. A serving size of Pad Thai has calcium and iron that can be very good for you. All the added ingredients like eggs, peanuts, chives, and bean sprouts are considered healthy in proper serving sizes. There are definitely ways to cut down on the sugar and sodium quantities in homemade Pad Thai vs. storebought Pad Thai.
As with other noodle dishes, the nutritional value of Drunken Noodles is very much based on how it is made and what garnishes are added to the final meal. In a single serving size (1 plate), of Drunken Noodles there are around 634 calories, 14.9 grams of fat, 12 grams of protein, and 90 grams of carbohydrates (via My Fitness Pal). Like Pad Thai, Drunken Noodles can have a high sodium content from the sauces used to make up their flavor profile. There are ways to decrease the sodium and sugar content and increase the protein content, if that's what you desire.
Popular Variations
Pad Thai dishes include all kinds of fun variations on garnishings and protein options. Some dishes use tofu or chicken. Shrimp Pad Thai and vegetable Pad Thai are also quite popular. Its preparation was widely impacted by the region of Thailand in which it was prepared as a street food. Certain variations included coconut milk, creating a curry-like base. There are simply so many ways to try out Pad Thai.
What Are Drunken Noodles?
Drunken noodles are a savory Thai dish that includes stir-fried veggies and darker meats like beef. It is made with wide rice noodles and the sauce contains oyster sauce, fish sauce, and soy sauce. Like Pad Thai, this dish is tossed with veggies and served hot, but it has a very different flavor profile.
History and Origin
Also known as Pad kee mao, Drunken Noodles get their colloquial name from a tall tale about a drunken man trying to quench his thirst with these noodles. The moral of the story is that they are too spicy to provide much relief! They are a popular dish all over Thailand and a classic in Thai restaurants all over.
How Are Drunken Noodles Made?
Drunken Noodles also use rice noodles as their base, but these ones are wider than Pad Thai's and are cooked to come out chewy and spicy. To prepare the dish at home, get flat, extra-wide rice noodles and cook them in boiling water until they're chewy, not gummy! In a separate bowl, combine soy sauce, oyster sauce, and fish sauce. Other recipe variations add in Sriracha, sugar, garlic, and Thai basil leaves (via The Food Network).
Next, in a pan, scramble eggs and serrano chilis or birds eye chilis (this is what will give your dish its spicy kick) and you can add other things like onion or shrimp/beef to the pan at this point in the process. Once that's well combined, add in your noodles and sauce. Mix until everything takes on a golden color and smells like it's done. Add garnishes like garlic, chili flakes, baby corn, and even kaffir lime leaves if you can find them. And just like that, you've made delicious Drunken Noodles!
Popular Uses
There are variations of the Drunken Noodle Dish that use different types of proteins and different levels of spice. A common ingredient is squid, although other types of seafood are also a popular pairing. It can be made with instant noodles or other kinds of rice noodles, although you do lose some of the classic taste with the wide rice noodles for texture (via Taste Atlas).
Possible Alternatives
Rice noodles in both Pad Thai and Drunken Noodles can be substituted for other kinds of pasta. Try whole grain or egg noodles instead. Meat and seafood protein can be switched to tofu or seitan. And other ingredients can be lessened for their low-fat or low-sodium options if that is of any concern.
A Quick Comparison of Pad Thai vs. Drunken Noodles
Print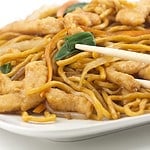 Simple Stir-Fried Chicken and Noodles Recipe
---
Author:

Yield:

6

servings

1

x
1/2

cup

of chicken broth

1/3

cup

of reduced sodium soy sauce

1/4

cup

of white wine or additional chicken broth

2

Garlic cloves, minced

1/4 Teaspoon

ground ginger

1/4 teaspoon

of pepper

1/8 Teaspoon

of crushed red pepper flakes

3/4

pound

of boneless skinless chicken breasts, cut into strips

4 Teaspoons

canola oil, divided

2

cups

of broccoli florets

2

cups

of julienned carrots

2

cups

of shredded Chinese or Napa cabbage

1

cup

of fresh or frozen snow peas, cut into 1 inch pieces

6

ounces

of spaghetti, broken

2 Teaspoons

of cornstarch
---
Instructions
In a bowl, combine the first seven Ingredients; set aside ¾ cup.
Place chicken in a large resealable plastic bag; add remaining marinade.
Seal bag and turn to coat; refrigerate for 30 minutes.
Drain and discard marinade. In a large nonstick skillet or wok, stir fry chicken in 2 teaspoons oil for 3 to 5 minutes or until no longer pink. Remove and keep warm.
Stir fry broccoli and carrots in remaining oil for 6 minutes.
Add cabbage and peas; stir fry 3 minutes longer or until vegetables are crisp tender.
Meanwhile, cook pasta according to package directions.
Combine cornstarch and reserved marinade until smooth; add to vegetable mixture.
Bring to a boil; cook and stir for 2 minutes or until thickened.
Drain pasta; stir into vegetable mixture.
Return chicken to the pan; cook and stir until heated through.
Nutrition
Serving Size:

1.3 cups

Calories:

258

Sodium:

672mg

Fat:

5g

Saturated Fat:

1g

Carbohydrates:

32g

Fiber:

4g

Protein:

20g

Cholesterol:

33mg
A small, but notable, difference between these two dishes is the size of their noodles. The noodles used in Drunken Noodles are wider than the ones used in Pad Thai. Drunken Noodles tend to be on the spicy side, while Pad Thai is sweeter. This difference in taste is likely going to be the deciding factor for many, but it's also important to keep the nutrition of both of these dishes in mind. Drunken Noodles are higher in calories and fat compared to Pad Thai, making them a poorer choice for someone on a diet. Both of these dishes traditionally have a high level of sodium; if you can't consume a lot of sodium each day, it's wise to either avoid these dishes or make low-sodium versions of them yourself.
The image featured at the top of this post is ©Nungning20/Shutterstock.com.