The mere thought or mention of egg noodles and pasta makes most of us drool. Easy, scrumptious, and nutritious, these two flour-based recipes are among the top picks for food connoisseurs and moms needing quick food ideas for dinner or lunch. But interestingly, some people can't tell them apart.
Let's dive into the differences that separate egg noodles vs. pasta and explore some substitutes for each food.
Egg Noodles vs Pasta: What is the Difference?
The primary difference between egg noodles and pasta is that egg noodles are made with wheat flour and eggs while pasta is made from a mixture of dough, water, and sometimes eggs, formed into different shapes. This higher proportion of eggs to flour gives egg noodles a rich flavor and yellow color. Egg noodles are more popular in Eastern European and Asian cuisine whereas pasta typically originated in Italy.
Let's dive into five of the main differences that differentiate egg noodles and pasta, including their unique shapes and nutritional value:
Ingredients: You must have eggs and unleavened dough to prepare egg noodles. But with pasta, you only need wheat flour and water; eggs are optional.
Texture: When well-cooked, egg noodles tend to be tender with a firm, springy texture, while pasta is less soft and slightly chewy.
Shape: Egg noodles are broad and flat, which is the typical noodle shape. Pasta is quite the reverse—thin, long, with a cylindrical shape.
Taste: Egg noodles have a richer, more savory flavor than pasta because they have eggs.
Nutritional value: Pasta and egg noodles have the same nutritional content, but egg noodles tend to have higher fat content due to their inclusion of eggs.
Egg Noodles vs Pasta Nutrition Comparison: Calories, Carbs, Protein, and More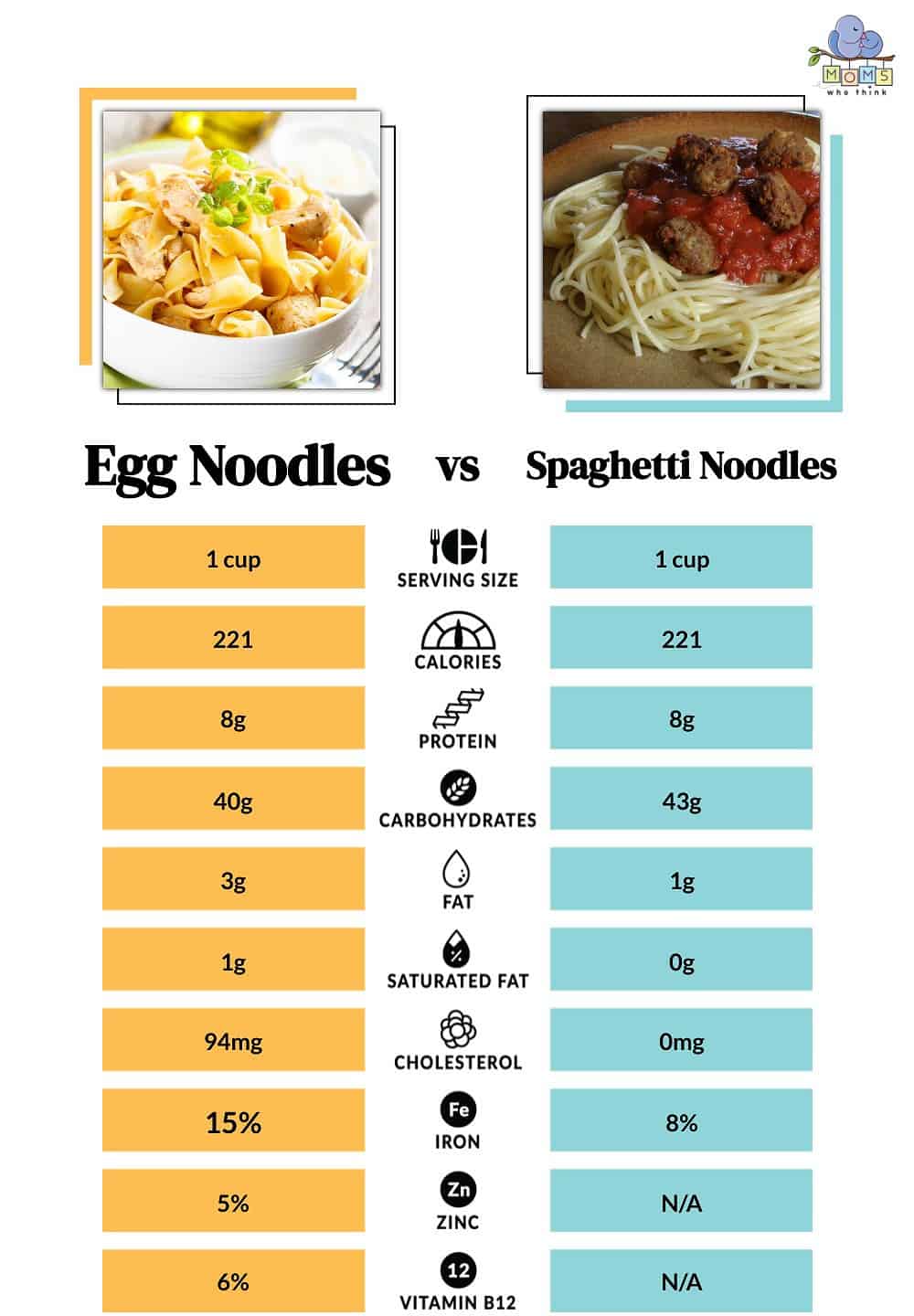 The table above compares egg noodles with spaghetti noodles. As you can see, calories per serving (one cup) are very similar. The biggest difference in the dishes is that egg noodles contain moderately more fat as their egg content is higher. However, fat calories still account for little more than 10% of total calories in egg noodles with the majority coming from carbohydrates. Cholesterol is also higher in egg noodles, which once again is from the addition of eggs.
Can You Substitute Egg Noodles for Pasta?
You can easily swap egg noodles with pasta since they have a common ingredient – wheat flour – and provide similar nutrients. Moreover, these dishes require about 10 minutes to cook and are pretty versatile, making them ideal for serving a few people or a crowd.
But, of course, substituting egg noodles for regular pasta requires you to get the recipe right. Make sure to put aside plenty of pasta cooking water and generously pour it into the pot to attain the right sauce consistency.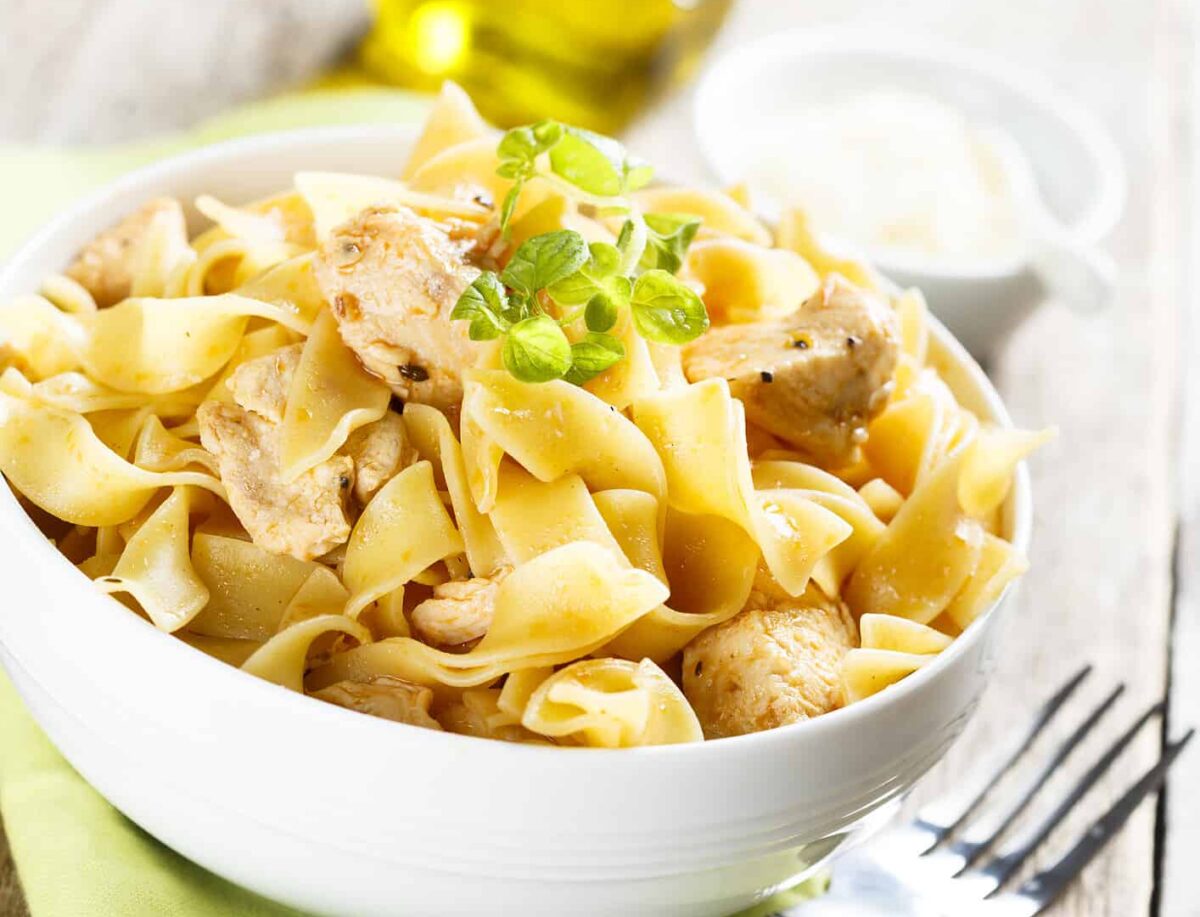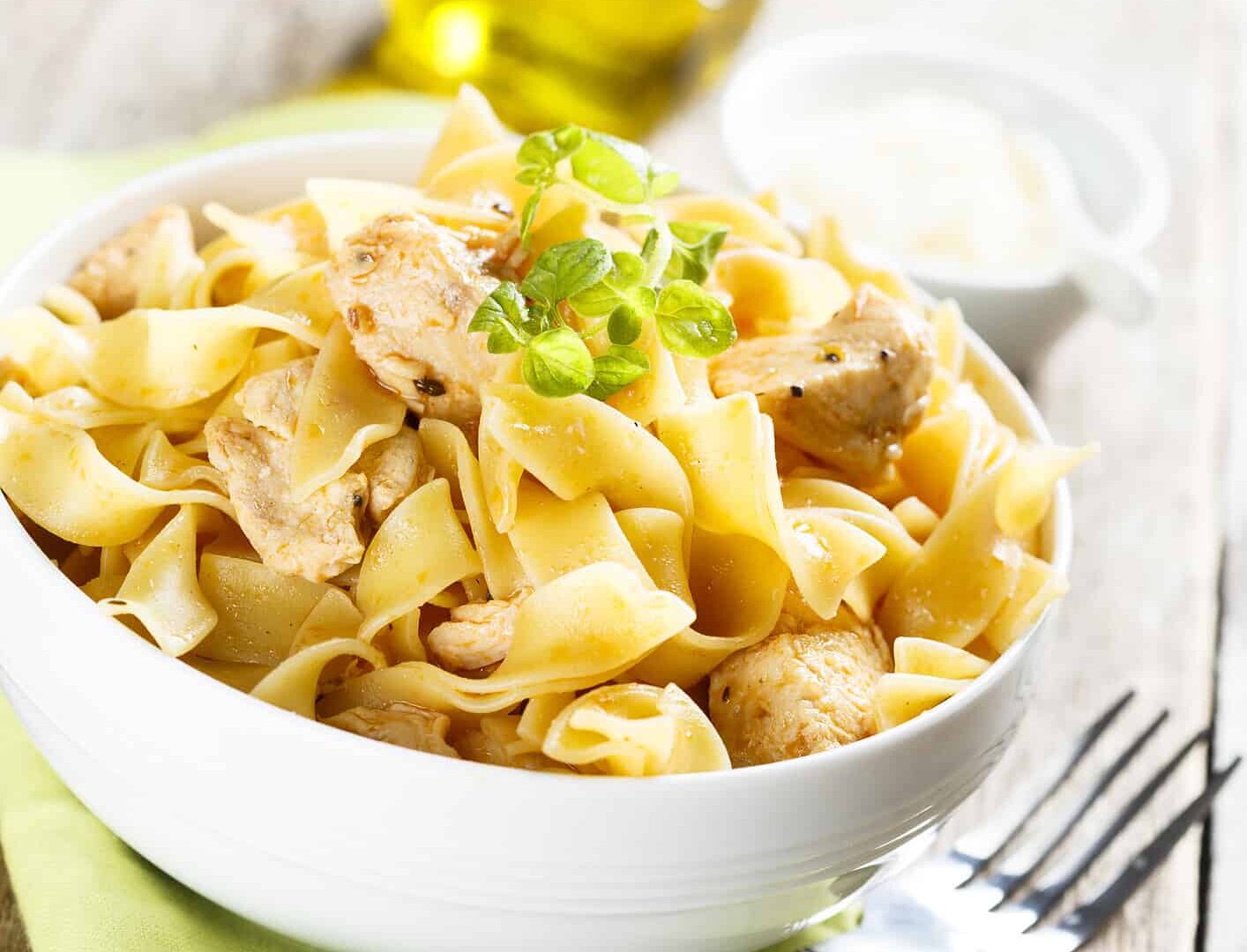 Best Substitutes for Egg Noodles
If you're a sucker for egg noodles but can't make them because you lack a crucial ingredient, consider these delectable substitutes.
Carrot Noodles
A bowl of carrot noodles is arguably the healthiest alternative to egg noodles. Most people make these noodles by transforming fresh carrots into long, curly strands. But cutting them into small button shapes is also an option. Once cooked, they're rich in vitamins, beta-carotene, carbs, and fiber.
Spaghetti
Here's an incredibly versatile dish you can make instead of egg noodles. With a tubular shape, spaghetti is cheap and easy to make, not to mention nourishing. Furthermore, you have thousands of recipes to explore, including some with meat sauce. Since this egg noodle alternative cooks in only 10-12 minutes, it's perfect for those busy nights when you lack much time to spend in the kitchen.
Linguine
Some people confuse linguine with spaghetti because they're both long and thin. However, linguine is thicker and flat, increasing its capability to hold onto sauces and provide more satiating eating experiences. Did you also know this Italian dish was first prepared in the 1700s and paired with potatoes, green beans, and pesto?
Fettuccine
A popular member of Tuscan and Roman cuisine, fettuccine is another ideal replacement for egg noodles. Typically, it resembles long, flat ribbons wider than spaghetti and linguine. Most people serve it with Alfredo sauce, but you shouldn't hesitate to be a little creative when looking for the perfect pairing. Fettuccine's other matches include sautéed mushrooms, chicken strips, and ground beef. Add seasonings like cream cheese, lemon zest, black pepper, and fresh herbs to elevate the pasta's taste.
Kelp Noodles
Made from seaweed, kelp noodles are a great fat and gluten-free egg noodle substitute. Although many believe these noodles have a fish flavor, they actually lack a distinct taste. Uncooked, they come with a crunchy texture that becomes chewy once you put them into hot water. If you crave a salad, eat kelp noodles raw. Still, their taste when cooked and flavored with spices will blow you away.
Soba Noodles
Gluten-free, and chock-full of minerals, proteins, and vitamins, soba noodles are a Japanese dish made from buckwheat flour. This ingredient makes them darker than classic noodles, though they look like spaghetti. Because they have a nutty, earthy taste, they go well with salads. But each bite will be just as delicious when you serve them with steamed broccoli, hard-boiled eggs, radishes, tempuras, and chicken.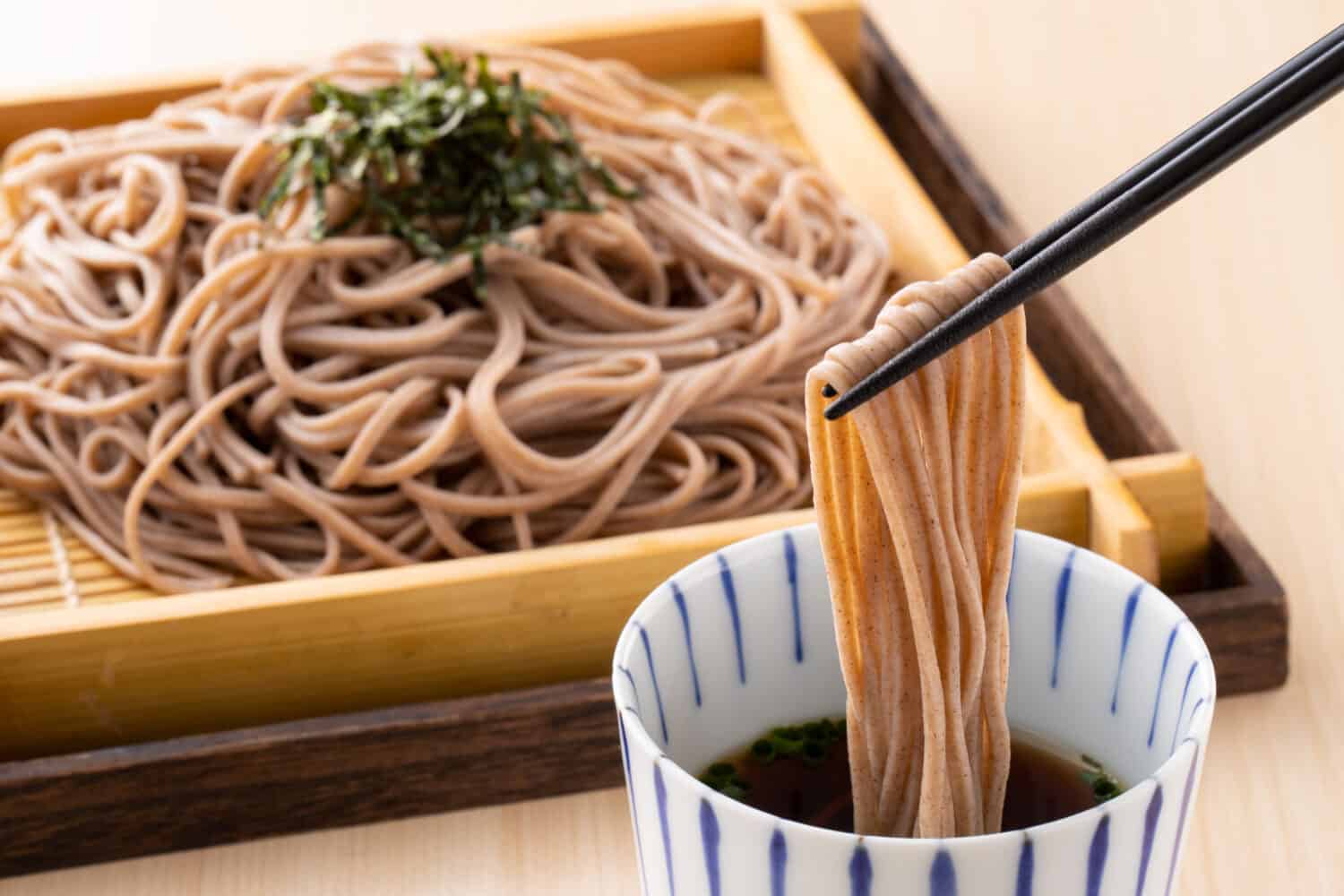 What are Substitutes for Pasta?
Whip up any of the following dishes when you fancy a healthy, tasty pasta alternative.
Squash Noodles
Squash noodles are a simple recipe that only requires spaghetti squash, extra virgin olive oil, and a pinch of salt to taste. You can add seasonings like pepper, but that's entirely up to you. Nevertheless, these noodles have a delightfully earthy flavor and are unsurprisingly satisfying.
Quinoa Pasta
Supposing you're hunting for a gluten-free, protein-rich substitute for pasta, you can't go wrong with quinoa pasta, which cooks in only 15 minutes. It has an unrelenting nutty flavor that some people like. Even so, if you're not into the taste, subdue it with cheese and tomato sauce.
Lentil Pasta
Lentil pasta ranks among the best pasta alternatives because it's rich in proteins and fiber, rendering it wholesome. Like some of our recommendations above, it's effortless to make and cooks in fewer than 10 minutes. Adding to its convenience, this dish requires easy-to-find ingredients, including eggs, gluten-free lentil flour, and olive oil.
Spiralized Vegetables
Spiralized vegetables are a favorite for many foodies looking for healthy pasta substitutes. Ideally, they have minimal calories, fat, sugar, and carbs and are still super delicious. On top of that, you have a large pool of vegetables at your disposal when looking to make this treat, such as broccoli, beets, zucchini, sweet potatoes, and carrots.
Savor Egg Noodles and Pasta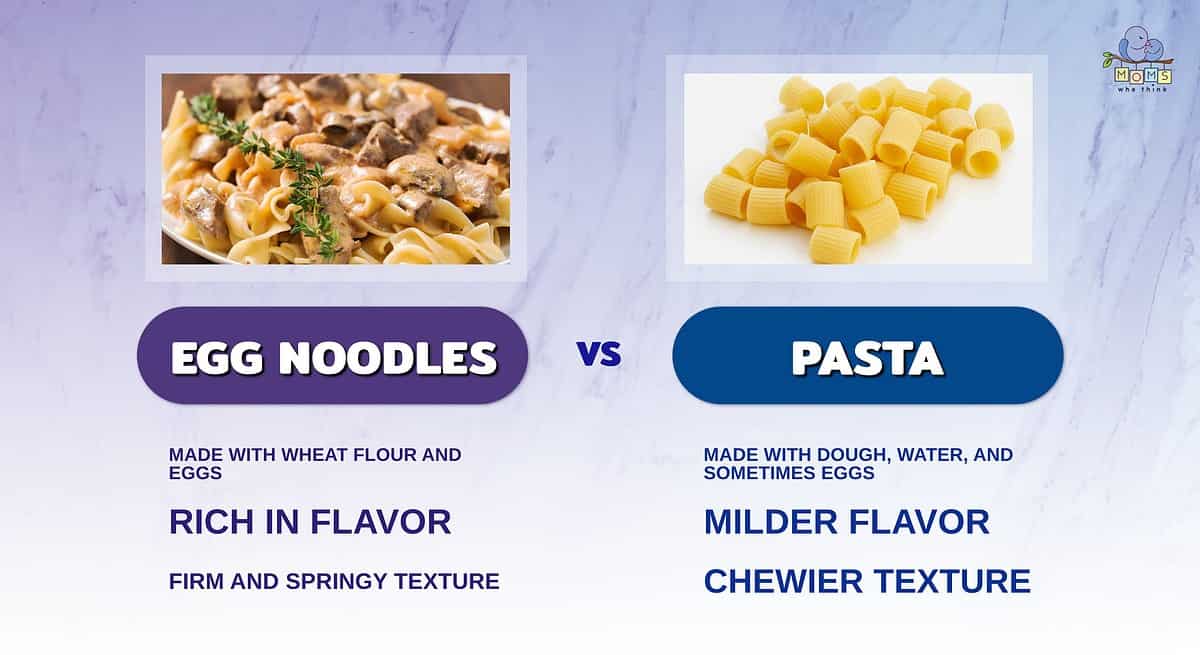 Egg noodles are always made with wheat flour and eggs, while pasta is made with dough, water, and occasionally eggs. This difference in the amount of eggs used is what gives egg noodles their distinct flavor and texture.
Due to the use of extra eggs, egg noodles are richer in flavor than regular pasta.
When cooked, egg noodles have a firm and springy texture. This contrasts the chewy texture of regular cooked pasta.
Now, you know the difference between egg noodles and pasta. But it doesn't make picking one over the other a piece of cake, right? Enjoy these two recipes at your convenience. The undeniable truth is, they're both heavenly; whether you serve them with appetizing side dishes like stuffed mushrooms or comfort fare such as beefy baked meatballs.
Additionally, pasta and egg noodles come with many other perks. For starters, making them is a breeze, even if you're a kitchen novice. They're also beneficial to your health. For instance, pasta provides much-needed energy while giving you more fiber. Consequently, this lowers your cholesterol levels and prevents stomach complications. Conversely, egg noodles are rich in selenium, the mineral that boosts your immune function to fight off infections.
Before you go, check out this awesome ham and cheese cowpoke pasta:
Print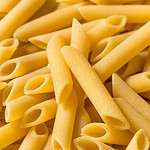 Ham and Cheese Cowpoke Pasta
---
Author:

Yield:

10

servings

1

x
1 package (16 ounces) cavatappi (corkscrew) pasta
2 Tablespoons butter
1 Tablespoon all-purpose flour
1 cup low-fat (1%) milk
3 teaspoons dried parsley flakes
2 teaspoons garlic salt
2 teaspoons salt free lemon pepper seasoning
1 teaspoon garlic powder
1 teaspoon dried minced onion
1 teaspoon dill weed
½ teaspoon onion powder
¼ teaspoon pepper
1 cup (8 ounces) reduced fat sour cream
2 cups cubed fully cooked lean ham
1½ cups (6 ounces) shredded reduced fat Monterrey Jack cheese
½ cup shredded Parmesan cheese
---
Instructions
1. Cook cavatappi according to package directions; drain.
2. In a large saucepan, melt butter; whisk in flour until smooth.
3. Gradually add milk and parsley, garlic salt, lemon-pepper, garlic powder, minced onion, dill weed, onion powder and pepper.
4. Bring to a boil; cook and stir for 2 minutes or until thickened.
5. Reduce heat; fold in sour cream until blended.
6. Add ham and pasta; cook and stir until heated through.
7. Remove from the heat; stir in Monterrey Jack cheese, blending until melted.
8. Sprinkle with Parmesan cheese.
Nutrition
Serving Size:

1 cup

Calories:

306

Sodium:

612mg

Fat:

9g

Saturated Fat:

5g

Carbohydrates:

38g

Fiber:

2g

Protein:

20g

Cholesterol:

27mg