Time to pick your pasta! More specifically, what is the difference between pasta and macaroni? What it really comes down to is the shape. Because, while macaroni is indeed a type of pasta, it is hollow and cut short to resemble the curved pasta pieces that we so know and love. Pasta is a general category of noodles. Pasta is made from durum wheat flour. It is often associated with long, thin noodles. With roots in all kinds of cultural dishes and modern links to classics like Mac and Cheese, these two base ingredients are quite well known. So let's take a closer look at pasta vs. macaroni.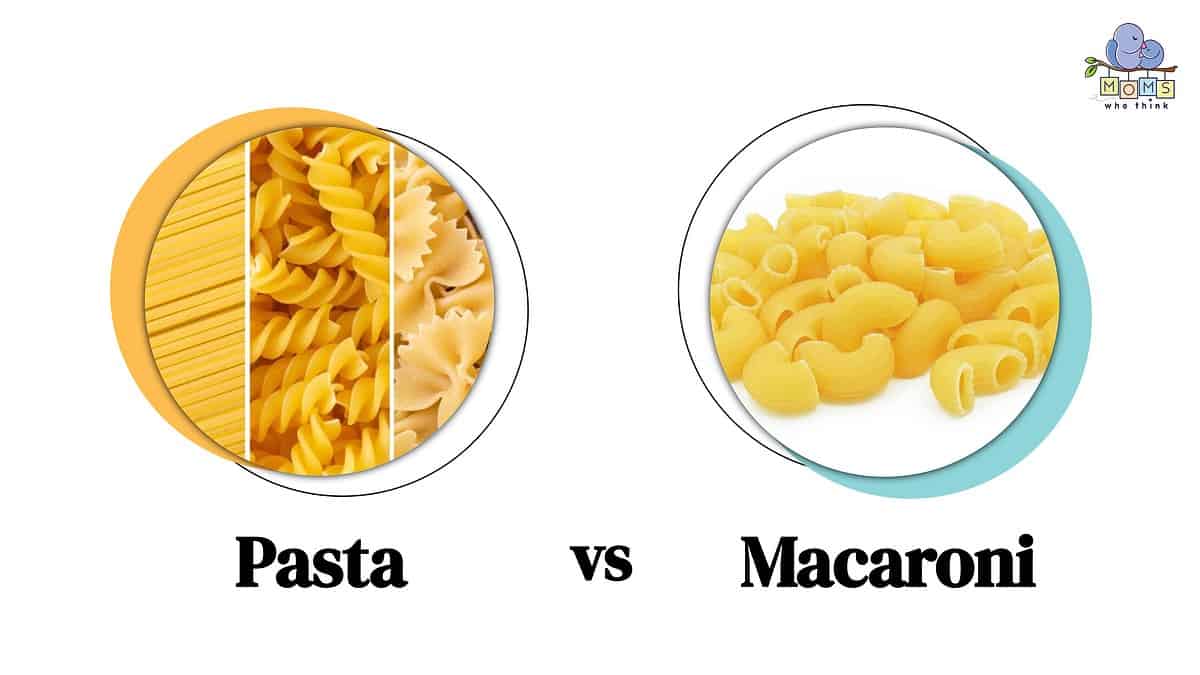 Keep on reading to learn about some of the history of pasta-making. We'll talk about all the dishes that depend on pasta as their base. And you might be inspired to try them out yourself. Your next trip to the grocery store will be easy. Especially now that you can spot macaroni from all the different pasta types!
Pasta vs. Macaroni: How Are They Different?

The primary difference between pasta and macaroni is that pasta is a broad term for many shapes and sizes while macaroni is a specific type of pasta that is small, tubular, and often bent in the middle. Macaroni is popular in dishes that bear its name like macaroni and cheese and macaroni salad.
Other pastas such as penne, fettuccine, spaghetti, and angel hair pasta are commonly used in other dishes. For example, while macaroni's shape is ideal for holding cheese and other creams, angel hair pasta's thin shape makes it ideal for lighter sauces. All kinds of pasta are made primarily from wheat and water, with some including eggs. After pasta is rolled the differences in how it's shaped determine what kind of noodle it is.
What is Pasta?
Pasta is the final product of a dough made from some form of flour, typically wheat, combined with eggs and water. It is processed into many forms including, penne, macaroni, angel hair, bowtie (farfalle), bucatini, fettuccini, and numerous others (via Allrecipes). It doesn't taste like all that much on its own but can be beautifully dressed up with some butter and salt, or heartier ingredients like meat sauce, pesto, veggies, meats, and other proteins. Common pasta dishes include Spaghetti and Meatballs, Fettuccini Alfredo, Macaroni and Cheese, Gnocchi, and Lasagna.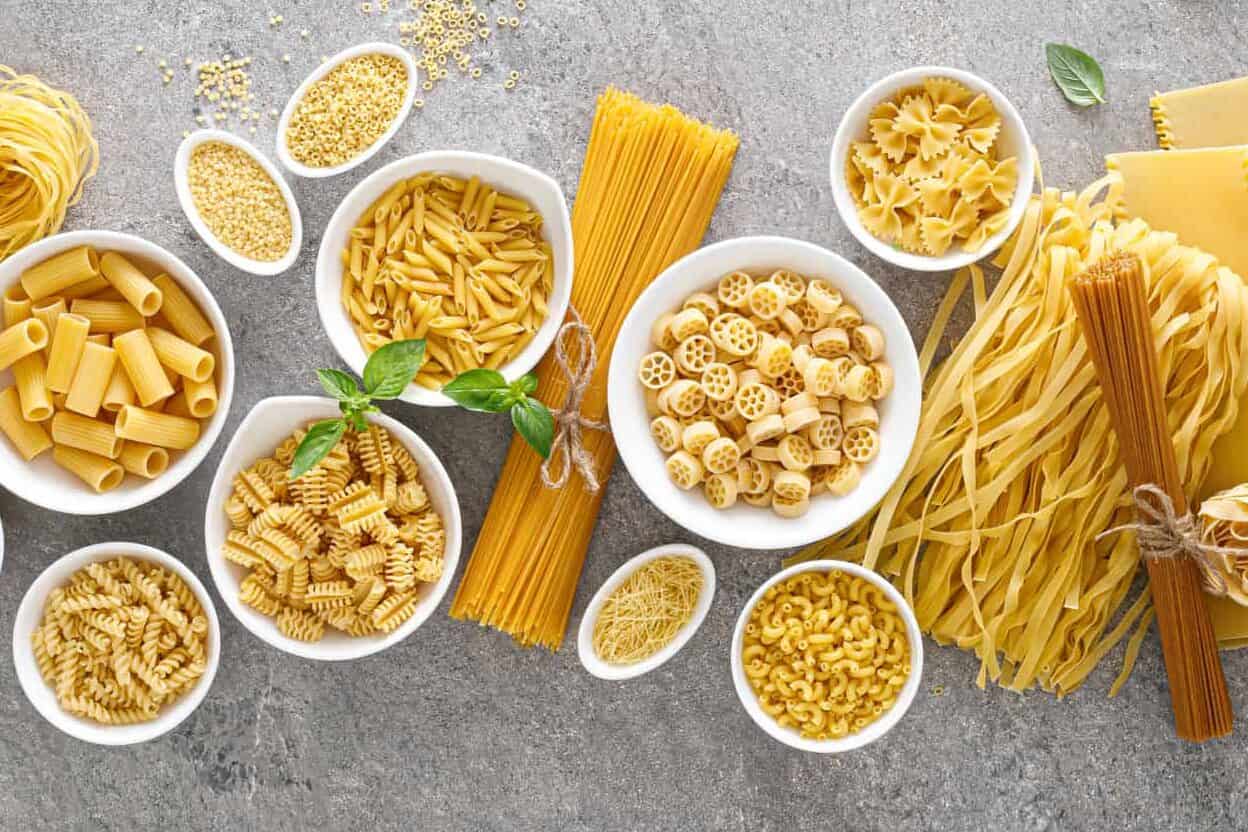 History And Origin
Pasta is hard to trace to a single origin. This is because there are so many kinds and versions of pasta throughout all kinds of cultural cooking. There are theories that Italian pasta is a descendent of Asian noodles, because the process for making them is quite similar, especially for any noodles that are wheat-based. However, many kinds of pasta are commonly associated with Italian cooking.
As far back as 17th century Italy, sheets of pasta dough were made to feed new mothers or invalids. This is because the dish was so easy to eat and easy to cook (via Taste). Trade routes and immigrants helped all kinds of pasta and noodles to reach the States. Pasta became popular in supermarkets because of its long shelf life once dried, its cheap price, and how easy it is to make, into all kinds of delicious dishes (via PBS). Modern pasta is used in all kinds of meals from light to heavy, sweet to savory!
How To Make Pasta
If you're hoping to make your own pasta, simply combine flour with eggs and water and knead it into a dough. The dough will need to sit until it's risen slightly. Roll it out and cut it or stamp it into the pasta type of your choosing. Give it plenty of time to try before putting it into boiling water. Add a pinch of salt and let the pasta cook until it's perfectly done, drain and put into your favorite dish. For a slightly less involved version, pick up some pasta at your local store and follow the steps for boiling. Strain and prepare your delicious pasta-based dish. There's a reason pasta is such a great dietary staple, it is simply so easy to make and can be dressed up in all kinds of wonderful ways.
Popular Variations
We've mentioned a few dishes already but you've got your classic Spaghetti and Meatballs, Cacio e Pepe, and Macaroni and Cheese options. Pasta is used in recipes all across the globe and if you're interested you can try your hand at making some of the desserts that use pasta! Do some research on what kind of dish you're going for, and it's likely you will find a pasta dish that fits the bill.
What is Macaroni? 
When considering pasta vs. macaroni, the simplest definition is this: macaroni is a type of pasta that is hollow and in the shape of a curved tube. It is commonly made with wheat flour but can be made gluten-free. Popularized as a "comfort food," macaroni salads and Macaroni and Cheese have cemented the noodle as a classic pasta option. Let's learn a bit more about it.
History and Origin
According to BBC Travel, a cookbook from the 1300s in Naples Italy, printed one of the earliest versions of Macaroni and Cheese. But, they likely didn't use the macaroni noodles we're talking about. Some theories credit an Italian man named Maestro Martino as the creator of macaroni; the catch is that he was living in a part of Italy that belonged to Switzerland at the time. Does that make macaroni Swiss?
It wasn't until 1937 that the classic orange Kraft's Macaroni and Cheese was released onto supermarket shelves (via Escoffier Culinary School). Look around your local grocery today and you'll find all kinds of fresh macaroni noodles and sauces, along with numerous options for instant macaroni. Alongside Kraft, there is Velveeta, Annie's Macaroni, Upton's, Kroger, and Goodles – just to name a few!
How To Cook Macaroni
Because macaroni is a type of pasta, it can be cooked like other pasta. Bring water to a boil and add your dried pasta. Cook until slightly soft, drain and then add to whatever dish you're planning to serve. This route is easiest with store-bought pasta.
If you're wanting to make your own macaroni, it is slightly more involved. Combine flour, eggs, and water to form a dough. Refrigerate the dough for an hour and once it is firm, roll it out. For macaroni, you'll need very thin sheets, which you will roll into a long, thin, cylinder, and then cut into the length of desired macaroni pasta (via Allrecipes).
Often called "elbow macaroni" due to its identifiable curve, you'll want to curve the edges of your cylindrical pasta. Don't be discouraged if your pasta is slightly thicker than storebought macaroni, the fact that you're making it by hand is a wonderful extra step to take. Allow your homemade macaroni to dry before adding your fresh pasta to boiling water. Cook until al dente, strain, and just like that you've created and cooked your own macaroni pasta.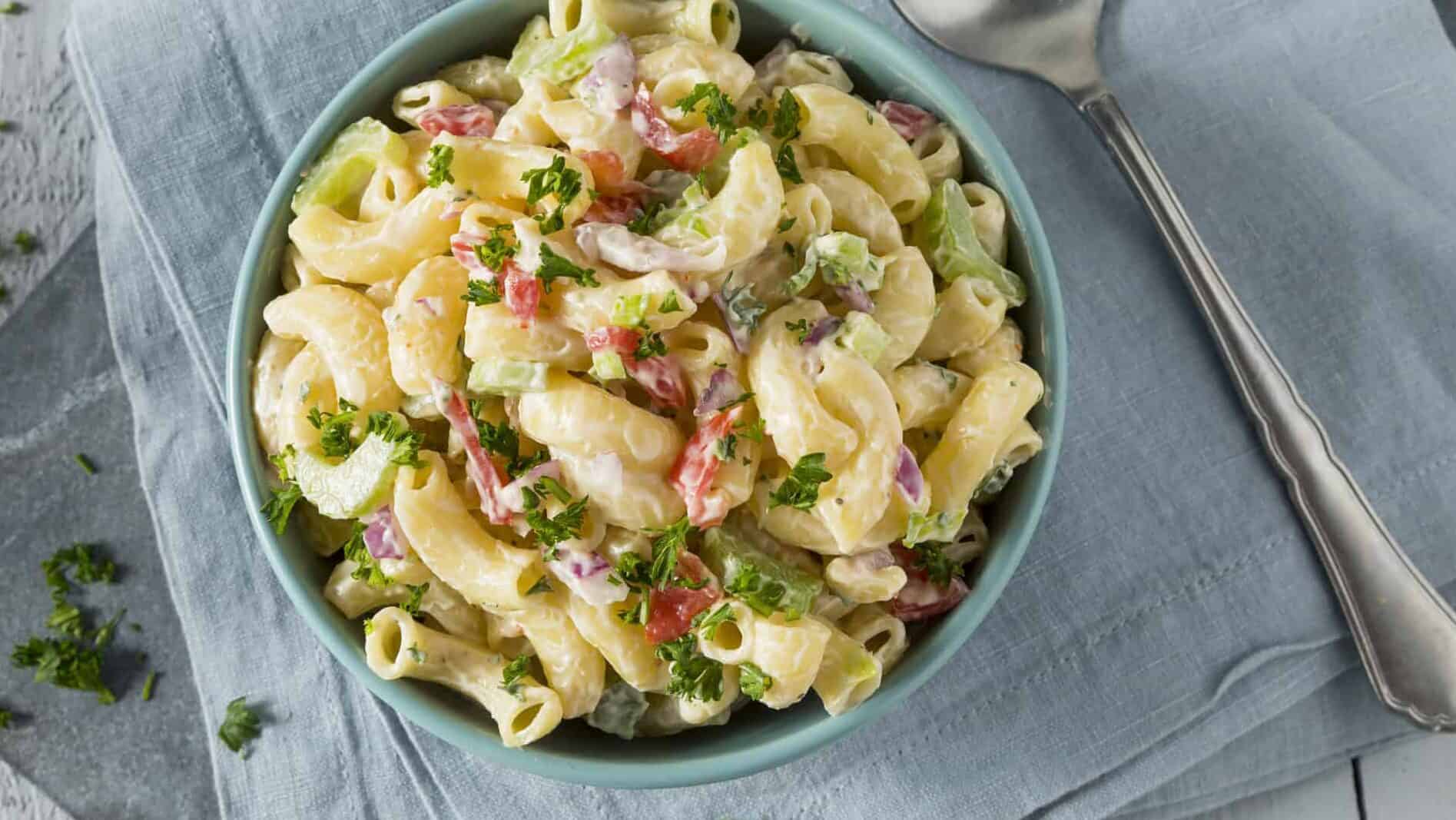 Popular Variations
Iconic macaroni meals include an array of cold macaroni salads, soups, and cheesy dishes. Macaroni salads can be topped with vinegar-based dressings, goat or feta cheeses, tomatoes, parsley, red onion, smoked fish, and more. Food and Wine Magazine recommends you try out Macaroni Gratin and Macaroni Casserole. There are many ways to use this versatile pasta type, do some research and have some fun!
Nutritional Value of Macaroni vs. Pasta: Calories, Vitamins, and More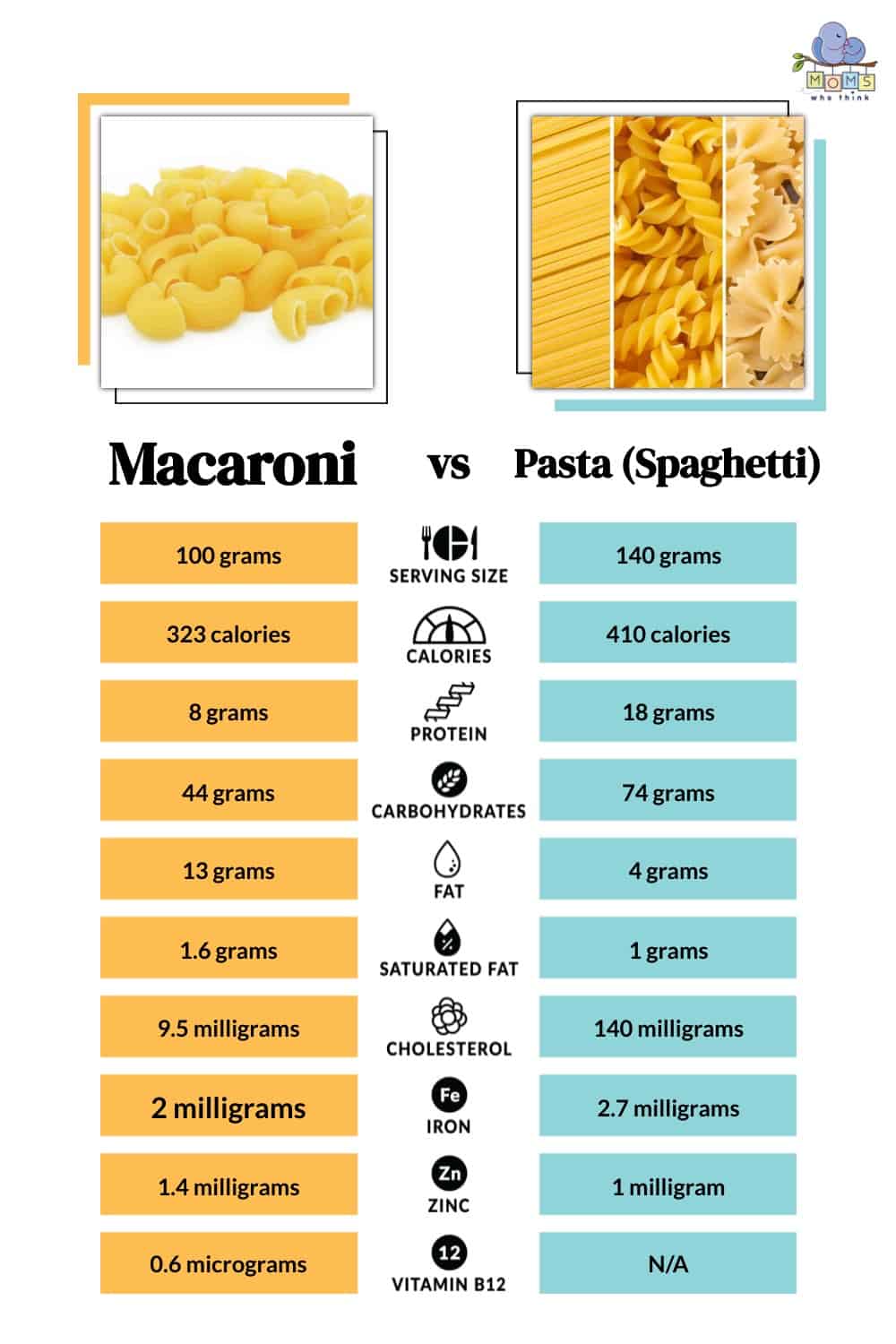 While pasta often gets a bad rap for being full of carbohydrates, it's not actually bad for you in moderation. The refined wheat flour used in many types of pasta can be substituted for whole grain flour, which would make your pasta higher in fiber and lower in calories. The health profile of a pasta dish can also very much depend on its added ingredients (via Healthline). So, especially if you're cooking your macaroni dishes at home, there are numerous ways to make it a healthy affair.
According to Fitbit, 100 grams of macaroni pasta contains 323 calories, 13.3 grams of total fat, 1.6 grams of saturated fat, 44.4 grams of carbohydrates, 3.1 grams of fiber, 1 gram of sugar, and 7.9 grams of protein. It has 9.5 milligrams of cholesterol, 205.5 milligrams of sodium, and 230 milligrams of potassium. Other vitamins and minerals include vitamins A, C, and E, niacin, calcium, magnesium, thiamin, iron, zinc, copper, phosphorous, and riboflavin. Pasta is not a bad carbohydrate. In fact, when eaten correctly and in a healthy context, it can be a great source of fiber. Whole-grain pasta can even aid in digestion and boost your immune system.
Are Pasta And Macaroni The Same Thing?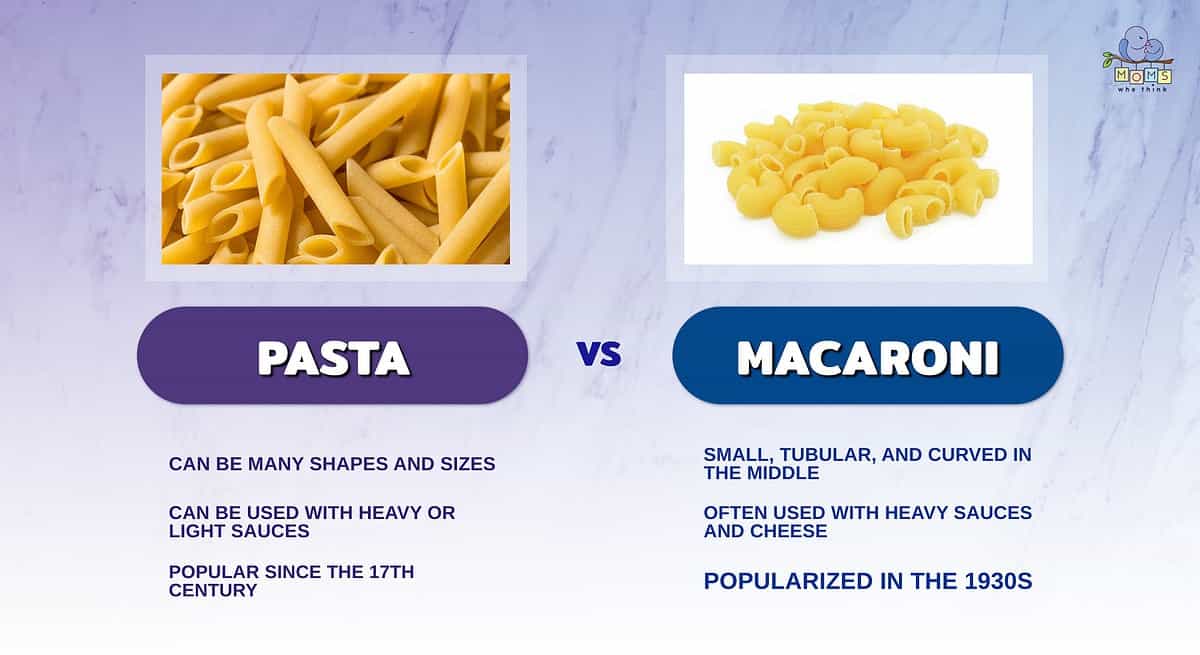 Pasta refers to a wide range of noodles in all shapes and sizes. Macaroni is small, tubular, and curved or bent in the middle.
Since pasta can refer to a variety of noodles, it can be served with heavy or light sauces. Macaroni can handle heavy sauces and cheese.
While the origin of pasta is a bit unclear, it's believed that it was popularized in the 17th century. Macaroni became popular in the 1930s with the release of Kraft's Macaroni and Cheese.
In the debate of pasta vs. macaroni, it isn't really a debate. Macaroni is a type of pasta. They aren't comparable because macaroni is within the category of pasta, and pasta encompasses many noodle types. Perhaps the term "pasta" is more often associated with long, thin noodles, which are different from the short, hollow, and curved "elbows" of macaroni pasta. But macaroni is very much a pasta.
Possible Alternatives To Pasta or Macaroni
Non-wheat flour pasta is better for gluten-free folks, try out whole grain, chickpea, or lentil noodle types. There are also veggie-based pasta like squash pasta and zoodles, which are made from zucchini. Squash can be dried, zucchini noodles are usually just cooked from the fresh veggie which is shaved into strips. There are many ways to substitute macaroni, either for other types of pasta or for veggie-based alternatives. Many versions of boxed Macaroni and Cheese actually come with shell pasta instead of macaroni. When it comes to pasta, you can't really go wrong. Happy cooking!
Print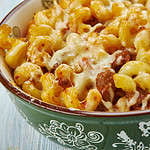 Kids Favorite Cheeseburger Pasta
---
Author:

Yield:

4

servings

1

x
2

cups

uncooked whole wheat penne pasta

1

pound

lean ground beef (90% lean)

2 Tablespoons

finely chopped onion

1

can (14 1/2 ounces) no-salt-added diced tomatoes

2 Tablespoons

dill pickle relish

2 Tablespoons

prepared mustard

2 Tablespoons

ketchup

1/2 teaspoon

paprika

1/4 teaspoon

crushed black pepper

1 teaspoon

salt

3/4 teaspoon

garlic powder

1/4 teaspoon

crushed red pepper flakes

1

cup

shredded reduced-fat cheddar cheese
---
Instructions
Cook pasta according to package directions.
While pasta is cooking, cook beef and onion over medium heat in a large frying pan, until meat is no longer pink. Drain
Drain pasta; add to meat mixture, combining thoroughly.
Stir in the tomatoes, relish, mustard, ketchup, and seasonings. Bring to a boil.
Reduce heat and simmer, uncovered, for 5 minutes.
Sprinkle with cheese. Remove from the heat; cover and let stand until cheese is melted.
Nutrition
Serving Size:

1½ cups

Calories:

405

Sodium:

759mg

Fat:

14g

Saturated Fat:

6g

Carbohydrates:

46g

Fiber:

4g

Protein:

28g

Cholesterol:

57mg
The image featured at the top of this post is ©sasazawa/Shutterstock.com.