There's nothing quite like a heaping plate of pasta but in the debate of whole grain pasta vs. regular pasta, here are a few things you should consider. Pasta gets a bad rap for being "unhealthy," this is due to its high carbohydrate content. This means that pasta is typically a common thing to cut when people are trying to lose weight or maintain a healthier diet. Enter whole-grain pasta! This healthier counterpart to the finer flours of regular pasta-making, adds nutrients and vitamins that aren't present in regular pasta.
As with anything that's eaten in excess, too many carbohydrates can be bad for you. Let's take a look at the processes for making both whole-grain and regular pasta types. In this post, we'll examine their ingredients and the different recipes that might up their health quotients. By the end of this article, you'll have a better grasp of the process of creating pasta, the nutritional differences between regular and whole-grain, and how the taste and texture of each type of pasta is different.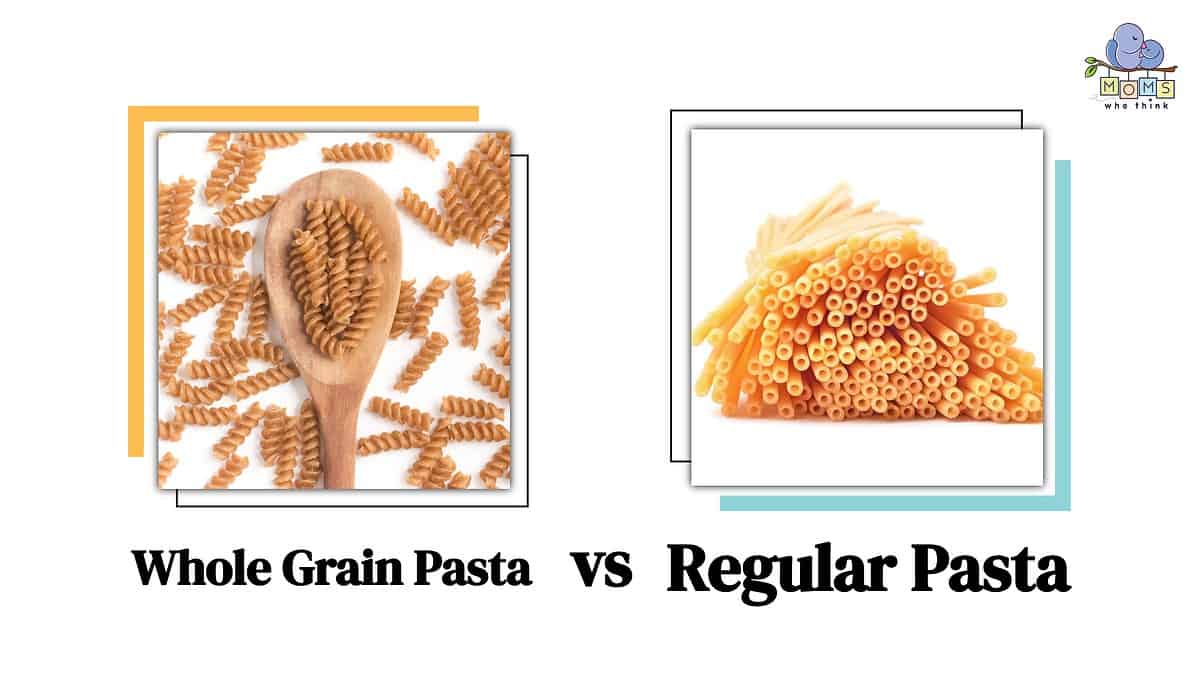 Whole Grain Pasta vs. Regular Pasta: What Is the Difference?
The primary difference between regular pasta and whole-grain pasta is that most regular kinds of pasta use refined wheat flour that has had the bran and germ removed. This process means that regular pasta is light in color and has a smoother texture while whole-grain pasta has a darker color and chewier texture. There is also a nutritional difference with whole grain pasta having higher fiber and nutrients like B vitamins and iron compared to regular pasta.
It's worth noting that while whole-grain pasta has health benefits, its chewy texture and stronger flavor may not be for everyone. The two can be substituted in pasta recipes so long as you understand the flavor and texture differences between them. Finally, as long as you're not gluten-intolerant, you can eat either type of pasta. Whole-grain pasta and regular pasta are made in the same way but their base ingredients differ enough to make their nutrient profile, taste, and texture slightly more discernable.
History and Origin
Pasta as an ingredient is prevalent in all kinds of cuisines and cultures. There are historical ties to Italy and a notable mention of a flour-producing plant in Marco Polo's 13th-century escapades. In Asian cultures, noodles come from rice, eggs, soybeans, and lots of other processed bases. According to PBS, Spanish settlers were the first to bring it over to America, where Thomas Jefferson's fondness for Macaroni increased its popularity tenfold. Since then, spaghetti and other pasta-based dishes have become synonymous with Italian cuisine and popularized for their long shelf life and the ease at which they can be cooked.
What's in Whole Grain Pasta?
Whole-grain pasta comes from whole-grain kernels like corn, millet, quinoa, rice, rye, sorghum, wheat, and teff. The three main health components of whole grain kernels include the Bran layer, the Germ, and the Endosperm. All three of these layers make up the carbohydrates, vitamins, minerals, and antioxidants in whole-grain flour.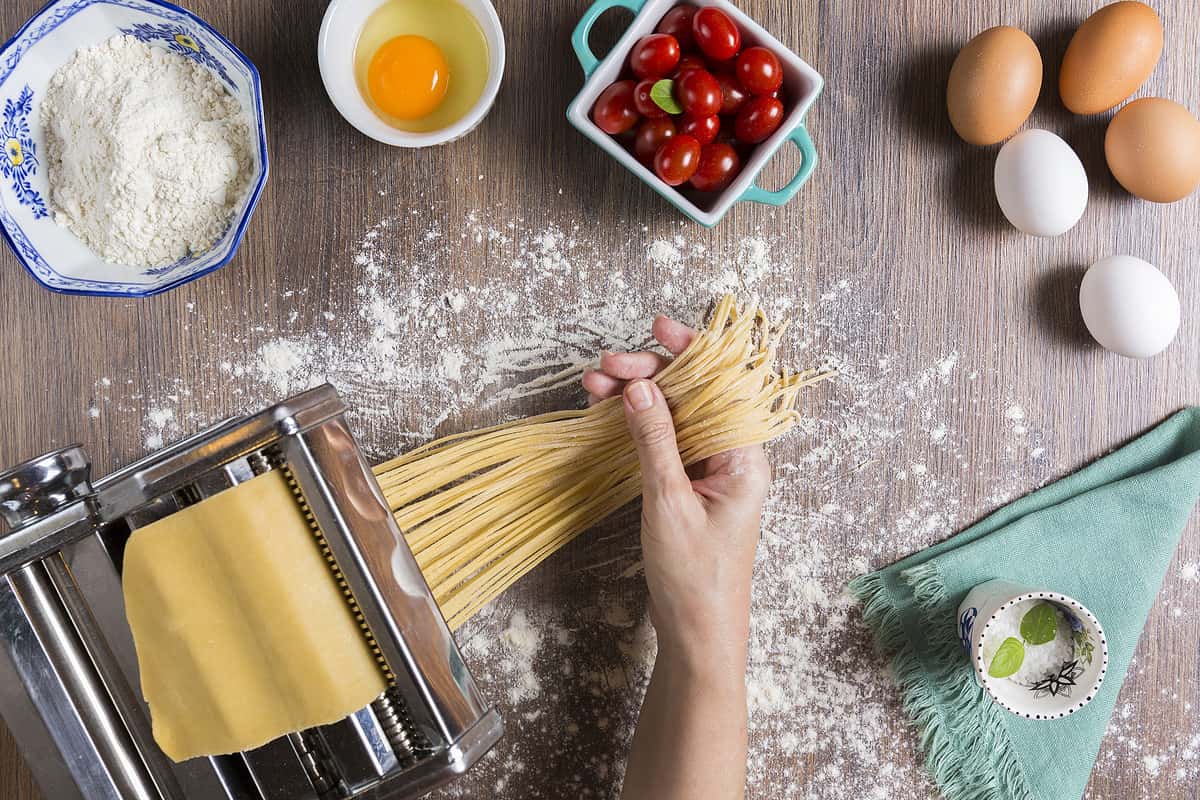 How Whole Grain Pasta is Made
Whole-grain pasta comes from grains like barley or buckwheat. This process mills grains to include all the parts of the grain. This is what contributes to their coarser texture, nutty flavoring, and higher nutrient profile. Mix these flours with eggs, water, or olive oil and knead them until it combines into a dough. Like bread, the next step is to refrigerate the dough for the starch to fully absorb the wet ingredients.
The next steps are significantly easier if you have access to a pasta machine. You can knead it through the widest setting to create long sheets of dough. These will then be fed through the pasta machine and cut into strips for thinner pasta, or you can hand cut it for larger pasta dishes like lasagna layers. Cook your pasta in boiling, salted water and serve it al dente or silky smooth.
Whole Grain Pasta vs. Regular Pasta Nutritional Value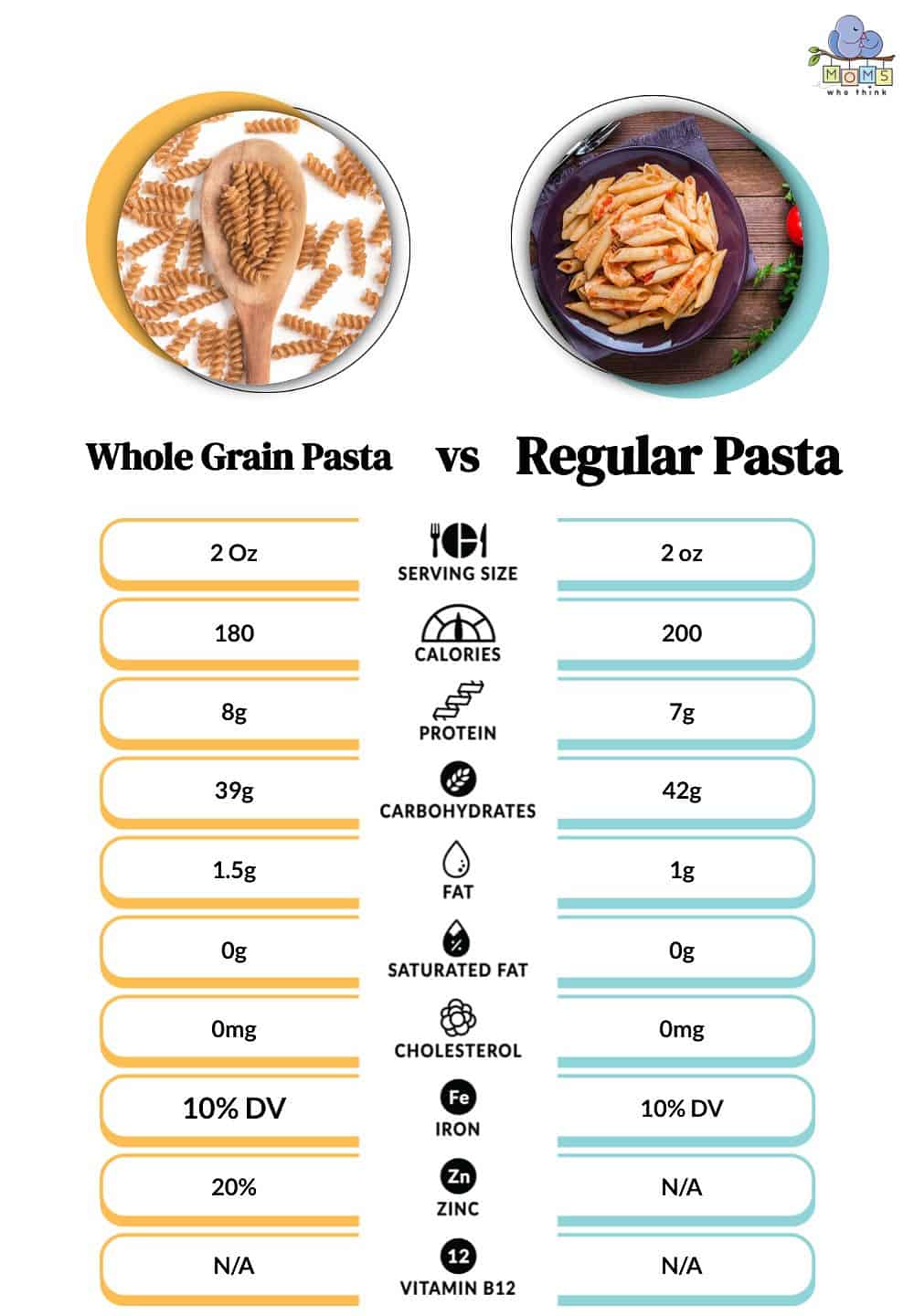 The above comparison is for Barilla's whole grain vs. regular penne pasta. As you can see, regular pasta with refined wheat flour has slightly more calories. However, the biggest difference is seen in other areas like dietary fiber where whole-grain pasta has six grams per serving versus just two grams per serving in regular pasta.
Other vitamins and minerals in whole-grain pasta include manganese, selenium, copper, and phosphorus, along with riboflavin, niacin, folate, iron, and thiamin. It can help promote fullness in the digestive tract and some brands add in further vitamin B minerals after mixing.
According to Web MD, whole-grain pasta can not only improve your digestive functioning and overall health, but it can lower your risk of stroke, obesity, and even heart disease. These data points are derived from eating whole-grain pasta as a substitute and in healthy dishes, so it's not an overall cure, just a healthy alternative. It should also be noted that the many vitamins and minerals present in whole-grain pasta are really good for you and a requirement of your body's healthy functioning. If you don't get them in whole-grain pasta, you should be trying to get these supplements in other foods that you are eating.
What's in Regular Pasta?
Regular pasta is made with white process flour that has been stripped of the outer layers for an increased silky texture. The result is that the nutrients found in whole grain pasta, are not as prevalent in the further processed regular pasta. However, regular pasta can have a higher fiber and protein content, and when eaten in dishes with veggies and other healthy foods it can contribute to an overall balanced diet.
How Regular Pasta Is Made
Like whole-grain pasta, regular pasta is formed into a dough. However, eggs are not always the required wet ingredient, sometimes it is water or an oil ingredient. It is rolled in the same way; after, it is cut and then boiled in salted water to achieve the right consistency for your perfect refined pasta dish.
Nutritional Value of Regular Pasta
The nutritional value of regular pasta has some key differences from its whole-grain counterpart. A cup of boiled pasta contains about 200 calories, 42 grams of carbohydrates, 1 gram of fat, 2 grams of fiber, and 7 grams of protein. Vitamins and minerals include higher rates of B vitamins than whole-grain pasta as well as minerals like copper, selenium, phosphorous, magnesium, manganese, and iron.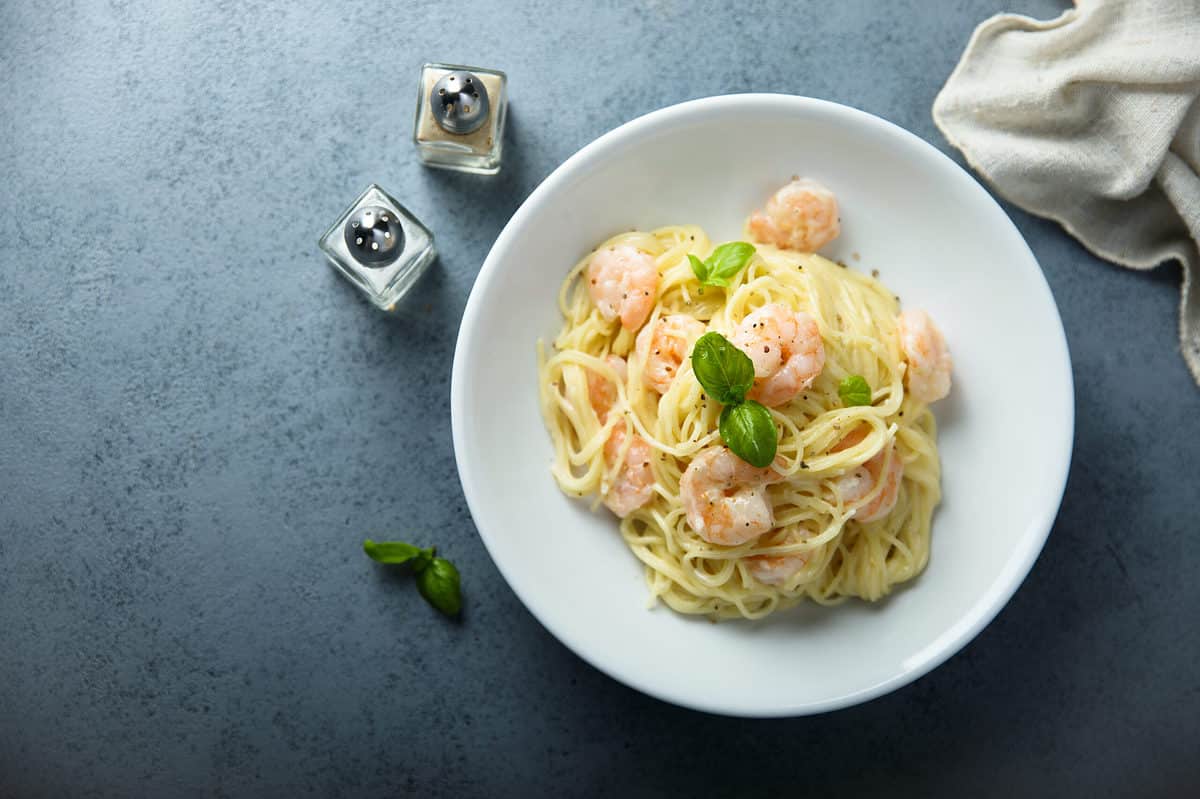 Popular Uses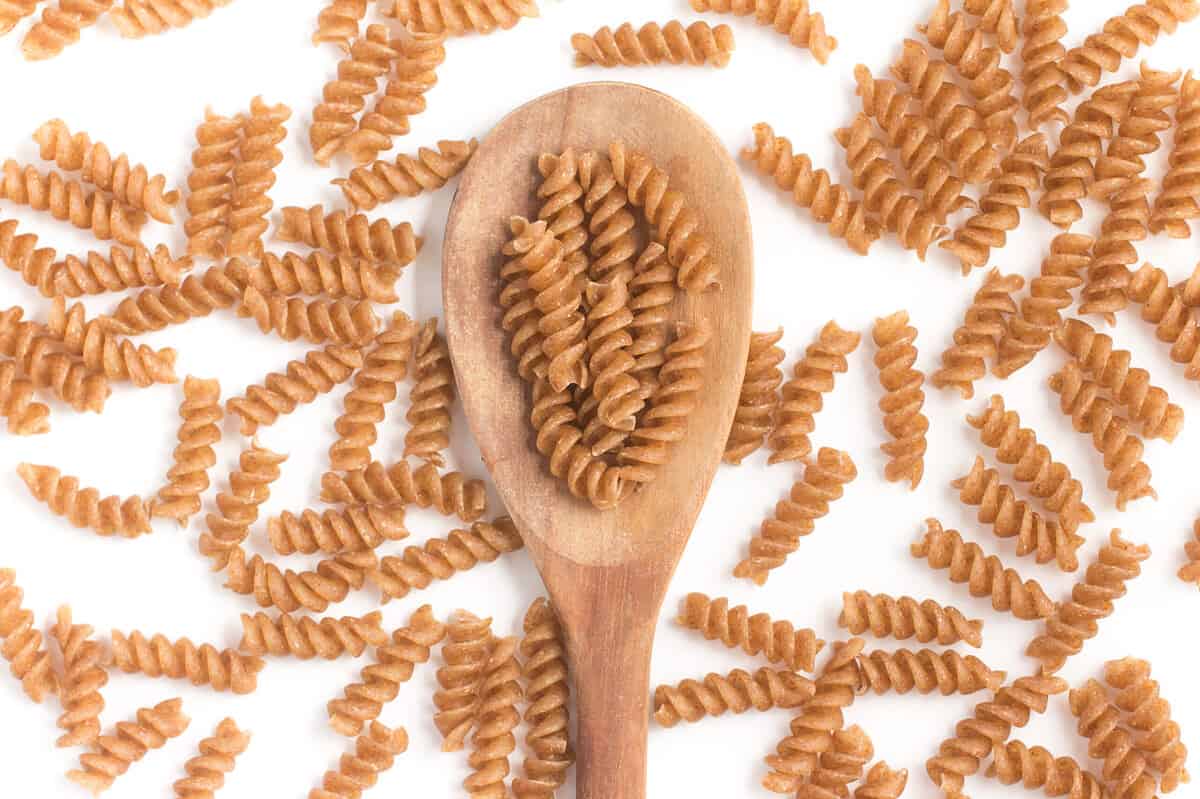 There are all kinds of pasta and thus all kinds of pasta dishes. Try out spaghetti, ravioli or tortellini. There's fettuccine, penne, orzo, macaroni, or angel hair! From any of these, you can make a variety of dishes topped with vegetables, seafood, spices, herbs, and cheese. Add red sauce or meat sauce, alfredo, or pesto. Cook sheets of pasta in lasagna or try out Kugel, a pasta-based dessert that's quite popular in Eastern Europe! There are numerous recipes for different traditional dishes that use pasta as the main feature. They can also be a great base for other healthy ingredients. Do some research and try out some new and delicious pasta dishes!
Possible Alternatives to Whole Grain Pasta and Regular Pasta
These days there are all kinds of pasta alternatives. A few we've already mentioned. Rice pasta, lentil pasta, soybean pasta, anyone? Veggie pasta is also quite popular. You've got your zucchini "zoodles," and squash-based pasta. You can make lasagna with eggplant and ramen-like dishes with cabbage strips instead of noodles. The inspiration is out there, just do some research and find your best pasta alternative!
Are Whole Grain Pasta and Regular Pasta the Same Thing?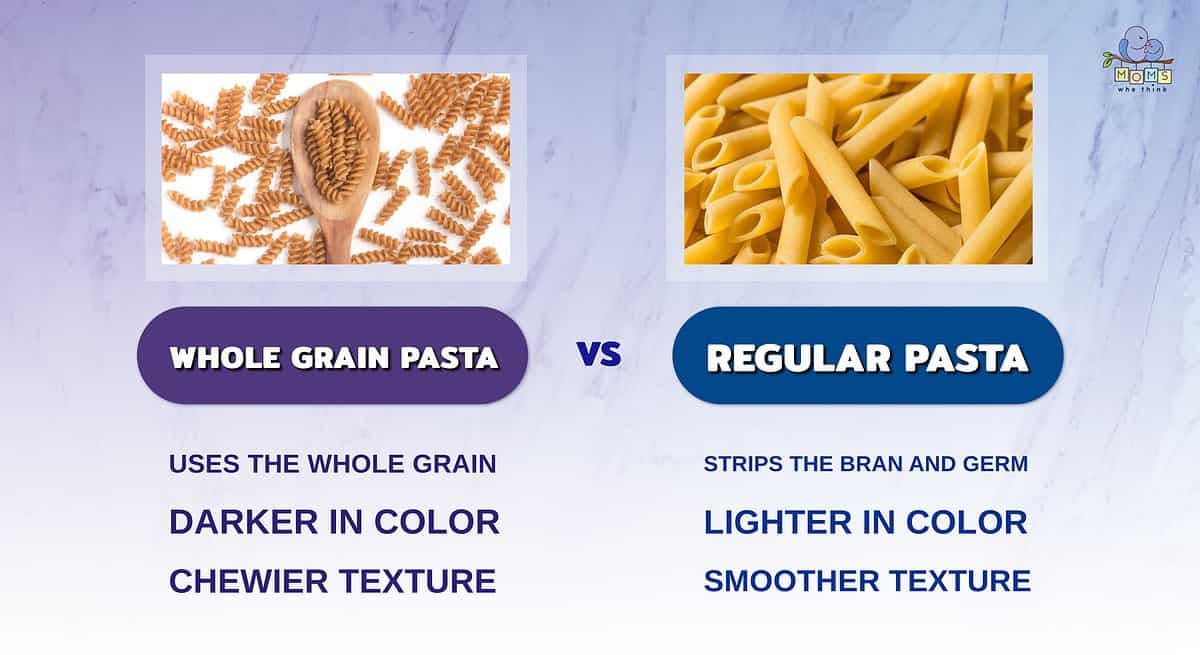 The differences between these two types of pasta starts with their processing. Whole grain pasta uses the whole grain, while regular pasta has the bran and germ stripped during processing.
Due to this difference in processing, whole grain pasta has a darker color than regular pasta.
Whole grain pasta is chewier than regular pasta.
In the debate of whole grain pasta vs. regular pasta, these two types of pasta are similar but still different. Their similarities mean they can be used in the same dishes. However, if you're looking for a gluten-free option, certain types of whole-grain pasta are your answer. It provides a nuttier, coarser flavor and lots of vitamins! Alternatively, for a silkier dish, processed regular pasta will deliver. You can't go wrong, just pick which pasta grain base works the best for your diet and your taste buds.
Craving pasta now that you've read this article? Check out this recipe:
Print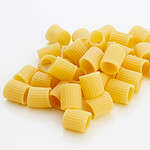 Mexican Pasta Skillet
---
Author:

Yield:

6

servings

1

x
1 pound lean ground beef (90% lean)
1 medium onion, chopped
1 can (14½ ounces) diced tomatoes, undrained
1 can (8 ounces) tomato sauce
1 can (4 ounces) chopped green chilies
1 cup fresh or frozen corn
½ cup water
2 teaspoons chili powder
1 teaspoon dried oregano
½ teaspoon salt
⅔ cup uncooked rotini pasta
1 cup (8 ounces) shredded reduced fat cheddar cheese
---
Instructions
1. In a large nonstick frying pan, cook beef and onion over medium heat 6 to 8 minutes or until beef is no longer pink, breaking up beef as it cooks. Drain.
2. Stir in tomatoes, tomato sauce, chilies, corn, water and seasonings; bring to a boil.
3. Stir in macaroni. Reduce heat; simmer, covered, 18-22 minutes or until macaroni is tender. Sprinkle with cheese.
Nutrition
Serving Size:

1 cup

Calories:

283

Sodium:

716mg

Fat:

11g

Saturated Fat:

5g

Carbohydrates:

23g

Fiber:

4g

Protein:

25g

Cholesterol:

55mg
The image featured at the top of this post is ©Brent Hofacker/Shutterstock.com.