Pizza is a popular, loved food eaten by millions of people worldwide. This Italian dish is usually made with a wheat-based dough and is round and flat. After being topped with tomatoes, cheese, and various other ingredients like mushrooms, meat, chicken, and olives, it is baked in a wood-fired oven. On the other hand, there are different views concerning the health benefits of pizza. Fast food and frozen pizza tend to have more sodium, calories, and fat. In this article, we will take a closer look at whether pizza is actually healthy and what science says.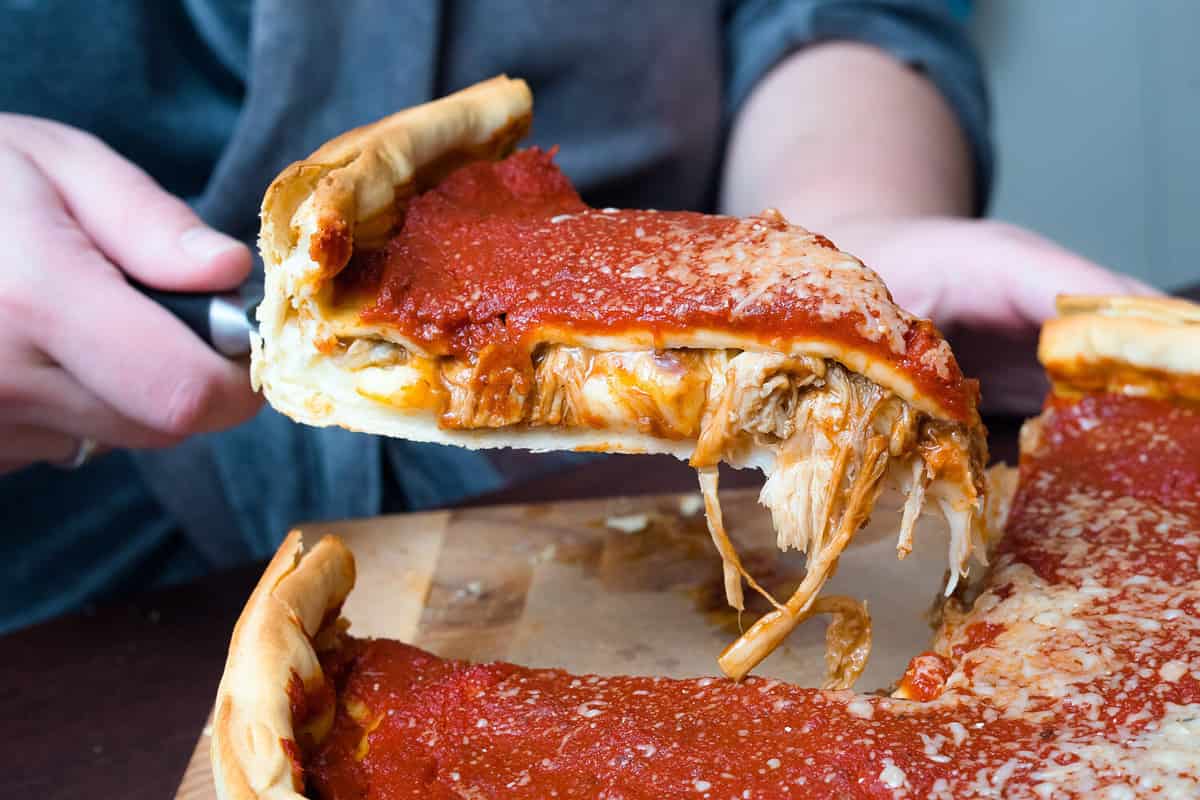 Nutritional Content of Pizza Bases
When judging the healthiness of pizza, we should consider its nutritional content and the ingredients used. The base is usually made with dough and then topped with tomatoes, cheese, and other toppings. Each ingredient used adds to the pizza's overall nutritional value. Some pizzas are said to be unhealthy, as they can be high in carbohydrates, sodium, fat, and calories.
Traditional pizza dough is made with flour, yeast, water, and salt and provides the body with carbohydrates, which are necessary for energy. Additionally, there are pizza crust alternatives that could be a healthier option. Potato dough is made with potatoes and plain flour. The addition of the potato makes for a softer and lighter pizza. Furthermore, a healthy pizza base option is the cauliflower base. It tastes delicious, is low-carb and gluten-free, and is made with cauliflower, oregano, eggs, and parmesan cheese. Depending on the base type, a whole-grain or cauliflower base can provide extra fiber, protein, and micronutrients. Another option is to choose a thin base over a thick or deep pan-stuffed base; they increase your sodium and sugar intake.
| Nutrition Facts: Cauliflower Pizza Crust | Source Nutritionix |
| --- | --- |
| Serving Size: | 0.3 (52 grams) |
| Calories | 170 |
| Total Fat | 5 grams |
| Saturated Fat | 0.5 grams |
| Trans Fat | 0 grams |
| Cholesterol | 15 milligrams |
| Sodium | 170 milligrams |
| Potassium | 94 milligrams |
| Total Carbohydrates | 28 grams |
| Dietary Fiber | 1 gram |
| Sugars | 1 gram |
| Protein | 2 grams |
| Vitamin A | 0% |
| Vitamin C | 20% |
| Calcium | 1.4% |
| Iron | 5.6% |
Nutrition Facts:
Pizza Dough: Traditional Brixx Wood-Fired Pizza

Source Nutitionix
Serving size
1
Calories
490
Total Fat
6 grams
Saturated Fat
1 gram
Trans Fat
0 grams
Cholesterol
0 milligrams
Sodium
1290 milligrams
Total Carbohydrates
94 grams
Dietary Fiber
4 grams
Sugars
3 grams
Protein
18 grams
Healthy Pizza Toppings
Now that we have covered pizza crust options, let's look at some healthy pizza toppings that will allow you to enjoy a nutritious, tasty, and satisfying pizza. Opting for vegetables, fish, and lean proteins instead of processed meats like sausages is a healthier option and reduces your fat and calorie intake.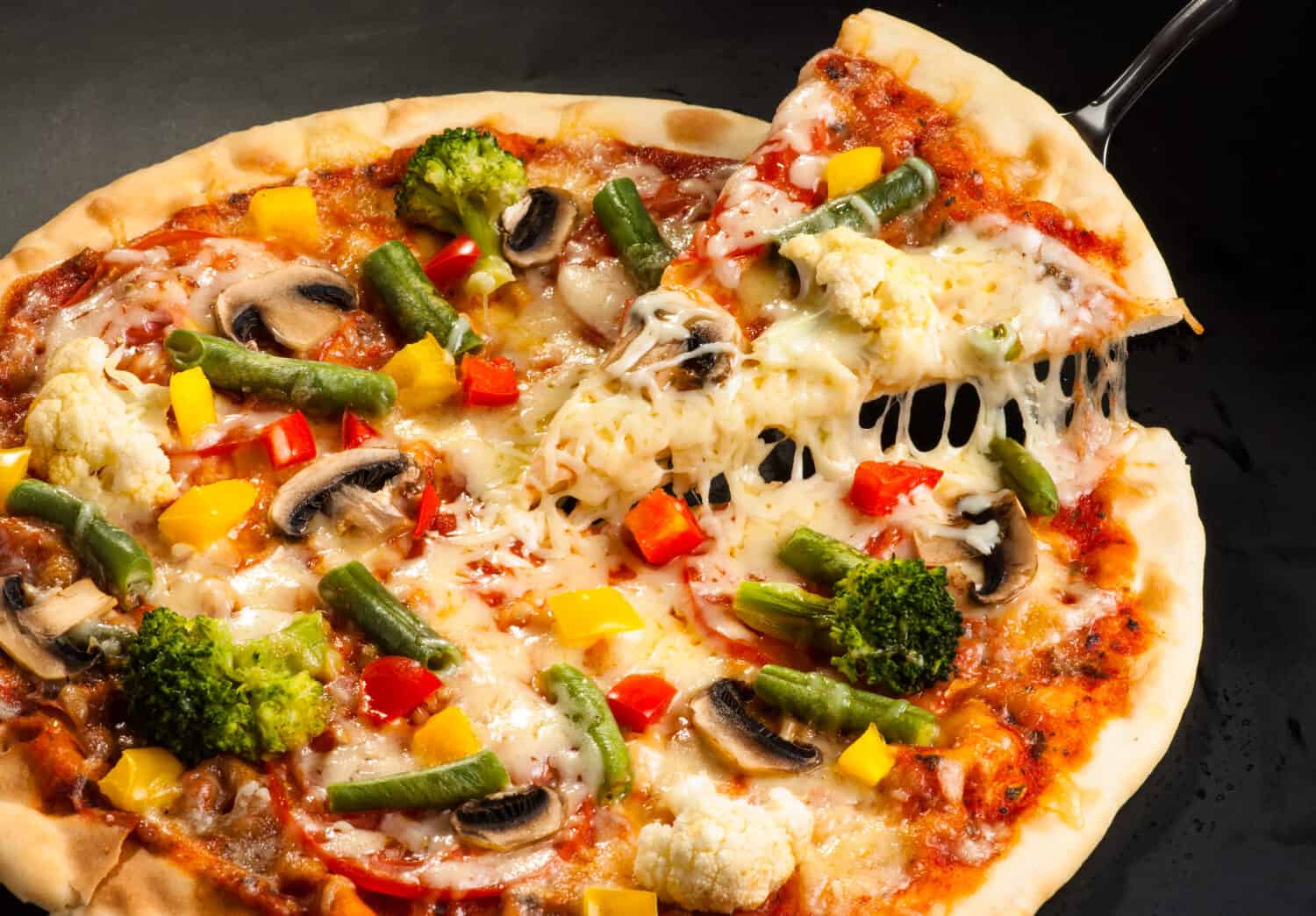 Tomatoes
Opting for a tomato sauce base on your pizza can provide you with some healthy benefits. Tomatoes provide you with essential vitamins E, C, and A. They contain natural anti-inflammatory properties, potassium, and mineral salts. They are also low in calories and make a good snack. Additionally, tomatoes contain lycopene, an antioxidant that helps eliminate harmful free radicals that damage your cells. It is believed that lycopene may aid in the prevention of prostate, breast, and stomach cancers.
Cheese
Regardless of which pizza toppings you choose, cheese is definitely a must. Cheese is a good source of calcium. You need calcium to keep your bones healthy and strong. By ensuring that you get enough calcium daily, you will reduce the risk of developing osteoporosis. Additionally, cheese is high in protein, so it will keep your muscles strong and healthy. However, cheese should be eaten in moderation as it is high in salt and saturated fat, which could lead to high blood pressure.
Onions
Onion has a distinct flavor with a variety of health benefits. Onions are high in antioxidants and have been linked to reducing blood sugar levels and improving bone health.
Black Olives
Black olives help lower cholesterol and fight heart disease because they contain unsaturated fats. They are also a good source of iron and copper.
Chicken
Chicken is a healthier option that doesn't have much fat and can help with weight management. It is filled with good-quality proteins; in addition, chicken also contains copper, vitamin B12, zinc, tryptophan, iron, and choline.
Broccoli
Adding broccoli to your pizza is a great way to get a decent amount of dietary fiber, folate, and vitamins K, C, and A. They're also low in calories. According to researchers, broccoli might be useful in "green chemoprevention," a technique in which people use the whole plant or extracts to help prevent cancer.
Garlic
Garlic, like onions, is an important ingredient in any kitchen. It is naturally good for your heart and boosts your immune system. Garlic also helps fight colds and flu, improves brain function, balances blood sugar levels, and promotes weight loss.
Red Peppers
Red peppers are flavorful and contain an antioxidant known as beta-carotene. They provide you with your daily recommended amount of vitamins C, B6, and A. Red peppers have an anti-inflammatory effect and boost your immune system.
Pineapples
Although some people are not a fan of pineapple on pizza, it does provide you with many healing benefits. Pineapples lower the risk of cancer, help food digest, and they contain helpful compounds and nutrients such as zinc, manganese, and vitamin C.
Mushrooms
Mushrooms are a tasty fungus that goes well on top of a pizza. They are loaded with selenium, B vitamins, protein, and riboflavin, which all help to fight cancer.
Parma Ham
If you insist on having pork, Parma ham is a great topping for your pizza. It contains healthy fats, making it suitable for any diet. Furthermore, it consists of free amino acids—which are important for muscle growth—and is easy to digest. Parma ham has many essential vitamins and minerals, including B12, B1, B6, copper, selenium, zinc, and iron.
Tuna
Tuna fish is another pizza topping option when looking for a healthy protein. If you have never considered it, then it's time to be adventurous and give it a try. Vitamin B12 is important to make DNA and form new red blood cells, and tuna is an excellent source. Filled with omega-3 fatty acids, tuna boosts brain function, lowers cholesterol, and improves eyesight.
Tofu
Tofu is made from soybeans and is high in fat and protein, low in calories, and cholesterol-free. It has all the important amino acids that your body needs. It contains carbs, fat, fiber, copper, vitamin A, calcium, selenium, manganese, zinc, phosphorus, and iron. Soy protein lowers the risk of heart disease.
Final Thoughts is Pizza Healthy
Finally, is pizza actually healthy? What science says well is that it all depends on your portion size, which type of base you choose, thin or thick, flour dough or cauliflower. Next, you should consider the type of toppings you want to add. Processed meats such as beef jerky, hot dogs, or sausages are high in calories, sodium, and saturated fats, which can all lead to health problems further down the line when consumed often and in large amounts. However, opting for low-fat proteins such as chicken, tuna, and other kinds of seafood will provide you with essential vitamins and minerals. Further, by adding fruits and vegetables to your pizza diet, you can reduce the risk of certain diseases and increase your intake of antioxidants, vitamins, and minerals. You can still enjoy a delicious slice or two of pizza while still prioritizing your health.
Print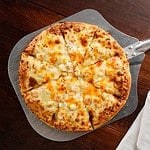 Spicy White Pizza
---
1

unbaked pizza crust

2 tablespoons

butter, melted

1 tablespoon

olive oil

3 tablespoons

minced garlic

2 tablespoons

sun-dried tomato pesto

1 teaspoon

dried basil leaves

1 teaspoon

dried oregano

1 tablespoon

grated Parmesan cheese

1

tomato, sliced

1

bunch fresh spinach, torn

1

sweet onion, sliced

1

fresh jalapeno pepper, chopped

1

(6 ounce) package feta cheese, crumbled
---
Instructions
Preheat the oven according to the pizza crust package directions.

In a small bowl, combine butter, olive oil, garlic, pesto, basil, oregano, and Parmesan cheese.

Spread the mixture evenly on the pizza crust.

Arrange tomato, spinach, onion, and jalapeno on pizza.

Top with crumbled feta cheese.

Bake according to the pizza crust package directions.
The image featured at the top of this post is ©El Nariz/Shutterstock.com.