From bacon to BBQ, pork is one of the most well-known meat choices in the world. In fact, according to the U.S. Department of Agriculture, pork is the most consumed meat worldwide, followed by poultry and then beef.
But what makes this meat so popular? And is it technically red meat, even though it's called "the other white meat?" What about its nutritional value? Is it healthy?
In this post, we'll take a deep dive into this widely consumed meat. While some may avoid pork due to health or religious reasons, it can still be part of a well-balanced diet. Let's take a closer look at pork, its benefits, potential risks, and how it stacks up against other protein options.
Pork's Health Benefits
While there is some debate about the healthiness of pork because it's still a red meat, pork has a lot of nutritional benefits. From protein to B vitamins and iron, pork can be part of a heart-healthy, well-balanced diet.
Keep in mind that to receive the full health benefits of pork, you'll want to make sure it's minimally processed, lean, and fully cooked.
Good Source of Protein
As a red meat, pork packs a punch when it comes to protein. According to the USDA, one 3-ounce serving of pork contains 21.8 grams of protein. An article from Healthline also gives scientific research on the benefits of protein, like a reduced appetite, increased muscle mass, and lower blood pressure.
Protein is beneficial as we age, as well. The older we get, the more our bodies tend to lose muscle mass. With a protein-rich diet, we can help mitigate this loss. Additionally, many individuals may find that they're not getting enough protein each day. MyPlate.gov (from the USDA) recommends anywhere from 5 to 7 ounces of lean protein per day for adults. This amount varies by age and gender, but their table is a great reference as it also shows recommendations for toddlers and children.
Contains Essential Vitamins and Minerals
Beyond high-quality protein, pork is rich in vitamins and minerals. Among some of the most beneficial nutrients are iron, choline, and vitamins B6 and B12. Choline is especially helpful for expectant mothers as it can help with brain and spinal cord development in babies.
Other vitamins that can be found in pork include:
Thiamine, a B vitamin that pork is very high in, unlike some other red meats.
Niacin is another B vitamin that aids in the proper function of your metabolism.
Zinc helps to create a healthy immune system.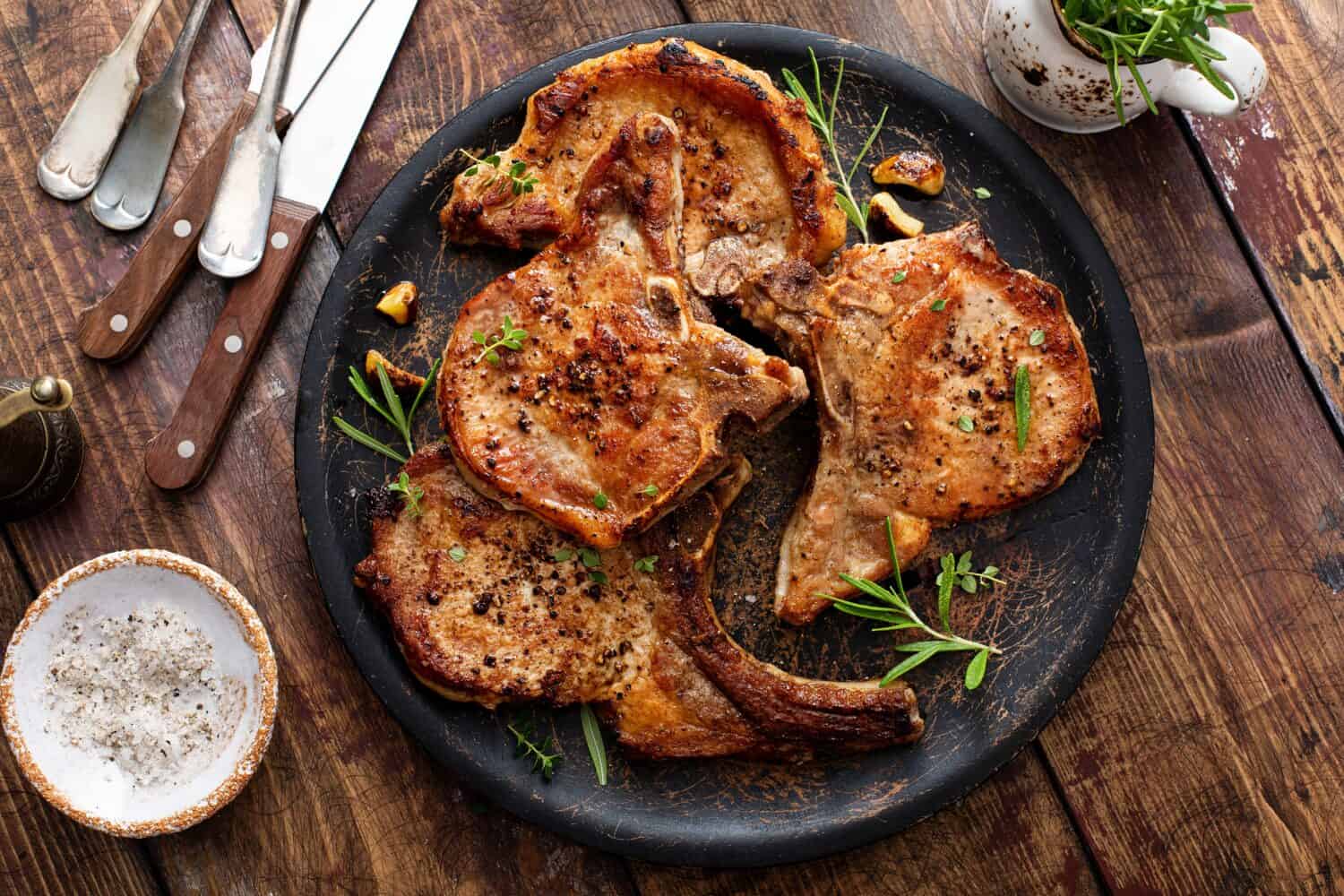 Pork's Potential Health Risks
Because pork is red meat and many of the ways it's consumed are through cured and processed options, there are potential health risks that come with it.
Can Be High in Sodium
As mentioned, some pork options are cured and processed. Examples include bacon, ham, sausage, and hot dogs. These options often contain high amounts of salt because of how they're prepared.
If you need a low-sodium diet due to heart health issues, you'll want to steer clear of highly processed and cured cuts of pork. According to an article from the Harvard School of Public Health, consuming high-sodium foods can lead to higher cholesterol and blood pressure. These can ultimately result in heart disease and stroke.
Can Increase Foodborne Illness if Not Cooked Properly
Like many other meats, pork must be cooked properly to avoid any form of foodborne illness. In some countries around the world, there have been infections caused by a roundworm in undercooked or raw pork.
To avoid any sort of illness or infection from undercooked pork, just be sure to prepare it properly. The USDA recommends that pork be cooked to an internal temperature of 145°F before serving. When preparing pork at home, use a meat thermometer to make sure it's fully cooked before serving or consuming.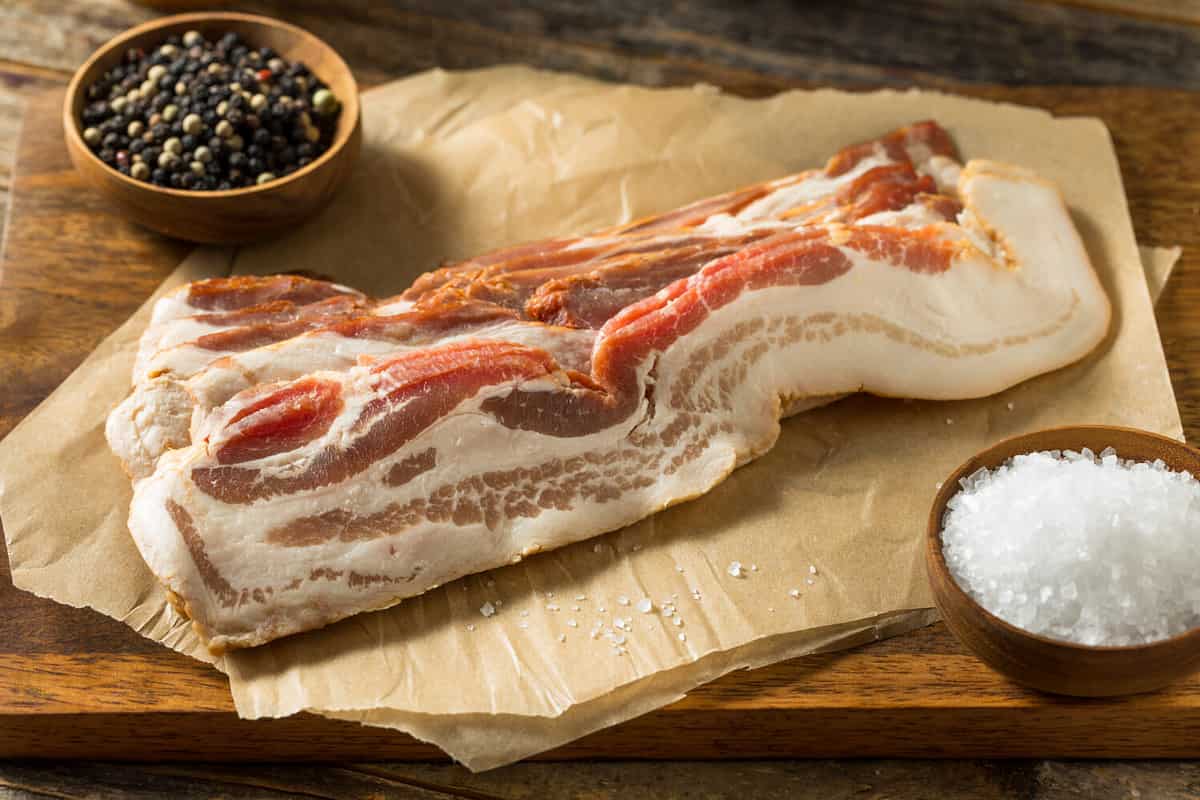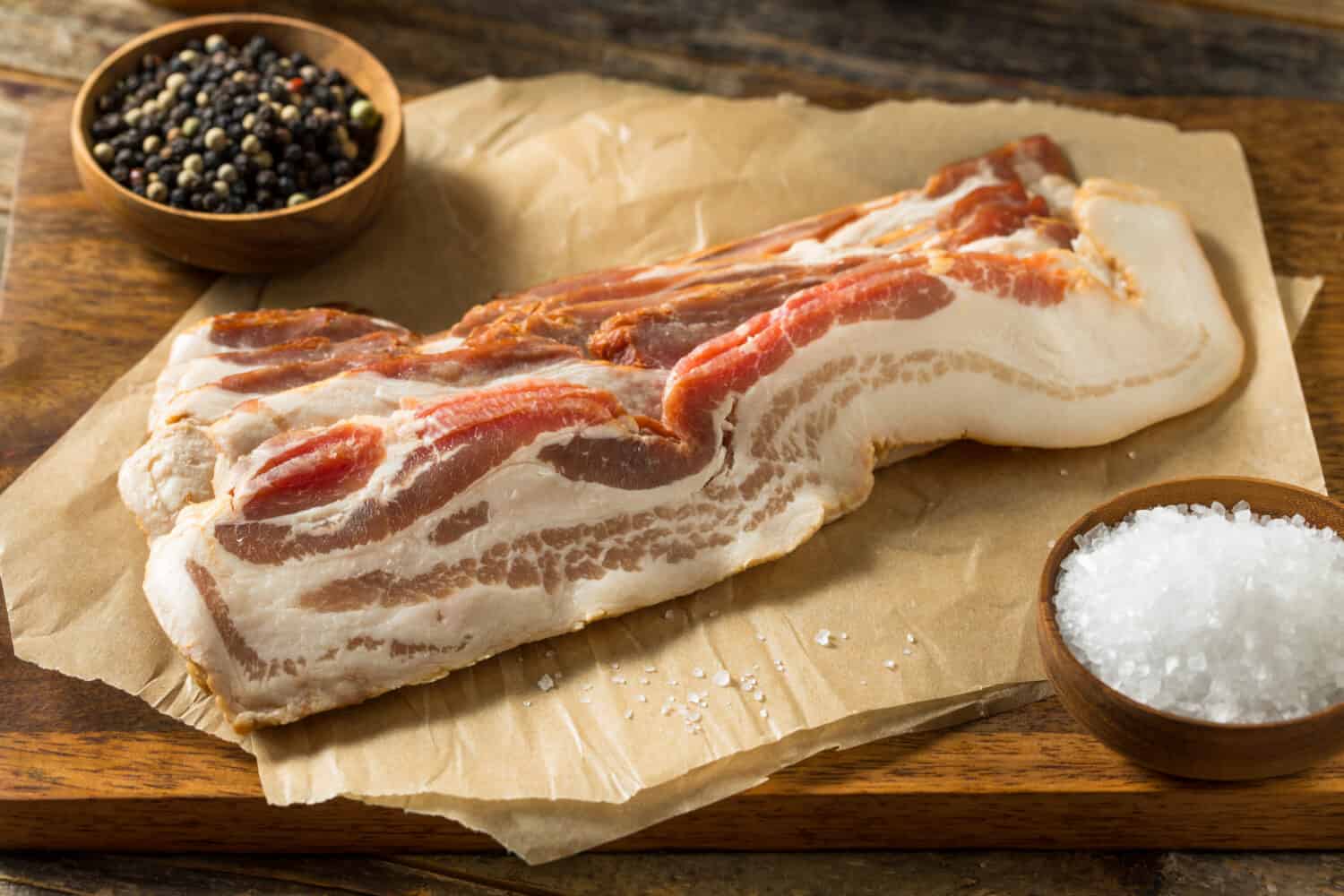 How to Choose and Prepare a Healthy Pork Option
When looking for the right cuts of pork to purchase, check labels and choose items that are uncured and lean. Additionally, consider preparing your pork by ways of grilling, baking, or roasting. These cooking options can reduce the fat content that comes with frying.
When preparing pork, you'll also want to be sure to trim any excess fat to reduce calories and fat intake. Also, just because you're choosing a less salty cut doesn't mean you have to skimp on flavor! Pork is incredibly versatile and absorbs herbs and spices well. Consider adding a rub or roasting your pork in different juices and marinades.
Pork's Nutrition Facts
Here's what you can expect from a 3-ounce serving of fresh, ground, and cooked pork, according to the USDA:
Calories: 252
Protein: 21.8 g
Total Fat: 17.7 g
Carbohydrates: 0 g
Fiber: 0 g
Sugars: 0 g
Pork's Nutrition Compared to Beef, Chicken, and Other Proteins
We know that pork is a good source of protein and vitamins, but how does it compare to other kinds of meats?
Pork vs. Beef
Before comparing these two types of meat nutritionally, it's important to note that there are many different cuts of both. The caloric, protein, and fat contents can change depending on what kind of pork and beef you're consuming.
Generally, when looking at pork vs. beef side by side, they have very similar nutritional info. Both are high in protein and vitamins. However, beef can be slightly higher in calories and iron, but pork has more thiamin.
Pork vs. Chicken
The biggest difference between pork and chicken is the flavor. Additionally, chicken is white meat, while pork is red meat. When compared nutritionally, a skinless chicken breast is lower in calories, fat, and cholesterol than a pork loin. However, pork loin is higher in zinc, iron, and vitamin B12.
Pork vs. Turkey
The comparison between these two again comes down to the specific cut and preparation method. In general, turkey is lower in fat and calories than pork. Pork, however, is higher in B vitamins and lower in cholesterol. While turkey appears dark, it's actually classified as white meat and is more closely related to chicken than pork.
Turkey has become a substitute for pork in many processed options, though. For example, many people choose turkey bacon over pork bacon due to its lower fat content. However, depending on the brand and preparation method, turkey bacon can actually end up higher in sodium than pork bacon. Consider choosing nitrate-free turkey bacon should you go this route.
Additionally, turkey has become a substitute for sausages. When comparing pork sausage vs. turkey sausage, turkey has lower calories, carbs, fat, and cholesterol. But pork is slightly higher in protein, zinc, and vitamin B12.
Pork vs. Salmon
While salmon is known for its high levels of healthy omega-3 fatty acids, it can also be a good source of protein. When comparing these two different kinds of meat, salmon is lower in saturated fat and packs a punch when it comes to Vitamin B12. Pork, however, has higher levels of zinc, calcium, and iron.
Final Thoughts
Ultimately, pork is a healthy choice and can be part of a healthy, well-balanced diet. If you're looking to increase your protein intake and consume healthy vitamins, pork is one way to go. Keep in mind that, like most foods, it should be consumed in moderation. Also, know that each cut of pork comes with its own unique nutritional information, so be sure to read labels and choose cuts that are the right fit for your nutritional needs.
Print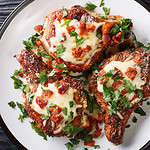 Italian Pork Chops
---
Author:

Total Time:

1 hour 10 minutes
4

pork chops
Garlic powder, oregano, celery salt, and pepper to taste

1

(8 ounce) can tomato sauce

4

slices mozzarella cheese
---
Instructions
Sprinkle pork chops on both sides with seasonings.
Place in 8×8 inch baking dish.
Cover with tomato sauce.
Bake at 350°F for 1 hour.
Top with cheese.
Bake for 5 minutes longer or until cheese is melted.
Prep Time:

10 minutes

Cook Time:

60 minutes

Category:

Main Course

Method:

Baking

Cuisine:

American
The image featured at the top of this post is ©Elena Veselova/Shutterstock.com.