What's for dinner today: hamburgers, cottage pie, spaghetti, meatballs, kebabs, or meatloaf? Both ground turkey and ground beef are versatile proteins with healthy benefits that improve our bodies' functions. Some people wonder which is healthier. Ground turkey has a lower fat content compared to ground beef. If you're looking for a healthier option, then ground turkey would be an excellent choice. In this article, we are going to discuss ground turkey vs. ground beef: which is healthier, & key differences between the two.
What is Ground Turkey?
Ground turkey, also known as minced turkey, is an affordable source of protein. It is a mixture of light and dark meat that is made from extra drumsticks, necks, and thighs and processed until it is minced together. Most customers are attracted to the non-crumbly texture and non-pink color. Ground turkey is a good low-fat alternative when compared to ground beef. The amount of fat in ground turkey is not regulated by the United States Department of Agriculture (USDA). However, it must stay between 10 and 15%.
According to research, ground beef and ground turkey have a similar percentage of fatty acids.
The fatty acid content in ground turkey
Saturated fatty acid: 30.4%
Monounsaturated fatty acid: 41.7%
Polyunsaturated fatty acid: 27.0%
There are about 17 grams of total fat in 100 grams of ground turkey. Saturated fat increases the risk of heart disease, so opting for ground turkey will help you maintain a healthy diet.
Cholesterol in turkey
The mean cholesterol content in raw ground turkey is around 80mg per 100 grams.
Safe storage of turkey
Uncooked ground turkey can be stored in the refrigerator for 1 to 2 days and in the freezer for 3 to 4 months. Cooked ground turkey can be stored for 3 to 4 days in the refrigerator and 2 to 3 months in the freezer.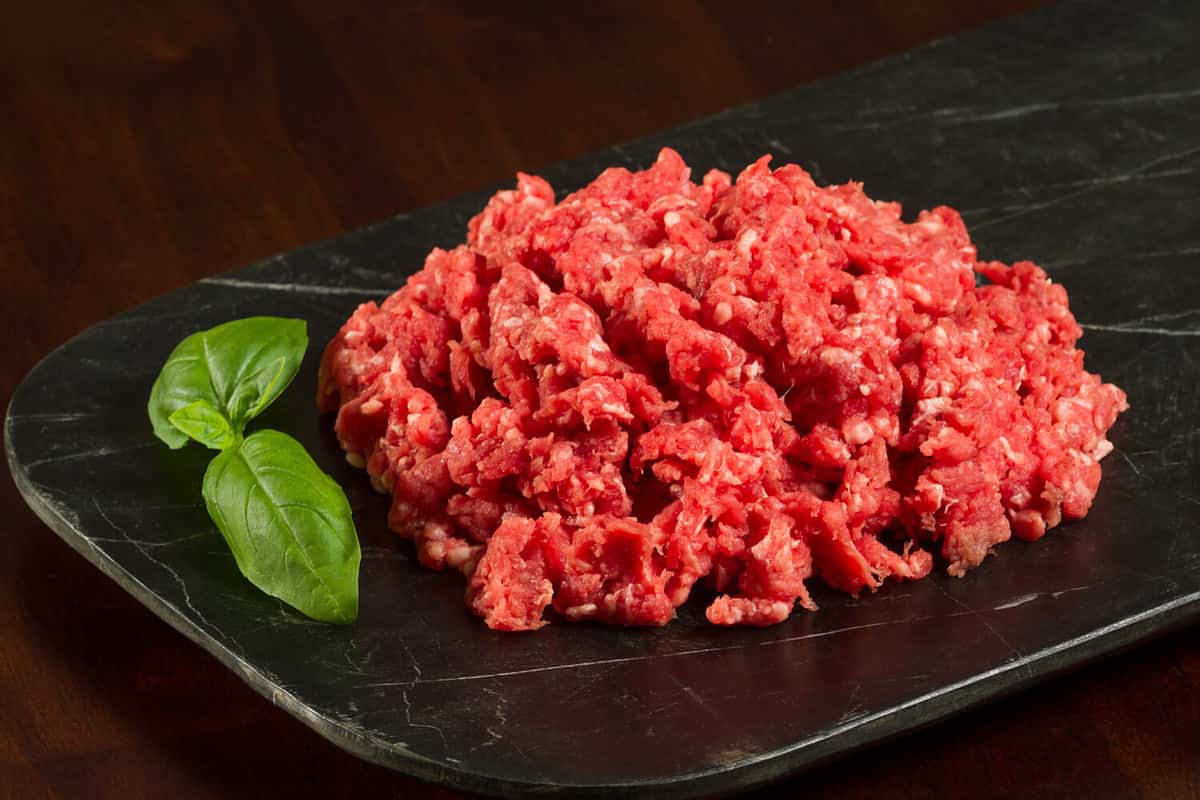 What is Ground Beef?
Ground beef, also referred to as minced beef, is meat that comes from cattle and has been cut into small pieces through a mincing machine or grinder. Additional ingredients are added to ground beef, such as soy, water, and fat. When packaged, you will see the ratio on the label, for example, 70% ground beef, 10% soy, and 20% fat. Like turkey, ground beef is high in protein, however, it does have a higher fat content, including saturated fat. Furthermore, meat that is 100% pure is considered the highest-quality source of protein. Lean ground beef is dry and crumbly. Fattier ground beef is more juicy and succulent. Some people prefer the taste of ground beef and say that the fat adds more flavor to the dishes.
There are four different types of ground beef
Ground beef: This can come from various parts of the cow but is generally from the shank or brisket area. It has about 20-30% fat, the fat gives it a good flavor, however, it can also be quite greasy. Ground beef is generally the most affordable.
Ground chuck: Located on the shoulder and contains about 20% fat, it is known as lean ground beef. It is rich and fatty and best for making hamburgers.
Ground round: It is located on the upper leg and rump and contains about 10-14% fat; it is leaner and has a less juicy flavor and texture.
Ground sirloin: Located in the upper middle, near the hip, and has about 10% fat, it is quite lean, tender, and full of flavor. It is generally known as the finest beef.
Cholesterol in beef
There are about 89mg of cholesterol per 100 grams of ground beef.
Safe storage of beef
According to the USDA, ground beef can be stored in the fridge for up to 2 days and for up to 4 months in the deep freezer.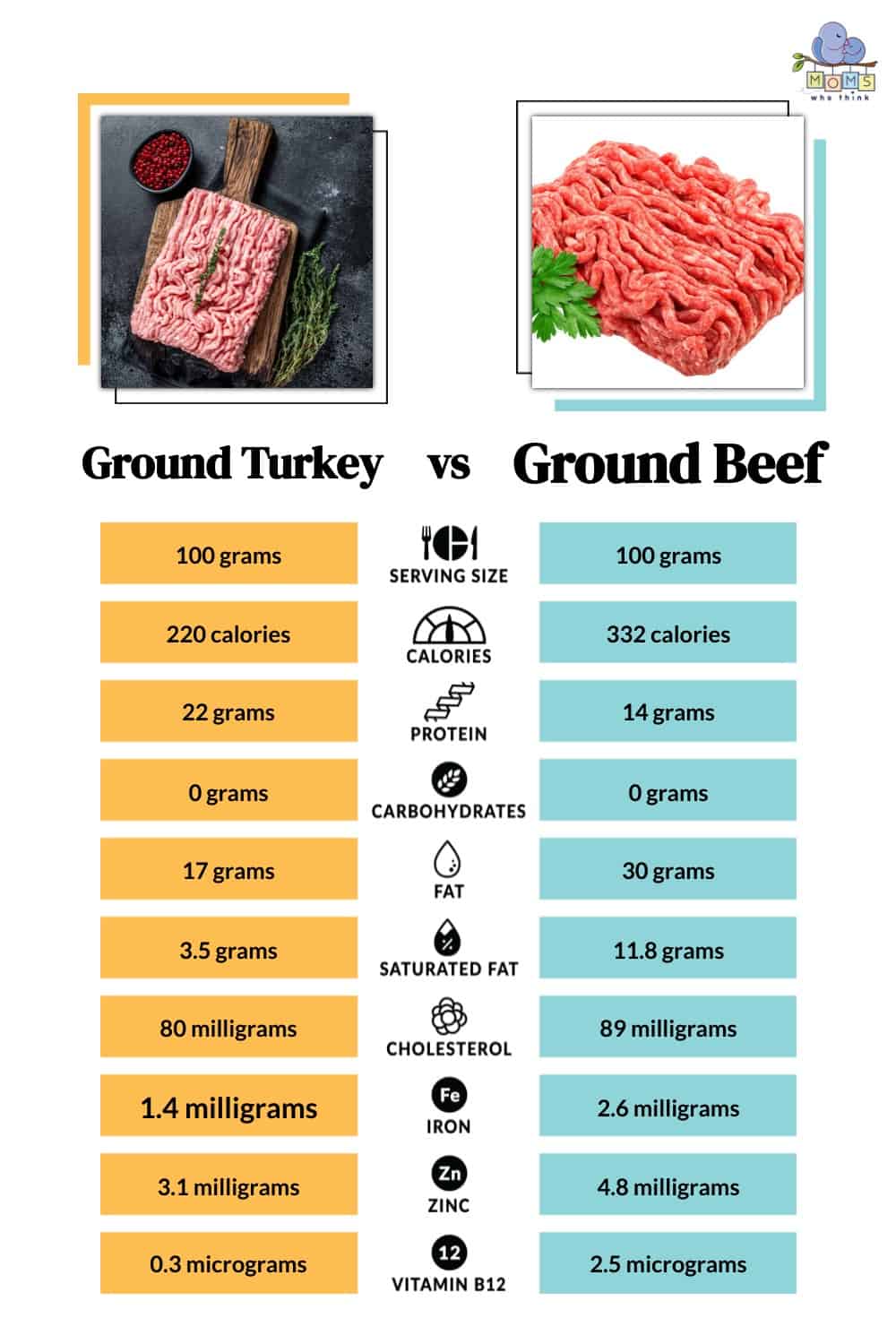 Is Ground Turkey Healthy?
Ground turkey is low in fat and is a good source of nutrients such as vitamin B6, zinc, selenium, and vitamin B12. If you're looking for a healthy protein or want to lose weight, then ground turkey would be a better option. Ground turkey is versatile, and there are many healthy turkey dishes you can make for dinner, such as:
Turkey meatballs with spicy tomato sauce and whole-wheat spaghetti
Slow cooker turkey chili
Turkey burgers
Turkey and feta meatballs
Turkey zucchini enchilada casserole
Is Ground Beef Healthy?
Ground beef is healthy, and lean ground beef is an even healthier option. It is a good source of B vitamins, zinc, iron, and protein. It does contain higher levels of saturated fat when compared to ground turkey, so choosing a leaner cut would be more beneficial to your overall health. When cooking ground beef, it may be a good idea to drain off any excess fat to reduce your calorie intake. Like turkey, ground beef is pretty versatile, and you can make some delicious meals for your family, such as:
Taco salad
Stuffed peppers with ground beef
Ground beef and lentil soup
Beef shepherd's pie
Chili con carne baked sweet potatoes
Conclusion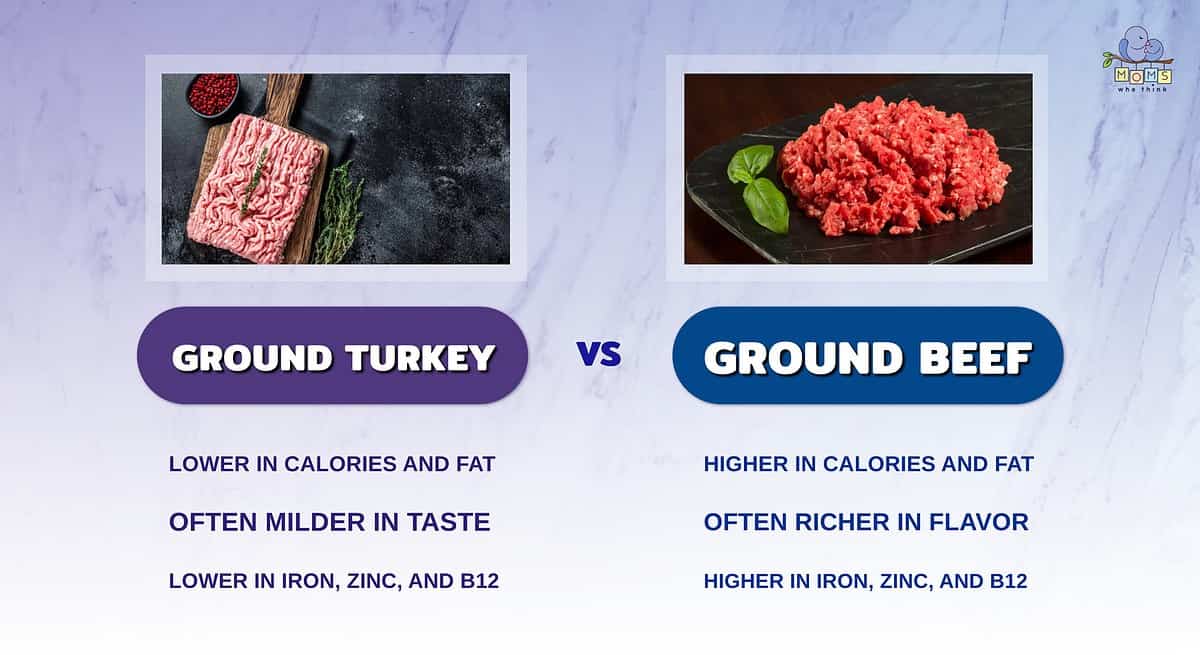 One of the most well-known differences between these two ground meats is in their calories and fat content. Ground turkey is lower in calories and fat compared to ground beef.
Ground turkey is often milder in taste compared to ground beef. Some may find they prefer ground beef's richer taste.
Ground beef contains more iron, zinc, and B12 than ground turkey. All of these nutrients are important for a healthy lifestyle.
In conclusion, ground beef and ground turkey are both great sources of protein. Overall, they both have similar nutritional profiles that benefit the body. However, ground beef does contain more saturated fat when compared to turkey. When choosing between ground turkey vs. ground beef, it all depends on your personal preference, dietary needs, and taste requirements. We hope this article has been informative in providing information about turkey vs. ground beef: Which is healthier, & key differences between the two.
Recipes
Print
Mexican Ground Turkey Noodle Dish Recipe
---
Author:

Yield:

8

servings

1

x
2 cups uncooked yolk free wide noodles
2 pounds lean ground turkey
1 can (8 ounces) tomato sauce
1/2 cup water
1 can (4 ounces) chopped green chilies
1 envelope reduced sodium taco seasoning (or make your own, recipe below)
1 teaspoon onion powder
1 teaspoon chili powder
1/2 teaspoon garlic powder
1 cup (4 ounces) shredded reduced fat cheddar cheese
2 cups shredded lettuce
1 cup diced fresh tomatoes
1/3 cup sliced ripe olives, drained (optional)
1/2 cup taco sauce
1/2 cup plain Greek yogurt
---
Instructions
1. Cook noodles according to package directions.
2. Meanwhile, in a large nonstick skillet, cook the turkey over medium heat until no longer pink; drain.
3. Stir in the tomato sauce, water, green chilies, taco seasoning, onion powder, chili powder, and garlic powder. Bring to a boil. Reduce heat; simmer, uncovered, for 5 minutes.
4. Drain noodles; place in an 11 in. x 7 in. baking dish coated with cooking spray. Spread the turkey mixture over the top. Sprinkle with cheese. Bake, uncovered, at 350° for 10 to 15 minutes or until cheese is melted. Let stand for 10 minutes.
5. Top with the lettuce, tomatoes, olives, and taco sauce. Dollop each serving with 1 Tablespoon of Greek yogurt.
Nutrition
Serving Size:

One serving

Calories:

312

Sodium:

788mg

Fat:

13g

Saturated Fat:

5g

Carbohydrates:

18g

Fiber:

2g

Protein:

27g

Cholesterol:

100mg