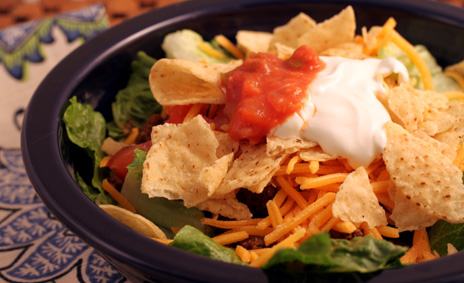 Taco Salad Recipe
Taco salad recipes have become more popular as tortillas have become a regular in our homes and at our table. Readily available, they are made with either flour or corn meal.
This taco salad recipe is an easy, quick and healthy alternative to those pricey fast food dinners. It is sure to be a hit with your family, especially the older kids!
Taco Salad
Ingredients:
1 pound lean ground beef
1 package taco seasoning mix
1/4 cup water
1 large head romaine lettuce, torn into pieces
1 1/2 cups chopped tomatoes
1 cup shredded cheddar cheese
2 cups tortilla chips, coarsely crushed
1/2 cup sour cream
2 Tablespoons salsa
Directions:
1. Brown ground beef in large nonstick skillet sprayed with cooking spray on medium-high heat; drain.
2. Add taco seasoning mix and water to the ground beef; mix well.
3. Bring to boil. Reduce heat to medium-low; simmer 3 min.
4. Divide lettuce among four plates. On each plate, place in even amounts, the meat mixture, tomatoes, cheese and tortilla chips.
5. Top with sour cream and salsa.