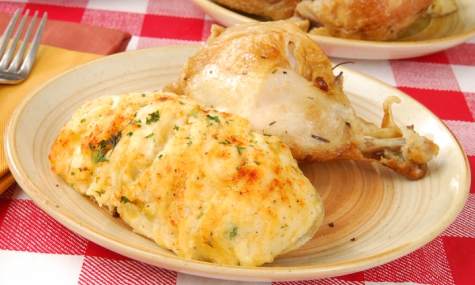 Twice Baked Potato Recipe
Let's Get Ready for Baby!
Sign up for our monthly pregnancy email series, and you'll get regular updates on your baby's development, helpful timelines to get ready for their arrival, must-have baby needs and so much more! PLUS, you'll get instant access to the MomsWhoThink "Ultimate Guide to Baby Naming in 2022."
CLICK HERE
to get started!
This twice baked potato recipe is a great use of those leftover mashed potatoes. Adding onion to the mix and a generous coating of cheddar cheese really breathes new life into the potatoes, which may have suffered a different fate.
If desired add chopped chives instead of onions and serve with a dollop of sour cream. Or add crunchy bacon bits, once plated.
Ingredients:
Cold leftover mashed potatoes (enough to fill baking dish)
1 medium onion, chopped
1/8 -1/4 cup milk
1 cup shredded cheddar cheese  
Directions:
1. Mix the chopped onion into the cold mashed potatoes. Add milk a little at a time, if the potatoes are too stiff and/or thick.
2. Put potato mixture into a greased 9 x13 baking dish and spread/mash evenly into the dish.
3. Sprinkle shredded cheese over top of potato mixture.
4. Cover dish with foil or a lid and bake in a 350 degree oven for 30 minutes.