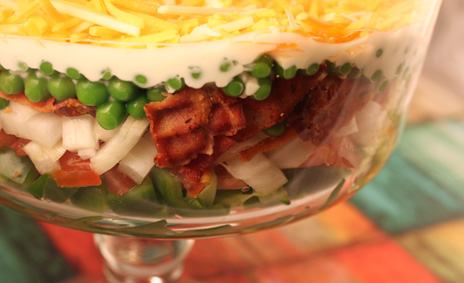 Seven Layer Salad Recipe
This picnic staple is a colorful addition to any table. With seven layers of delicious ingredients, there's something for everyone.
Any of the vegetable ingredients can be replaced with a favorite of your own. Celery, carrots, radishes and cucumbers are a few other choices that work just as well.
Seven Layer Salad
Ingredients:
1 cup chopped green peppers
1 cup tomatoes, diced
1 cup chopped onions
1 pound bacon, cut into 1-inch pieces, cooked
1 package (10 oz.) frozen peas, thawed
1 cup mayonnaise
1 cup cup shredded cheddar cheese
Directions:
1. In a large bowl layer the peppers, tomatoes, onions, bacon and peas.
2. Spread mayonnaise over peas, completely covering top of salad and sealing to edge of bowl.
3. Sprinkle with cheese as the final layer.