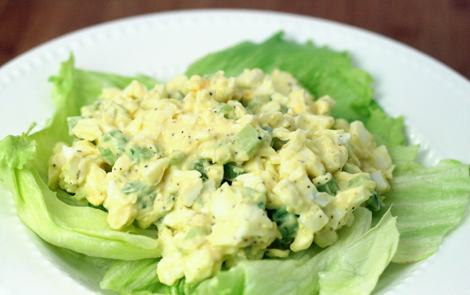 Egg Salad Recipe
Satisfaction can be found in a great egg salad recipe. There is nothing more satisfying or filling than an egg salad sandwich. Sure everyone moves away from you in the lunchroom, but secretly they all want a bite.
This recipe is your basic egg salad recipe. Everyone has their own favorite additions like olives, a slice of tomato, pickles, fresh or dried dill. Whatever yours is, throw it in and enjoy!
Egg Salad
Ingredients:
1/2 cup mayonnaise
1 teaspoon dried minced onion
1/4 teaspoon salt
1/4 teaspoon pepper
6 hard-cooked eggs,chopped
1/2 cup finely chopped celery
lettuce leaves or bread
Directions:
1. In a bowl, combine mayonnaise, onion, salt and pepper.
2. Stir in eggs and celery. Cover and chill.
3. For each serving, spoon about 1/2 cup onto a lettuce leaf or spread on bread.