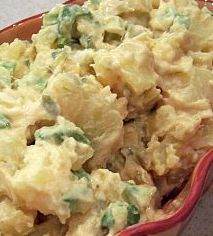 Mustard Potato Salad Recipe
Let's Get Ready for Baby!
Sign up for our monthly pregnancy email series, and you'll get regular updates on your baby's development, helpful timelines to get ready for their arrival, must-have baby needs and so much more! PLUS, you'll get instant access to the MomsWhoThink "Ultimate Guide to Baby Naming in 2022."
CLICK HERE
to get started!
This is a potato salad recipe that drops the dominating mayonnaise flavor to the background, while the usually hushed mustard stars center stage. The egg salad helps support the pungent flavor of mustard and contributes its own creaminess to the potato salad.
Mustard comes in so many different varieties. Be it spicy brown, Dijon, mellow yellow, or one of less common; the choice is yours.
Mustard Potato Salad
Ingredients:
2 cups diced peeled potatoes (about 1 lb.)
1 recipe Old-Fashioned Egg Salad (below)
1/4 cup mayonnaise
1 teaspoon mustard
1/2 teaspoon dried minced onion
1/4 teaspoon salt
lettuce leaves
sliced radishes (optional)
Old-Fashioned Egg Salad Ingredients:
1/4 cup mayonnaise
2 teaspoons lemon juice
1 teaspoon dried minced onion
1/4 teaspoon salt
1/4 teaspoon pepper
6 hard-cooked eggs, chopped
1/2 cup finely chopped celery
lettuce leaves or bread
Directions:
For egg salad:
1. In a bowl, combine mayonnaise, lemon juice, onion, salt and pepper.
2. Stir in eggs and celery. Cover and chill.
For potato salad:
1. In a saucepan, cover potatoes with water and cook until tender but firm. Drain and cool.
2. In a bowl, combine egg salad, mayonnaise, mustard, onion and salt. Stir in cooled potatoes.
3. Cover and chill.
Serve on lettuce leaves; garnish with radishes, if desired.