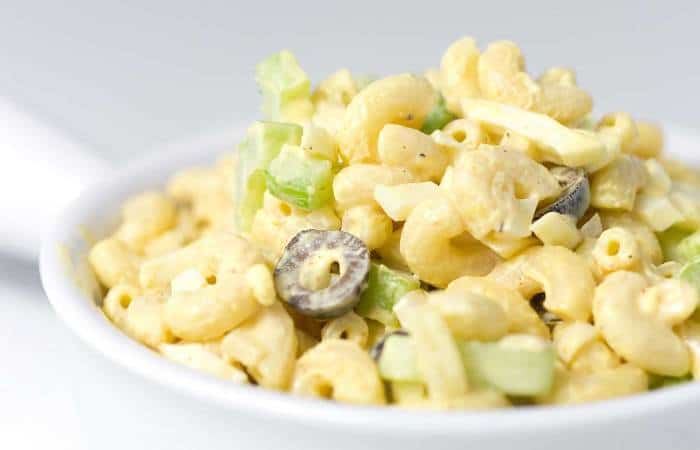 Macaroni Salad Recipe
Let's Get Ready for Baby!
Sign up for our monthly pregnancy email series, and you'll get regular updates on your baby's development, helpful timelines to get ready for their arrival, must-have baby needs and so much more! PLUS, you'll get instant access to the MomsWhoThink "Ultimate Guide to Baby Naming in 2022."
CLICK HERE
to get started!
This is without a doubt the BEST IN THE WORLD macaroni salad recipe to serve at any potluck, BBQ, or picnic; this is a classic. With hard-boiled eggs and a whole pound of elbow macaroni it makes enough to satisfy a crowd. The chopped pepper and celery contribute that nice crunch.
The combination of the mayonnaise and yellow mustard give this incredibly tasty macaroni salad the right amount of creaminess without it being too heavy.
If this isn't the recipe you need for your picnic or barbecue, we have 50 more salad recipes for you to choose from. Everything from different versions of potato salad, to fruit salads to coleslaw and salads you may have never heard of but will wow the crowd with. Go to the Salad Recipes section to get those delicious recipes!
Macaroni Salad
Ingredients:
1 pound cups uncooked elbow macaroni
6 hard-cooked eggs, chopped
3 stalks celery, chopped
1 green or red bell pepper, chopped
4 cups real mayonnaise
3 Tablespoons prepared yellow mustard
1/2 teaspoon salt
1/4 teaspoon pepper
1/2 teaspoon onion powder
Directions:
1. Bring a pot of lightly salted water to a boil. Add macaroni, and cook for 8 to 10 minutes, until tender. Drain, and set aside to cool.
2. In a large bowl, stir together the eggs, celery, and pepper.
3. In a small bowl, stir together the mayonnaise, mustard, pepper, salt and onion powder.
4. Combine in the bowl with the eggs and vegetables, and stir in macaroni until well blended.
5. Cover and chill for at least 1 hour before serving.