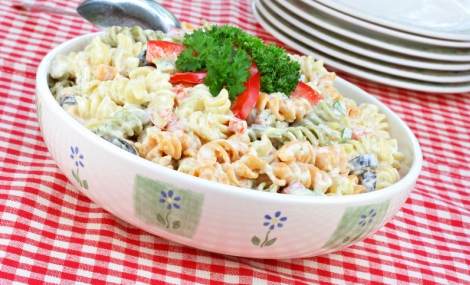 Dijon Pasta Salad
Ingredients:
1 lb. rotini, tricolor
2/3 cup oil
2 Tablespoons cider vinegar
2 teaspoons mustard, Dijon
2/3 cup mayonnaise
2 large celery stalks, chopped
6 slices bacon, cooked and chopped
2 hard cooked eggs, chopped
2 scallions, chopped
1/2 teaspoon salt
Paprika
Directions:
Cook pasta in boiling water just until done, usually 10 to 12 minutes.
Drain and rinse thoroughly under cold running water to stop the cooking process.
In a large bowl, whisk together oil, vinegar, mustard and mayonnaise.
Add the pasta, celery, bacon, eggs, scallion, salt, and paprika to the dressing and mix carefully.
Chill at least one hour before serving.