Today, come dive into the world of Mexican cuisine with me to explore two beloved South American dishes: fajitas and tacos. These two iconic dishes are staples in Mexican cuisine and have captured the hearts and taste buds of food enthusiasts worldwide, especially here in the United States. In this post, we'll unravel the differences between fajitas and tacos, their nutritional considerations, how they can be substituted for one another, and explore where they fit in the larger world of Tex-Mex dinner options.
Are Fajitas and Tacos the Same Thing?
Fajitas and tacos may seem similar at first glance, but they are, in fact, very distinct culinary creations. Anyone who's watched a sizzling skillet of meat, peppers, and onions march past them at a Mexican restaurant understands the specific appeal of fajitas.
Fajitas
Fajitas traditionally consist of grilled strips of marinated meat (commonly beef, chicken, or shrimp) cooked in a cast iron skillet alongside onions and bell peppers. These flavorful and aromatic ingredients are then served with warm tortillas, allowing you to create your own perfect meal using a variety of toppings like salsa, guacamole, sour cream, and cheese. We salute anyone who can resist the sizzle and steamy aroma of these beauties. (We can't, we're suckers for a skillet of marinated, meaty magic.)
Tacos
Tacos, on the other hand, are a versatile treat that comes in various forms. They typically feature a tortilla (either soft or hard-shell, either made from flour or masa corn) filled with a wide range of ingredients. From seasoned ground beef and shredded chicken to vegetarian options like beans or grilled vegetables, the possibilities are endless. They become even more customizable when they are adorned with an array of toppings like salsa, lettuce, tomatoes, cheese, and herbs like green onion or cilantro.
Nutritional Differences
Flavor and structure aren't the only arenas where these two dinnertime gladiators bring different heat to the table. When it comes to nutrition, fajitas and tacos offer their own unique benefits.
Fajitas
Fajitas, with their grilled lean meats and colorful bell peppers, are a great source of protein and vitamins. Opting for chicken or shrimp fajitas can be a healthier choice, as they tend to be lower in fat than beef fajitas. And while skillet meals do tend to have a fair amount of fats and oils, swapping in leaner cuts of meat (looking at you, chicken breast) can be a great way to shift your protein-to-fat ratio into the healthier range. The marinade gives you a buffer for flavor and moisture in cooking and offers an opportunity to add herbs and spices that also contribute to overall health. Load up on veggies and choose whole wheat tortillas for added fiber, and you've got yourself a nutritious and satisfying meal that even the strictest personal trainer would approve of.
Tacos
Tacos, too, can be a healthy option, depending on your fillings. Lean proteins like grilled chicken or fish offer essential nutrients, while vegetarian options like black beans or grilled vegetables provide a plant-based protein alternative. Be mindful of portion sizes and avoid excessive amounts of high-fat toppings like cheese or sour cream. Or focus on quality if you're going to have quantity: choose healthy fats like guacamole — even if it costs extra. Incorporate fresh corn salsa or pico de gallo for a burst of flavor without adding too many calories. And fresh herbs are some of the most nutrient-dense plant-based foods on the planet, with some of the biggest flavor impacts.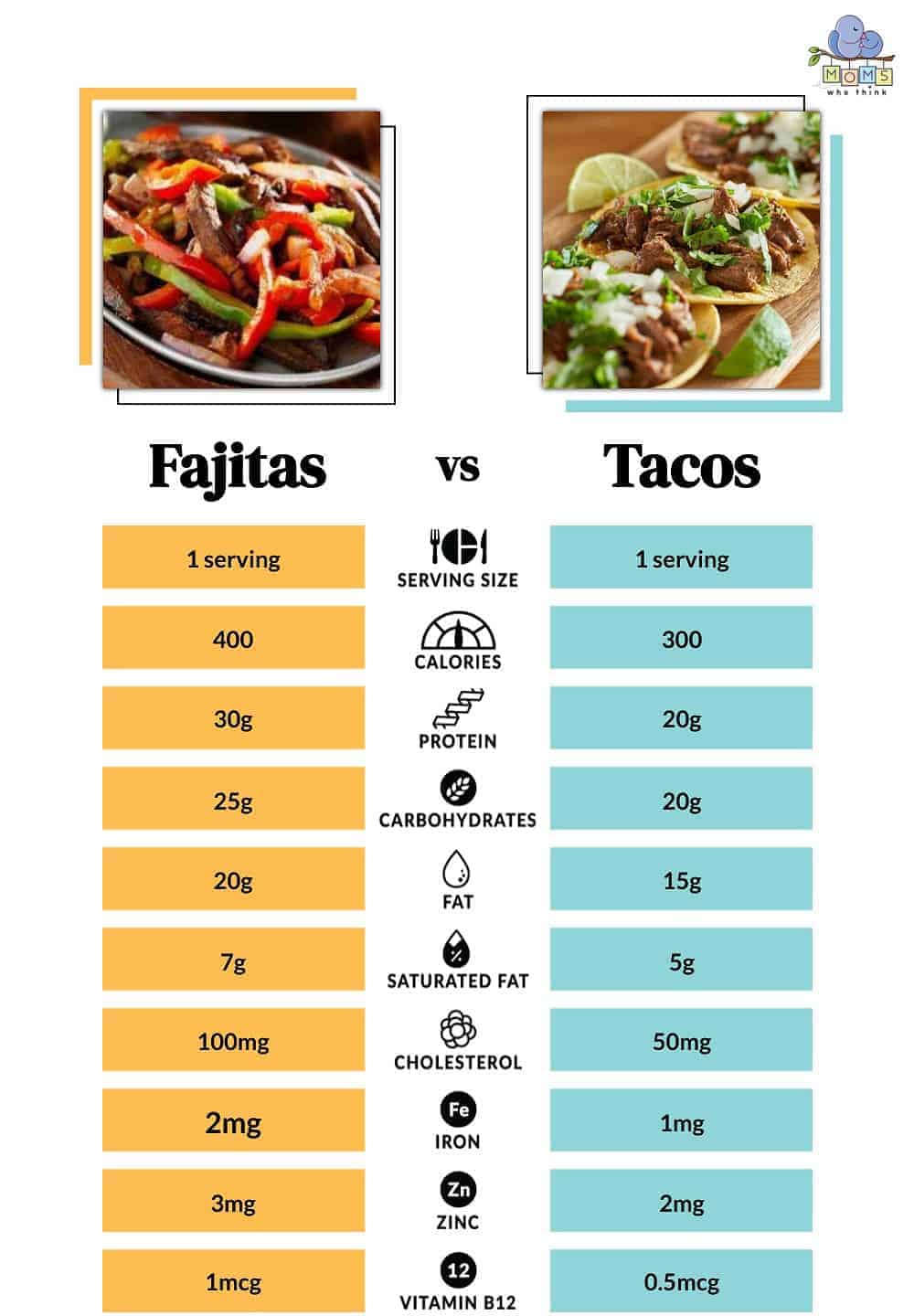 Can Fajitas and Tacos Be Substituted for Each Other?
While fajitas and tacos share some similarities, they aren't necessarily interchangeable. The cooking methods and specific ingredients used in each dish create distinct flavor profiles and textures. However, that doesn't mean you can't get creative and substitute elements from one dish to another!
Fajita Substitutions
If you're craving fajitas but don't have all the ingredients on hand, you can still whip up a delicious meal. Consider these substitution options:
Taco Substitutions
Sometimes, you're in the mood for tacos (we always are), but you need — for one reason or another — to modify the meal a bit. Fear not! Here are some substitution options to save the day:
Other Substitutions for Tacos and Fajitas
The Mexican-American stable of dinner options is pretty large. If you're craving the flavors, but these dishes don't sound like they'll check all the boxes for you and your family, you still have options. Whether your family is full of picky eaters, sensory aversions, or massive growing appetites, you can find a dinner solution that will let everyone pull up a chair and walk away satisfied.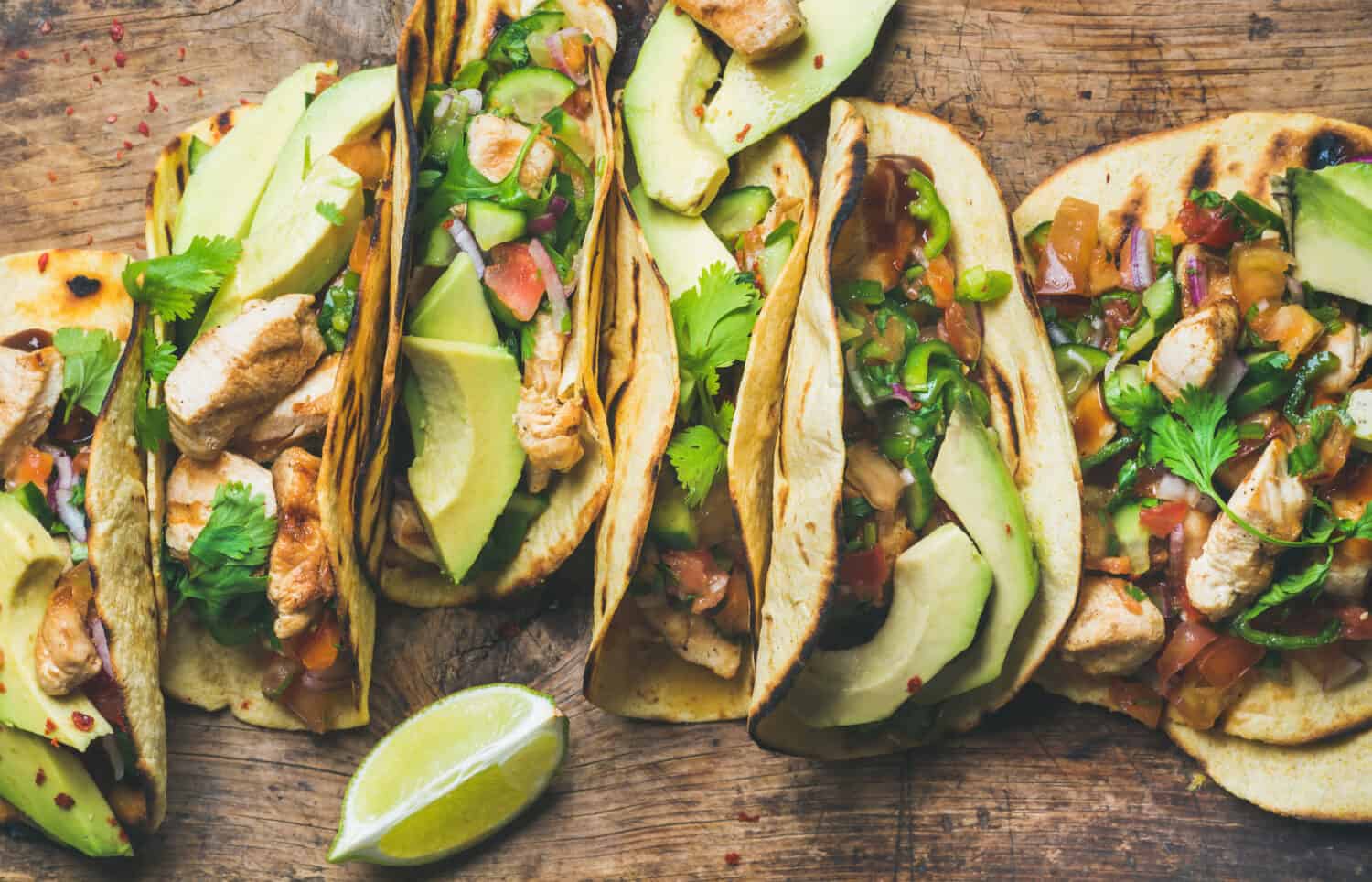 Best Taco Recipes
Best Fajita Recipes
Print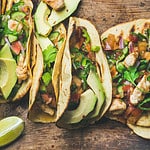 Slow Cooker Pulled-Pork Fajitas
---
1

pork boneless loin roast (

2 1/2

pound), trimmed of fat

2 tablespoons

fajita seasoning (from 3-ounce container)

1

cup

thick and chunky salsa

1

bag (1 pound) frozen stir-fry bell peppers and onions, thawed

2

packages 8 inch flour tortillas for burritos (

16

tortillas), warmed

2

cups

shredded Mexican-style taco cheese (8 ounce)

1

cup

sour cream, if desired
---
Instructions
Place pork in 3 to 4-quart slow cooker. Sprinkle with fajita seasoning. Top with salsa.
Cover; cook on low heat setting for 8 to 10 hours.
Remove cover from slow cooker. Shred pork using 2 forks.
Stir in thawed stir-fry vegetables. Increase heat setting to High.
Cover; cook 30 minutes longer or until mixture is hot and vegetables are tender.
Using slotted spoon, place 1/2 cup meat mixture in each warm tortilla.
Sprinkle with cheese. Serve with sour cream.
Fajitas and tacos may share common Mexican roots, but they're very distinct cornerstones of Tex-Mex cuisine. Fajitas boast sizzling meats and colorful peppers, while tacos offer endless filling options wrapped in a tortilla or nestled into a crunchy shell. Get creative in the kitchen! There are no hard and fast rules when you're trying to get dinner on the table and all the mouths in your house fed. Both fajitas and tacos provide versatile canvases for your culinary exploration, and each comes with its own substitution and evolution possibilities.
Note: Remember to consult your doctor or a registered dietitian if you have specific dietary concerns or restrictions.
The image featured at the top of this post is ©A-Z-Animals.com/Mallory Viscardi.