When you're looking for a healthy lunch option, a salad is likely your go-to meal. Salads that include lots of vegetables and protein, like the cobb and chef salad, have become popular items on many restaurant menus. When looking for the perfect salad for lunch, have you ever wondered about the difference between a Cobb salad vs chef salad?
The main difference between the cobb salad and chef salad is their dressing and ingredients. Although they have some ingredients in common like hard-boiled eggs, a Cobb salad includes blue cheese and generally has grilled chicken while a chef salad includes turkey, ham, and a mix of cheddar cheeses.
Before you order the Cobb or chef salad, consider the differences in their dressings, ingredients, and flavors. Keep reading to determine which salad you should order for your next meal.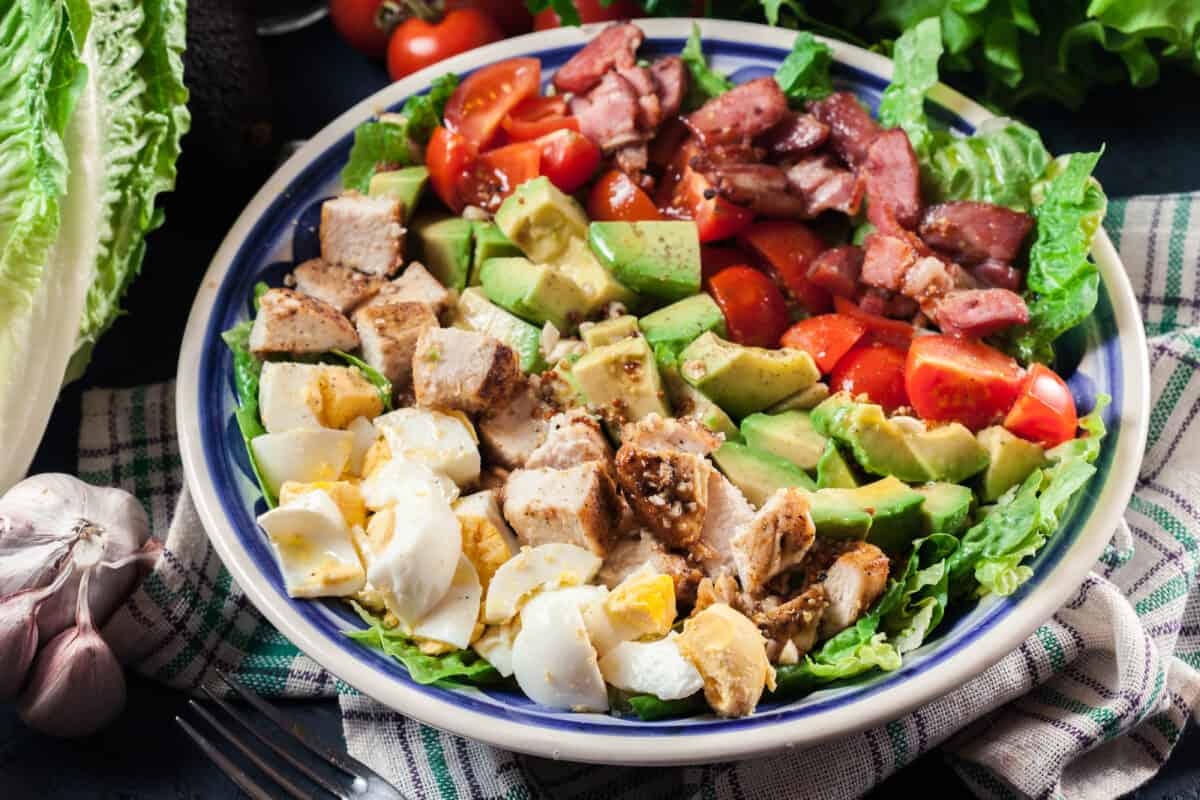 Cobb Salad vs Chef Salad: What Is the Difference?
Salads have become a popular meal and are no longer just considered a side dish for the main course. Especially with the inclusion of protein like grilled chicken, turkey, or ham, a full-size salad can be just as filling as any other entree. They're usually healthier than other options as well!
There are so many types of salad that it can be difficult to remember the difference between them all. Cobb salads and chef salads are two of the most popular salads that you'll see on restaurant menus.
The biggest difference between a Cobb salad vs chef salad is their dressings and ingredients. The protein for a chef salad is generally turkey, ham, or both. On the other hand, a Cobb salad usually includes grilled chicken instead.
As far as the dressing for these two salads, a chef salad usually includes a creamy dressing such as ranch, or blue cheese dressing. A traditional Cobb salad includes an oil-based dressing similar to a vinaigrette. Although there are some variations out there, a Cobb salad is more likely to contain romaine lettuce or a mix of lettuce types while a chef salad may contain romaine or iceberg lettuce.
What Is a Cobb Salad?
If you want a healthy, unique salad that's packed full of protein, a Cobb salad may be just the meal you're looking for. The Cobb salad, originally created by the owner of the Brown Derby Restaurant in Los Angeles, is a filling salad that has everything you need in one meal.
Robert Cobb, the owner of The Brown Derby Restaurant, created the salad as he was trying to make a meal with the ingredients he had on hand. According to one report, after the salad was eventually added to the restaurant menu, they ended up selling over four million Cobb salads.
The original recipe included most of the same ingredients we see in Cobb salads today, including Roquefort cheese, which is a type of blue cheese.
Two of the ingredients that you may not see in every Cobb salad that was in the restaurant's recipe are watercress and chopped chives. However, you can certainly add these to your own salad if you make it at home. Let's take a closer look at what the typical Cobb salad includes when you order it today.
Ingredients in a Cobb Salad
The Cobb salad has a nutritious mix of ingredients that make it both healthy, filling, and delicious. The ingredients for a Cobb salad include:
Romaine lettuce or another mix of lettuce leaves
Grilled chicken
Bacon
Avocado
Hard-boiled eggs
Tomatoes
Blue cheese
Vinaigrette or other oil-based dressing
Some variations of the Cobb salad include a blue-cheese dressing instead of a vinaigrette. If you order a cobb salad from a restaurant, you can usually ask them what type of dressing it comes with and swap it out for another type of dressing if you prefer.
What Is a Chef Salad?
A chef salad is one of the most popular, and often generic, salads that you'll see on restaurant menus. While some restaurants will choose to spruce up their chef salad recipe, it's usually a basic recipe that includes meat, vegetables, and your choice of dressing.
Like many popular food items, the origins of the chef salad are a bit unclear. While some claim that it originated from a 17th-century dish known as salmagundi, others claim it was created by New York chef Louis Diat in the 1940s.
No matter where the salad came from, it's still a popular and healthy dish today. A chef salad can include a variety of ingredients and although it typically comes with a creamy dressing like ranch, you can switch it up with a different dressing if you prefer.
Ingredients in a Chef Salad
Even though the ingredients of a chef salad are pretty simple, it's still one of the most popular and well-loved salads. The standard chef salad is going to include the following ingredients:
Turkey, chicken, or ham
Hard-boiled eggs
Cheese (normally variations of cheddar)
Lettuce
Tomatoes
Cucumber
Peppers
Some recipes include additional vegetables or even lack some of the ones listed above. Part of what makes the chef salad classic is the lettuce, creamy dressing, and addition of turkey or ham. Although chicken may sometimes be substituted, you're most likely going to have turkey or ham slices on top of a chef salad.
Nutritional Values of Cobb Salad vs Chef Salad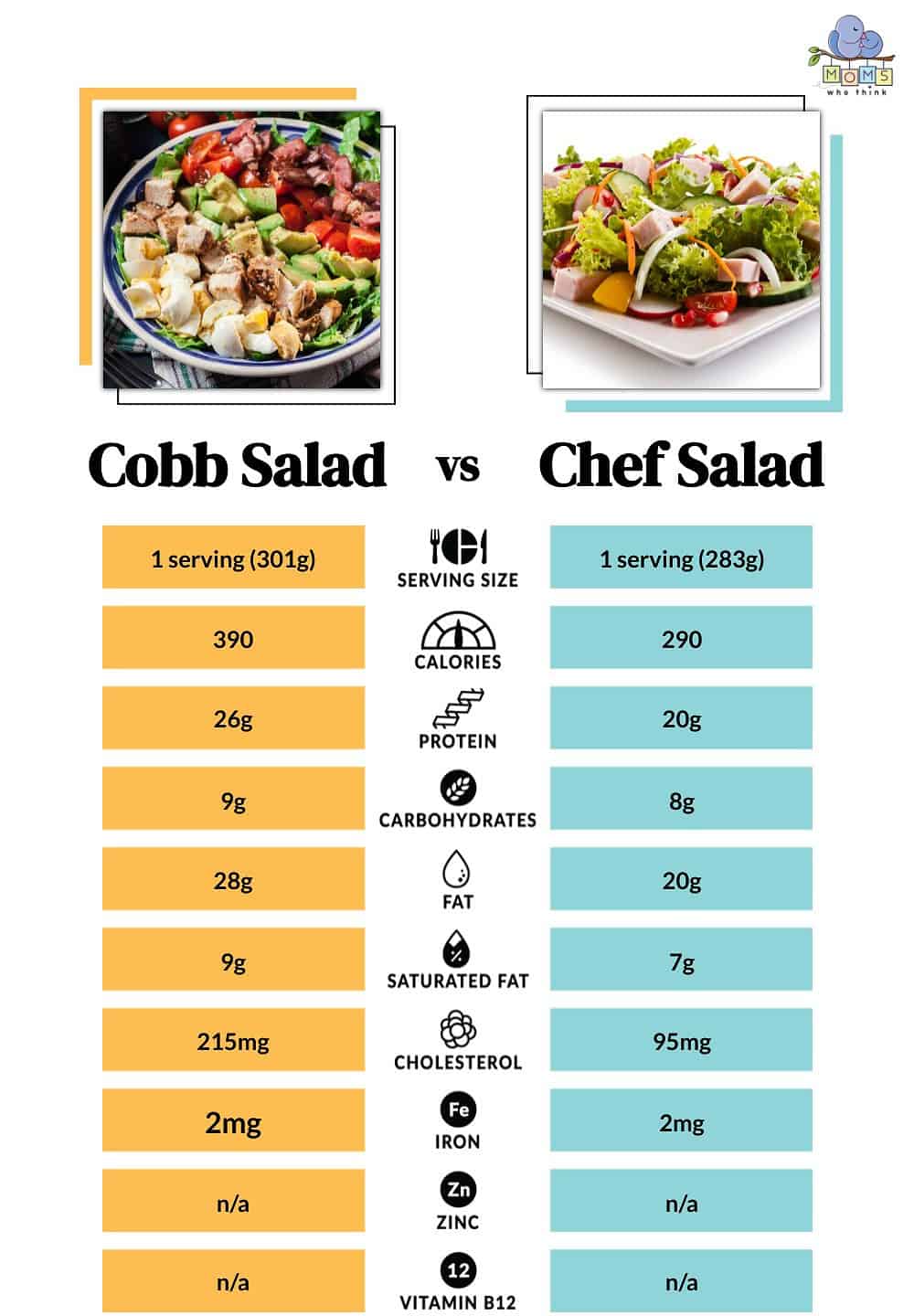 Which Is Healthier: Cobb Salad or Chef Salad?
You may be ordering a salad or making one at home simply because you enjoy them, and who could blame you? Chef salads and cobb salads are delicious no matter what your normal eating habits are. However, you also might be choosing a salad for your meal because you're trying to be intentional about what you eat. In this case, let's take a look at which salad is healthier.
When it comes to the nutritional values of Cobb salad vs chef salad, they're similar in many ways. In a serving, there's generally only about 100 calories difference and they have similar amounts of iron and protein. One of the biggest differences in nutritional values is going to be cholesterol. While a serving of chef salad has about 95 mg of cholesterol, a Cobb salad has about 215 mg.
It may seem like salad is always a healthy choice, but there are many factors to consider if you're looking for a healthy meal. If you're ordering a cobb or chef salad at a restaurant but want to reduce the amount of fat or calories, you can always ask for light dressing or ask them to hold the cheese.
Both cobb salad and chef salad are good sources of protein and vitamins, but which one is healthier is going to depend on how they're prepared. The dressing is one of the biggest indicators of how healthy a salad is. Keep this in mind if you're ordering a salad at a restaurant and ask for the dressing on the side if you want to lower the calories or fat.
Choosing Between a Cobb Salad vs Chef Salad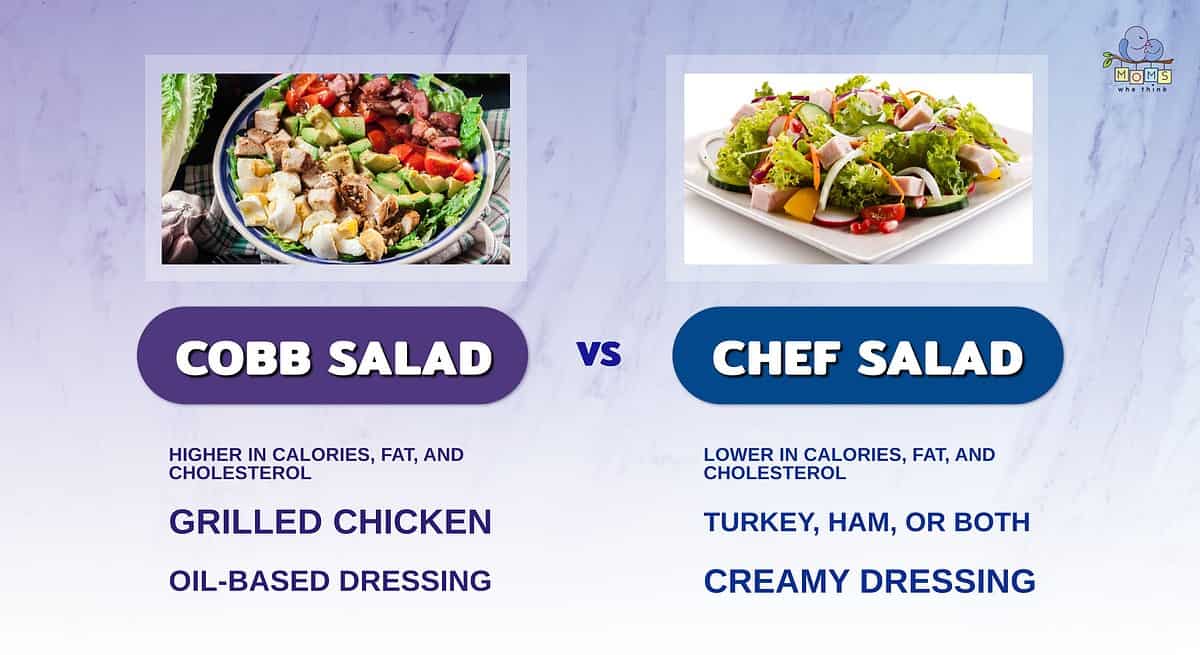 Cobb salad usually uses grilled chicken as its protein, while chef salad usually uses turkey, ham, or a combination of both.
Cobb salad uses an oil-based dressing, like a vinaigrette, while chef salad uses a creamy dressing, like ranch or blue cheese.
Cobb salad is usually higher in calories, fat, and cholesterol, making chef salad a better choice for those on a diet.
Cobb salads and chef salads are delicious and healthy salads that are filling enough to enjoy for lunch or dinner. If you've ever wondered the difference between them, the dressing isn't the only thing that sets them apart.
While they do have some ingredients in common like hard-boiled eggs and lettuce, Cobb salads and chef salads have different types of protein, cheese, and vegetables as well. While both salads can be a healthy meal, they can also be high in fat, sugar, or cholesterol depending on where you order them from. If you want to make sure your salad is healthy, your best bet is to make it at home or ask for the dressing on the side at a restaurant.
Salad Recipes
Print
Cobb Salad
---
Salad Ingredients:
1/2

head iceberg lettuce

1/2

bunch watercress

1

small bunch of curly endive

1/2

head romaine lettuce

2 Tablespoons

chives, minced

2

medium tomatoes, peeled, seeded, diced

1

whole boneless skinless chicken breast, cooked and diced

6

bacon slices, cooked and diced

1

avocado, peeled and diced

3

hard-boiled eggs, diced

1/2

cup

Roquefort cheese, crumbled
French Dressing Ingredients:
1/4

cup

water

1/4

cup

red wine vinegar

1/4 teaspoon

sugar

1 1/2 teaspoons

lemon juice

1/2 teaspoon

salt

1/2 teaspoon

black pepper

1/2 teaspoon

Worcestershire sauce

3/4 teaspoon

dry mustard

1/2

garlic clove, minced

1/4

cup

olive oil

3/4

cup

vegetable oil
---
Instructions
1. Chop lettuce, watercress, endive, and romaine into very fine pieces. Mix in 1 large wide bowl or 6 individual wide shallow bowls. Add chives.
2. Arrange tomatoes, chicken, bacon, avocado, and eggs in narrow strips or wedges across the top of the greens. Sprinkle with cheese. Chill.
3. Meanwhile, to make the dressing, combine water, vinegar, sugar, lemon juice, salt, pepper, Worcestershire, mustard, garlic, and oils. Chill.
4. At serving time, shake the dressing well. At the table, pour 1/2 cup of dressing over the salad and toss. Pass the remaining dressing at the table.