The internet cannot get enough of the almighty "bowl" meal. There are a lot of terms being tossed around, the most adjacent of which are lifestyle bowls and burrito bowls. What exactly are these culinary creations? Can they be substituted for one another? Today, we'll dig into the cultural, technical, and nutritional differences, substitution options, and more.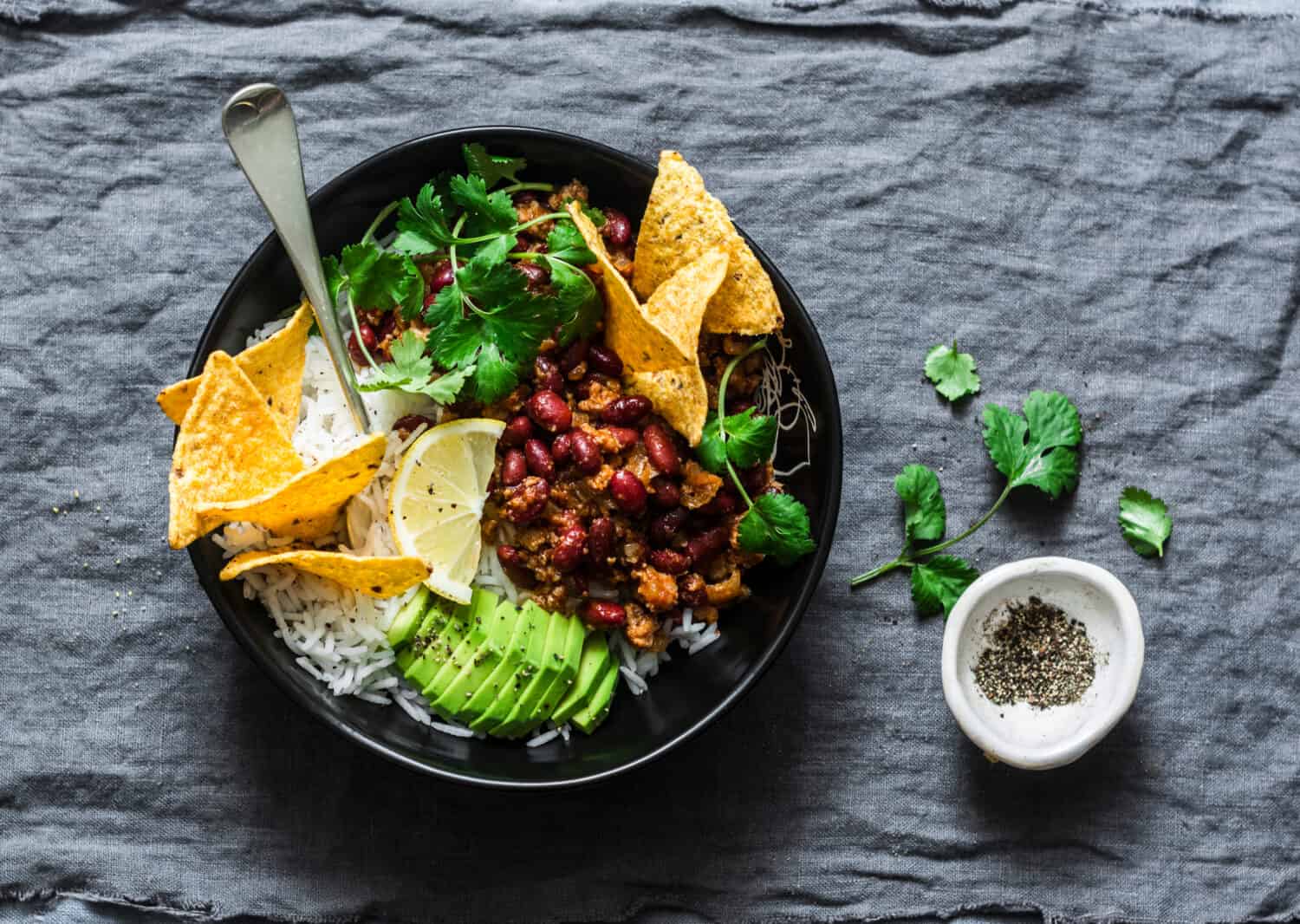 First, let's define what a burrito bowl is. A burrito bowl is typically made up of rice, beans, meat (such as chicken or beef), and various toppings. These extra toppings can include salsa, cheese, and our personal favorite: guacamole. The ingredients are usually mixed together in a single bowl, giving you all the flavors of a burrito without the tortilla wrap. If you're feeling adventurous, you can add strips of crunchy tortilla strips over the top of the bowl or eat them with chips. But often, the appeal of a burrito bowl is to enjoy the flavors you find in a burrito without the added carbs and refined flour found in tortillas.
Separately, a lifestyle bowl is a more general term that can refer to any type of bowl that is designed to fit a specific dietary lifestyle. For example, a lifestyle bowl may be vegan, gluten-free, or low-carb. The ingredients of a lifestyle bowl can vary widely, but they usually align with a specific structured approach to eating.
Are Burrito Bowls and Lifestyle Bowls the Same Thing?
So, are burrito bowls and lifestyle bowls the same thing? Not exactly. While both types of bowls may contain some of the same ingredients, such as rice and beans, the overall composition and nutritional value of the two can be quite different. Burrito bowls are typically higher in calories and carbohydrates, while lifestyle bowls often adhere to a specific dietary need or preference.
The main difference lies in the Tex-Mex element. Burrito bowls also feature a Tex-Mex flavor signature. They include ingredients like seasoned rice, beans, salsa, and guacamole, all served in a bowl. Lifestyle bowls are similar in elements and components, but they don't strictly adhere to the Tex-Mex influence and offer a wider range of flavors and ingredients. Think of them as the burrito bowl's cool cousin who loves trying new culinary combinations!
Nutritional Differences: The Inside Scoop
Now that we've defined what each type of bowl is let's take a look at the nutritional differences between the two. In general, burrito bowls tend to be higher in calories and carbohydrates than lifestyle bowls. This is because of the rice and beans that are often inside a burrito bowl. However, burrito bowls also tend to be higher in protein and fiber than lifestyle bowls because of those same meat and beans.
On the other hand, lifestyle bowls are typically designed to be lower in calories and carbohydrates and higher in protein and healthy fats. For example, a vegan lifestyle bowl may be made up of quinoa, roasted vegetables, and tofu, while a low-carb lifestyle bowl may be made up of cauliflower rice, grilled chicken, and avocado.
Nutrition and Ingredients
When it comes to nutrition, both burrito bowls and lifestyle bowls can be wholesome and satisfying meal options. However, the Tex-Mex twist in burrito bowls introduces some distinct flavors and ingredient characteristics. Let's break it down:
Protein Power: Burrito bowls often feature meat options like grilled chicken, beef, or pork. They also often include plant-based choices like beans or tofu. These protein sources give your body a boost while satisfying your taste buds.
Carb Choices: Burrito bowls typically include rice as a base, which provides a hearty source of carbohydrates. The lifestyle bowls, on the other hand, may offer more variety when it comes to grains or grain-free options like cauliflower rice or quinoa.
Good Fats Galore: Both types of bowls can offer healthy fats from sources like avocados, olive oil, or nuts. These fats are essential for your body's overall well-being and can contribute to a feeling of satiety.
Veggie Variety: Burrito bowls often include a mix of veggies. Sample favorites like bell peppers, corn, and tomatoes, which all provide a burst of color and nutrients. Lifestyle bowls, being more diverse in flavors, might incorporate a wider range of vegetables. Less common ingredients such as roasted Brussels sprouts, sweet potatoes, or kale all add delightful twists.
Can You Substitute Burrito Bowls for Lifestyle Bowls (and Vice Versa)?
Can burrito bowls and lifestyle bowls substitute for each other? It depends on what you're looking for. While burrito bowls and lifestyle bowls have their own unique identities, you can absolutely substitute one for the other.
It all boils down to your personal preferences and dietary needs. If you're craving a Tex-Mex fiesta, go for a burrito bowl. But if you're feeling adventurous and want to explore different flavor profiles, opt for a lifestyle bowl. Flexibility is the key here, and you can mix and match ingredients to create your own signature bowl.
Nutritional value is another reason you may swap one for the other. If you're looking for a healthy, low-calorie option, a lifestyle bowl may be a better choice. However, if you're looking for a hearty, filling meal that's higher in protein and fiber, a burrito bowl may be a better choice.
Substitution Options: Think Outside the Bowl!
If you're looking for substitutes for each type of bowl, there are plenty of options to choose from. For example, if you're looking for a low-carb substitute for a burrito bowl, you could try a salad with grilled chicken, avocado, and salsa. If you're looking for a vegan substitute for a lifestyle bowl, you could order or make a vegetable stir-fry with tofu and quinoa.
Burrito Bowl Substitutions:
Base Swaps: Instead of traditional rice, try using quinoa, cauliflower rice, or even leafy greens. We like spinach or kale as our bowl base. It adds variety and boosts the nutritional value of your bowl.
Protein Alternatives: Experiment with different proteins like grilled shrimp, tempeh, or even roasted jackfruit as a flavorful and plant-based alternative.
Salsa Sensations: Switch up the salsa game by trying out different variations. You might love mango salsa, pineapple salsa, or even a smoky chipotle sauce.
Lifestyle Bowl Substitutions:
Grain-Free Delights: If you're looking to cut down on grains, try substitutions! Grains with roasted sweet potatoes, spiralized zucchini, or cauliflower rice are all great. These alternatives bring a delightful twist to your bowl.
Unique Proteins: Expand your protein options beyond the usual suspects. Consider adding poached eggs, marinated tofu, or even seared halloumi cheese to amp up the flavor.
Dressing Diversity: Branch out from the classic vinaigrette! Explore dressings like tahini-based sauce, miso ginger dressing, or a zesty lemon herb drizzle.
Remember, the world of bowl creations is vast, and you are the chef of your own culinary adventure. Feel free to mix and match ingredients. You can also experiment with flavors and create your own dish that suits your palate and preferences.
The Best Burrito Bowl Recipes
The Best Lifestyle Bowl Recipes
Bringing it Together: Bowls Unite!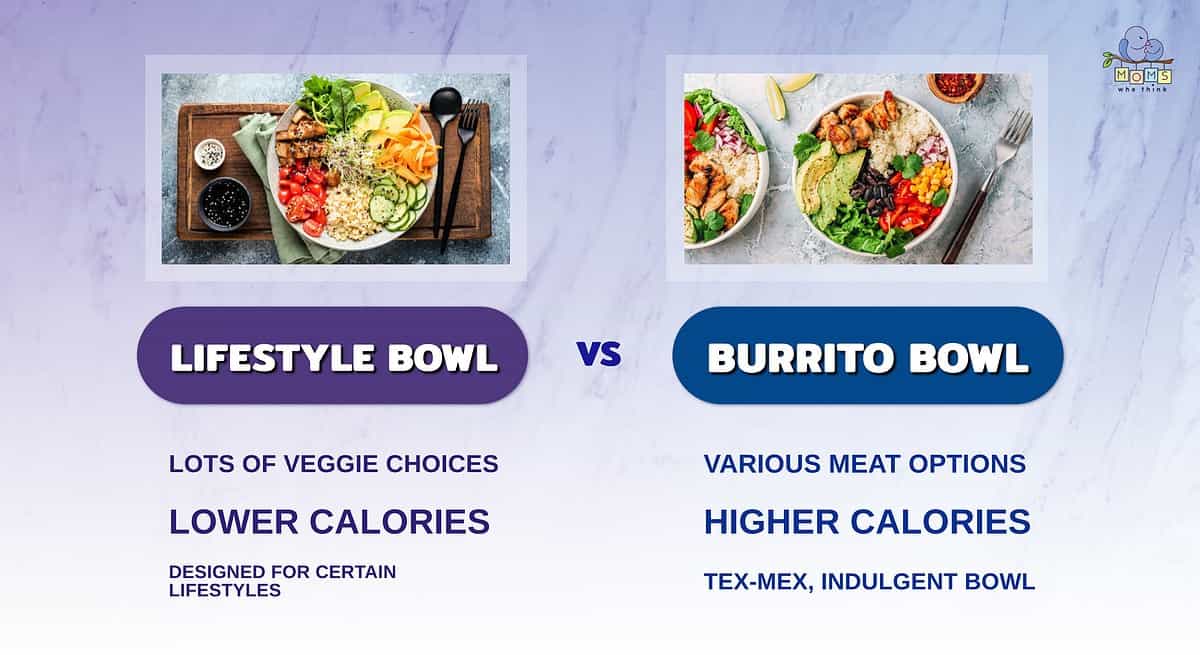 Who doesn't love a burrito bowl? It's such a popular meal that now there is a healthier option: a lifestyle bowl. While they are both similar in style, they have quite a few differences:
Lifestyle bowls are generally packed with veggies and other healthy ingredients. Burrito bowls, on the other hand, are more indulgent with beans, marinated meats, and rice.
Because lifestyle bowls are on the healthier side, there are fewer calories, whereas burrito bowls are typically higher in calories.
Lifestyle bowls are tailored to a certain dietary lifestyle, whereas burrito bowls are a popular Tex-Mex favorite.
Both options offer a delicious and nutritious way to enjoy a meal in a bowl. There is something for everyone, whether you're a die-hard burrito bowl enthusiast or a culinary explorer who loves lifestyle bowls. Embrace the Tex-Mex flair or venture into uncharted flavor territories – the choice is yours! I hope this little journey through the world of burrito bowls and lifestyle bowls inspires you. Don't be afraid to get creative, try new things, and remember to enjoy the process. Happy bowl-ing and bon appétit!
Print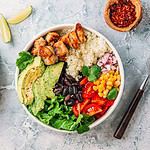 Burrito Bowl
---
For the Chicken Marinade:
1

pound

(450g) boneless, skinless chicken breasts or thighs

2 tablespoons

olive oil

2 teaspoons

chili powder

1 teaspoon

ground cumin

1 teaspoon

paprika

1/2 teaspoon

garlic powder

1/2 teaspoon

onion powder
Salt and pepper to taste
Juice of

1

lime
For the Burrito Bowl:
2

cups

cooked white or brown rice

1

can (15 ounces) black beans, drained and rinsed

1

cup

corn kernels (fresh, frozen, or canned)

1

cup

diced tomatoes (canned or fresh)

1

cup

shredded lettuce or chopped Romaine lettuce

1

cup

shredded cheese (cheddar, Monterey Jack, or your choice)

1/2

cup

diced red onion

1/4

cup

chopped fresh cilantro
Salsa, guacamole, sour cream, or your preferred toppings
---
Instructions
1. Marinate the Chicken:
In a bowl, combine the olive oil, chili powder, cumin, paprika, garlic powder, onion powder, salt, pepper, and lime juice.
Place the chicken in a resealable plastic bag or a shallow dish, and pour the marinade over it. Seal the bag or cover the dish and refrigerate for at least 30 minutes to marinate. You can marinate it longer for more flavor.
2. Cook the Chicken:
Preheat your grill or stovetop grill pan over medium-high heat.
Grill the chicken for about 6-8 minutes per side or until it's cooked through and has grill marks. The internal temperature of the chicken should reach 165°F (74°C).
Remove the chicken from the grill, let it rest for a few minutes, then slice it into strips.
3. Assemble the Burrito Bowls:
Start by dividing the cooked rice among four serving bowls.

Arrange the grilled chicken strips, black beans, corn, diced tomatoes, shredded lettuce, shredded cheese, diced red onion, and chopped cilantro on top of the rice.
4. Add Toppings:
Top the burrito bowls with your favorite toppings. You can add salsa, guacamole, sour cream, or any other toppings you prefer.
5. Serve:
Serve the burrito bowls immediately, allowing each person to customize their bowl with additional toppings as desired.
The image featured at the top of this post is ©Vladislav Noseek/Shutterstock.com.