When comparing quinoa vs. brown rice, it's good to know the major differences. While quinoa is technically a seed, it is cooked and eaten like a grain. Meanwhile, brown rice is a cereal grain staple in the healthy eating community. The two differ in origin, nutritional profile, and slightly in terms of taste. While they can easily be substituted in different dishes, knowing their specific differences will help you make the best choice while shopping. 
In this post, you'll learn everything you need to understand about the differences between quinoa vs. rice grains. We'll discuss the history and origin of each and some recipe ideas. Perhaps one of the biggest differences is the nutritional profile of quinoa vs. brown rice, so expect a deeper dive into that as well. By the end of this, you'll know which one is better suited to your needs in terms of taste, nutrition, and the particular dish you plan to make. Let's get into it!
Quinoa vs. Brown Rice: What is the difference?
The main differences between quinoa vs. brown rice come down to the history and origin of the quinoa seed and the brown rice grain, the nutritional profile of each, and the taste and texture. With the right seasonings, the two can be easily interchanged in recipes. Both quinoa and brown rice have nutritional qualities that make them a very healthy choice as a base for most meals. These two ingredients are also gluten-free, meaning they can replace gluten products in many meals and be found in gluten-free pasta, flour, and other gluten-alternative meals. Let's learn a little more about each individually.
What is Quinoa?
Quinoa (Chenopodium quinoa) is technically a seed but is cooked similarly to cereal grains. They have a nutty, earthy flavor to them, as well as a slight crunch because they are seeds. Quinoa comes from the Amaranthaceae family, an annual flowering plant that produces quinoa seeds. The leaves of this plant are actually also edible, resembling spinach, a distant plant relative. Quinoa comes in variations of white, tan, red, and black seeds. The color is dependent on how the flower is produced that year. The quinoa flower's frost resistance and other defensive features have made it a hearty crop (via Brittanica).
History And Origin of Quinoa
Quinoa hails from areas including the Andes, parts of Columbia, Northern Argentina, and Southern Chile. It is likely to have been domesticated as a crop between 3,000-5,000 years ago in similar agricultural techniques as corn and potatoes. However, unlike these other two crops, quinoa did not make its way across the sea with imperialism. The reason for this may be tied to the fact that you need to remove the saponins from the seeds; otherwise, they have a very bitter taste to them. Once the health benefits of quinoa spread, it became a freely grown crop in other parts of the world, including the U.S., Italy, Sweden, India, and Canada. However, the largest producers of quinoa are still Bolivia and Peru.
As mentioned above, quinoa is harvested from an annual flowering plant, which is related to spinach. The plant blooms through a cycle of green, yellow, red, and purple. The saponins that make the seeds bitter are there to protect the plant from being eaten but are removed in the harvesting process by soaking the seeds in water. These saponins are actually used in pharmaceutical production, soaps, detergents, fire extinguishing liquids, and even beer production (via Brittanica).
How To Cook Quinoa
Similarly to rice, all you need is some water or broth to get your quinoa going. Refer to this post on How To Cook Quinoa Perfectly: 4 Easy Steps, but the gist of it is to rinse the quinoa, boil, reduce the heat, allow the quinoa to simmer, and then let the quinoa rest to soak up all the moisture. Once these steps are done, you'll have fluffy, ready-to-serve quinoa. Season it to your heart's content. You can also try this variation on cooking quinoa, which includes toasting the quinoa after it's been rinsed. The idea behind this is to enhance the nuttiness and crunch aspect of the quinoa seeds while cooking.
Popular Dishes Using Quinoa
Quinoa makes a great side dish for this baked chicken recipe. Or as an alternative to rice in this crock pot chicken and rice recipe. Check out this Mexican stuffed shells recipe, which features quinoa in the filling. Quinoa can be used as a base in fajita bowls instead of rice. It is generally substituted for a great nutty, healthy meal base. As you can see below, it makes a great staple to any fresh salad. It can also be easily introduced into soups, stews, bowls, baking, and more.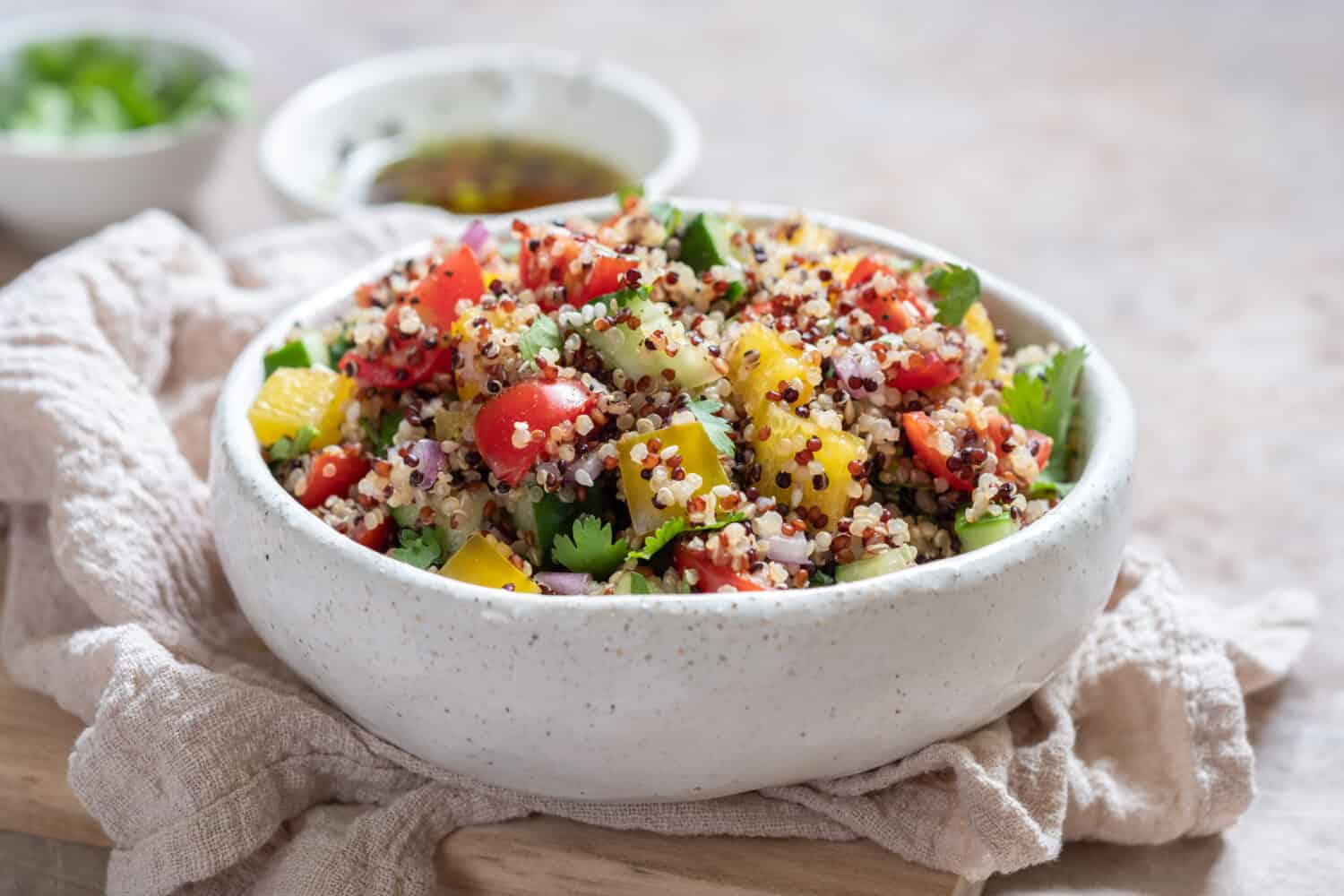 What is Brown Rice?
Brown rice is a cereal grain that comes from the Poaceae grass family. There are a number of rice varieties, but the brown rice variety is a whole grain that has not had the bran, germ, or endosperm removed in the milling process. White rice, on the other hand, is rice with those elements removed. This makes brown rice take longer to cook, but it has more nutrients, an earthier flavor, and a chewier texture. Rice is used to create rice cereals, rice noodles, and rice alcohols (via Brittanica).
History And Origin of Brown Rice
The rice plant has a history stemming back to early civilizations. It has roots in China, India, and areas of Southeast Asia. The plant grows best in coastal areas, river basins, and temperate zones. It's grown from seeds, and 90% of the current rice production is done out of Asia, with some coming out of Southeast Asia and a small amount cultivated in Europe, Australia, as well as in North and South America. The milling process differentiates whole-grain brown rice from white rice and other types. All the byproducts of rice milling can be used in different industries. For instance, bran and starch can be used in livestock feed, rice oil can be used in cooking, and leftover broken rice pieces can be used in breweries and alcohol distillation. Needless to say, there are numerous ways rice plants can be used.
How To Cook Brown Rice
Like quinoa, brown rice can be cooked in water or a broth for added flavor. Check out How To Cook Brown Rice Perfectly, 2 Ways. The basics of this article suggest how to perfectly time your brown rice and properly season it to bring out the best flavors and health benefits. It can be used as a base for many dishes, stir-fries, soups, stews, fillings, and more. Use your cooked brown rice to form a veggie burger, and it can also be found in gluten-free pasta and other rice grain products. Read on to get an idea for some specific recipes using brown rice.
Nutritional Value of Quinoa vs. Brown Rice
The nutritional comparison of quinoa vs. brown rice really comes down to the differences in fiber, calories, and protein content. Livestrong's comparison of the two shows that 1 cup of cooked quinoa has 2.6 grams compared to brown rice's 1.8 grams. Quinoa has 111 calories compared to 109 calories in a cup of cooked brown rice. A half-cup comparison of quinoa vs. brown rice shows that quinoa is higher in protein than brown rice, with 2.6 grams compared to 1.9 grams. However, brown rice is lower in fat than quinoa, clocking in at .8 grams per half-cup compared to 1.8 grams. The carbohydrate comparison is relatively similar, and each has its own health benefits in terms of vitamins and minerals.
Possible Alternatives To Quinoa and/or Brown Rice
If you're looking for an option that's neither quinoa nor brown rice, why not try couscous, buckwheat, farrow, bulgar, or oats? You can also go for sorghum or cauliflower rice instead. For protein, you could also choose to substitute beans as a base. Tofu could also be a good alternative, though you'd be changing the texture considerably from a seed/cereal grain to an ingredient like tofu.
Recipe Card
There are so many delicious dishes to make with both rice and quinoa. Take a look at one of our favorites.
Print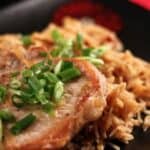 Peach Pork Chops with Buttered Brown Rice
---
Author:

Yield:

4

servings

1

x
1/2 cup

peach preserves

1

garlic clove, finely minced

2 Tablespoons

Dijon mustard

1 Tablespoon

soy sauce

2 Tablespoons

orange juice

1/4 teaspoon

crushed red pepper

4

(5 ounce) thin-cut bone-in pork chops

1/2 teaspoon

salt

1/4 teaspoon

ground black pepper

1 teaspoon

olive oil

2 cups

cooked brown rice, buttered
---
Instructions
In a small bowl, combine the peach preserves, garlic, mustard, soy sauce, orange juice, and crushed red pepper.

Sprinkle pork chops with salt and pepper.

Heat the oil in a large nonstick skillet over medium-high heat. 

Saute the pork chops until browned and cooked through, 4 to 5 minutes on each side. Transfer to a plate cover to keep warm.

Add the peach mixture to the skillet; bring to a boil. Reduce the heat and simmer, uncovered, until the sauce thickens slightly (about 3 minutes).

Spoon sauce over the pork chops. 

Serve with the buttered brown rice.
The image featured at the top of this post is ©vm2002/Shutterstock.com.