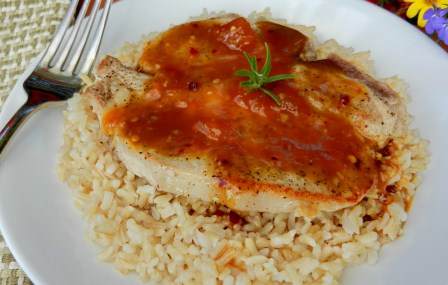 Peach Pork Chops with Buttered Brown Rice
Ingredients:
½ cup peach preserves
1 garlic clove, finely minced
2 Tablespoons Dijon mustard
1 Tablespoon soy sauce
2 Tablespoons orange juice
¼ teaspoon crushed red pepper
4 (5 ounce) thin-cut bone-in pork chops
½ teaspoon salt
¼ teaspoon ground black pepper
1 teaspoon olive oil
2 cups cooked brown rice, buttered
Directions:
1. Combine the peach preserves, garlic, mustard, soy sauce, orange juice, and crushed red pepper in a small bowl.
2. Sprinkle pork chops with salt and pepper.
3. Heat the oil in a large nonstick skillet over medium-high heat. Saute the pork chops until browned and cooked through, 4 to 5 minutes on each side.
4. Transfer to a plate cover to keep warm.
5. Add the peach mixture to skillet; bring to a boil. Reduce the heat and simmer, uncovered, until the sauce thickens slightly (about 3 minutes).
6. Spoon sauce over the pork chops. Serve with the buttered brown rice. Makes 4 servings.
Try one of our favorite 30 Minute Meals: