While many see rice as empty calories or carbs, brown rice is often lauded as a healthy alternative. However, if you know anything about the difference between white and brown rice, you might wonder if brown rice is actually healthy. There are health benefits to eating brown rice and some downsides as well.
Let's dive into the differences between white and brown rice and whether brown rice is a healthy alternative.
Is Brown Rice Healthy?
Contrary to popular belief, brown rice isn't a specific type of rice. Instead, it's a term to describe many varieties of rice that have the bran and germ intact. The main difference between brown and white rice varieties is what happens during the milling process. While white rice is a refined grain that has the germ and bran removed, brown rice is an unrefined grain.
The difference in the milling process is why brown rice is considered healthier than white rice. The bran and germ contain a lot of minerals and fiber that are no longer present in white rice. However, there aren't as many differences as most people think since white rice is often fortified with extra nutrients.
Brown rice is healthy and many experts suggest swapping out white rice for brown rice to lower blood levels and avoid weight gain. Brown rice can be a healthy side dish or base for your meal, especially when consumed with a protein such as grilled chicken or pork tenderloin. However, this doesn't mean you should eat brown rice for every meal or that it's a balanced meal on its own.
To enjoy the benefits of brown rice, it's essential to consume the proper serving amount and ensure it's part of an overall nutritious meal. Like most types of rice, brown rice is incredibly diverse and there are truly no limits to the healthy meals you can create with brown rice as a side or a base.
Health Benefits of Brown Rice
Brown rice can definitely be a healthy part of your diet. While it's important to pair it with other healthy ingredients such as grilled meat or vegetables, there are many benefits to eating brown rice.
Some of the health benefits of brown rice are:
Brown Rice Is Good for Your Heart
Brown rice is good for your heart health because it's full of fiber and contains other necessary nutrients. Studies have shown a high-fiber diet can play a significant role in preventing cardiovascular disease and other heart problems.
Brown Rice Is Gluten-free
Brown rice is naturally gluten-free, and while this doesn't matter for everyone, it makes brown rice a great choice for those who have celiac disease or experience gluten sensitivity. Brown-rice flour can also be used to make gluten-free bread for those with gluten sensitivity.
Brown Rice Is Full of Nutrients and Minerals
Overall, there are many nutrients and minerals in brown rice that are beneficial for your health. Just one cup of brown rice provides you with 30% of your daily value of thiamin, 19% of your daily value of magnesium, and 86% of your daily value of manganese.
Downfalls of Brown Rice
Even though brown rice is great for your health, there are also some downsides to consuming it. Before you add brown rice to your diet, there are some risks worth considering.
Here are some of the downfalls of eating brown rice:
Concerns About Arsenic
One of the main concerns about brown rice is the presence of arsenic. Arsenic is a naturally occurring compound found in soil and groundwater, but non-organic arsenic is toxic to humans. Because rice is so porous, it absorbs more arsenic than many other foods or vegetables. Brown rice actually contains more arsenic than white rice since much of it is found in the bran and germ.
There certainly is a need for more research on the risks of arsenic consumption through brown rice, but it's generally considered safe to eat in moderation. Also, rice isn't the only problem–arsenic is also present in certain fruits such as apples, pears, and grapes. Like any of these foods, it's best to consume them in moderation and include a variety of fruits and vegetables in your diet.
Carb Content
Another reason why both brown and white rice are seen as unhealthy is the amount of carbs. While rice does have a higher carb content than vegetables, it can still be beneficial for you when portioned properly.
The 45 grams of carbs present in 1 cup of brown rice are only about 20% of the daily value for those who consume about 2,000 calories per day. Carbs might seem like the enemy with the popularity of low-carb diets like Keto, but they are a necessary nutrient that provides you with energy. As long as your meal isn't only carbs, the amount of carbs in brown rice isn't an issue for most people.
Phytic Acid Content
The last major concern about the risks of brown rice is the phytic acid it contains. Phytic acid is considered an anti-nutrient, which means that instead of nourishing your body, it prevents your body from absorbing nutrients. There are some benefits to consuming phytic acid, but overall, it's concerning because it makes it more difficult to digest brown rice as well as the nutrients in it.
As long as you eat brown rice in moderation and include other grains and vegetables in your diet as well, it won't affect most people in the long run.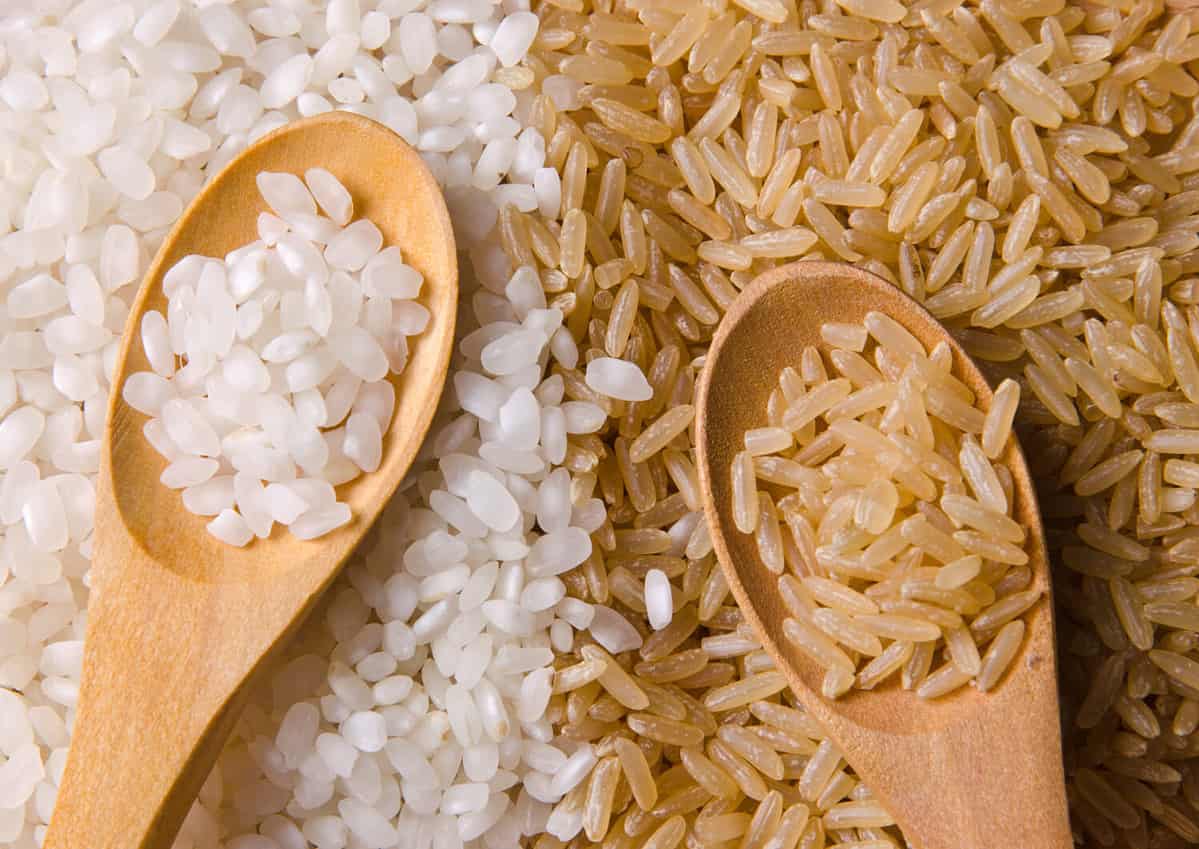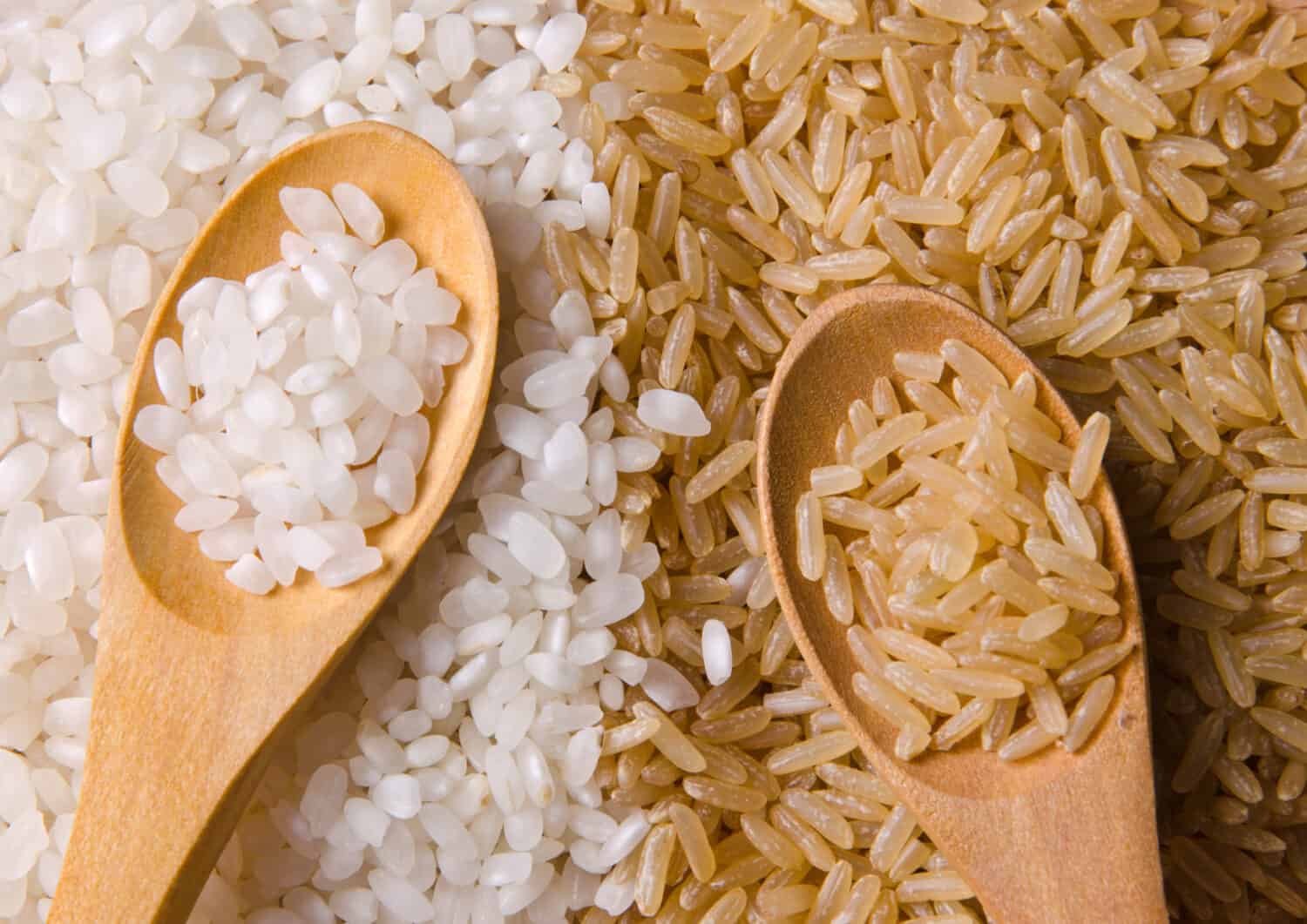 Is Brown Rice Healthier Than White Rice?
The common question about brown rice and how healthy it is usually comes up because brown rice is compared to white rice. Brown rice is seen as the healthier version since it contains more fiber and other nutrients.
If you're wondering if brown rice is healthier, the short answer is yes, in many ways, brown rice is healthier than white rice. It contains higher amounts of certain vitamins and fiber, but there's not as much difference in the nutritional values as you might think. White rice is often fortified to make up for the nutrients lost in the milling process.
Here's a breakdown of the nutritional values of 1 cup of brown rice versus 1 cup of white rice:
Brown Rice
216 calories
1.8 grams of fat
45 grams of carbs
5 grams of protein
White Rice
206 calories
0.4 grams of fat
45 grams of carbs
4.3 grams of protein
As you can see, when you compare the calories, carbs, and protein, the difference between brown rice and white rice is minimal. Although brown rice does contain certain nutrients that aren't found in white rice, they can both be healthy options.
Healthy Ways to Serve Brown Rice
Since brown rice, like other grains, is best consumed in moderation, it does matter how you include it in your diet. Here are some healthy ways to eat brown rice:
Serve brown rice with grilled chicken, pork chops, or another protein
Make a stir-fry with brown rice and vegetables
Add brown rice to stews, soups, or chili
Make a protein bowl with brown rice as the base
Grill veggie burgers made with brown rice
Make stuffed peppers or stuffed cabbages
These are all delicious ways to enjoy brown rice as part of a healthy and balanced meal. To limit the amount of brown rice and potential exposure to arsenic, you can switch brown rice out throughout the week with other healthy grains such as quinoa or oats.
Brown Rice Recipe
Print
Stuffed Green Peppers with Brown Rice
---
4

to

6

large green bell peppers

1

pound

ground beef

1

small onion, finely chopped

1

(20 ounce) can whole tomatoes

2 Tablespoons

Worcestershire sauce
Salt and pepper, to taste

1

to

1 1/2

cups

cooked rice

1

cup

shredded cheddar cheese
grated Parmesan cheese
---
Instructions
Cut tops off bell peppers and remove seeds. Parboil in salted, boiling water for 4 minutes. Drain and cool.
Brown meat in a skillet with onion. Drain oil. Add tomatoes that have been mashed. Add
Worcestershire, salt, and pepper. Simmer for 15 to 20 minutes.
Add rice. Simmer, stirring occasionally, for 10 minutes. Remove from heat.
Add Cheddar cheese, stirring until melted and well blended. Stuff mixture into peppers. Top with Parmesan cheese.Bake at 350 degrees F for about 20 minutes or until hot.
The image featured at the top of this post is ©masa44/Shutterstock.com.