This article will discuss the differences between Jasmine rice and brown rice. Although we will go into more depth later on, let's settle the main differences now. In a nutshell, brown rice still has the bran and germ, while white Jasmine rice does not. White Jasmine rice is a refined white rice. Brown rice is unrefined grain. However, buying Jasmine rice in a whole grain variety is possible. Therefore if you are looking for a healthier version, be sure to check out the different options in your grocery store.
Rice is a cereal grain that includes bran, germ, and endosperm. Most rice has the classification of being Oryza Sativa. This is a plant species. Have you ever wondered how many different types of rice there are? According to the Rice Association, there are more than 40,000! This is why there are so many types to choose from when entering the grocery store.
Jasmine Rice vs. Brown Rice: What are the Differences?
Rice is a versatile grain eaten throughout the world. In fact, it is estimated that a total of 519,895 metric tons of rice was consumed worldwide in 2021 and 2022. With the popularity and versatility of rice, it can be confusing to really know exactly what the differences are between each type.
When it comes to Jasmine rice and brown rice, there are some notable differences. The first one lies in precisely what the category of each is. White Jasmine rice is a refined white rice. When something is labeled as refined, it means that it has undergone immense processing. During this process, the bran and germ are stripped from the white Jasmine rice (or any white rice). When these parts are gone, the cooking time will be significantly reduced. The flavor and texture will also change. There is whole-grain jasmine rice available which undergoes less processing.
Brown rice still has the germ and bran. That is why the color is also different from white Jasmine rice.
Another difference between Jasmine rice and brown rice is its nutritional value. When comparing white Jasmine rice with brown rice, brown rice is considerably higher in nutritional value because the nutrition has not been stripped during processing.
Different types of Jasmine Rice
Jasmine rice comes in a variety of colors, types, and more. When jasmine rice is white, it means it has undergone more processing. Jasmine rice can also come in brown. When this is the case, it will more closely resemble typical brown rice with higher nutrients.
The colors do not stop there. Buying Jasmine rice in purple, red, or even black is possible! Each one will be slightly different in nutrition and flavor.
The Flavor of Jasmine Rice
Jasmine rice has a sweeter and more flavorful taste than brown rice. It is still sticky, but it smells fantastic! Jasmine rice can also have a nutty flavor. The flavor of this rice will vary depending on the type you purchase. While brown rice will always be brown, Jasmine rice changes colors. It is possible to buy white Jasmine rice. There is also healthy whole-grain Jasmine rice. The black, red, and purple rice also slightly changes nutritional value and taste.
The Flavor of Brown Rice
Brown rice has a rubbery texture. It is more earthy in flavor than white rice. Overall, the flavor can be bland and needs plenty of seasoning to spice up the meal.
What is Jasmine Rice?
Jasmine rice grows in Southeast Asia and is a long-grain rice. The name comes from the Jasmine flower. This is because the fragrance reminds many of the sweet flowers. It has also been described as having a popcorn smell.
Jasmine rice can come in different varieties. It is possible to purchase white Jasmine rice, which is the highest processed. However, there is also whole-grain Jasmine rice that offers a healthier alternative to white rice.
Jasmine rice is a long grain packed with many nutrients, including fiber, iron, and calcium. It can also come in different colors! Another name for Jasmine rice is Thai fragrant rice. Jasmine rice can be a healthier choice than white rice. However, it can still undergo high processing.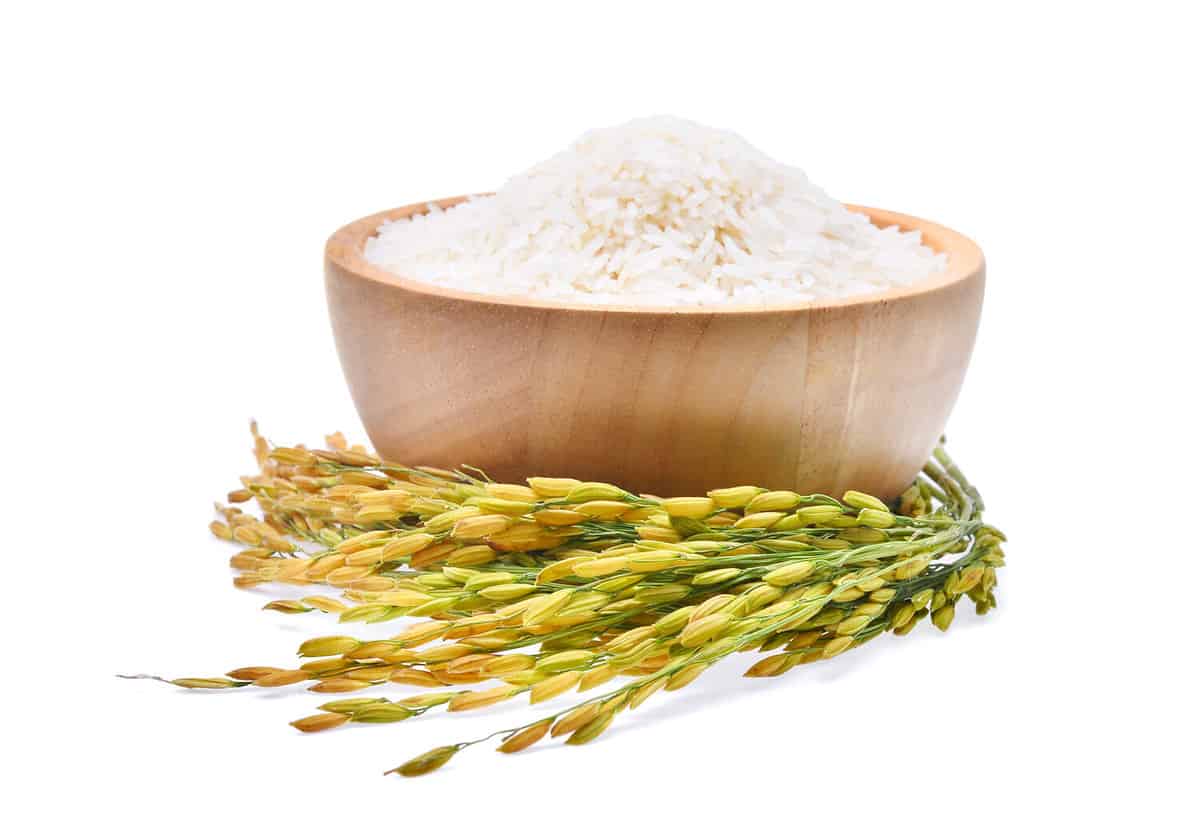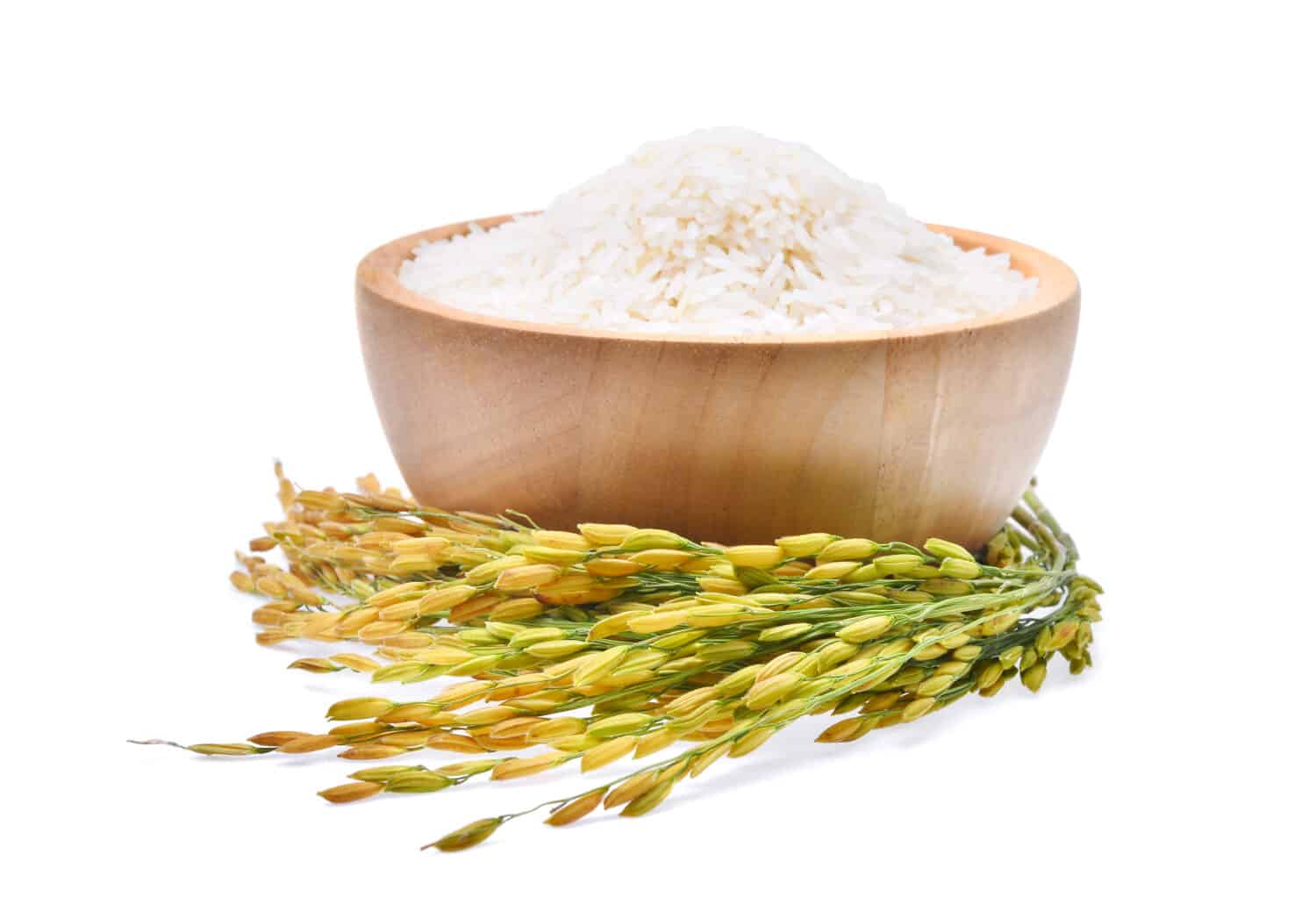 What is Brown Rice?
Brown rice is a long grain with the germ, bran, and endosperm. Since all the grain parts are still there, it takes longer for brown rice to cook than white rice.
Brown rice is more nutritional than white rice because the outer grain offers the most nutritious value. With the grain still intact, the nutritional value sticks around on this rice. It also contains more calories than white rice. One of the downfalls of buying this type is brown rice doesn't have as long a shelf life as white rice.
Nutritional Value Chart
When it comes to nutritional value, Jasmine rice and brown rice both offer plenty of benefits. Let's take a look at what they are below.
Brown rice still has all the nutritious grains. This means it is slightly healthier than its white rice counterparts. Brown rice is very fibrous. This is one reason why so many healthy recipes call for brown rice. Brown rice has the ability to make you feel fuller. It also can reduce the risk of diabetes because of the glycemic. The glycemic index is pretty low!
Brown rice can likewise be great for your heart because of the fiber and magnesium it contains.
Jasmine rice also carries some nutritional benefits. The colorful Jasmine rice carries phytonutrients. If you have never heard of this, these phytonutrients can help your immune system stay in better health. Another benefit of Jasmine rice is the folic acid that it contains. This can be excellent for pregnancy.
Even though brown and Jasmine rice have excellent benefits, there may also be potential downfalls. One of those downfalls is the arsenic levels that are in the soil. The less rice undergoes processing, the more risk of arsenic levels being present. Since the risk is higher, washing your rice before cooking is always recommended.
Can You Substitute Jasmine Rice for Brown Rice?
Although it is possible to substitute Jasmine rice with brown rice, the result may differ. Brown rice is a bit chewier than Jasmine rice. It also does not have the same sweet fragrance that Jasmine rice has. If you substitute the two for one another, pay attention to the cook time difference and adjust accordingly.
In Conclusion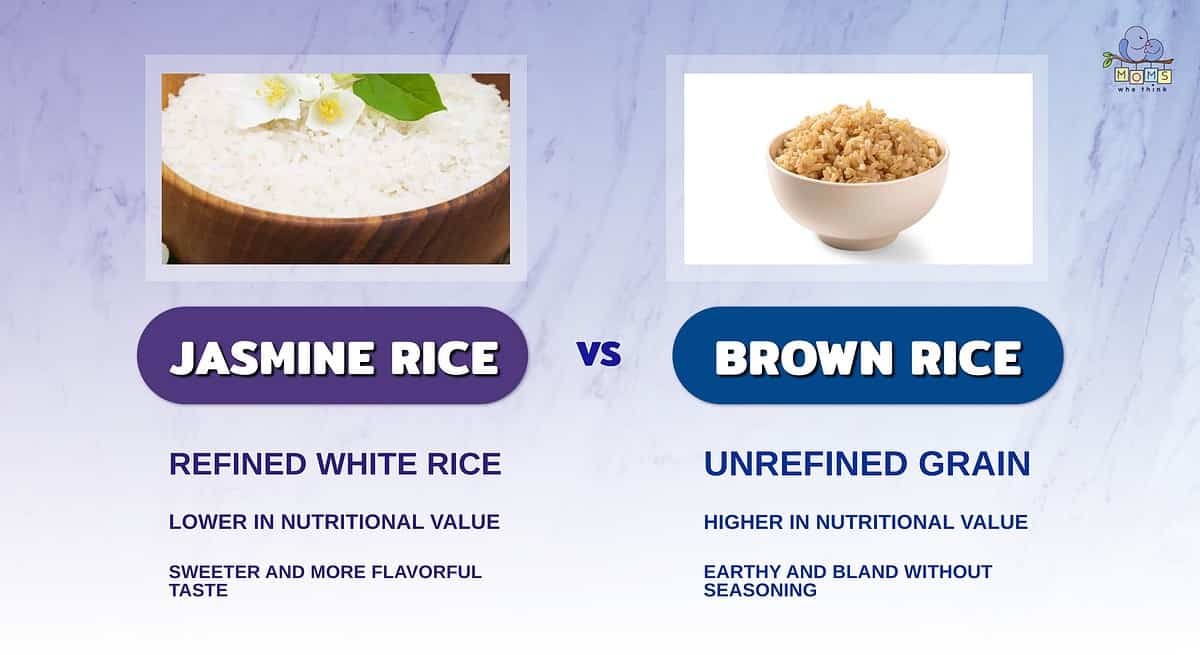 Jasmine rice is a refined white rice, while brown rice is an unrefined grain. This may seem like a small difference, but in reality it's responsible for the major differences between these two types of rice.
Because of the processing it goes through, jasmine rice is lower in nutritional value compared to brown rice.
Jasmine rice has a sweeter and more flavorful taste compared to brown rice. Without seasoning, brown rice has an earthy and bland taste that most won't like.
Rice is a highly consumed grain throughout the world. Many different countries use rice as a staple in most of their meals. For good reason! Rice can be very versatile, great in many different meals, and adaptable. Many different varieties are also available with diverse flavors, textures, and healthy nutrients.
When it comes to Jasmine rice and brown rice, plenty of similarities and differences really play a part in which rice you choose. If you are eating white Jasmine rice, it will be more refined than brown Jasmine rice or brown rice.
Brown rice offers more nutritional value for a variety of reasons. It still has the entire grain attached, which attributes to the brown color. However, the texture and taste may be more chewy and blander than white rice. Which one you decide to go with really comes down to personal preference. Jasmine rice and brown rice are excellent grains that can add plenty of nutrients to your meal. Jasmine rice even has a sweet aroma!
Looking for a new way to make brown rice? Check out this recipe:
Print
Herbed Beef and Brown Rice Stuffed Cabbage
---
Author:

Yield:

4

servings

1

x
1 medium head cabbage
¾ pound lean ground beef (90% lean)
½ cup finely chopped onion
1 can (14½ ounces) diced tomatoes, undrained
½ cup water
⅓ cup instant brown rice
1 can (15 ounces) tomato sauce
1 Tablespoon Worcestershire sauce
1 teaspoon dried basil
1 teaspoon dried thyme
½ teaspoon salt
½ teaspoon sugar
½ cup shredded part skim mozzarella cheese
---
Instructions
1. Cook cabbage in boiling water just until the leaves fall off head. Remove 16 large leaves for rolls. Refrigerate remaining cabbage in a tightly sealed zip lock bag for another use.
2. Cut out the thick vein from the bottom part of each reserved leaf, making a V shaped cut. Set aside.
3. In a large nonstick frying pan, cook the ground beef and onion over medium heat until meat is no longer pink; drain.
4. Stir in tomatoes and water; bring to a boil.
5. Stir in brown rice; return to a boil.
6. Reduce heat; cover and simmer for 5 minutes.
7. In a bowl, combine the tomato sauce, Worcestershire sauce, basil, thyme, salt and sugar.
8. Spread half the sauce onto the bottom of a 9×13 inch baking dish coated with cooking spray.
9. Place about ⅓ cup beef mixture onto two reserved cabbage leaves (layered on top of each other).
10. Overlap cut ends of leaves, blanketing the meat mixture between the leaves.
11. Fold in sides, beginning from the cut end. Roll up completely to enclose filling.
12. Place cabbage rolls on top of the sauce in the baking dish, then cover with remaining tomato sauce mixture.
13. Cover and bake at 350°F for 30 minutes.
14. Uncover; sprinkle with cheese. Bake 5 to 7 minutes longer or until cheese is melted.
Nutrition
Serving Size:

2 cabbage rolls

Calories:

281

Sodium:

897mg

Fat:

9g

Saturated Fat:

4g

Carbohydrates:

29g

Fiber:

4g

Protein:

24g

Cholesterol:

50mg
Comparison Posts