Basmati vs. Jasmine Rice, which one reigns supreme? There is no denying that rice has a broad range of varieties, and many civilizations throughout the world rely significantly on it as their primary source of food. According to the size of the grain, there are three different varieties of rice such as long-grain, medium-grain, and short-grain. Jasmine and Basmati rice both belong to the long-grain family.
Jasmine rice is frequently compared to Indian Basmati rice, which is a different kind of long-grained rice. Basmati, on the other hand, is matured prior to being distributed and has a distinct but the same delicious taste. Despite belonging to the same family of long-grain rice, each is unique in its own way.
Basmati vs. Jasmine Rice: What Are the Differences?
Although a lot of people mix up these rice varieties, there are certain distinctions that you need to know between jasmine rice and basmati rice.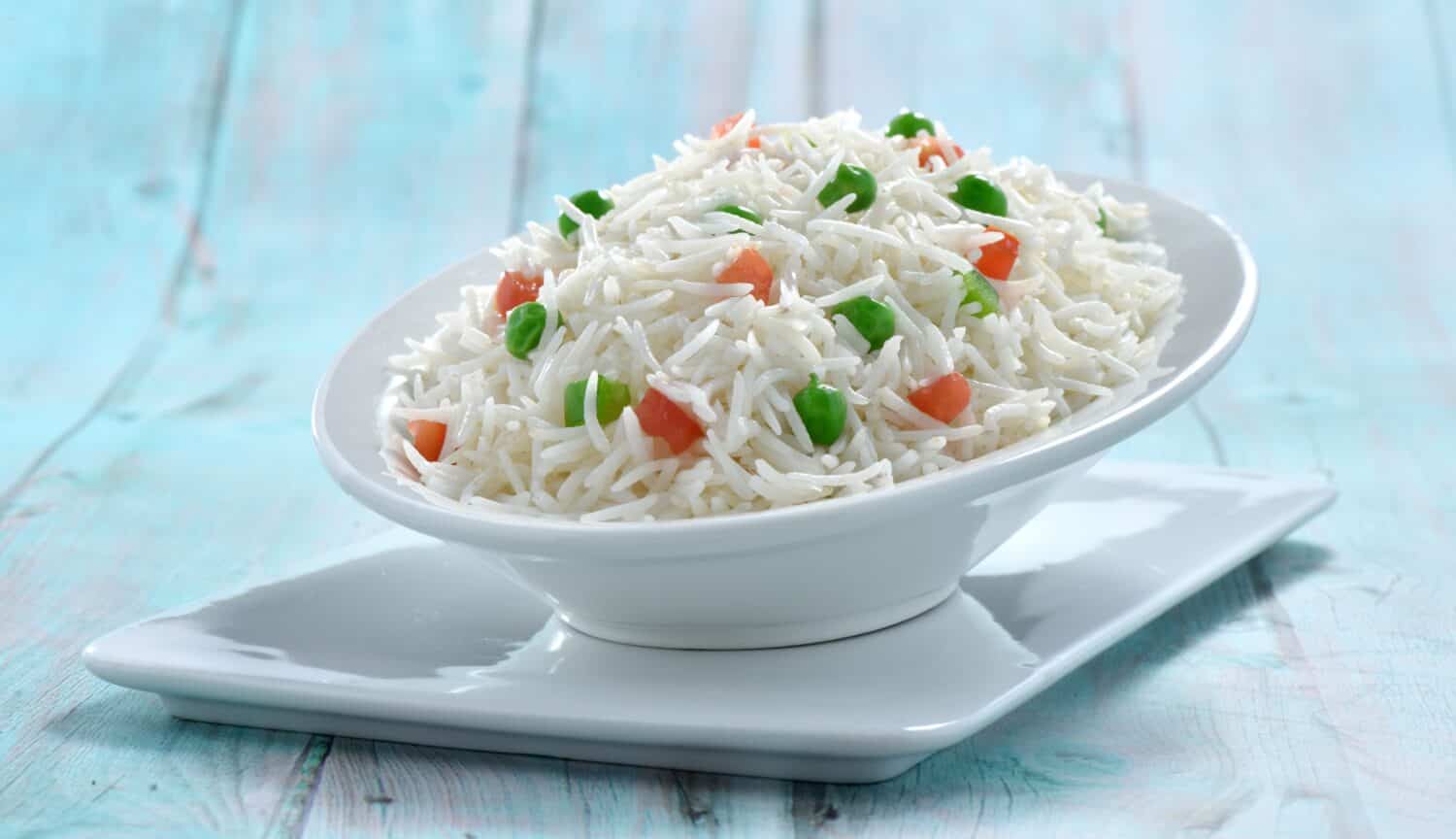 Origin
Although basmati rice is farmed in various countries, it was first cultivated and developed in India and Pakistan. India contributes to almost the majority of the world's supply. During the cultural exchange, Indian traders transported Basmati Rice to the Middle East, where it has since grown into an essential element of Arab, Persian, and other regional diets.
Thailand started producing jasmine rice, widely referred to as 'fragrant rice,' in the early 1950s. Since then, it has grown to be an integral part of Thai cuisine and serves as a vital good to other countries as well.
Texture
Basmati rice has among the longest grains of all kinds of rice. Jasmine rice has a shorter and rounder grain compared to basmati rice, whose grain is longer and has more of a needle-shaped structure to it and is notable for extending when cooked.
Shape
Basmati rice has among the longest grains of all kinds of rice. Jasmine rice is distinguished by a shorter, rounder grain compared to basmati rice, whose grain is longer with a needle-like structure and is notable for extending when cooked.
Taste
Basmati rice offers a delicate, nutty flavor with subtle floral undertones. Its long grains provide a light and fluffy texture, making it an ideal choice for Indian and Middle Eastern cuisine. In contrast, Jasmine rice exudes a distinct aroma reminiscent of pandan leaves and boasts a subtly sweet flavor. Its shorter grains contribute to a slightly sticky and moist texture, commonly enjoyed in Southeast Asian dishes.
Glycemic Index
Jasmine rice has a glycemic index of 68 to 80, whereas basmati rice has a rating of 55 to 60. Basmati breaks down more slowly while delivering sugar to the bloodstream than jasmine. It has a much lower GI than other varieties of rice and is an ideal option for weight loss.
Basmati vs. Jasmine Rice: Nutritional Value
Basmati rice is a nutritious choice as it provides carbohydrates for energy while being lower in fat and calories compared to Jasmine rice, making it suitable for weight management. It is also a good option for those on a low-sodium diet as it contains relatively low levels of sodium.
Jasmine rice, on the other hand, has slightly higher calorie and carbohydrate content compared to Basmati rice. It provides energy but should be consumed in moderation for those watching their calorie intake. Jasmine rice also contains dietary fiber that aids in digestion and essential minerals like iron and magnesium, contributing to overall nutrition.
Both Basmati and Jasmine rice are gluten-free and cholesterol-free, offering dietary options for individuals with specific dietary needs. It is important to consider cooking methods and accompanying ingredients to maximize the nutritional benefits. Opting for healthy cooking techniques such as steaming or boiling and adding nutrient-rich ingredients like vegetables, lean proteins, and healthy fats can enhance the overall nutritional value of rice dishes.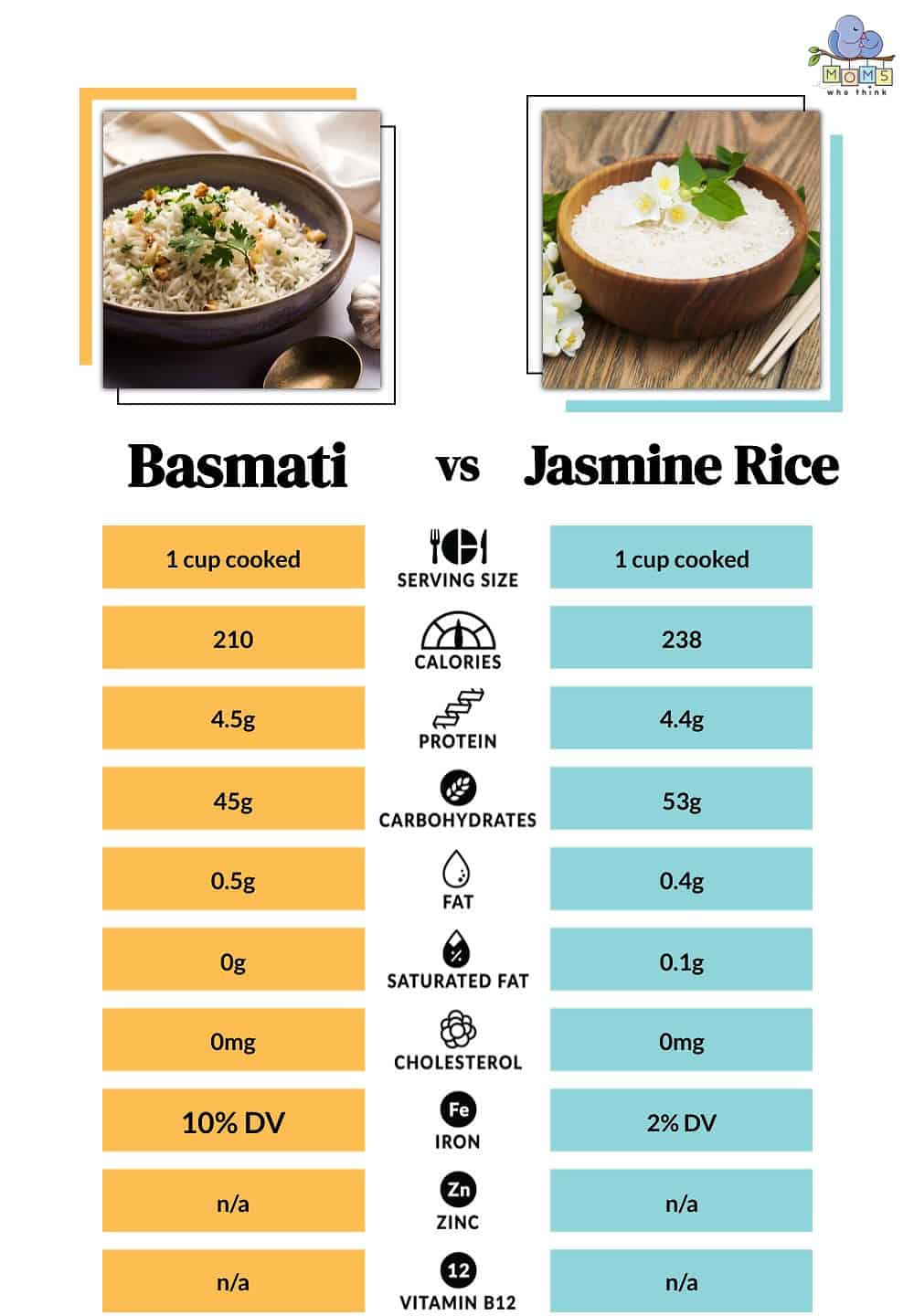 What is Basmati Rice?
Basmati rice is a long-grained rice type that originated in the Himalayan highlands and is frequently eaten in Indian and other South Asian dishes. It is occasionally fortified with essential nutritional elements. Basmati rice is distinctive amongst fragrant long-grain rice varieties due to its exquisite taste, outstanding smell, and extra-long thin grains that extend to roughly double their original size when cooked. Basmati rice, with its mild, nutty flavor and a bit flowery scent, is frequently eaten with curries or used in the preparation of pilaf.
Additionally, basmati rice contains a considerably lower GI than other rice varieties, particularly white rice. Basmati rice has a mild to medium glycemic index, ranging from 52 to 60. If you have diabetes, small quantities of basmati rice can be an acceptable part of a healthy diet.
Different types of basmati rice:
There are various types of basmati rice, particularly variations uncommon to certain areas or countries that produce Basmati that can grow in humid places. These two are the three most prominent ones:
Brown: Brown basmati rice offers higher fiber levels and a nuttier, deeper taste, as well as a firmer texture. However, this consumes more time in preparation compared to white basmati rice.
White: White basmati rice is more common than brown basmati rice and contains more carbs than other variants.
Sella: This is basmati rice that has been parboiled. The starch found in the grains changes during the parboiling process. Then, the rice is dried and processed normally. Sela rice typically has a simpler cooking process than regular basmati rice, yet it can take more time to prepare.
Cooking tips:
Preparation: You should always wash rice before cooking. Extra starches, along with dirt and debris, get removed from the rice when washed thoroughly, leaving behind perfectly cooked rice.
Ratio: Get the ideal rice-to-water ratio. This is perhaps the most difficult aspect to master, as instruction varies by manufacturer, place of origin, and grain variety. The standard ratio is 1 cup of basmati rice to 1.5 cups of boiling liquid (either water or broth). However, depending on the rice you're using, be sure to follow the instructions provided for the appropriate ratio quantity since it may affect the consistency of the rice.
Flavor: If you want to level up its flavor, you may also cook your Basmati with delicious Star Anise. The star-shaped spice is a key ingredient in Chinese cookery, imparting a sweet flavor that elevates the flavor profile of the rice.
What is Jasmine Rice?
The world-famous Thai Hom Mali Rice or jasmine rice is the most prominent fragrant rice that came from Thailand. The term "Jasmine," in fact, refers to the grain's hue, being as white as the jasmine flower.
While Westerners would easily recognize it as something very similar to popcorn, this long-grain rice has a particular scent that is somewhat identical to that of the pandan plant.
Several other nations have attempted to grow this variety, but none have succeeded in keeping its peculiar scent, texture, and flavor. Jasmine Rice, one of the country's top wealth, consistently takes the spotlight at worldwide contests, receiving praises and honors as among the globe's best-tasting and widely consumed rice.
Different types of jasmine rice:
Supermarkets offer various forms of jasmine rice, depending on the processing it undergoes. Here are some examples:
White: White rice is our go-to grain, and some people consider this the best rice in the world because of its delicious taste and suppleness. White jasmine rice has a low level of fat, is moderate in protein, and is rich in carbs.
Brown: This contains greater amounts of fiber than white jasmine rice. Because brown rice is less processed, it's fiber and nutritional value are unaffected.
Red: This is ideal for enhancing tacos, Thai curries, and other dishes with a taco-like kick, whole grains, and a nutty taste.
Purple: Organic Purple Jasmine Rice is a distinctive type of cultivated jasmine rice that went through hybridization and is typically produced in Northern Thailand. These contain anti-inflammatory and anti-carcinogenic elements.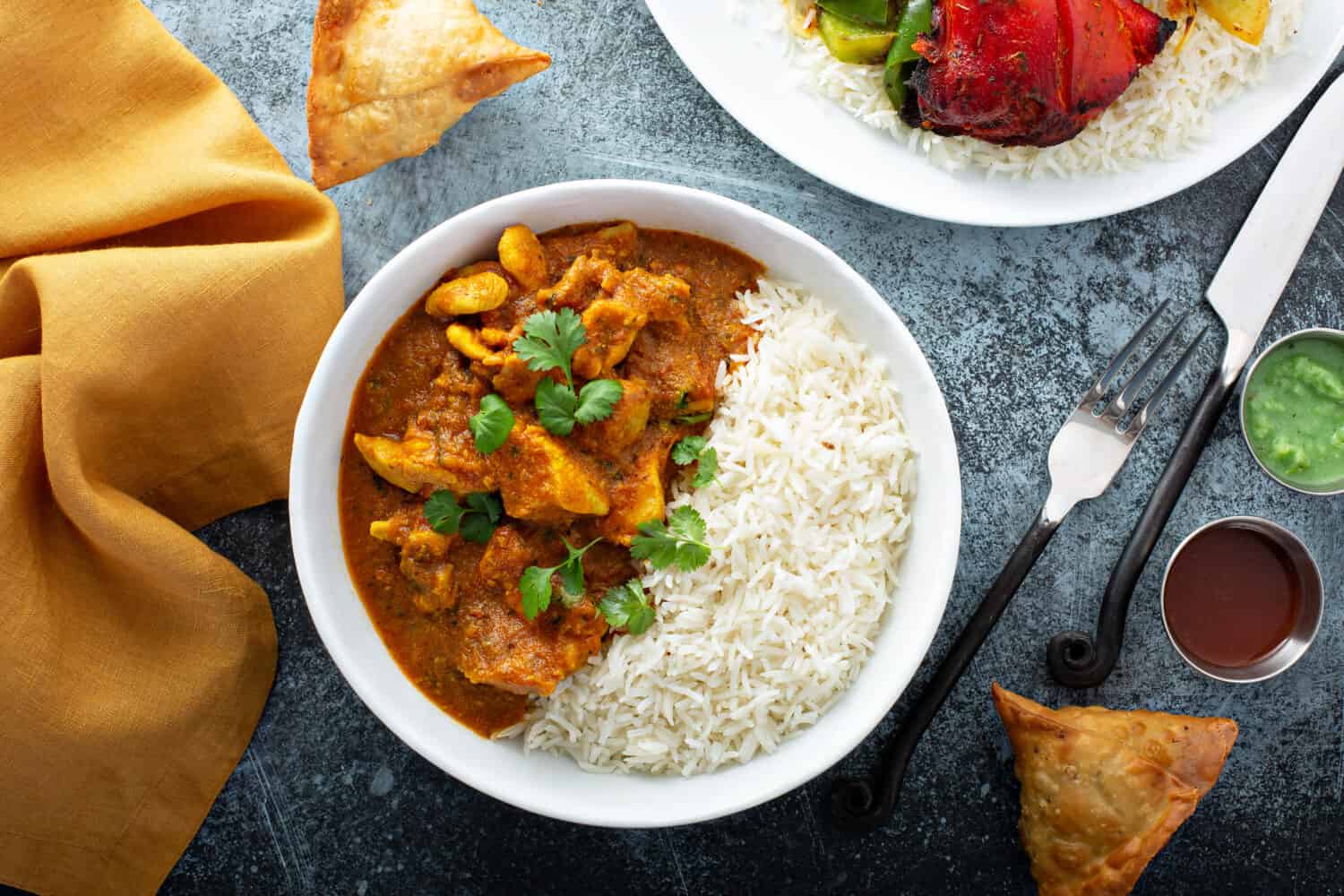 Cooking tips:
Preparation: Before cooking, rinse the rice with water to eliminate any tiny particles. It is not necessary to soak jasmine rice before cooking since it will turn out to make it soggy.
Cooking methods: People make jasmine rice using both steaming and the absorption process, but the latter approach is more recommended.
Ratio: In most cases, 1 cup of rice equals 2 cups of water or 1 ½ cups of water. The most effective method to cook jasmine rice is to use fewer cups of water than usual. Since jasmine rice is softer than typical white rice, using less water will make the perfect rice texture. If you like your rice to be more sticky, add a little more water; otherwise, use less water if you prefer dry rice for recipes using fried rice.
Flavor: Before beginning the cooking process, add some butter, turmeric, cumin, or any additional spices of your liking to the rice cooker, and replace the water with broth to enrich the flavor of the rice.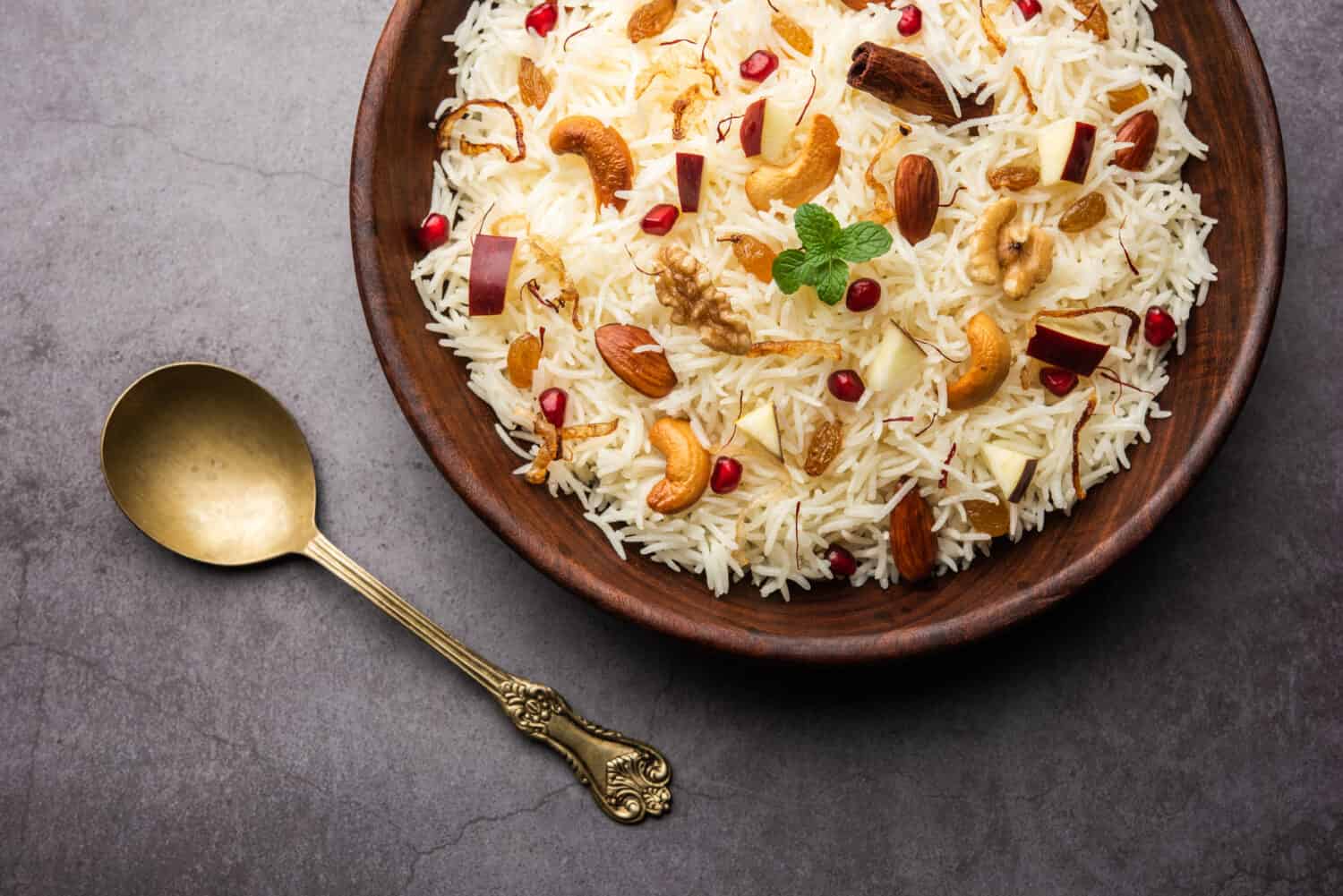 Can I replace one with the other?
Yes, but this still depends on what you intend to use it for. Different types of cuisines commonly use basmati and jasmine rice because of the contrasting textures they possess. Both can create delectable pilaf and other dishes, although jasmine rice is more suitable to use for creating a fantastic, smooth pudding. You won't get the same pudding texture you'd normally get from jasmine if you would use Basmati for it. Moreover, due to Basmati's ability to soak up water without clumping, this is often preferred by those who wish to prepare the most delicious fried rice.
Which is healthier?
Both jasmine and basmati rice are good for you. On the other hand, jasmine rice has a greater glycemic index than Basmati, which is not good for individuals who suffer from particular medical problems, notably those with diabetes.
Basmati is unquestionably the healthier choice for anyone looking to lose weight or is diabetic who needs to maintain stable blood glucose and insulin levels.
Final Thoughts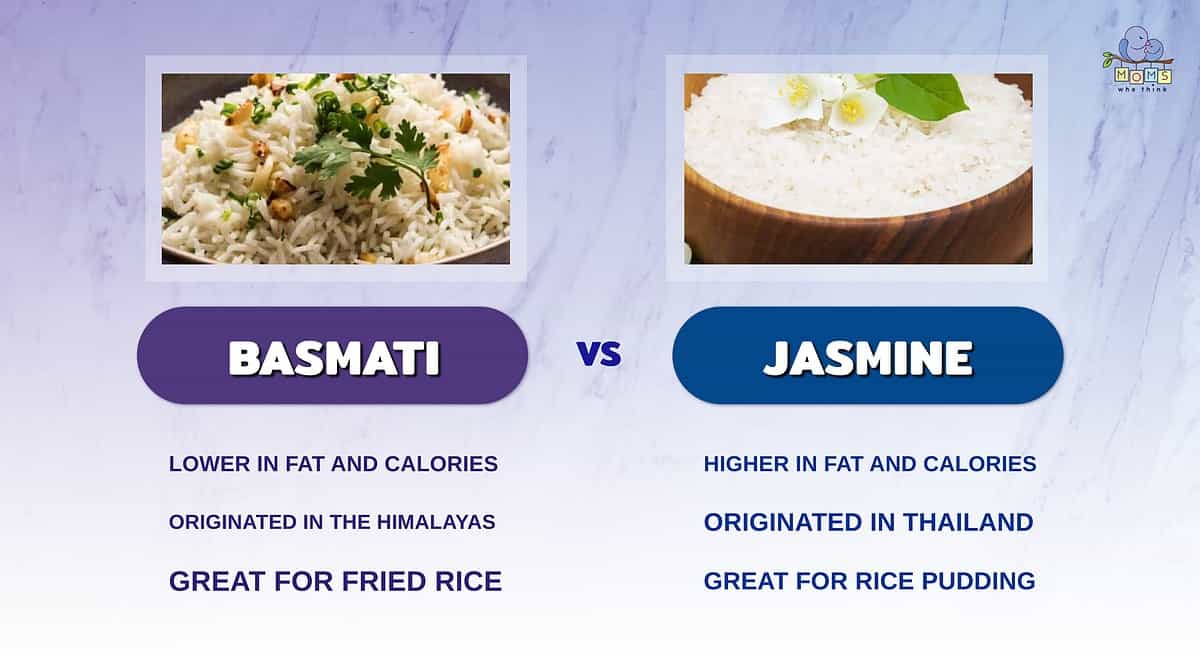 Basmati is lower in calories than jasmine rice, meaning that it may be a good choice for those looking to lose weight.
Basmati originated in the Himalayas, while Jasmine rice comes from Thailand.
Basmati's ability to soak up water without clumping makes it a great choice for fried rice. Meanwhile, jasmine rice's stickiness makes it great for rice pudding.
They both have outstanding characteristics and contribute significantly to our everyday meals. Basmati rice is fluffier, drier, and more flavorful, whereas jasmine rice is sticky, wet, and more prone to clumping.
Nutrition and health factors should always be taken into account when introducing these two kinds of rice into your dietary routine.
Basmati rice will be a better choice for you if you're attempting to lose weight, are looking for lower-calorie food, and want to feel fuller for longer. Although, jasmine rice has a little more advantage for those who are bodybuilding.
Still, depending on your lifestyle, taste buds, and other factors, choosing between the two still boils down to personal preferences. If basmati is your choice, try this great recipe:
Print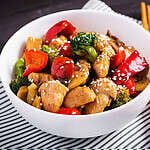 Broccoli Chicken Stir Fry
---
Author:

Yield:

4

servings

1

x
1 pound boneless skinless chicken breasts, cut into 1 inch pieces
1 Tablespoon canola oil
2 cups fresh broccoli florets
1 small sweet red pepper, julienned
1 can (8 ounces) sliced water chestnuts, drained
1 package (6 ounces) frozen snow peas, thawed
1 small onion, cut into thin wedges
2 garlic cloves, minced
½ teaspoon Allspice
1 teaspoon ginger
1½ cups chicken broth
¼ cup soy sauce
2 Tablespoons cornstarch
2 Tablespoons cold water
4 cups hot cooked basmati rice
---
Instructions
1. In a large nonstick skillet or wok, stir fry chicken in oil for 8 minutes or until lightly browned and juices run clear. Remove and keep warm.
2. In the same skillet, stir fry the broccoli, red pepper, water chestnuts, snow peas, onion and garlic for 6 8 minutes or until crisp tender.
3. Return chicken to the pan; sprinkle with Allspice and ginger.
4. Stir in broth and soy sauce; bring to a boil.
5. Combine cornstarch and cold water until smooth; gradually stir into skillet. Cook and stir for 2 minutes or until thickened. Serve with rice.
Nutrition
Serving Size:

1½ cups chicken mixture with 1 cup rice

Calories:

459

Sodium:

504mg

Fat:

6g

Saturated Fat:

1g

Carbohydrates:

65g

Fiber:

6g

Protein:

35g

Cholesterol:

66mg