Black Rice vs. White Rice: The Ultimate Rice Showdown—Over 50% of the world population gets their daily supply of calories from Rice. There are several types of Rice due to its long history of cultivation and widespread distribution. Black and white Rice are just some of them.
Black Rice and White Rice are relatives of the Oryza sativa (Asian Rice) family; however, they are completely distinct from each other.
In this guide, we'll examine the key differences between white and black Rice, as well as their dietary compositions, preparation techniques, and possible health benefits. Discovering the distinctive qualities that distinguish white Rice from black Rice can help you enhance your meals and improve your health. So, join us on this delectable trip!
Black vs. White Rice: What is the Difference?
The color is the most obvious distinction between black Rice and White Rice. Black Rice is black, whereas white Rice is white. Both are available in a wide range of forms, such as long-grain, short-grain, glutinous, and sticky variations. However, their differences go beyond their shape and color.
Origin
Since the beginning of time, black Rice has been a staple of Asian cuisine. Many Asian societies regard it as a regal meal hence the name 'forbidden rice.' Normal people were forbidden to eat this as this was only reserved for the royal family. Black Rice was first discovered in Asia, specifically in China and India, where it was treasured for both its health advantages and valuable significance.
White Rice is simply processed brown Rice. When exposed to air and kept at room temperature, whole-grain Rice or wheat germ oils can go spoil easily. As a result, in the 1800s, Germans developed rice milling equipment that removed the bran and germ from Rice, creating white Rice and prolonging its shelf life.
Glycemic Index
Black Rice's lower glycemic index means that sugar is absorbed into the bloodstream more gradually, lowering blood sugar spikes. On the other hand, due to white Rice's higher glycemic index (GI) and lower nutritional content than black Rice, white Rice may result in a quicker rise in blood sugar levels.
Black Rice has a 42.3 glycemic index, whereas ​​white Rice has a 70 glycemic index. Low GI levels fall within the ranges of 55 and 69, medium GI levels between 56 and 69, and high GI levels between 70 and 79.
Nutrients
Without a doubt, black Rice is more nutrient-dense. Since it has undergone minimum processing, all of the nutrients of the small grains are still present. On the other hand, a significant portion of the micronutrients are lost when they remove the bran to produce white rice.
Black Rice contains more protein than brown or white Rice, making black Rice an excellent choice for muscular building. White Rice offers 6.3 grams of protein per 100 grams, whereas black Rice has 9.1 grams. There is also more protein, fiber, vitamin E, iron, and antioxidants in black Rice.
Taste
The flavor of black Rice is mild and nutty, with a chewy texture comparable to brown Rice, and typically becomes dark purple when cooked. If you prefer white or yellow Rice, you may find black Rice to have a somewhat different flavor. White Rice has a light nutty flavor that tastes more subtle and sweet, and it additionally has a more tender texture.
Texture
Black Rice has a robust and chewy texture. Once cooked, black Rice becomes dense and sticky, but not to the point where it clings together. White Rice, however, has a more subtle taste and a softer, more fluffy feel to it.
Black Rice vs. White Rice: Nutritional Value
Black rice and white rice have different nutritional values. Also known as forbidden rice, black rice contains more beneficial nutrients than white rice. It has antioxidants like anthocyanins, which fight free radicals and lower the risk of chronic diseases such as heart disease and certain cancers. Additionally, black rice has fiber that aids digestion, helps you feel full, and keeps your blood sugar levels stable.
In contrast, white rice goes through a refining process that removes the bran and germ layers, causing a loss of essential nutrients. This process reduces the fiber, vitamins, and minerals in white rice, making it less nutritious than black rice. While white rice provides energy through carbohydrates, it lacks the extra health benefits found in black rice. Therefore, incorporating black rice into your diet can be a healthier choice because it offers a wider range of nutrients that contribute to overall well-being.
To summarize, black rice is superior to white rice in terms of nutritional value. It has higher levels of antioxidants, fiber, and essential vitamins and minerals. Choosing black rice as part of a balanced diet can improve your overall nutrition and contribute to a healthier lifestyle.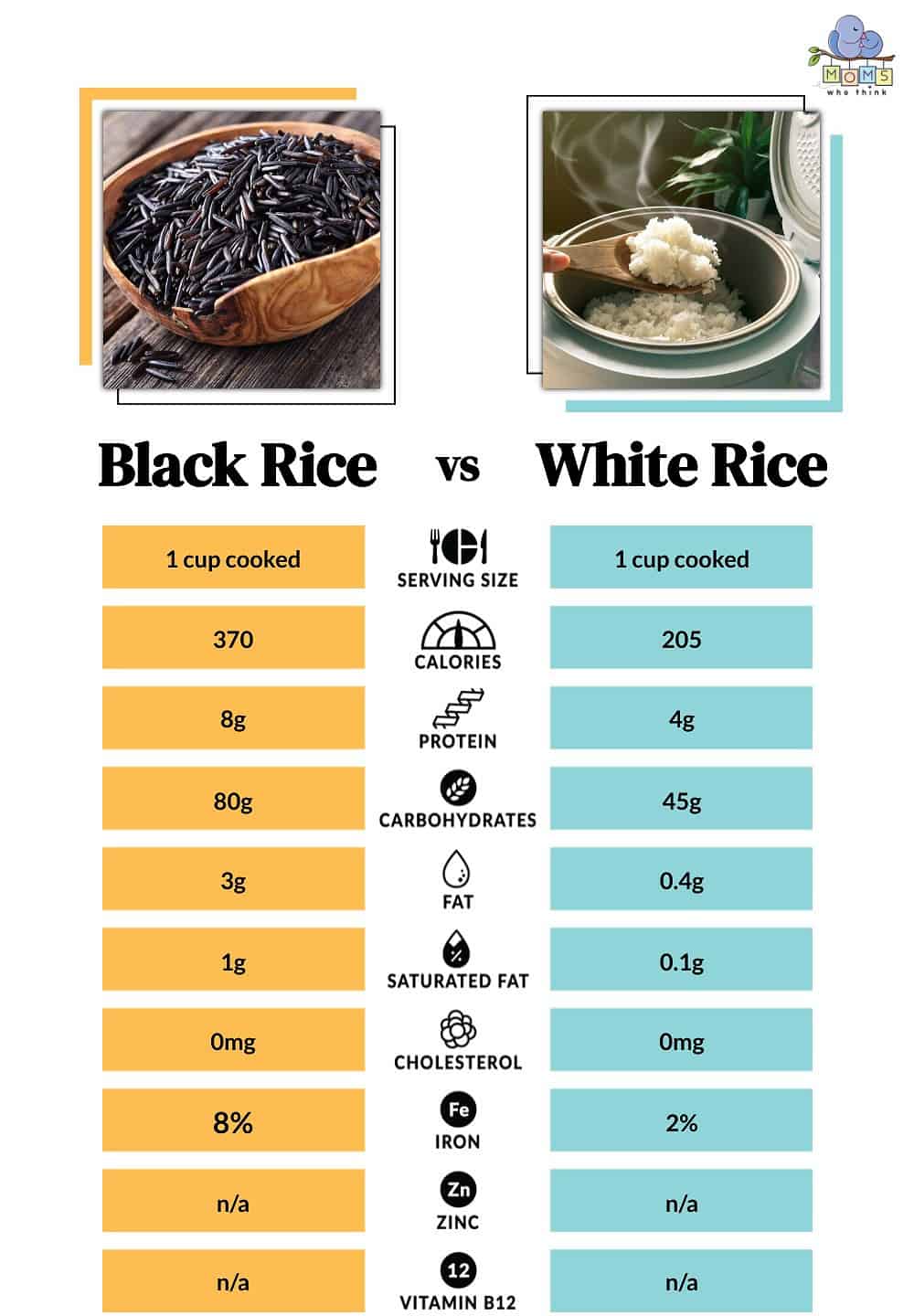 What is Black Rice?
A highly uncommon and ancient kind of Rice known as "black rice" or "forbidden rice" has been widely grown in various regions for many years. Purple Rice, forbidden Rice, and Emperor's Rice are some of the other labels for this dark Rice, which has a vivid purple-black color.
Black Rice is thought to have been forbidden for everyone, and only the royalty in ancient China could consume this since it was seen as something peculiar and nutritious. Black Rice comes whole, with its exterior bran layer still visible, preserving the grain's nutrients.
You may use black Rice to make a number of recipes, either sweet or savory. Due to its slight sweetness, some varieties of this Rice find frequent use in dessert recipes.
Health Benefits of Black Rice
Black Rice was a favorite of Chinese emperors as a tonic as it was also well-known for its benefits for the body. Below are just some of its outstanding health benefits:
Black Rice has a higher vitamin and fiber level than white Rice, which is why consuming it regularly can help you lose weight.
Adults can get great energy from it as well. Out of all the rice kinds, black Rice provides the most antioxidants. It is especially high in anthocyanins, a potent antioxidant with anti-inflammatory qualities.
Antioxidants and substances from plants (phytochemicals) can increase the sensitivity of the body to insulin. It reduces blood sugar levels and inhibits the rate of absorption of sugar by your body.
Black Rice Varieties
Black Rice comes in a wide range of varieties. Here is an overview of the most commonly used rice varieties.
Chinese black Rice: Chinese black Rice, consumed as juk (congee or porridge), is farmed in Zhejiang Province in eastern China. It is firm and cooks more quickly than brown Rice.
Thai Black Sticky Rice: Thai Black Sticky Rice is a form of glutinous whole grain rice that serves a purpose in Thailand and several other Southeast Asian countries for making desserts.
Black Japonica rice: Black Japonica rice is a combination of short-grain black Rice and medium-grain mahogany rice. Black Japonica rice is an excellent choice for rice salads because it has a slightly nutty flavor, a flavor similar to a mushroom, and a faint, mild heat to it.
What is White Rice?
White Rice is among the most popular Rice in Asian families. It is also mainly eaten in many regions across the globe. It's inexpensive, filling, and features a subtle taste. This Rice is the least nutritious among all the rice kinds in terms of protein, dietary fiber, and antioxidants. Compared to black Rice, which has undergone minimum processing, it is much higher in carbohydrates. This is due to a process called milling that excludes the husk, bran, and germ from white Rice.
Health Benefits of White Rice
While black Rice contains more fiber and has an enviable track record for being healthy, white Rice may still be an integral part of a well-balanced and nutrient-rich diet. After being cooked and cooled, Rice has more resistant starch. Research has shown that more resistant starch can create certain fatty acids that aid in maintaining a healthy colon.
White Rice is an excellent choice for athletes or anybody participating in more extensive exercise or sport who needs a rapid source of energy. Its ability to provide energy is closely linked to its iron and B vitamins content. White Rice also has magnesium, which has been linked to better sleep.
White Rice Varieties
With all the white rice varieties in the market, we compiled some of the most common ones you will see in the market:
Jasmine rice: Long-grain, fragrant jasmine rice is a staple ingredient in Southeast Asian cuisine. The long-grain, fragrant Rice known as jasmine is mostly farmed in Thailand and is a favorite side dish for curry dishes, casseroles, and soups. One of the most often-used types of white Rice in America is jasmine.
Basmati rice: Basmati rice is quite adaptable and may be made with aromatic herbs and oil to go with curries and roasted meats. Basmati rice has a nuttier, flowery, and somewhat spicy flavor when compared to a few other types of Rice.
Arborio rice: Short-grain Rice, called arborio, has a major role in the traditional making of risotto. Because of the abundance of amylopectin starch in arborio rice, risotto has a creamy consistency.
Is Black Rice Better for Losing Weight?
Because of its lower calorie content compared to white Rice, black Rice is more diet-friendly. As a result of its substantial amount of fiber, it boosts metabolism and the release of stored fat in the body.
Which is More Expensive?
Black Rice is more nutritious than white and brown Rice, but it is harder to get your hands on this and costs a little higher. To guarantee optimum development, it needs specific soil conditions, an appropriate amount of water, and regular upkeep. Contrary to normal rice types, the cultivation procedure in black Rice requires more effort and time, which raises the cost of the manufacturing process.
Conclusion
Since black rice has a lower glycemic index than white rice, it's ideal for diabetics or those at risk of diabetes.
Black rice is full of nutrients compared to white rice, making it a healthier choice for anyone.
Both black and white rice have mild, nutty tastes, but white rice tends to be subtler and sweeter.
Black Rice reigns supreme with its alluring color, high antioxidants, and outstanding fiber content, providing more than just a meal but a nutritious masterpiece.
Although white Rice may be popular and versatile, black Rice has greater health advantages. Also, white Rice has a higher GI index than black Rice. Given this, black Rice is far healthier for those with diabetes than white Rice.
Ultimately, accessibility, taste preferences, dietary goals, and costs are just a couple of factors that may play a role in your choice. So when deciding between the two, it still depends on you whether you want to try other types of Rice or not.
This recipe is a great one to try if you find yourself craving some rice:
Print
Sweet and Sour Pork Over Rice
---
1 tablespoon dry sherry
¼ teaspoon pepper
2 tablespoons low-sodium soy sauce, divided
1½ teaspoons sugar, divided
1 pound (1-inch thick) boneless pork loin chops, trimmed of any fat and cut into 1-inch cubes
1½ cups brown rice
3 cups chicken stock
20 ounce can pineapple chunks packed in juice, drained, 2 tablespoons pineapple juice reserved
1 tablespoon ketchup
½ teaspoon white vinegar
3 tablespoons canola oil, divided
1 red onion, peeled, trimmed, and cut into 1-inch cubes
1 red bell pepper, stemmed, seeded, and cut into 1-inch cubes
1 green bell pepper, stemmed, seeded, and cut into 1-inch cubes
---
Instructions
1. Combine sherry, pepper, 1 tablespoon of the soy sauce, and ½ teaspoon of the sugar in a medium bowl. Add pork and gently toss until well coated. Let marinate in the refrigerator.
2. In a saucepan, bring the stock to a boil and add rice. Cover with a lid and let simmer for 20 to 30 minutes. Using a fork, fluff the grains and serve on 4 plates.
3. Meanwhile, stir together pineapple juice, ketchup, vinegar, remaining tablespoon of soy sauce, and remaining teaspoon of sugar in a small bowl until well combined. Set aside.
4. Heat 1 tablespoon of the oil in a large, nonstick skillet over medium-high heat until hot but not smoking. Add onion and cook, stirring occasionally, until browned but still a little crisp, about 2 minutes. Transfer to a bowl.
5. Heat another tablespoon oil in the same skillet over medium-high heat until hot but not smoking. Add peppers and cook, stirring occasionally, until browned but still a little crisp, about 3 minutes. Add to onions.
6. Heat remaining tablespoon oil in the same skillet over medium-high heat, until hot but not smoking. Add the pork cubes, arranging in a single layer. Cook, undisturbed, until a golden brown crust forms on the bottom, about 1½ minutes. Turn the cubes over and cook until a golden brown crust forms on the other side, about 1½ minutes. Return the onion and peppers to the pan and toss to combine. Add pineapples and pineapple juice mixture and cook, stirring, until sauce evenly coats everything and thickens slightly, about 2 minutes. Serve immediately over rice.
Nutrition
Serving Size:

Per serving

Calories:

501

Sodium:

651mg

Fat:

18g

Carbohydrates:

49g

Protein:

38g