When it comes to rice, many people have a preference. Some prefer the fluffy and filling texture and taste of white rice. Others enjoy fiber-rich brown rice. Still, there are over 40,000 types of rice, making the options plenty. One of the alternatives to white rice is cauliflower rice. Cauliflower rice gives those looking for similar characteristics yet fewer calories a healthier alternative. This article will discuss the difference between cauliflower rice and white rice. Overall, cauliflower rice is a healthier choice because it contains more vitamins and minerals, is lower in calories, and has fewer carbohydrates than white rice.
It is relatively easy to make your own cauliflower rice. However, it is also possible to buy it premade. Read below for more comparisons between these two types of rice.
Cauliflower Rice vs. White Rice: What are the Differences?
The main difference between cauliflower rice and white rice is the primary ingredient. Cauliflower rice is the result of grating up a cauliflower head. This gives us a similar-looking alternative rice. White rice, on the other hand, is a grain that has undergone processing. The outer layers undergo a stripping process.
Another difference between cauliflower rice and white rice lies in the flavor. Let's take a look below at the differences.
The Flavor of Cauliflower Rice
If you are looking to find a substitute for white rice that tastes exactly like your favorite carb, cauliflower rice is simply not it. While it looks a lot like rice and has a similar texture, they are not one and the same.
Cauliflower rice tastes, well, like cauliflower. The flavor is mild, slightly sweet, and a bit earthy. However, since the flavor is gentle, you have the ability to season and add taste to the cauliflower rice. The adaptiveness in flavor is an excellent quality to have in a variety of recipes.
The Flavor of White Rice
White rice also has a mild flavor. It tastes a bit nutty. White rice is sticky and albeit a bit bland on its own. However, white rice is also adaptable and can absorb various flavors, such as soy sauce, honey, and more.
What is Cauliflower Rice?
Cauliflower rice is a popular substitute for typical white rice. It is so popular because it is lower in calories yet still offers a similar texture and look.
Cauliflower rice is the result of dicing fresh cauliflower. It is also possible to enjoy cauliflower rice by eating raw or cooking it.
Another interesting fact about cauliflower rice is that it produces a hydrating effect. The reason for this is because of the higher quantity of water that cauliflower contains. In fact, over 90% of a cauliflower's weight is pure water!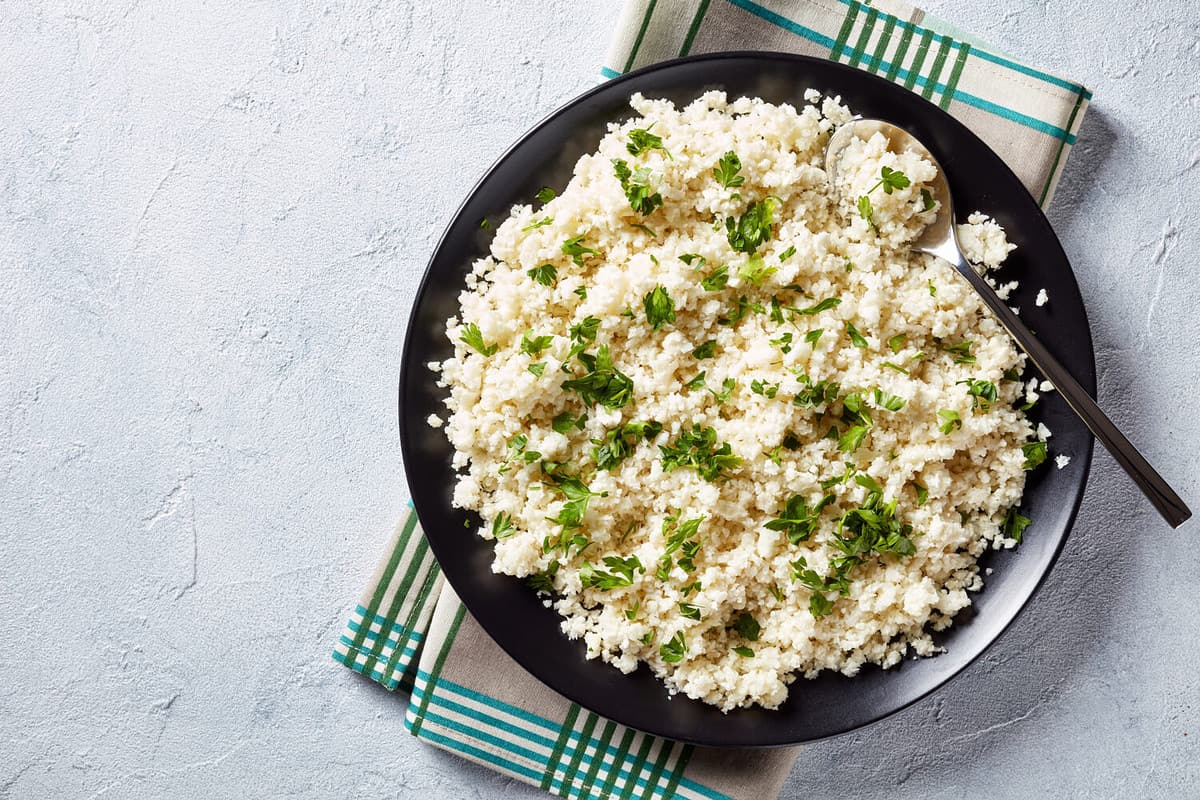 What is White Rice?
White rice is the product of highly processed rice. The process removes the hull, bran, and germ. There are many reasons the process removes these nutrient-packed layers. One is because soil can contain high levels of arsenic. When rice undergoes processing, the risk of arsenic ingestion is lower.
White rice also takes less time to cook than brown rice and offers a softer and less chewy texture.
However, with the stripping of the outer layers, much of the nutrients and vitamins go with it. White rice can still contain important nutrients, so do not discount it entirely. It is possible to aid in digestive health and is also great for pregnancy health.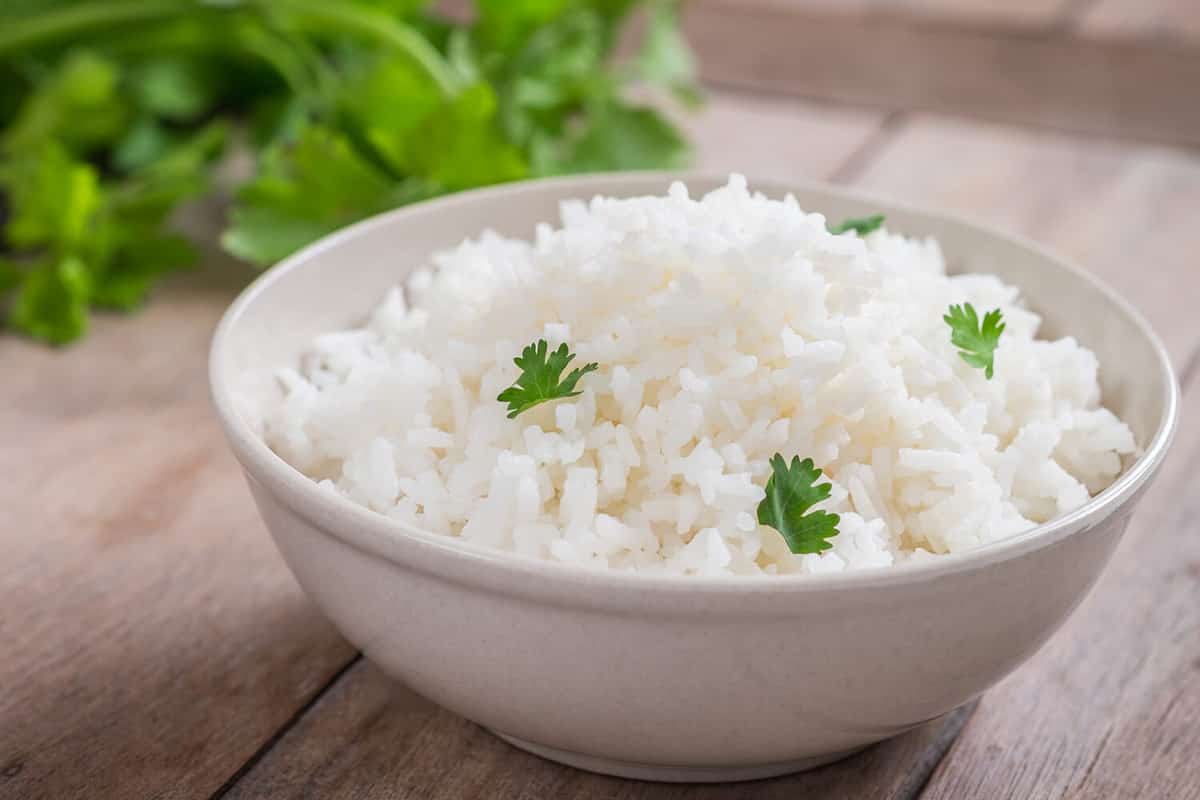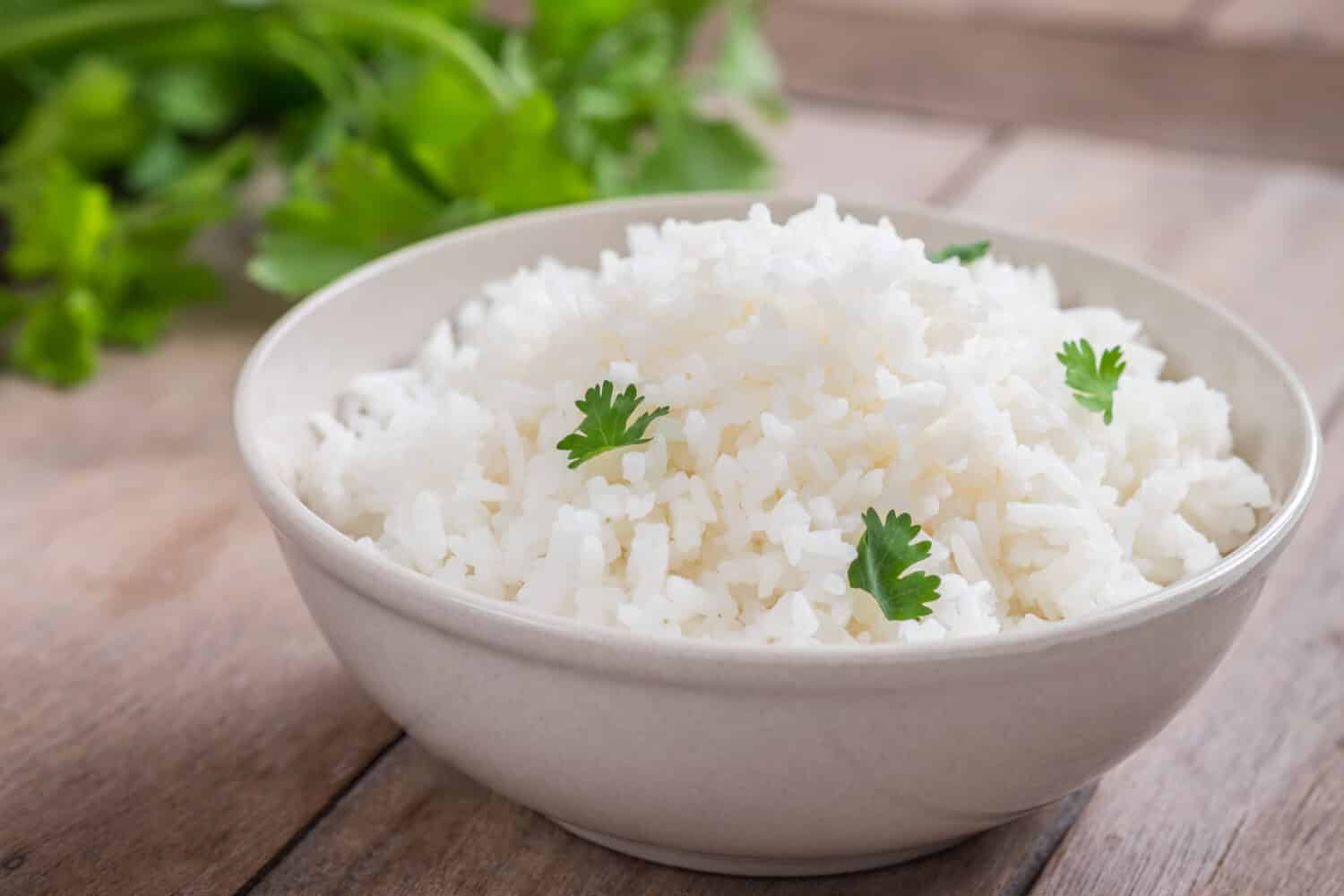 Why Cauliflower?
The reason cauliflower rice is excellent is because it gives a healthier alternative to those who want the texture of white rice. It makes a terrific substitute when a recipe calls for white rice. White rice can be high in calories and low in nutritional value. Therefore, those who want to continue making their favorite recipes but want to forgo white rice have a tasty alternative.
Although cauliflower rice is pleasing to the eye, looks like white rice, and has a similar texture, it does not taste like it! Cauliflower rice is precisely what it states, cauliflower. So, the taste gives it away.
Health Benefits of Cauliflower Rice
The health benefits of cauliflower rice are one reason it is a healthier choice. Cauliflower is high in antioxidants. It can even help with digestion issues and immune system function.
Another great health benefit of cauliflower rice is the possible ability to lower your blood pressure. It contains a chemical called "sulforaphane," possibly linked to lowering blood pressure. Therefore, eating cauliflower rice may help you lower your blood pressure.
Cauliflower rice is likewise lower in calories. Eating enough cauliflower rice to feel full yet still take in fewer calories is possible.
Nutritional Value Chart Between Cauliflower Rice and White Rice
Regarding the nutritional value between the two, the true winner is cauliflower rice. Cauliflower rice contains 25 calories in one cup, whereas white rice contains 205. Cauliflower rice also carries fewer carbohydrates, with only 5 grams. White rice contains 45 grams of carbohydrates. Take a look at the chart below for the comparisons between the two.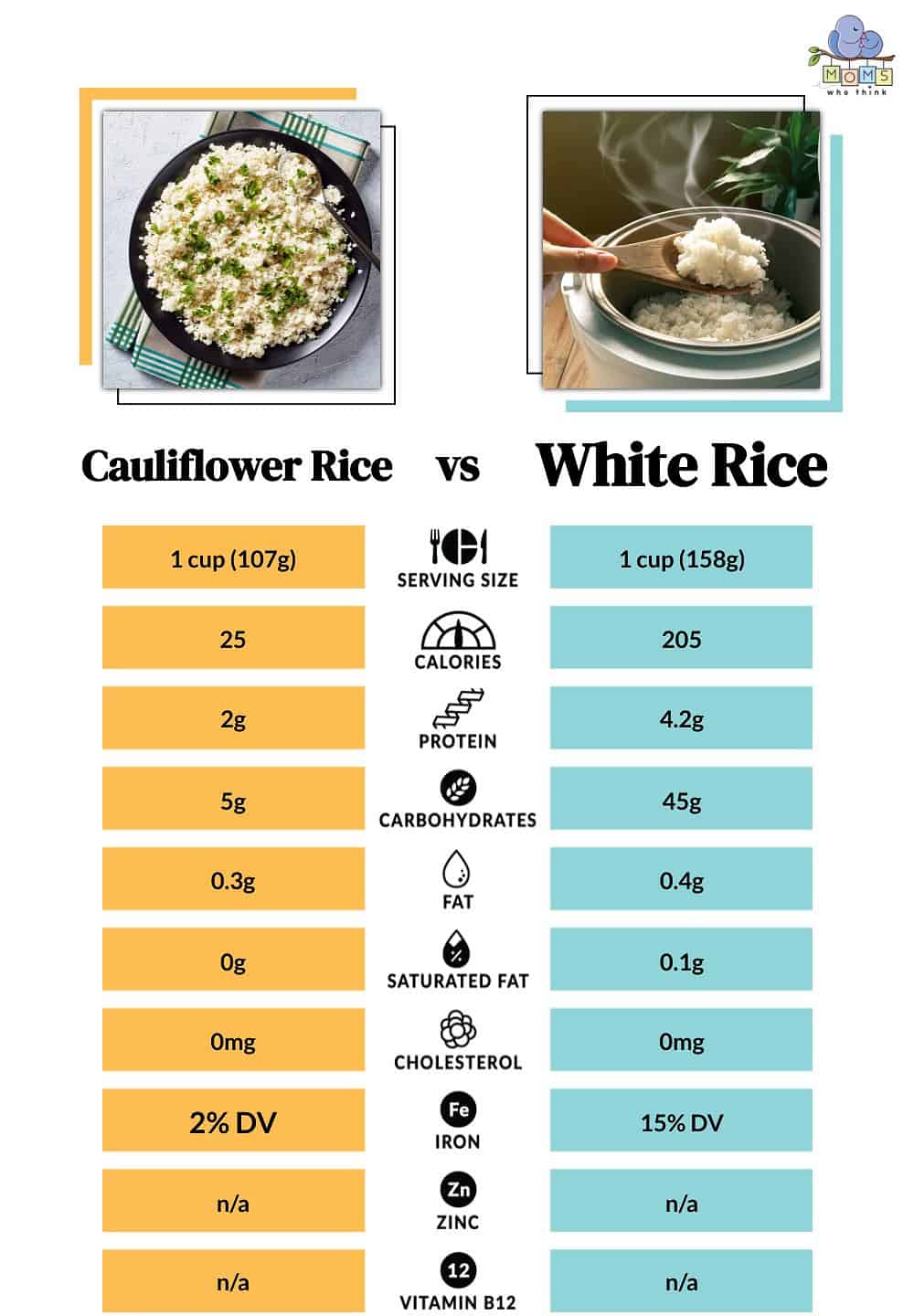 Can You Substitute Cauliflower Rice for White Rice?
Yes! Actually, one of the reasons that cauliflower rice exists is to be a substitute for white rice. If you enjoy the texture of white rice, giving cauliflower rice a try may be great for your overall health. Cauliflower is packed with several nutrients, like potassium, iron, and magnesium and it is lower in calories. The fact that cauliflower is also high in water density means it is very filling. Regardless of which one you prefer, it is perfectly fine to substitute one for the other.
When it comes to substituting cauliflower rice for white rice, that is possible as well. Although, it is essential to pay attention to the nutritional value of what you are adding to your recipes. White rice contains higher calories and carbohydrates. Eating white rice in moderation is absolutely okay. However, this type of rice may carry health risks when consumed more often. Therefore, be sure to pay attention to the nutritional facts of the rice.
One Last Note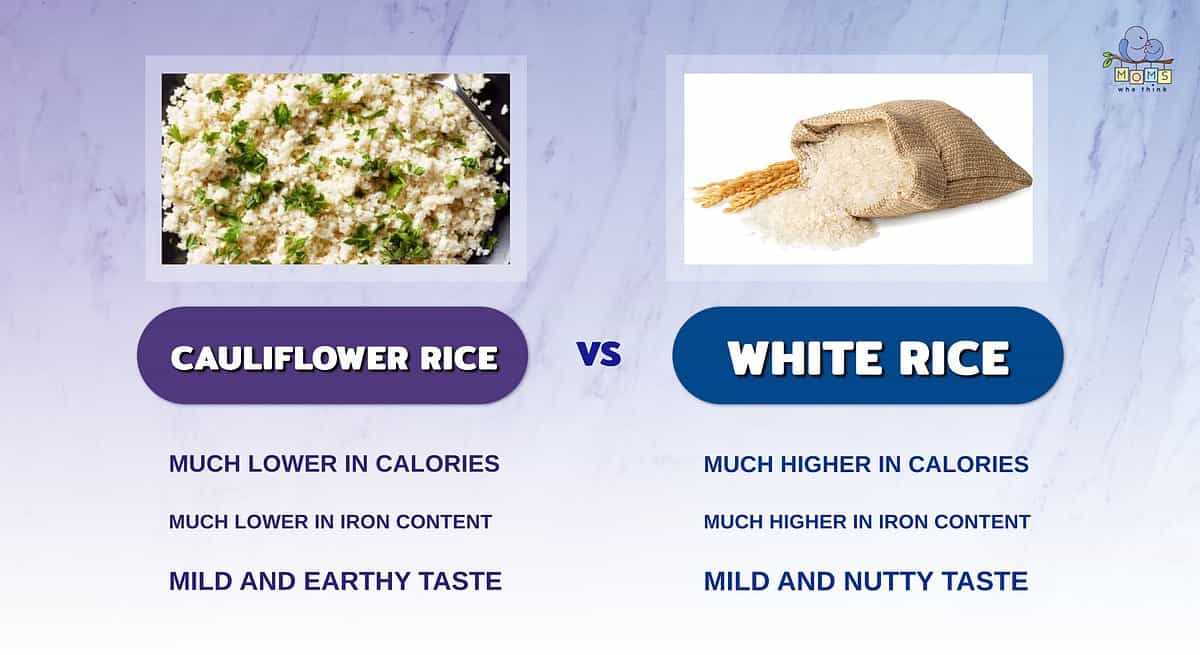 Cauliflower rice is much lower in calories compared to white rice, making it a great choice for those looking to lose weight.
While white rice has more calories, it also has a lot more iron.
Cauliflower rice has a mild and earthy taste that some may find bitter, while white rice has a mild, nutty, savory taste.
Rice is a popular grain consumed throughout the world. It has become a staple in many meals. It can be challenging to go to a restaurant or flip through a cookbook without seeing a recipe or meal that contains rice. There are many different types of rice to choose from, including jasmine rice and brown rice. However, for those who love the look and texture of white rice, there is a healthier alternative.
White rice is the product of intense processing. During this process, many of the nutrients and vitamins are taken away. However, the calories are still high. In fact, white rice is actually considered empty calories. There is a healthier alternative, though. Although cauliflower rice doesn't taste exactly like white rice, it still offers a great substitute! It is lower in calories, higher in nutrients, and can be very versatile. This is because the flavor can absorb and adapt to the recipe. Therefore, if you are looking for a healthier alternative or simply want a change of pace, cauliflower rice can be an excellent choice!
Whichever rice you enjoy, it all comes down to personal preference. Rice can be very filling because of its fiber content. There are also many healthier alternatives to typical white rice. Do not be afraid to try one out! 
If white rice is still your go-to, take a look at this delicious rice and veggie casserole:
Print
Savory Rice and Veggie Casserole
---
Author:

Yield:

Makes

6

servings

1

x
2 large green peppers, chopped
2 cups sliced fresh mushrooms
1 medium onion, chopped
¾ cup water
1½ teaspoons canola oil
2 garlic cloves, minced
1 can (28 ounces) diced tomatoes, undrained
1 can (16 ounces) kidney beans, rinsed and drained
¾ cup uncooked long grain rice
2 teaspoons ground cumin
1 teaspoon chili powder
¼ teaspoon salt
¼ teaspoon cayenne pepper
1 cup (4 ounces) shredded part-skim mozzarella cheese, divided
---
Instructions
1. Preheat oven to 350°. In a large nonstick frying pan, sauté green peppers, mushrooms and onion in water and oil until tender.
2. Add garlic and cook 1 minute longer.
3. Add tomatoes, beans, rice, cumin, chili powder, salt and cayenne pepper. Bring to a boil.
4. Reduce heat. Cover and simmer 25 minutes or until rice is tender and most of the liquid is absorbed.
5. Remove from heat and stir in ½ cup of the cheese.
6. Transfer to a 2½ quart baking dish coated with cooking spray.
7. Sprinkle with remaining cheese. Bake, uncovered, for 15 minutes or until cheese is melted.
Nutrition
Serving Size:

1⅓ cups

Calories:

260

Sodium:

523mg

Fat:

9.5g

Saturated Fat:

3g

Carbohydrates:

44g

Fiber:

9.5g

Protein:

14g

Cholesterol:

11mg
Comparison Post