The ingredients of rice and couscous can often be used interchangeably for many meals, but are they the same thing? They're close but not quite. The biggest differences are that couscous is small balls of durum wheat, and rice is a grain, and that couscous has more vitamins and minerals than rice. Let's dive deeper into the debate of couscous vs. rice.
Couscous vs. Rice: What are the Differences?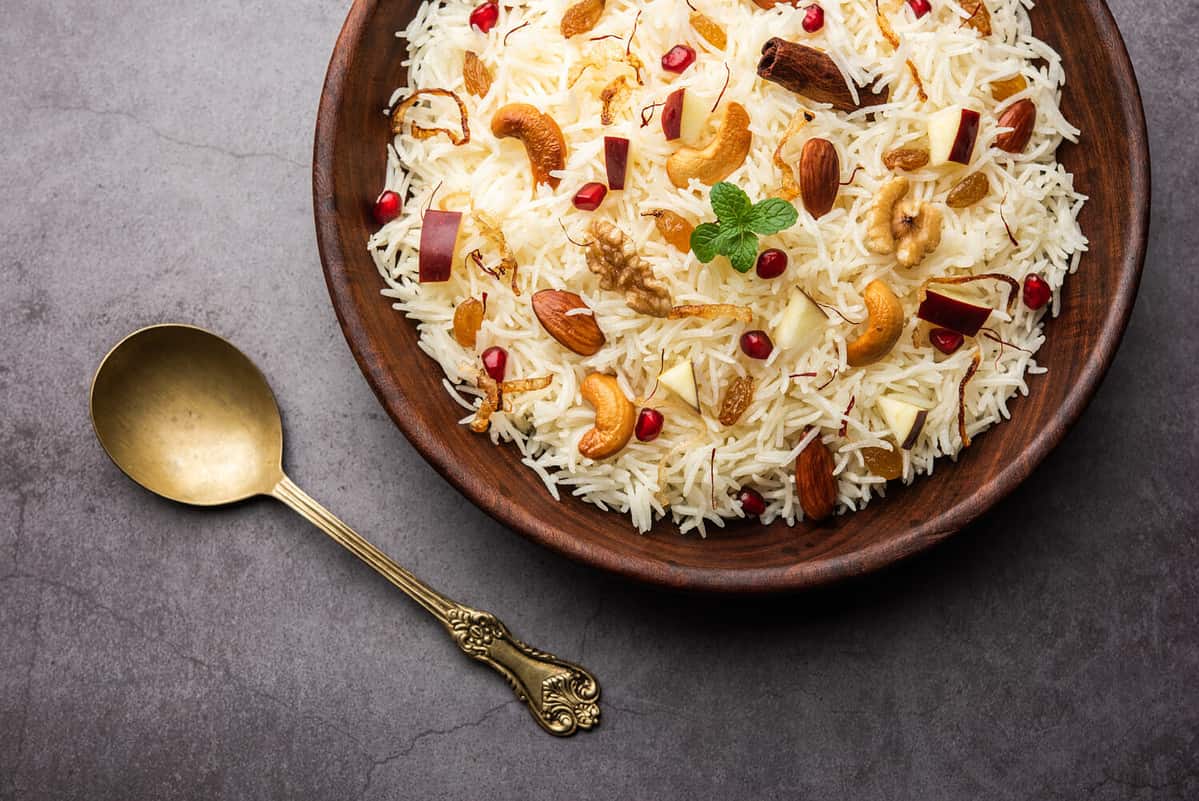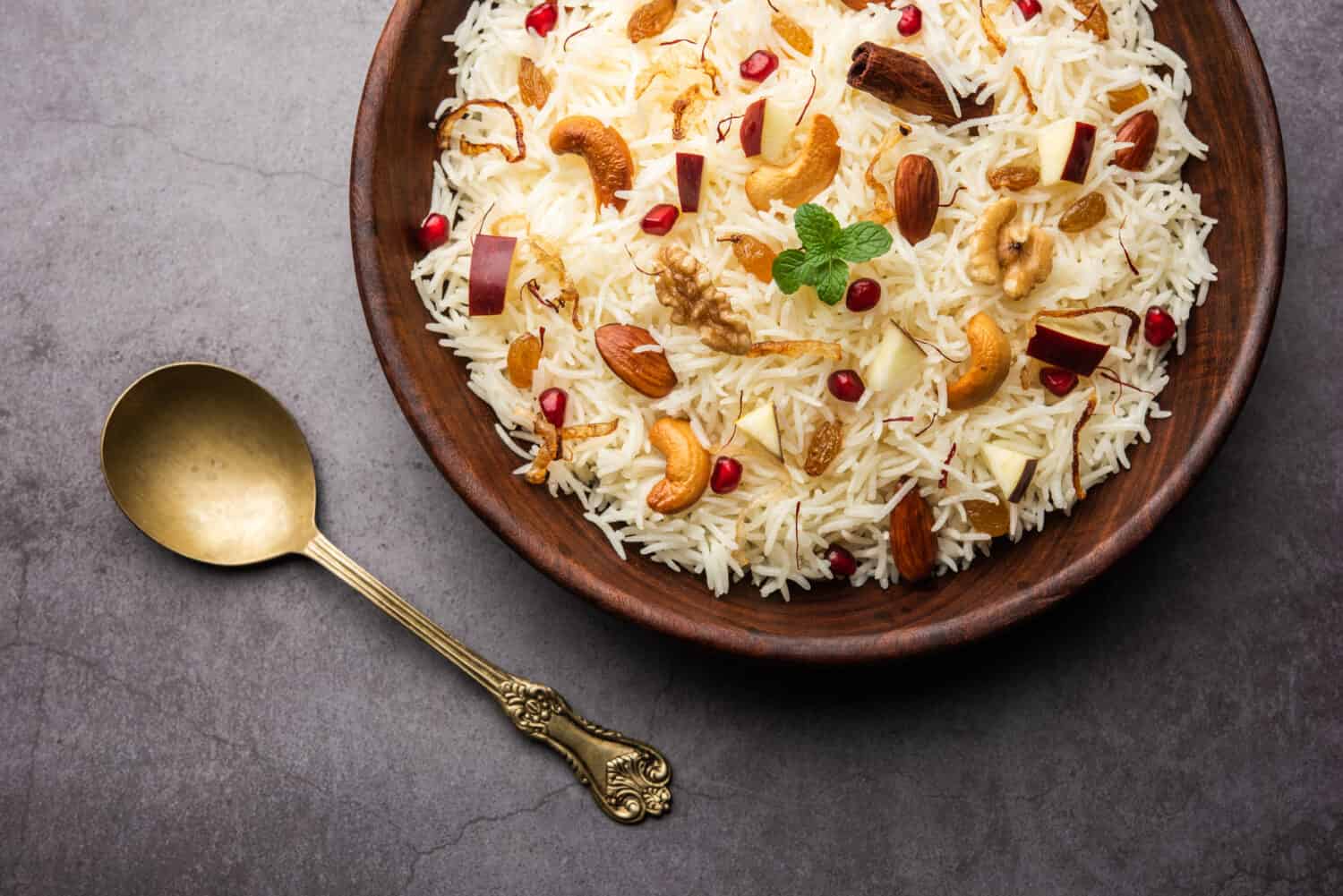 To understand the differences between couscous vs. rice, we first should define each so you can see how unique they truly are from each other.
What is Rice?
Rice is a kernel that comes directly from a plant. It's consumed all over the world, and it's particularly popular in Asia, where it makes up for 80% of their caloric intake. Rice is also very popular because it's the least allergenic of the grains, so almost anyone can eat it, even if they have a gluten intolerance.
Rice can be cooked in a variety of dishes, from spicy crab rolls and shrimp meals to risotto and porcupine meatballs. Cooks often use rice because it provides a chewier and firmer texture for meals.
There are many different varieties of rice, including sweet, short grain, jasmine, basmati, sushi, Himalayan, and more. They all provide a certain type of flavor. A few rice varieties of interest include:
Basmati Rice – This is one of the most popular varieties of rice. Soak this rice for 30 minutes prior to cooking to retain the favor and cut down on the cooking time by up to 20%.
Jasmine Rice – This is a popular grain rice that originated in Thailand, and it provides a nutty flavor that's also quite aromatic.
Wild Rice – Interestingly enough, wild rice is actually a type of grass that grows in shallow water throughout the U.S. and Canada. It's very rich in protein and fiber.
Calrose Rice – This is a medium-grain rice that's known for its flavor and stickiness, which is why it's typically used for sushi.
Black Rice – This is different from wild rice. It's a variety that's very rich in protein and iron, and other healthy elements.
Medium-Grain Brown Rice – This is considered a whole grain rice, and it provides a chewy and nutty texture.
What is Couscous?
Couscous became popular in North America, but it's also common in Middle Eastern and Mediterranean cuisine. Make no mistake, couscous is not a form of rice. Instead, couscous is its own thing. Technically, it's made up of small balls of durum wheat, so it's a type of pasta. While rice has been around since before 2500 B.C., couscous is a relatively new innovation that's only been around for about one thousand years.
When it comes to taste, couscous provides a softer taste that will soak up the juices of your dish. Couscous is often used in soups because it melts into the liquid and makes the perfect combination. One of the differences from rice is that, since couscous is a form of wheat, more people would be allergic to it.
One of the similarities between rice and couscous is that couscous also has several varieties, including:
Golden Couscous – This couscous works well in a side dish, and it provides a nutty flavor with a hearty texture. It's also perfect as a bed for meat or homemade stew.
Moroccan Couscous – This is the smallest type of couscous, so it cooks in just a few minutes. It's also very healthy.
Lebanese Couscous – It's the largest of the couscous, so it takes the longest to cook, but it provides the richest and nuttiest flavor.
Israeli Couscous – Also known as pearl couscous, this is a slightly larger couscous that absorbs a lot of flavor from the spices and herbs it's cooked with.
Couscous vs. Rice: How They're Cooked
Another of the differences between couscous vs. rice is how they're both cooked. Both are relatively simple to prepare, but they are done differently.
How to Cook Rice
Before cooking any dish, always make it a point to rinse the rice before you do anything else. Then follow these steps:
Add 2 parts water and one part rice to your pot.
Bring the water to a boil.
Add a pinch of salt.
Maintain a simmer as you cover the pot.
Continue cooking until the rice has absorbed all of the water. This can take around 18 minutes. Don't open the lid so the steam doesn't escape. Also, don't stir the rice or it could become gummy.
Turn off the rice and let it sit with the cover on the pot for 10 minutes.
Fluff the rice with a fork, and then enjoy.
Then, add the rice into an existing dish or eat it on its own with a bit of seasoning.
How to Cook Couscous
Cooking couscous has a similar cooking process due to the fact that it's boiled, but the steps do differ slightly. Search online, and you'll find different recipes, but these are basic steps that work in a pinch:
Take a medium saucepan and add olive oil, broth, and one teaspoon of salt, then bring the water to a boil.
Stir in the couscous.
Once the couscous is in, immediately remove it from the heat.
Cover it and let it sit for five minutes.
Fluff the couscous with a fork.
Season it with a bit of salt and pepper.
If you're making the couscous now so you can enjoy it later, then spread it on a sheet lined with parchment paper so it stops cooking. When it's cool, refrigerate it in a container for five days.
Couscous vs. Rice: Nutritional Value
When you compare an equal serving of rice and couscous, you'll see that the couscous is the healthier option almost across the board. Rice has more calories and carbs. Not only does couscous have lower fat content, but it also has more healthy vitamins and minerals, like protein and iron. Here is a full comparison between the two ingredients: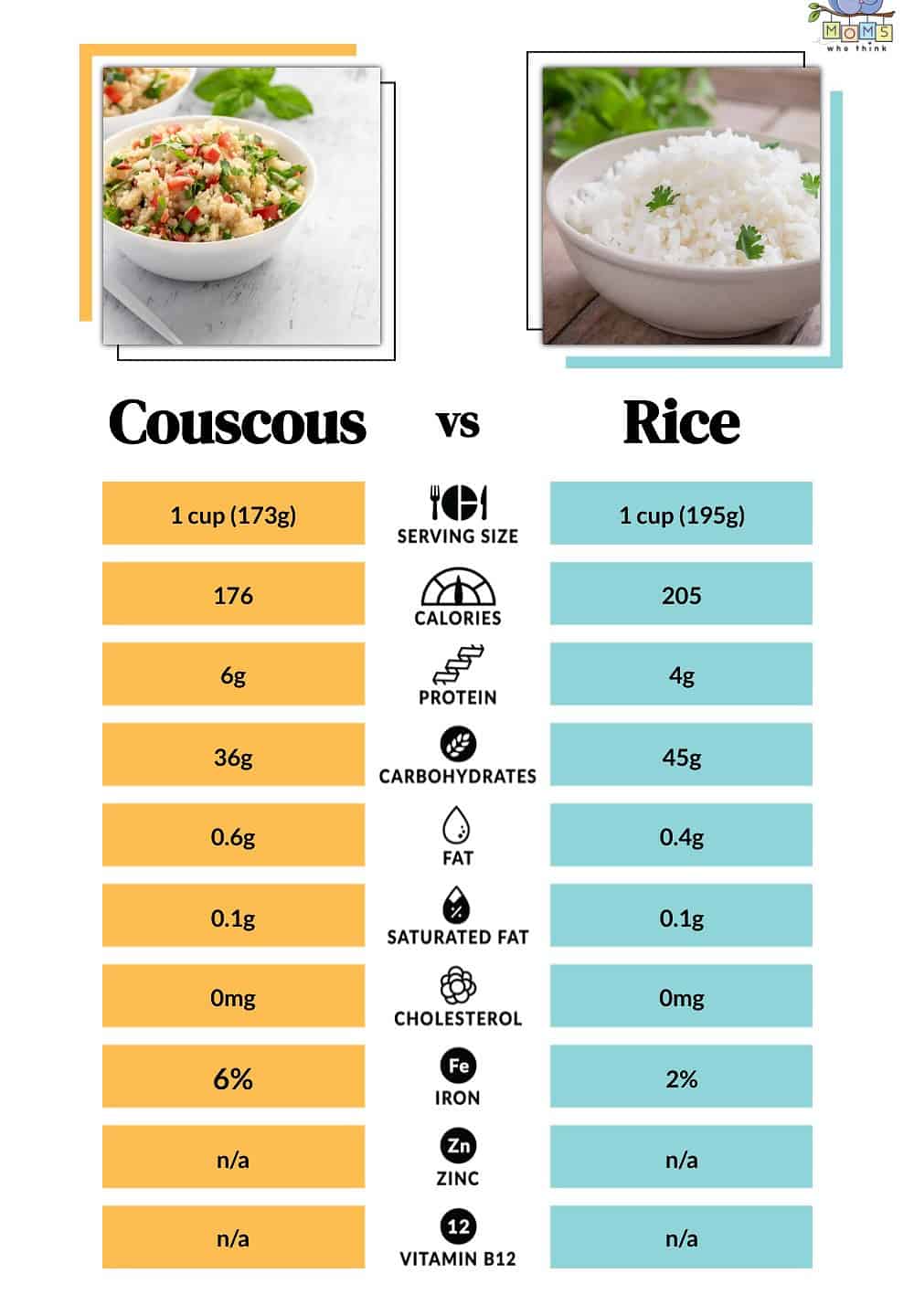 Substitutes for Couscous
If you love couscous, but you're looking for something a bit different to add to your next meal, then consider some of these tasty alternatives.
Quinoa
Quinoa is actually a great substitute for either side of the couscous vs. rice argument. That's because it provides a grain-like taste and a texture that's similar to both. Quinoa is also very healthy because it contains more protein than rice, and it's also gluten-free, so just about everyone can eat it. Just keep in mind when cooking it that quinoa has a longer cooking time, so read the recipe carefully before you start prepping your meal.
Millet
Millet is gluten-free and whole grain, so it's healthy, but it also has a similar appearance and taste to couscous.
Sorghum
Sorghum is like millet because it's similar in shape and it's small, like couscous. The difference is that the color is more yellow. The problem is that sorghum is not as available as other alternatives.
Cooked Lentils
Another great gluten-free substitute is cooked lentils, which are also gluten-free. It has a strong flavor, but the texture is almost identical to couscous. You can also try soft and red lentils.
Nuts
You can put nuts into a food processor and grind them up into the same consistency as couscous. Roast the nuts to provide that ideal flavor. Almonds and walnuts are usually great choices.
Substitutes for Rice
There are various suitable alternatives for rice that incorporate well into almost any meal you try. Consider these substitutes for the texture you love and the flavor you desire.
Riced Cauliflower
A great low-carb and low-calorie alternative is riced cauliflower, which has a mild flavor and an appearance and texture similar to traditional cooked rice. This is a great alternative if you're on a keto diet. You simply add a head of cauliflower to a food processor and then cook it at medium heat.
Riced Broccoli
You can do a similar thing with riced broccoli, which is also a low-calorie and low-carb alternative. Broccoli is also a great source of vitamin C, which you need to boost your immune health.
Shirataki Rice
This is another low-calorie and low-carb alternative that's made from the konjac root, which can be found in Asia. It's a very healthy substitute that does not have any calories. Shirataki rice contains glucomannan, which is very healthy, especially for intestinal health. Prepare it by rinsing the rice in water, boil for one minute, and then heat the rice over a medium heat until it dries.
Barley
This is a grain that's related to rye and wheat, and it has an earthy taste and a chewy texture. It looks similar to oats. Barely has a similar calorie count to rice, but it contains more protein. There's also a lot of vitamins and minerals, including zinc, selenium, and niacin.
Chopped Cabbage
Cabbage has a mild flavor, and it's also low in carbs and calories. It has a slew of vitamins, including K and C. Cabbage is also great for bone health. You can cook the cabbage by using a food processor and then cook it over medium heat until tender.
Farro
This is a whole-grain wheat similar to rice, but it has larger grains, a nuttier flavor, and a chewier texture. There's a lot of protein in farro, and it provides all nine essential amino acids. Prepare it by bringing three parts water and one part farro to a low boil until it becomes tender.
Freekeh
This is another whole grain similar to farro and barley, and it's rich in fiber and protein. Cook it by bringing it to a boil with two parts of water. Then, reduce the heat to medium and let it simmer until tender.
Rice Recipes
When we say that you can use rice in an almost unlimited number of dishes, we're not kidding. Here are some of our favorites:
Print
Quick and Easy Chicken Fried Rice
---
Author:

Yield:

4

servings

1

x
2 egg whites
1 egg
½ teaspoon salt, divided
1 small onion, chopped
1 garlic clove, minced
1 cup frozen mixed vegetables
2 cups diced cooked chicken breast (rotisserie chicken works well)
3 Tablespoons reduced sodium soy sauce
3 cups cold cooked brown rice
---
Instructions
1. In a small bowl, combine the egg whites, egg, and ¼ teaspoon salt. In a large nonstick skillet or wok coated with cooking spray, cook the egg mixture over medium heat. As eggs set, lift edges, letting uncooked portion flow underneath. When the eggs are set, remove, and cut into 1 inch pieces; keep warm.
2. In the same pan, stir fry the onion and garlic until tender.
3. Add vegetables; cover and cook over medium high heat for 3 to 4 minutes or until no longer frozen.
4. Stir in the chicken, soy sauce, and remaining ¼ teaspoon salt; cook for 1 minute.
5. Add rice; stir fry for 4 to 5 minutes or until heated through. Add eggs; heat through.
Nutrition
Serving Size:

1¼ cups

Calories:

325

Sodium:

854mg

Fat:

4g

Saturated Fat:

1g

Carbohydrates:

41g

Fiber:

2g

Protein:

29g

Cholesterol:

107mg
Couscous Recipes
We're also not kidding when we say that couscous can also be used in numerous dishes. Here at momswhothink.com, we have a few favorites:
Conclusion
Couscous is lower in calories compared to rice, making it a great choice for those trying to lose or maintain their weight.
Rice is firmer than couscous; the latter is good at soaking up juices.
Couscous is significantly newer than rice, although both have been consumed for a long time.
These are the major differences and other fun facts that provide the ins and outs of the couscous vs. rice argument. Both are tasty elements to many spectacular dishes, so try them in your meal tonight. You won't be disappointed.