There are many excellent ways to cook a delicious chicken, yet sometimes, what truly makes the dinner is the yummy side dishes. The fact that they are healthy is just a bonus! If you are looking for tasty and healthy side dishes to eat with your baked chicken, look no further!
1. Baked Sweet Potato
Calories: 112
Fat: 2 grams
Carbs: 26 grams
Sweet potatoes have many things going for them. First, they are sweeter than the typical vegetable sides paired with healthy chicken. Second, they are packed full of necessary nutrients that our bodies need. While many sweet potato recipes play upon the sweet factor by adding brown sugar, graham crackers, and more, those additives aren't exactly healthy. However, the natural sweetness of a sweet potato is all you need; pop it in the oven and bake for one to one hour and 15 minutes at 350 degrees Fahrenheit. If you desire, you can add a little bit of butter, but honestly, it's not needed!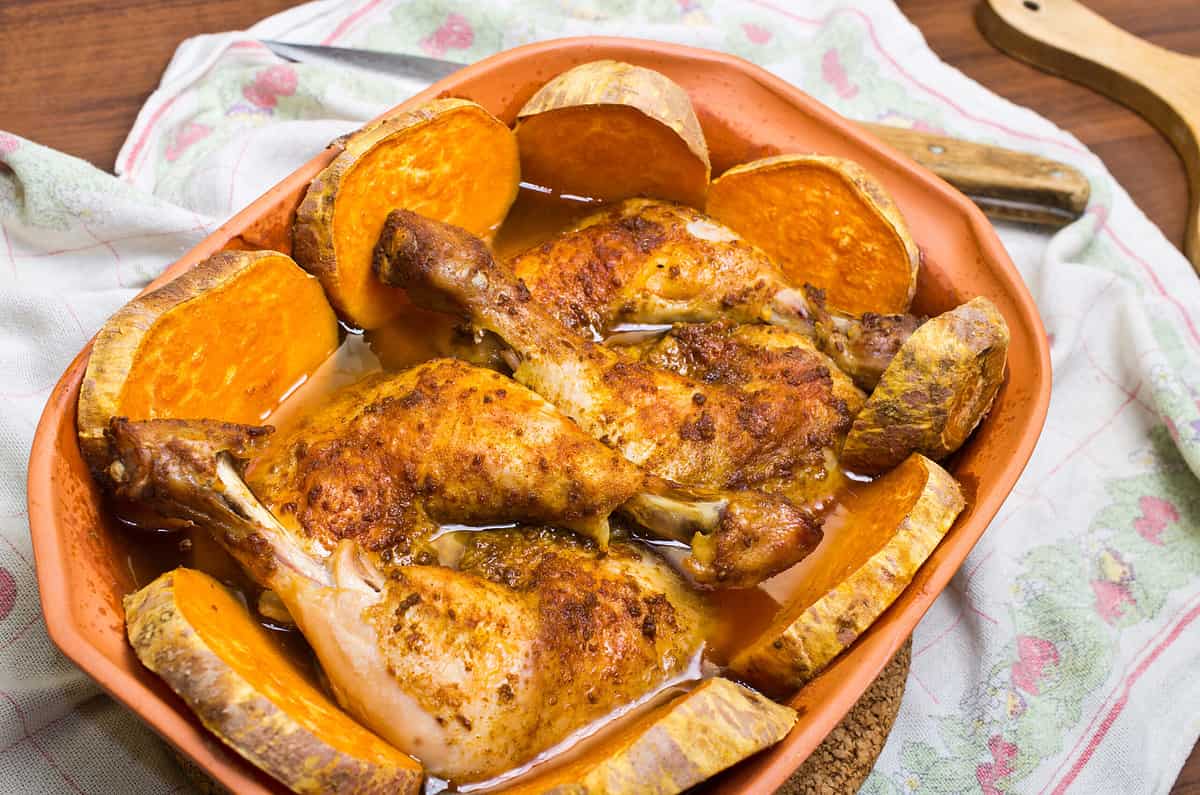 2. Honey Roasted Sweet Potatoes
Calories: 150
Fat: 4 grams
Carbs: 28 grams
One of the best things about roasting sweet potatoes is the natural caramelization that happens! These honey-roasted sweet potatoes add flavor and tenderness to the side dish, making it another excellent way to enjoy the sweet potato.
3. Sweet Potato Wedges
Calories: 112
Fat: 2 grams
Carbs: 26 grams
Fries are often a guilty pleasure. The salty flavor and simplicity can be addicting. With these sweet potato wedges, you can have the simple concept of a fry but in a healthier-for-you version. Also, it doesn't hurt that flavor adds a little extra sweetness! 
4. Healthy Sweet Potato Custard Recipe
Calories: 160
Fat: 2 grams
Carbs: 32 grams
This sweet potato custard recipe adds banana, sweet potato, and skim milk for a surprisingly tasty side dish. You can enjoy the sweet flavor of the sweet potato and banana while feeling guilt-free! The calorie count comes in at 160, with added potassium and protein. Additionally, if you use an egg substitute, the cholesterol in this dish can be lower.
5. Healthy Stuffed Potatoes
Calories: 113
Fat: 3 grams
Carbs: 17 grams
While baked potatoes can be higher in calories and not touted relatively as healthy as sweet potatoes, they can still make a somewhat healthy and delicious side dish for baked chicken. The added benefit of cottage cheese is another excellent healthy factor. In addition, you can add flavor and texture with herbs and parmesan cheese!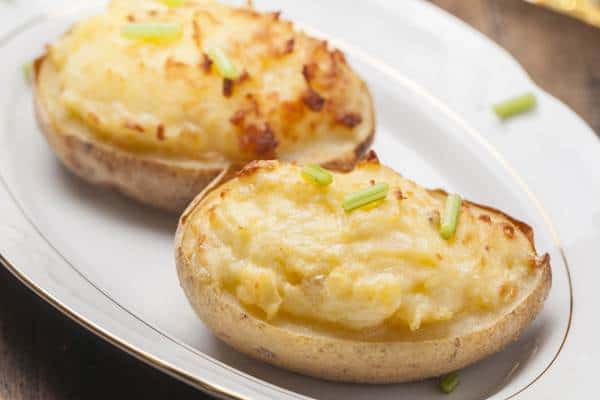 6. Greek Salad Recipe
Calories: 290
Fat: 10 grams
Carbs: 20 grams
Salads are excellent side dishes for baked chicken. Not only are they healthy, but the vegetables or fruit included pack plenty of nutrients that our bodies need. This Greek salad recipe plays upon the flavors of tomatoes, cucumber, kalamata olives, olive oil, feta cheese, and more for a refreshing side dish that is delectable alongside baked chicken.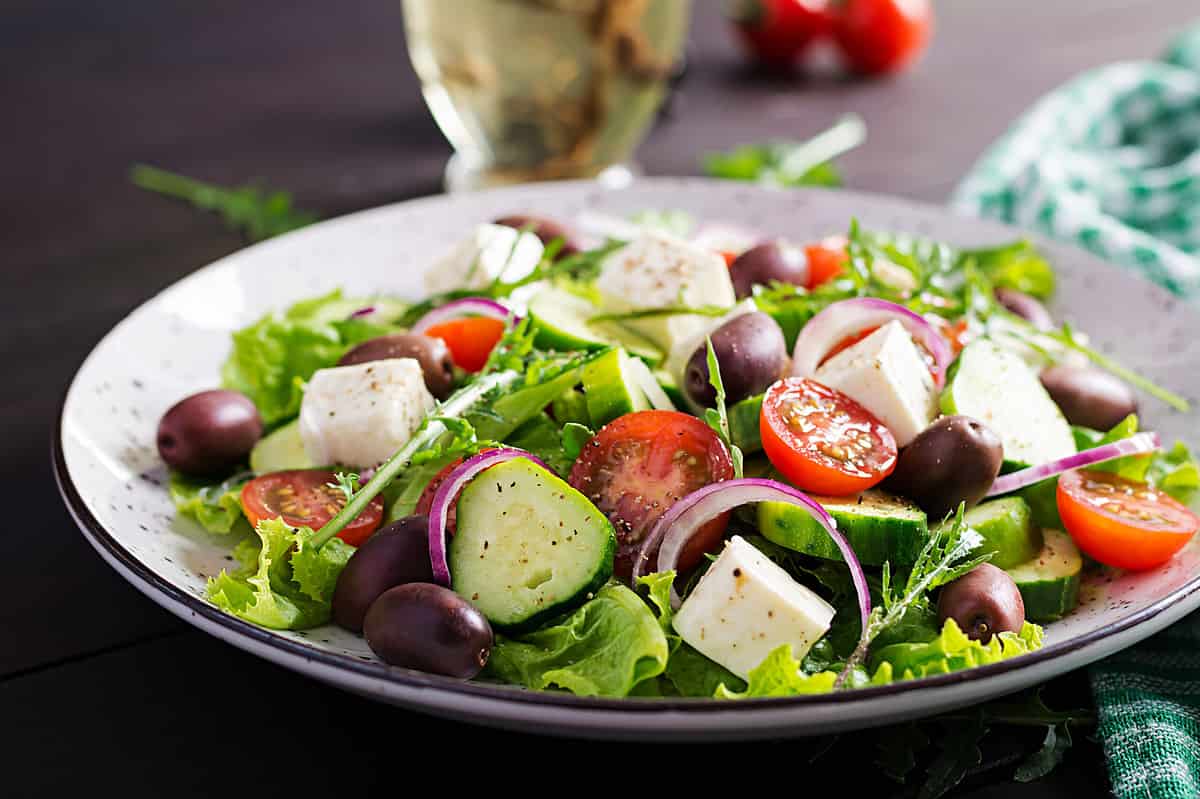 7. Caesar Salad
Carbs: 160 calories
Fat: 13 grams
Carbs: 7.6 grams
Caesar salad can be satisfying in flavor and texture. This tasty Caesar salad is straightforward to follow and tasty. The egg and lemon juice complement one another in a way that your taste buds will love you for!
Note: Calories for Caesar salad will vary depending on the dressing used.
8. Healthy Pasta Salad
Calories: 405
Fat: 13 grams
Carbs: 18 grams
Carrots, onions, and zucchini have added benefits in the nutrition department. This healthy pasta salad packs a punch in both flavor and texture. Furthermore, you can omit the tuna for a simpler pasta salad that complements a baked chicken, or even slice up the baked chicken and add it to the pasta salad.
9. Cobb Salad
Calories: 290
Fat: 23 grams
Carbs: 5 grams
Cobb salad is another way to enjoy the benefits of healthy foods like boiled eggs, avocados, and greens. One option is to chop the baked chicken up into strips or chunks and toss in the cobb salad for a healthy lunch or dinner option. Another option is to enjoy the cobb salad as a side dish alongside the baked chicken!
Note: While a traditional Cobb salad can be high in calories, there are simply ways to take the calories down a notch.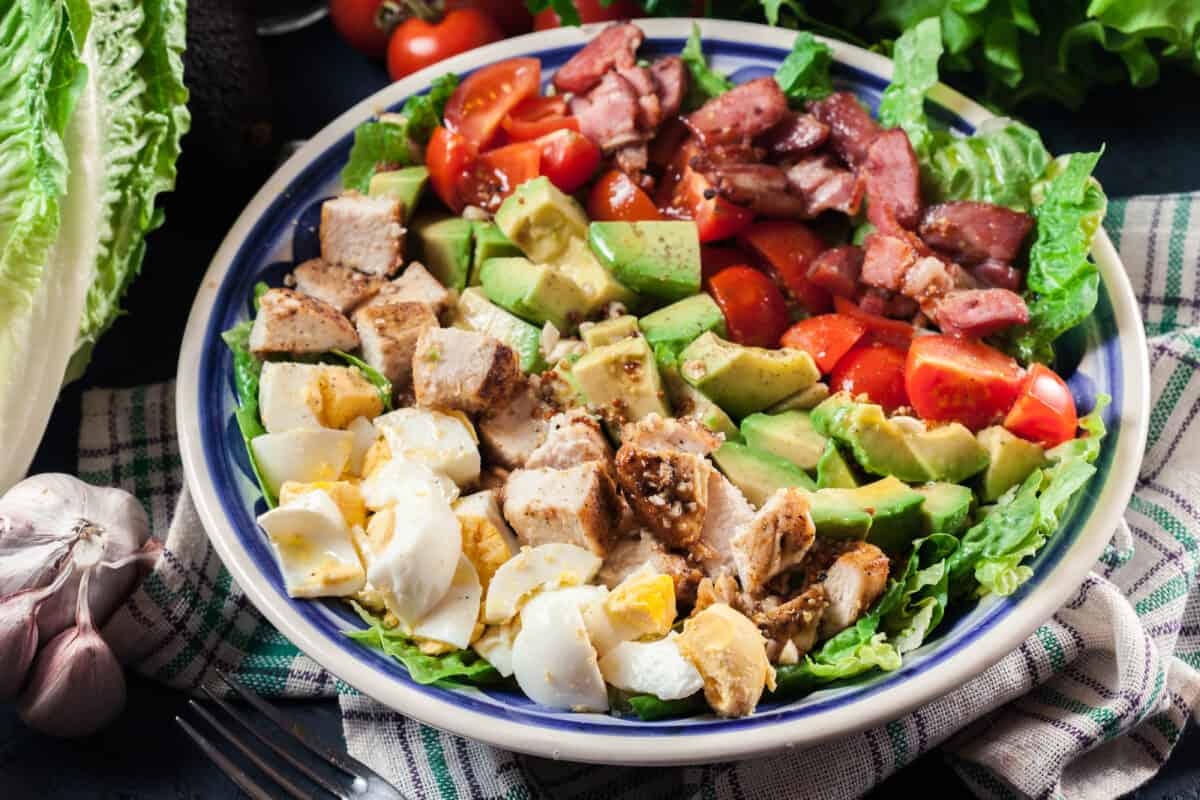 10. Sweet and Healthy Fruit Salad
While vegetables are often the go-to for a healthier meal, fruit still has plenty of beneficial nutrients! This fruit salad is sweet enough to satisfy your sweet tooth, yet is a healthy option that you will want to make repeatedly. Additionally, it includes grapes, apples, pears, and yogurt, combining cinnamon and nutmeg for a tasty side!
Note: Fruit salad will vary in calories depending upon the fruit and dressing used.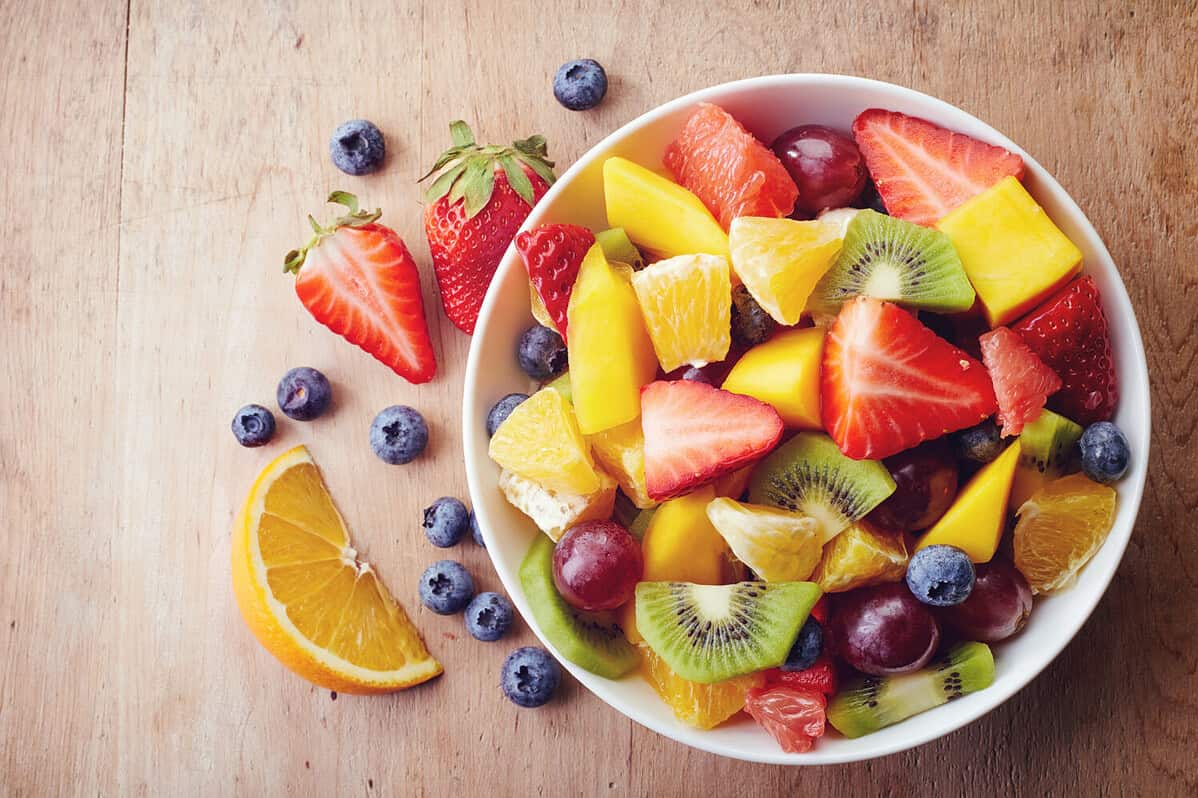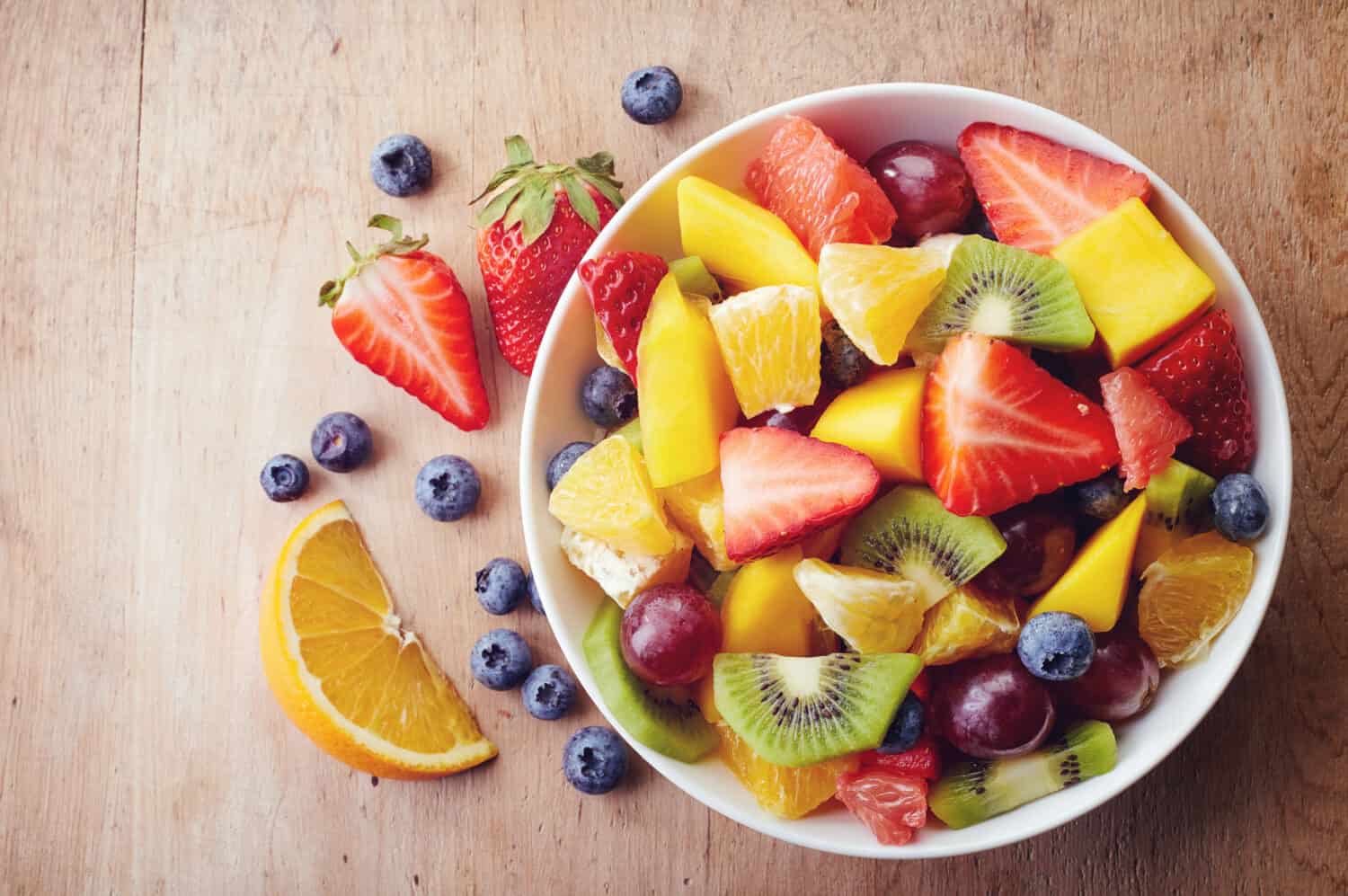 11. Broccoli Salad 
There's no doubt that broccoli carries many health benefits. Yet sometimes it can feel a bit boring. However, you can add color and texture with this delicious broccoli salad! Onions, bacon, raisins, and broccoli tossed in mayonnaise, vinegar, and sugar (which can be omitted) bring a crisp and refreshing salad that is excellent as a side dish for home or even a potluck!
Note: Broccoli has around 50 calories per cup. Therefore, the calorie count will depend on what is added to the dish.
12. Fall Brussels Sprouts
Calories: 38
Fat: 0.3 grams
Carbs: 8 grams
Brussels sprouts, you either love them or hate them. However, there is no debate that they offer many health benefits! If you are willing to give Brussels sprouts another try, or if you love them, try this fall Brussels sprouts recipe. It is easy to prepare; you will have the Brussels sprouts on the table in less than 30 minutes!
13. Roasted Asparagus
Calories: 50
Fat: 3.5 grams
Carbs: 4 grams
Asparagus is another delicious side to go alongside baked chicken. With only three calories in each asparagus spear, they are excellent and guilt-free! Additionally, roasting asparagus with olive oil and seasoning adds a texture and flavor that can be hard to beat.
Note: Asparagus has three calories in each spear.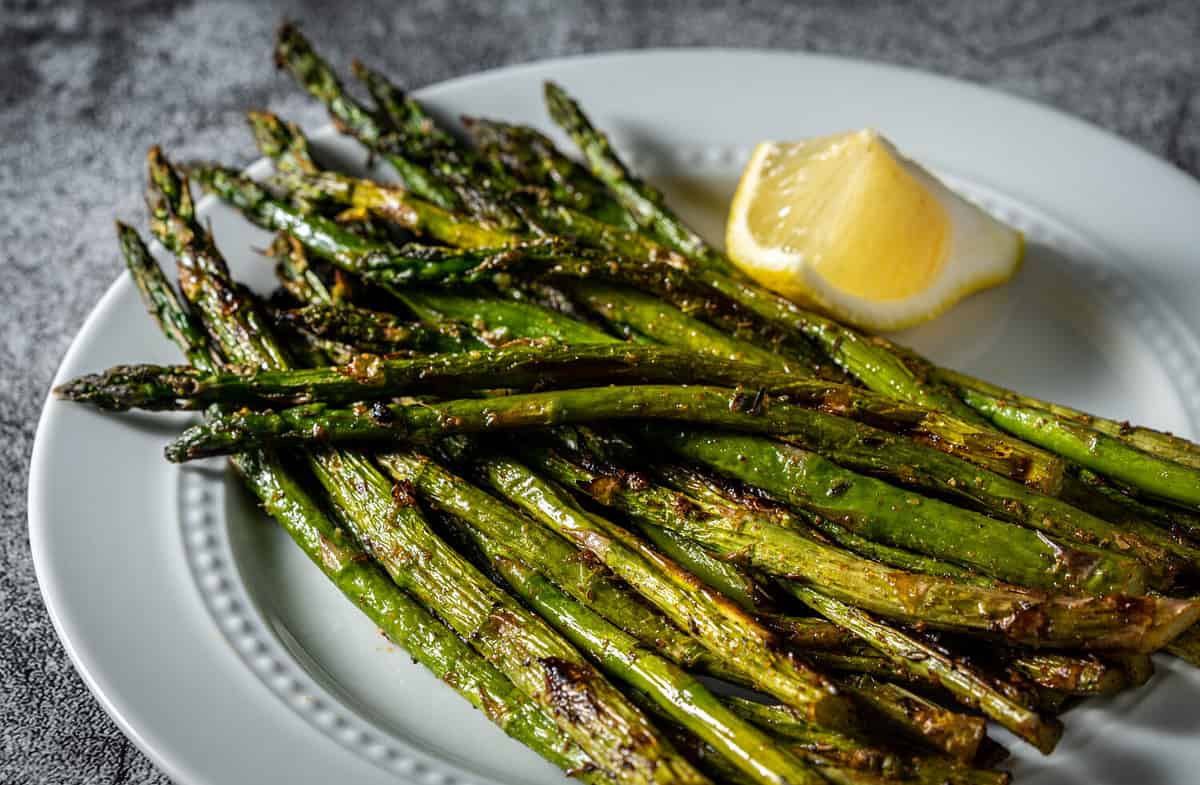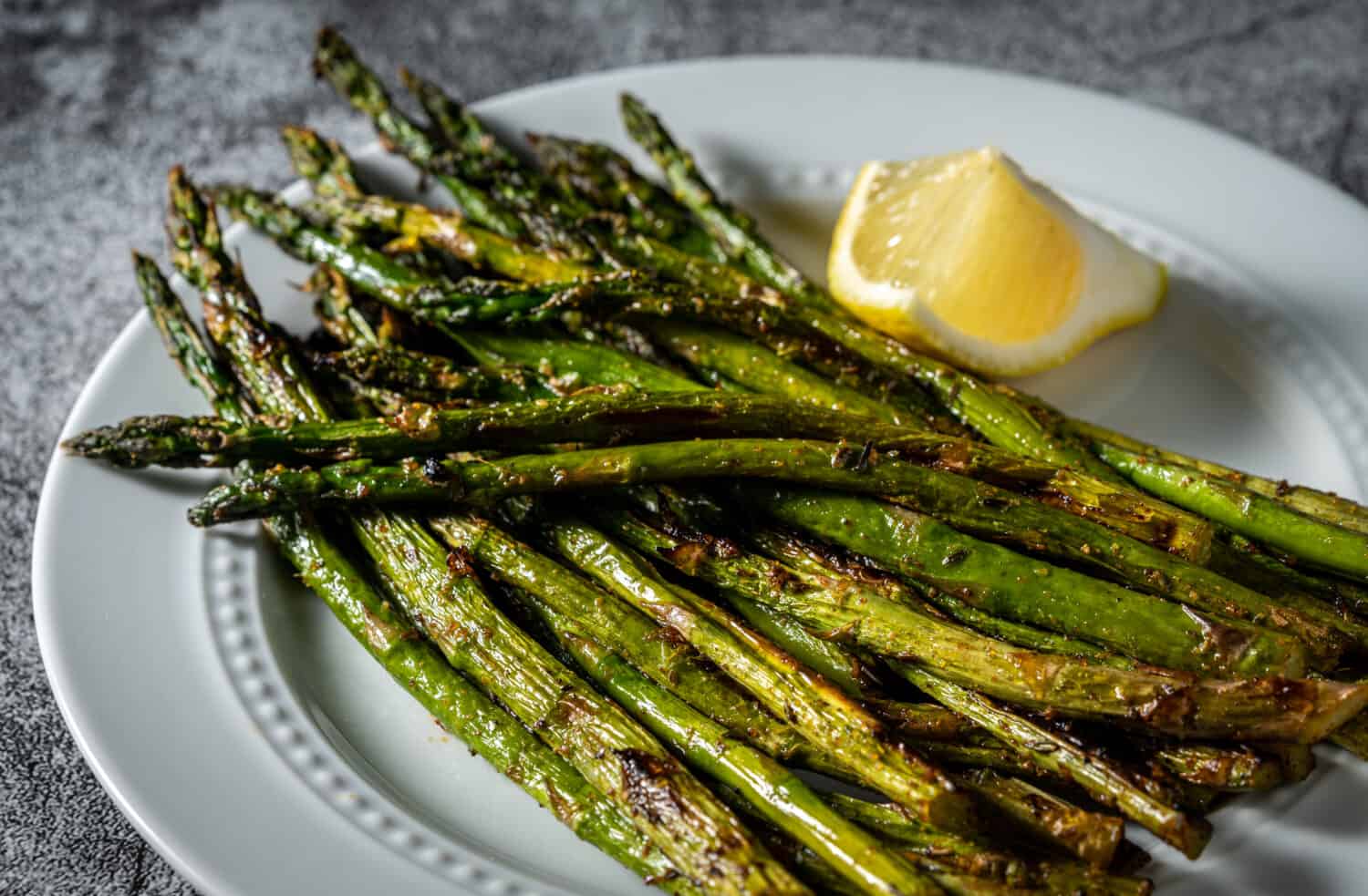 14. Quinoa 
Calories: 120
Fat: 1.9 grams
Carbs: 21.3 grams
Quinoa is a grain packed with many nutrients, from protein and carbohydrates to fat. Additionally, this side dish can leave you feeling full and satisfied. Quinoa can be cooked in water. However, broth will add to the flavor, which can be somewhat lacking. 
15. Healthy Italian Vegetable Bake
Calories: 27
Fat: Less than 1 gram
Carbs: 5 grams
With zucchini, eggplant, green beans, green peppers, onions, and more, it is hard not to love this tasty Italian vegetable bake! While it takes over an hour to prepare and cook, it is well worth it once this side dish hits your kitchen table!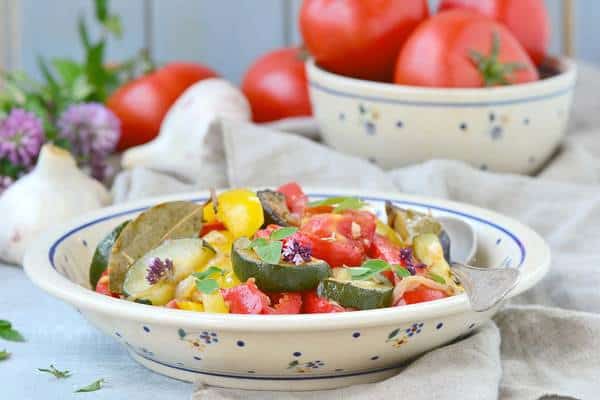 16. Healthy Sunshine Rice Recipe 
Calories: 276
Fat: 6 grams
Carbs: 50 grams
This sunshine rice recipe is colorful and appealing to the eye! Substitute white rice for a healthier one, such as brown rice for an even healthier version. Celery, onions, orange juice, and more, the flavors leave an impact with this healthy side dish!
17. Green Beans and Potatoes 
Calories: 197
Fat: 0.4 grams
Carbs: 45 grams
There are many ways to enjoy green beans! It is only fitting that green beans and potatoes always seem to go together. They both have a delicious flavor and health benefits that are important! Add bacon, onions, and seasonings for even more impact. Also, you can omit the red potatoes if you want a side dish with fewer calories.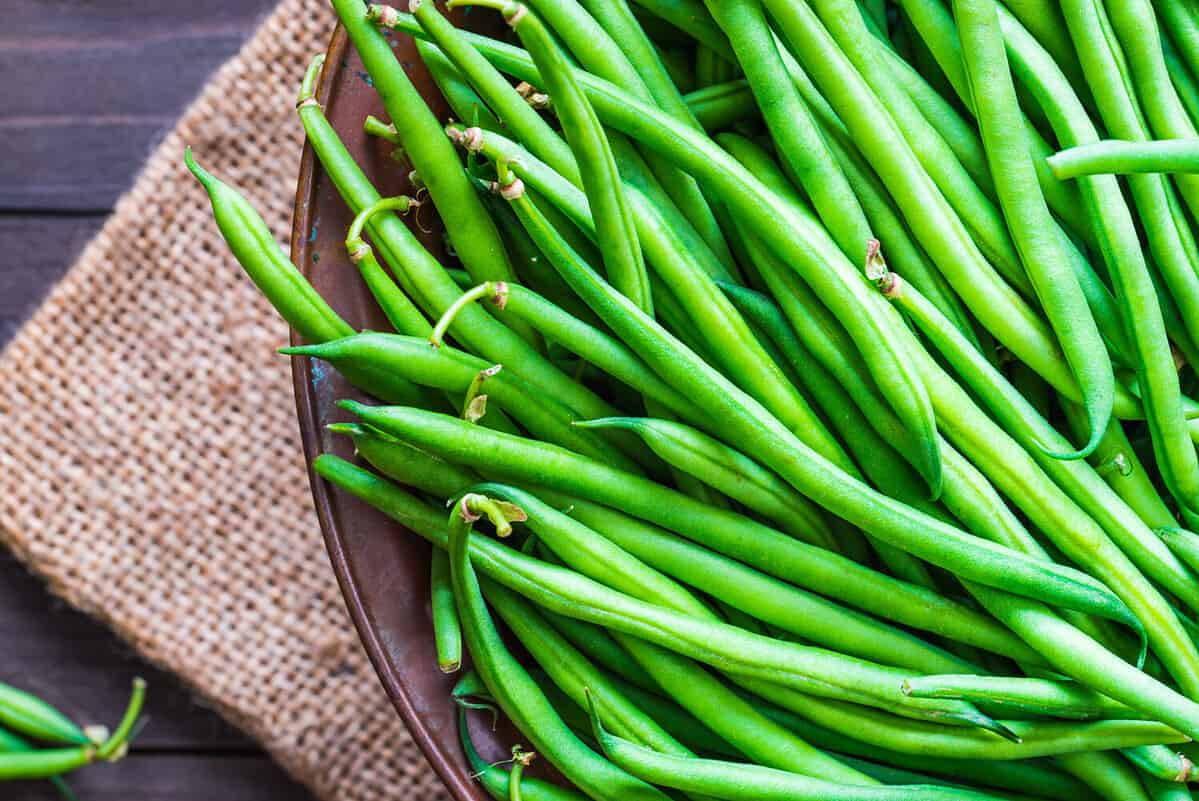 18. Roasted Green Beans
Calories: 31
Fat: 0.1 grams
Carbs: 7 grams
Another way to enjoy green beans is by roasting them. The slow roasting method combined with seasoning and olive oil adds to the deep flavor and softening of the green beans. Adjust the time depending on if you prefer crispy or soft green beans.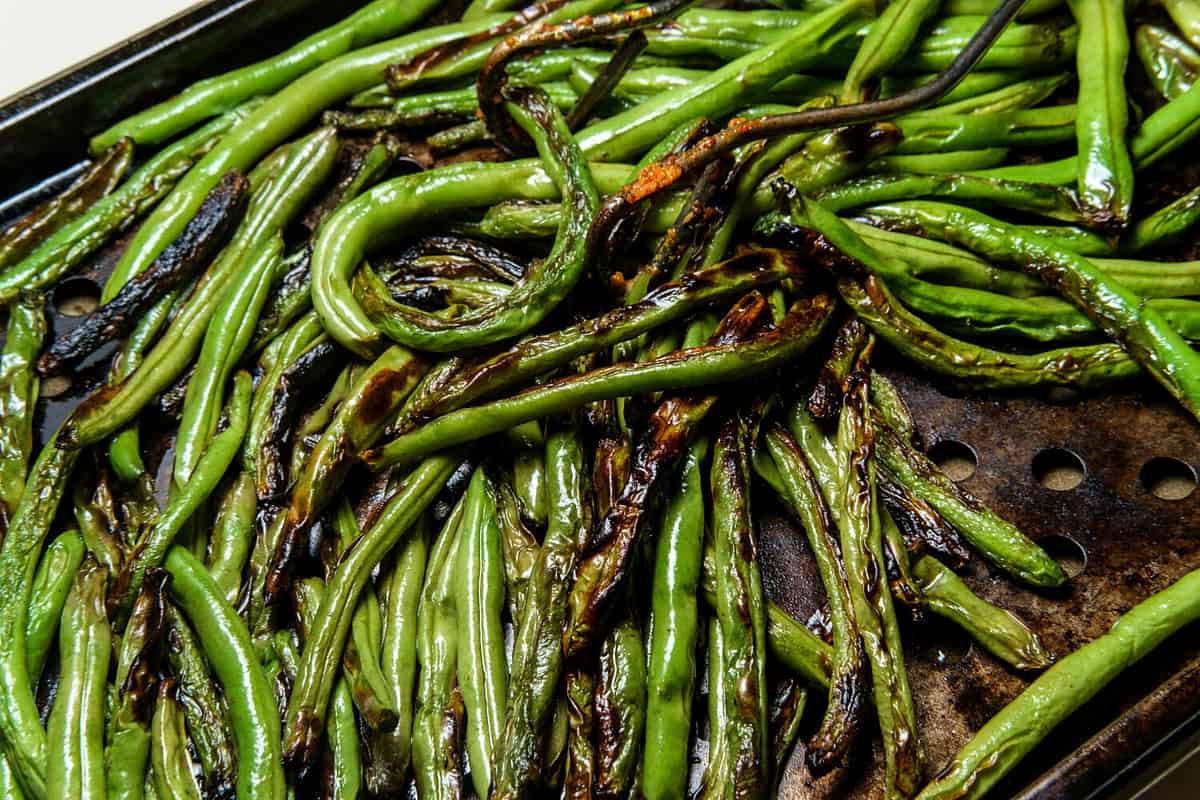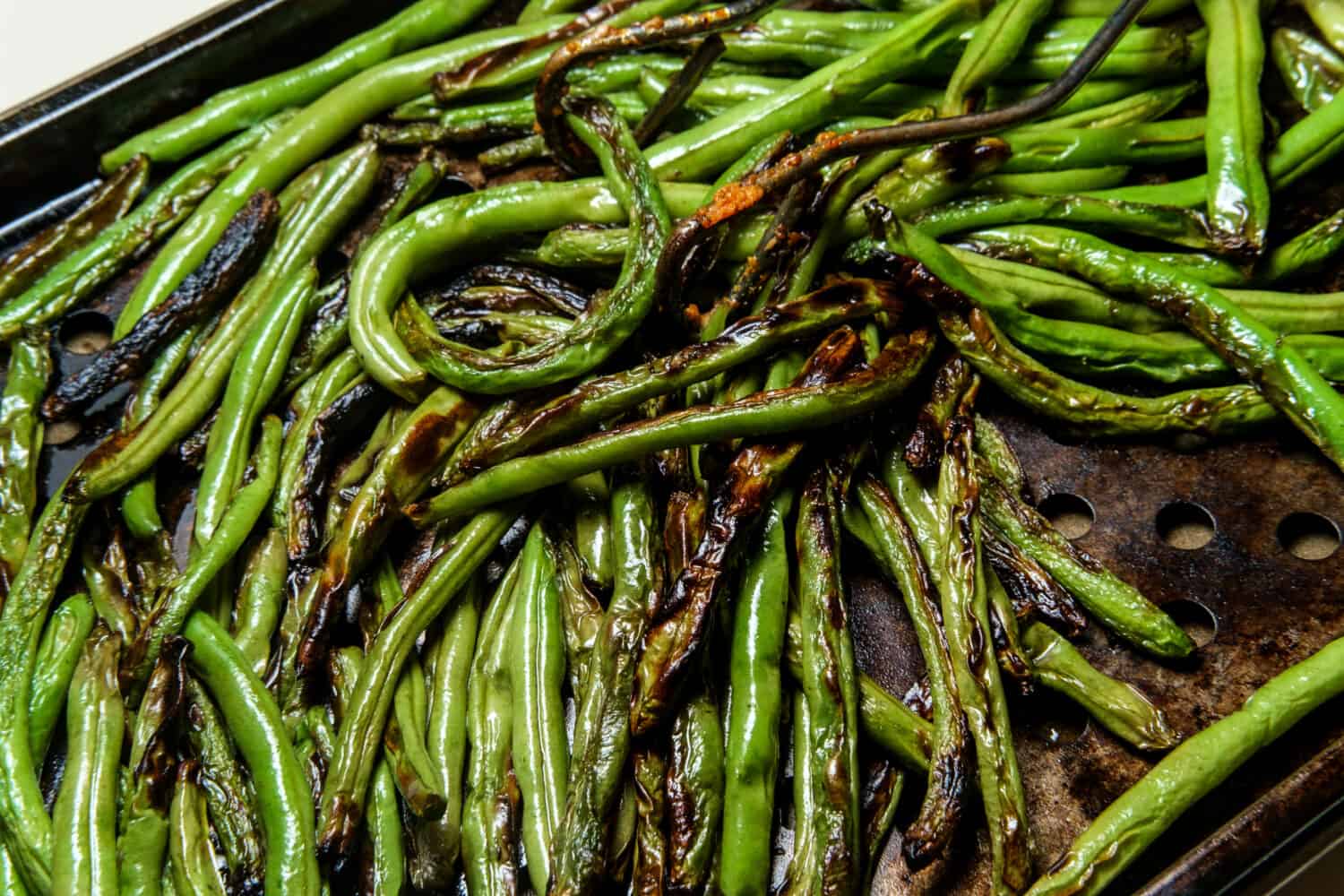 19. Ranch Roasted Carrots
Calories: 25
Fat: 0.1 gram
Carbs: 6 grams
Carrots and ranch make a great snack. However, with these ranch-roasted carrots, you can turn up the flavor by combining the two and creating a delicious side dish that goes beyond snacking.
Calories: There are around 25 calories in one medium carrot.
20. Garlic Butter Zucchini and Mushrooms 
Calories: 161
Fat: 13 grams
Carbs: 9 grams
Sauteeing zucchini and mushrooms together with butter and garlic make for a delectable side dish. This recipe takes less than thirty minutes to prepare and cook, and the ingredients are simple, making it a perfect healthy side for baked chicken for any night of the week.
Calories: 161
The image featured at the top of this post is ©iStock.com/Olga Mazyarkina .