No matter how you serve them, pork chops are the perfect weeknight meal for busy families. But while you're searing your pork chops or cooking them up on the grill, you might wonder what to serve with them. The right side dish is the perfect way to complete any meal and add some additional nutrients. To help you decide what to serve with pork chops, here are 10 healthy sides for pork chops.
258 calories per serving
0.51 grams of fat
59 carbs
There's no limit to how you can use sweet potatoes as a side for something like pork chops. One of the healthiest ways to cook sweet potatoes is to use the air fryer. With mashed sweet potatoes, you can cook them in the air fryer and then add any other desired seasonings or ingredients. To keep it healthy, swap whole milk for low-fat milk or leave out the butter and generously season with salt and cinnamon.
239 calories per serving
9 grams of fat
38 carbs
Whether you're having guests over for a dinner party or cooking an elegant meal for your family, this spiral sweet potato bake is sure to impress. Not only is it visually appealing but it's also a delectable side dish to serve with pork chops. Despite the mesmerizing spiral, this sweet potato dish comes together with just a handful of ingredients. To achieve the perfect spiral, all you have to do is arrange the thin slices of sweet potato in the skillet, similar to how you would make ratatouille.
141 calories per serving
9.38 grams of fat
10.92 carbs
While you might usually lean into the sweetness of sweet potatoes by mixing them with cinnamon or brown sugar, they also make a great savory dish. This recipe for garlic parmesan roasted sweet potatoes is easy to put together and is a wonderfully healthy dish to go along with pork chops. The garlic and seasonings perfectly complement the sweet taste of the potatoes and the fresh thyme at the end is a great final touch. 
120 calories per serving
3 grams of fat
22 carbs
If you're grilling up some pork chops, here's a simple side to add to the mix. This recipe for grilled potatoes and onions allows you to create an easy and delicious side dish for your meal. While regular potatoes, such as russet potatoes, often get a bad rap, they're actually filled with nutrients such as antioxidants and they're gluten-free, which makes them great for those with celiac disease or gluten sensitivity. If you prefer sweet potatoes, switch out the regular potatoes for sweet potatoes in this recipe!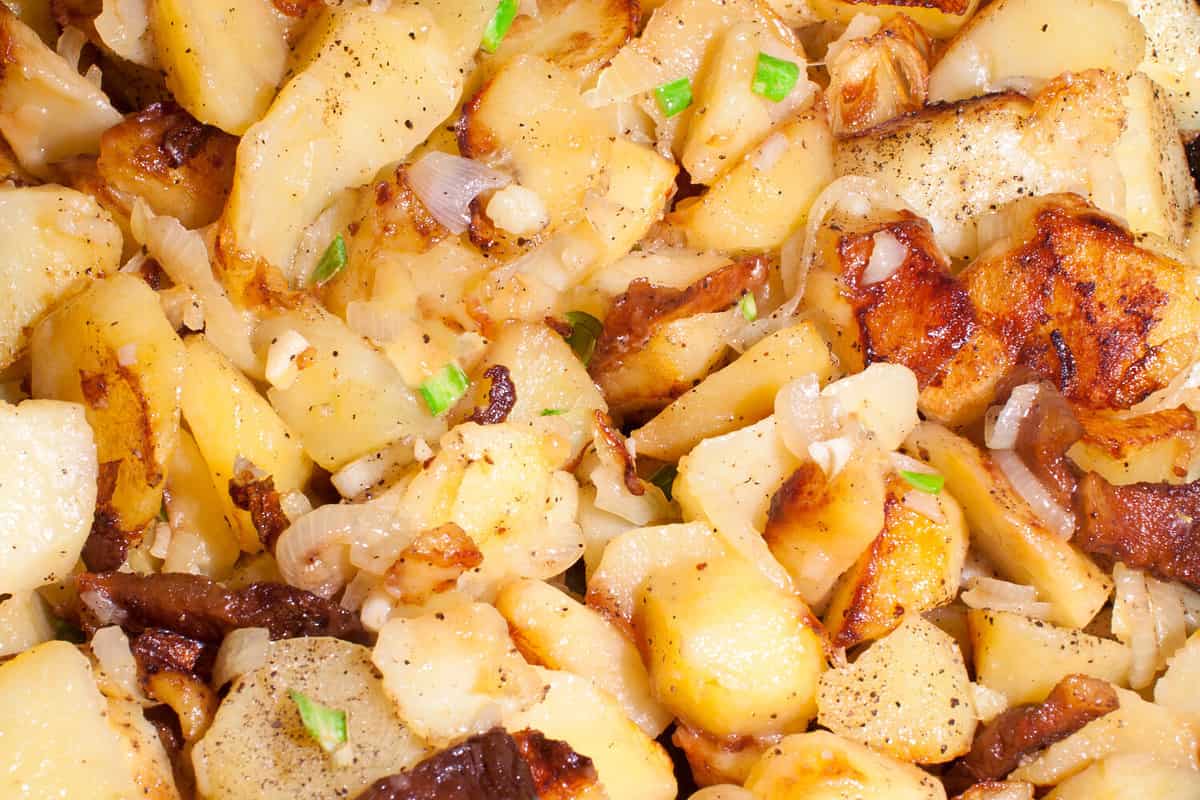 405 calories per serving
13 grams of fat
18 carbs
Pasta salad is always a big hit, even with the pickiest eaters. This healthy version of pasta salad is delicious and packed full of vegetables. While the recipe includes tuna, you can swap it out for another protein or even leave out the meat when you're pairing it with pork chops. You can also include any type of dressing you choose. Decide on a low-fat or sugar-free dressing to avoid adding too many extra calories.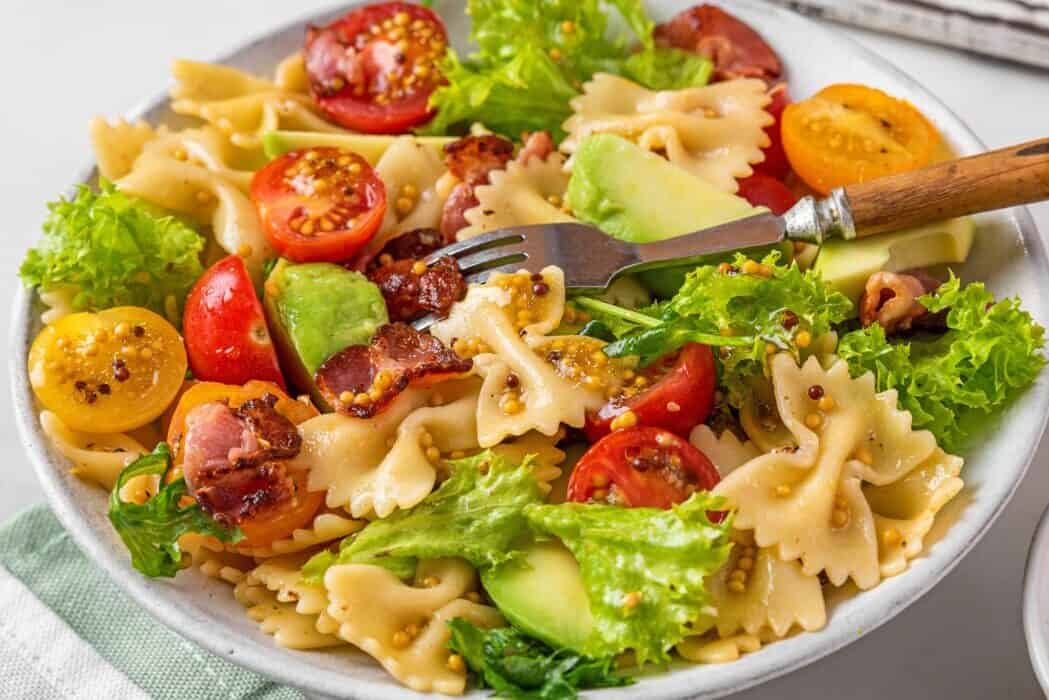 441 calories per serving
14.9 grams of fat
63 carbs
If you have a hard time getting your kids to eat vegetables like broccoli, you'll love this recipe for pesto broccoli pasta. It's simple to make and so delicious that your kids will hardly notice that it's healthy. The pesto and feta in this pasta give it a unique flavor and the finely chopped broccoli is disguised well, especially because the pasta is already green from the pesto!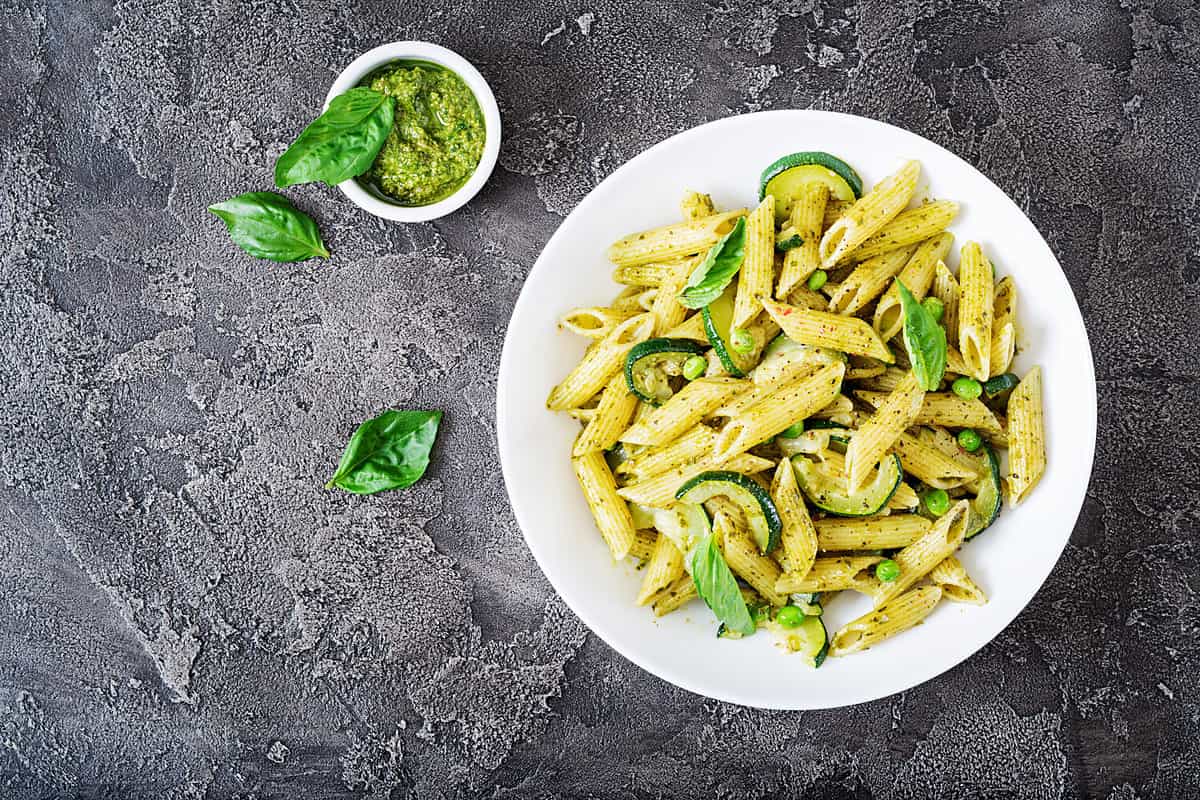 50 calories per serving
3.5 grams of fat
4 carbs
Roasting vegetables in the oven is one of the easiest ways to add them to your meals throughout the week. Asparagus is a great vegetable to serve with pork chops and it's also filled with antioxidants and vitamin E. If you're looking for a quick way to add this delicious vegetable to your lunch or dinner meal, all you have to do is prepare the asparagus, drizzle it with olive oil and salt, and bake it in the oven.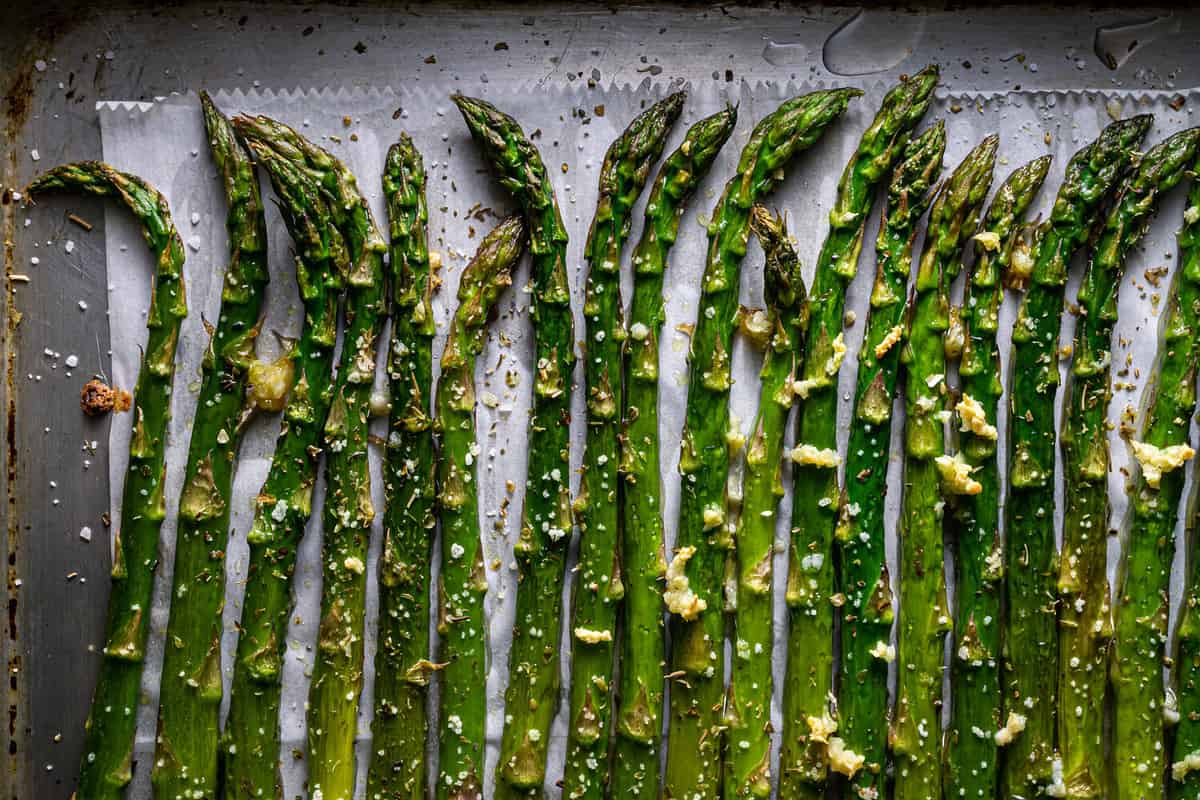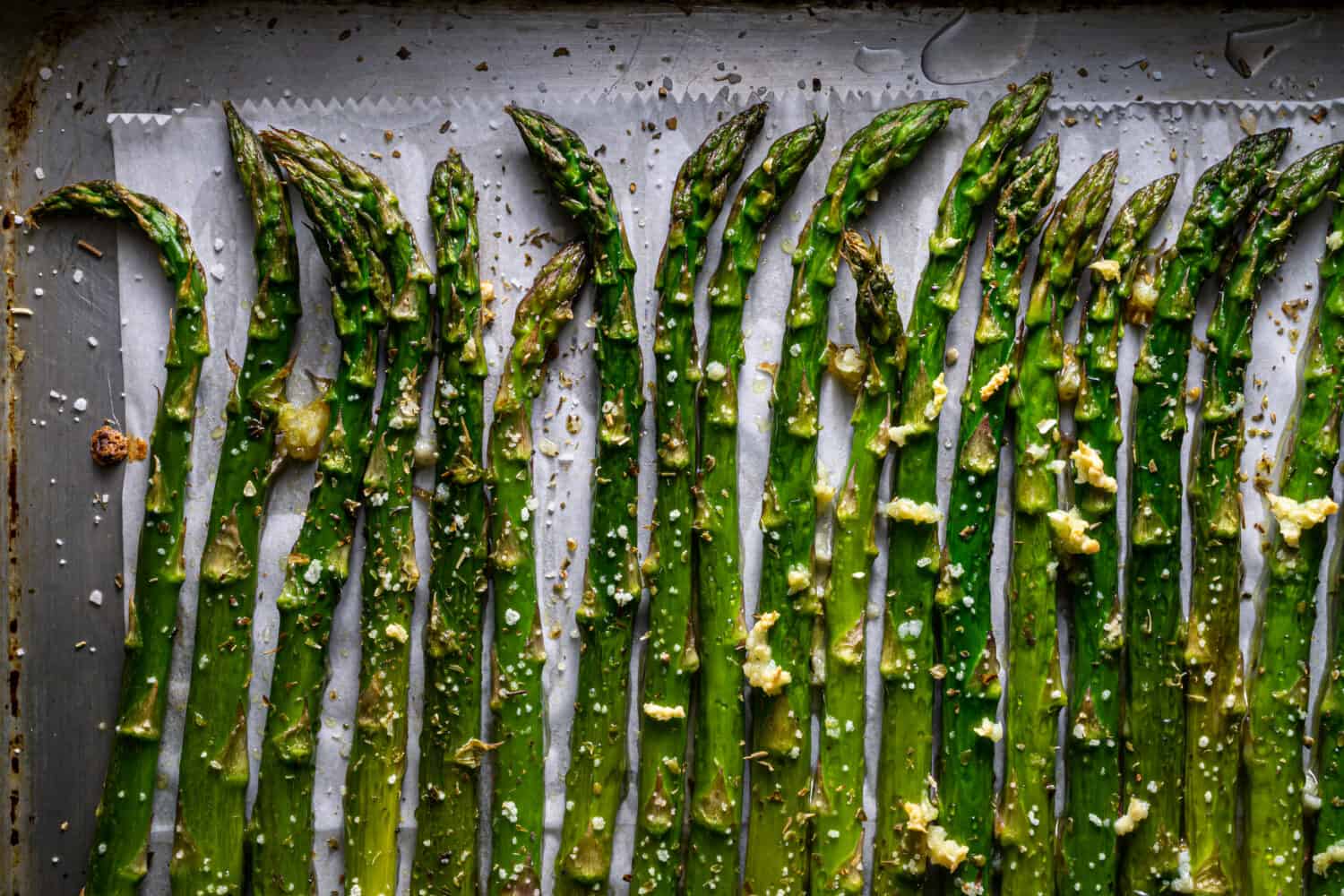 43 calories per serving
1 gram of fat
7 carbs
Whether you need something last minute or you're just looking for a straightforward recipe, this healthy cabbage and tomato salad is so easy to make that you'll want to include it in your weekly meal rotation. Filled with cabbage, tomatoes, radishes, and a delicious olive oil dressing, it's healthy but still a delightful part of your meal.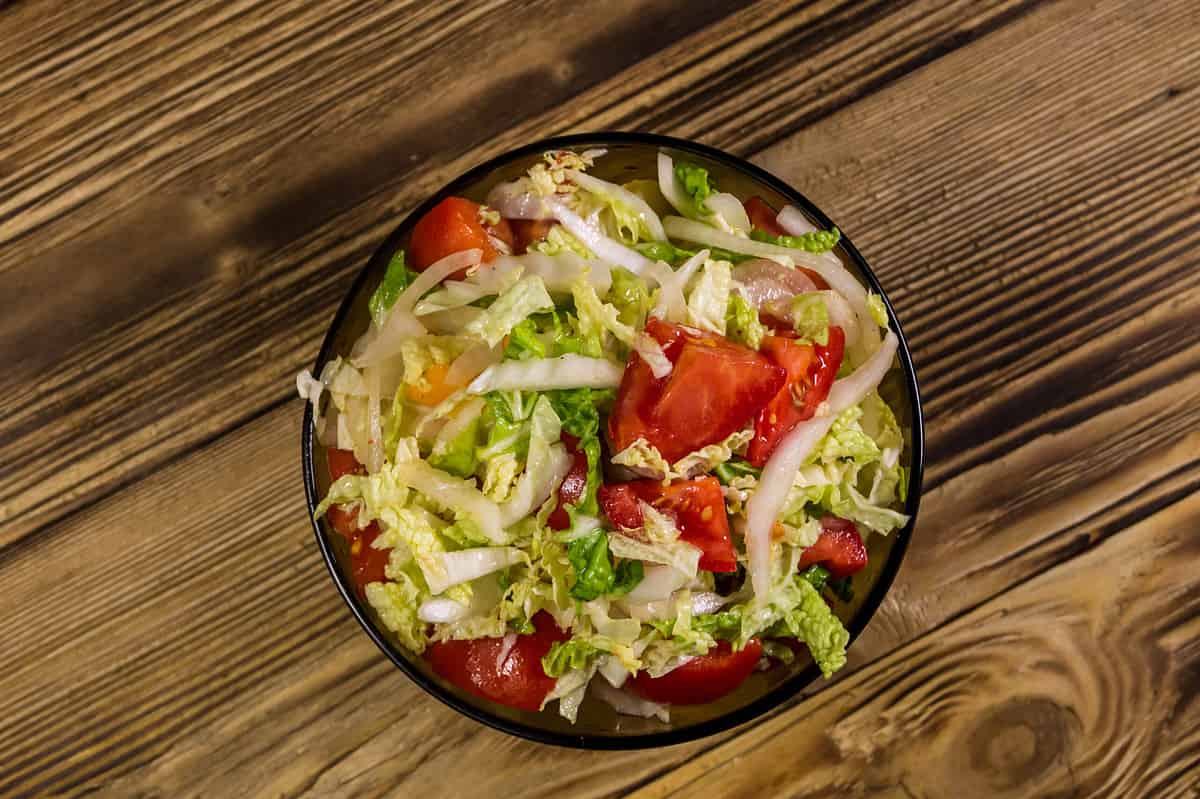 160 calories per serving
13 grams of fat
7.6 carbs
The Caesar salad is a classic side dish that's easy to make at home. The creation of this delicious salad is usually attributed to an Italian chef named Caesar Cardini who owned a restaurant in Tijuana, Mexico. While the Caesar salad can be a complete meal when you serve it with grilled chicken, you can leave off the meat to serve it as a side with pork chops. The delicious Caesar dressing is easy to make at home and tastier than most dressings you'll find in the store.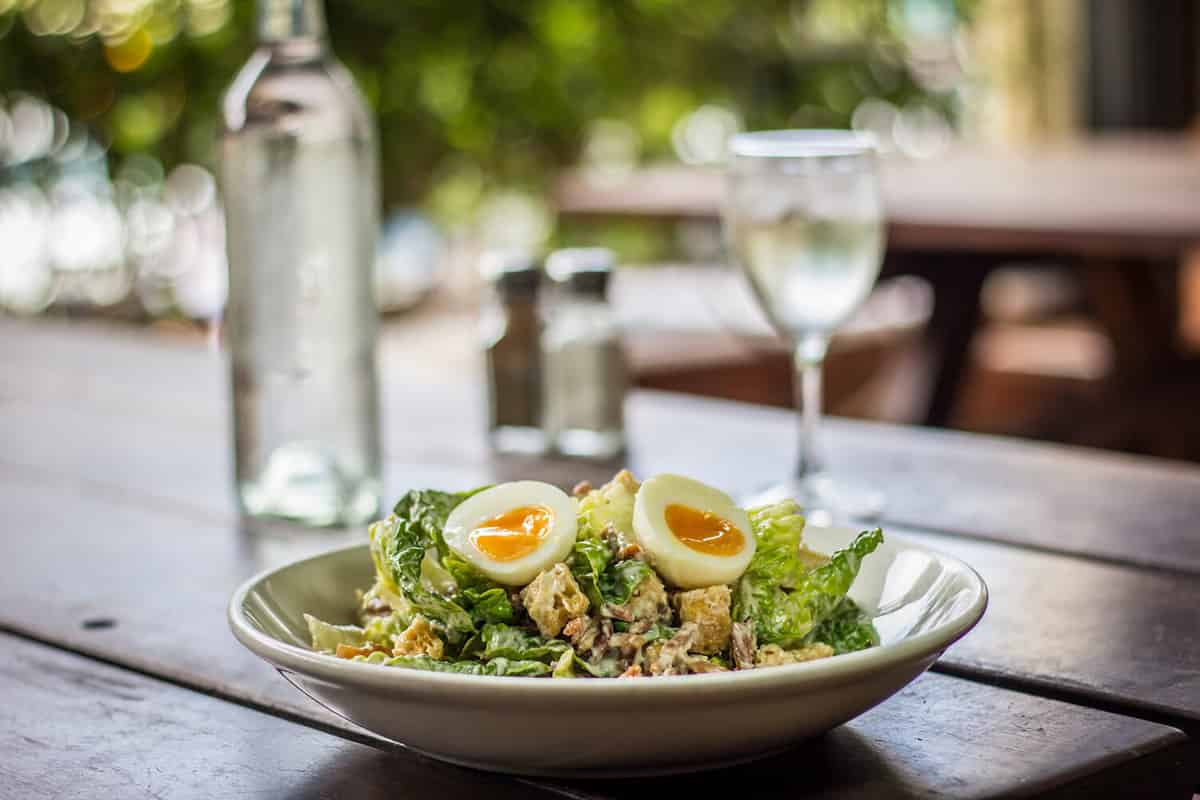 290 calories per serving
10 grams of fat
20 carbs
Greek salads are one of the most popular types of salads and it's easy to see why. From the delicious, crisp vegetables to the savory and tangy Greek dressing, it's the perfect side salad for pork chops. While the hearty helping of potato salad on the bottom of most Greek salads is delicious, it's not exactly the healthiest part. This simple Greek salad recipe includes a homemade dressing and all the flavors of a traditional Greek salad without the potato salad, making it a healthy choice for your meal.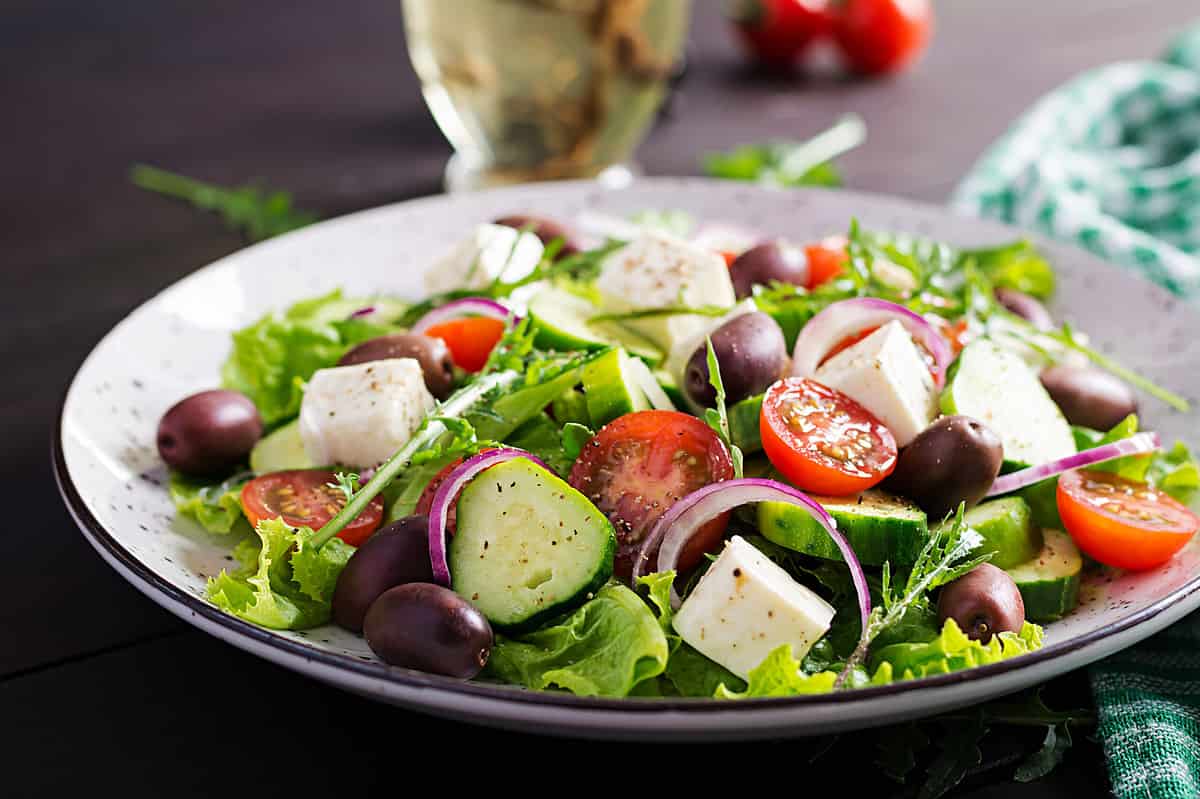 210 calories per serving
5.1 grams of fat
37 carbs
If you're looking for a healthy and refreshing side dish for your pork chops, this black bean salad will do the trick. Filled with beans, peppers, and fresh cherry tomatoes, this salad is light, healthy, and has just the right amount of spice. It's a simple recipe and you can often make it out of ingredients you have on hand. Despite the simplicity of the recipe, this salad adds extra protein and nutrients to complete your meal.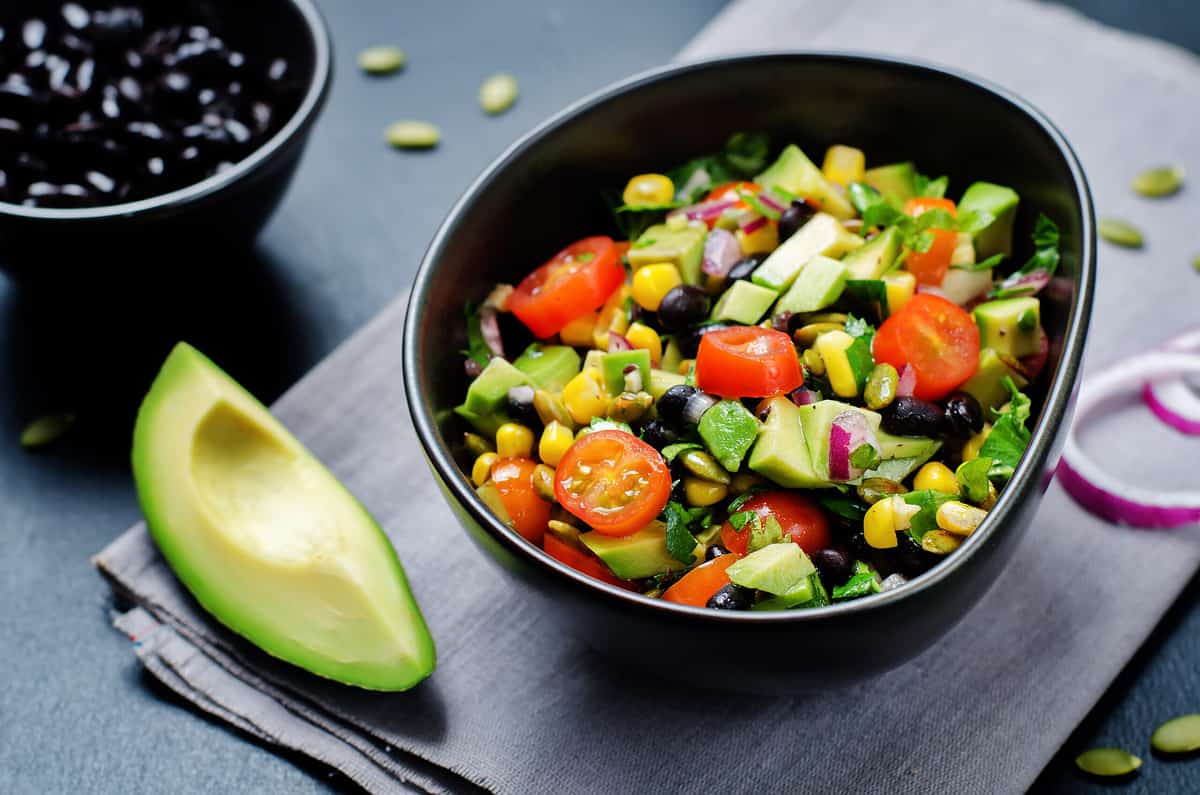 264 calories per serving
8 grams of fat
35 carbs
Pasta is always a simple side dish to whip up, and this recipe is a tasty twist on the standard pasta side dish. With just a few extra ingredients, you can have a delicious and creamy Alfredo sauce to go with your Italian rotini. When you make the Alfredo sauce yourself, you get to control what goes into it, leading to a healthier version like the one in this recipe.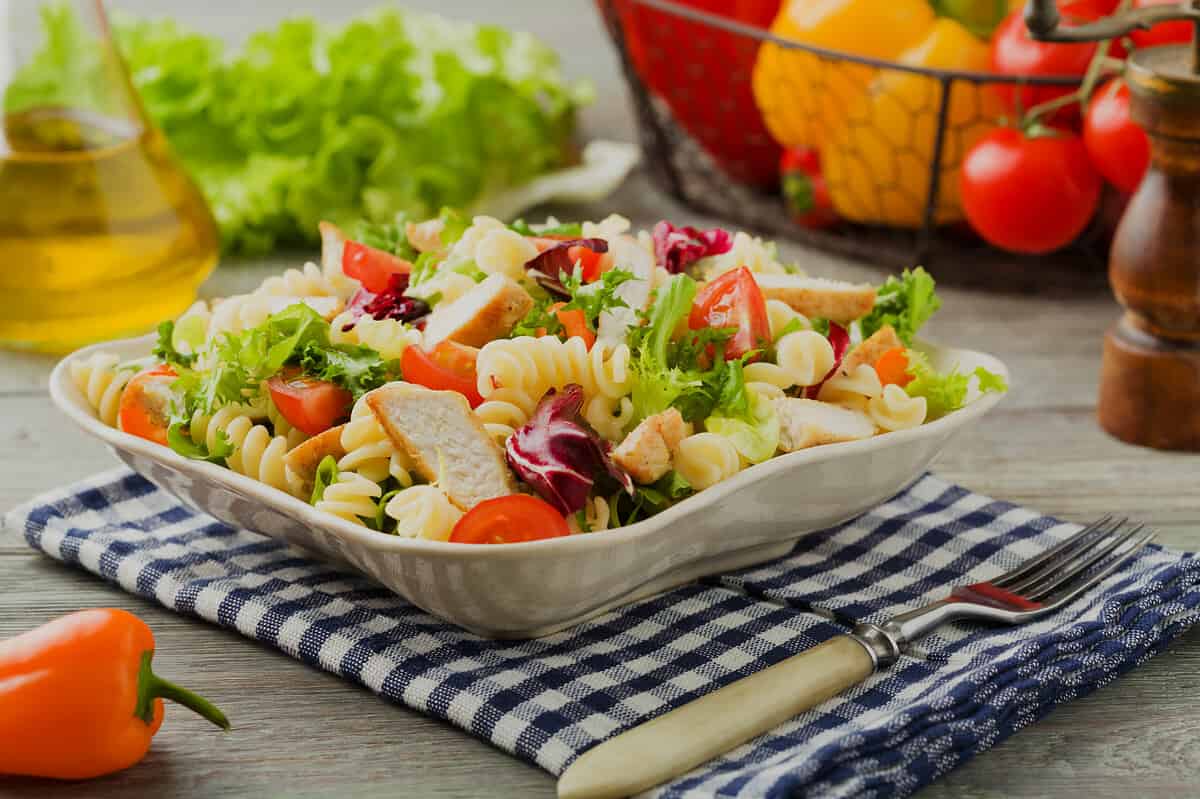 378 calories per serving
12.4 grams of fat
53 carbs
You don't even have to be a big fan of mushrooms to enjoy this delicious garlic mushroom risotto. This risotto combines mushrooms, butter, cheese, and risotto rice for a savory and filling side dish. If the rich and creamy flavors of the risotto aren't enough to convince you, it's also a great way to add more mushrooms to your diet. Mushrooms are a great source of fiber and protein. They also have an anti-inflammatory effect that can boost your immune system.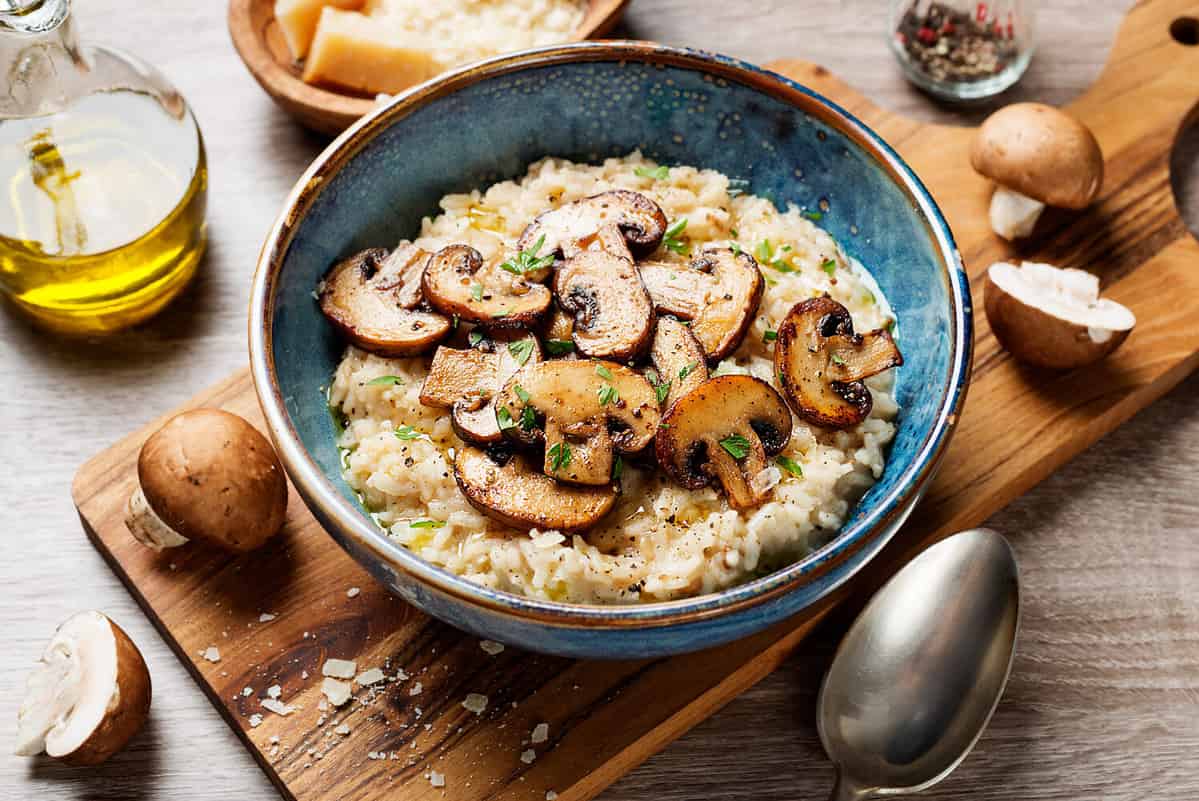 175 calories per serving
7.7 grams of fat
27 carbs
No cookout or barbecue would be complete without roasted corn. Whether you're cooking corn on the cob or individual corn kernels, both can easily be roasted in the oven. Corn is full of fiber, antioxidants as well as other vitamins and minerals. Plus it's sweet enough that even kids enjoy it! Roasting corn to go with your pork chops is as simple as tossing it in oil, seasoning it, and placing it in the oven.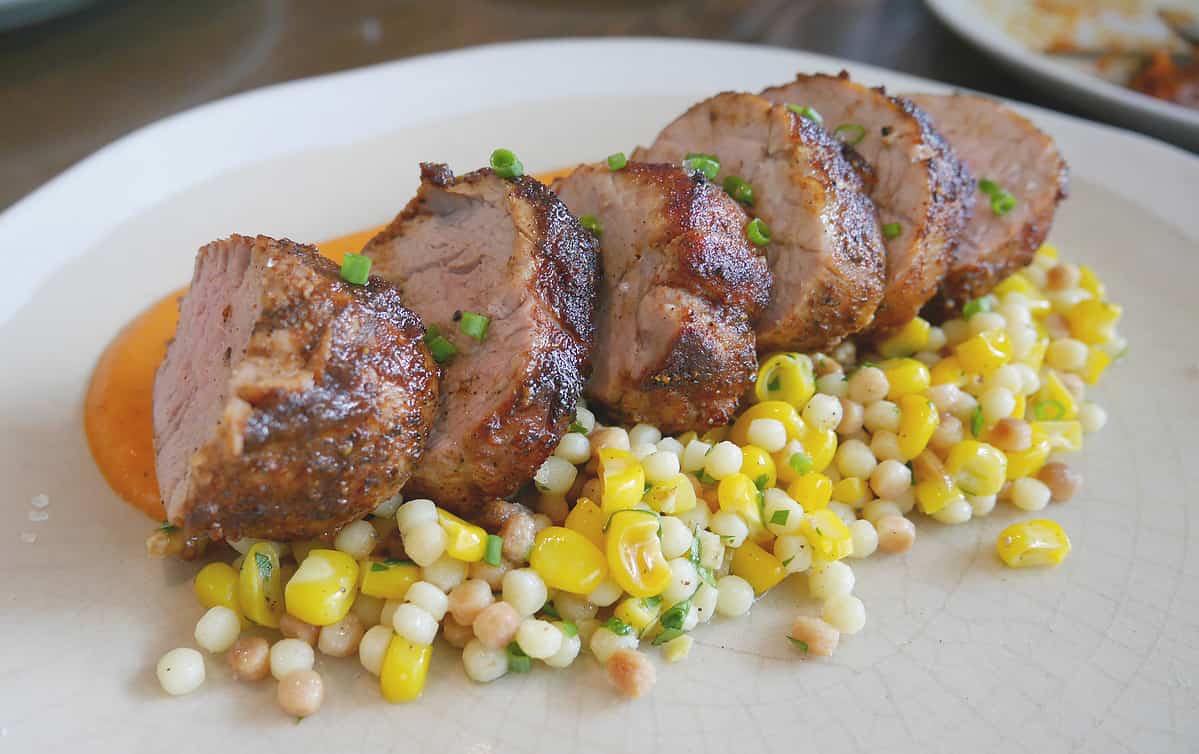 22 calories per serving
2 grams of fat
2 carbs
While there's certainly a time and place for elaborate side dishes, if you're looking for something tasty and quick, this lemon vegetable recipe is about as simple as it gets. With just a handful of vegetables, seasoning, and lemon juice, you can enjoy a healthy side dish that pairs well with any meal. This recipe calls for cauliflower and broccoli, but you can add more vegetables or swap one out for another vegetable if you choose!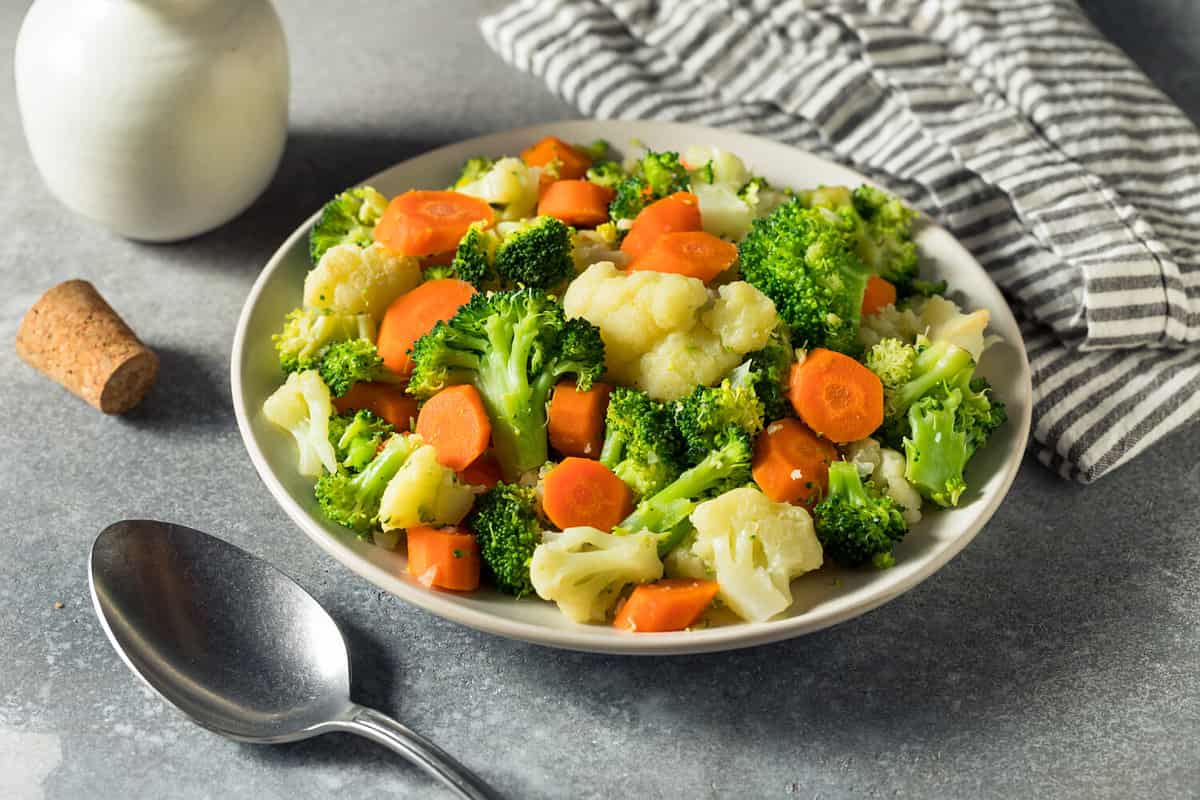 Final Thoughts
Pork chops are the perfect main dish to serve any day of the week. While pork chops are packed with protein and other valuable nutrients, adding a healthy side dish can help you create a more balanced meal. Next time you cook pork chops for dinner, try out one of these healthy sides!
The image featured at the top of this post is ©Elena Veselova/Shutterstock.com.