Having an air fryer in your kitchen is a great tool to utilize. Air fryers can significantly reduce cooking time and are great when you're in a hurry. It also can be a healthier way to cut down calories since you can air fry instead of deep fry. If you have some sweet potatoes in your pantry, here is how you can cook them in the air fryer and some amazing sweet potato recipes.
Baked Sweet Potato
Baking your sweet potatoes in an air fryer is about as simple and easy as it gets. To prepare your potatoes, use a fork to poke holes through the potato. Then, place them in the air fryer basket and cook at 375 degrees for 35 minutes. After 35 minutes, check if the potato is soft. If it's not ready, cook for an additional 10 minutes.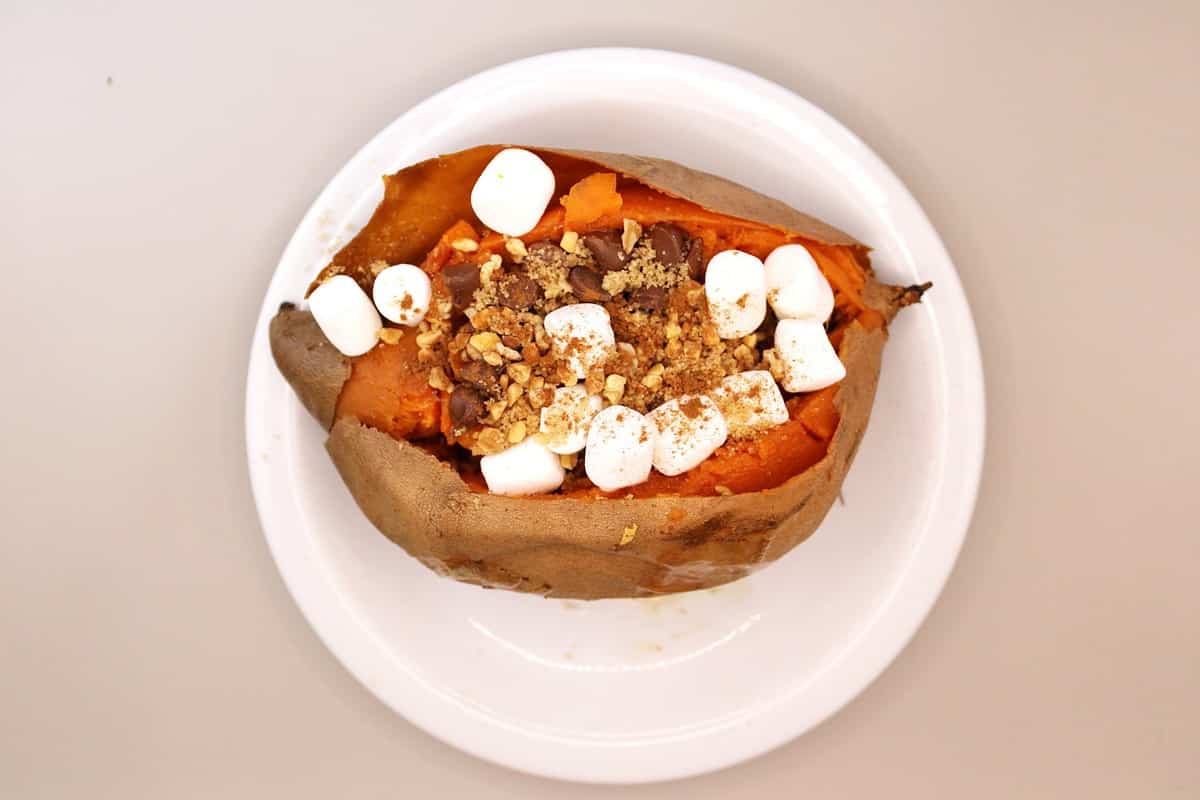 Sweet Potato (Home) Fries
If you want to make sweet potato fries or home fries (diced), first prepare your potatoes by peeling them. Then you can cut them into your desired shape. Although you can cook them plain, you can also season them beforehand with salt, black pepper, and garlic powder. If you choose to season them, mix your cut potatoes in a bowl with oil and seasonings. Then, place them in the air fryer basket. Evenly spread out the potatoes into a single layer, if you have more potatoes than can fit, cook them in separate batches. For each batch, cook at 400 degrees for 10-12 minutes, shaking the basket to mix them halfway through.
Mashed Potatoes
Making air fryer mashed potatoes will require a few extra steps. First, cover your clean sweet potatoes in olive oil, then place them in the air fryer basket. Do not stack your potatoes in the basket, make sure there is space between the potatoes. For 50 minutes, cook the potatoes at 400 degrees, flipping them 25 minutes in. Once done, remove the potatoes from the air fryer and peel off the skin. Then, in a bowl, place the potatoes and your favorite mashed potato ingredients to mix all together. You can keep it simple by adding just butter and milk, or you can also include cinnamon or maple syrup.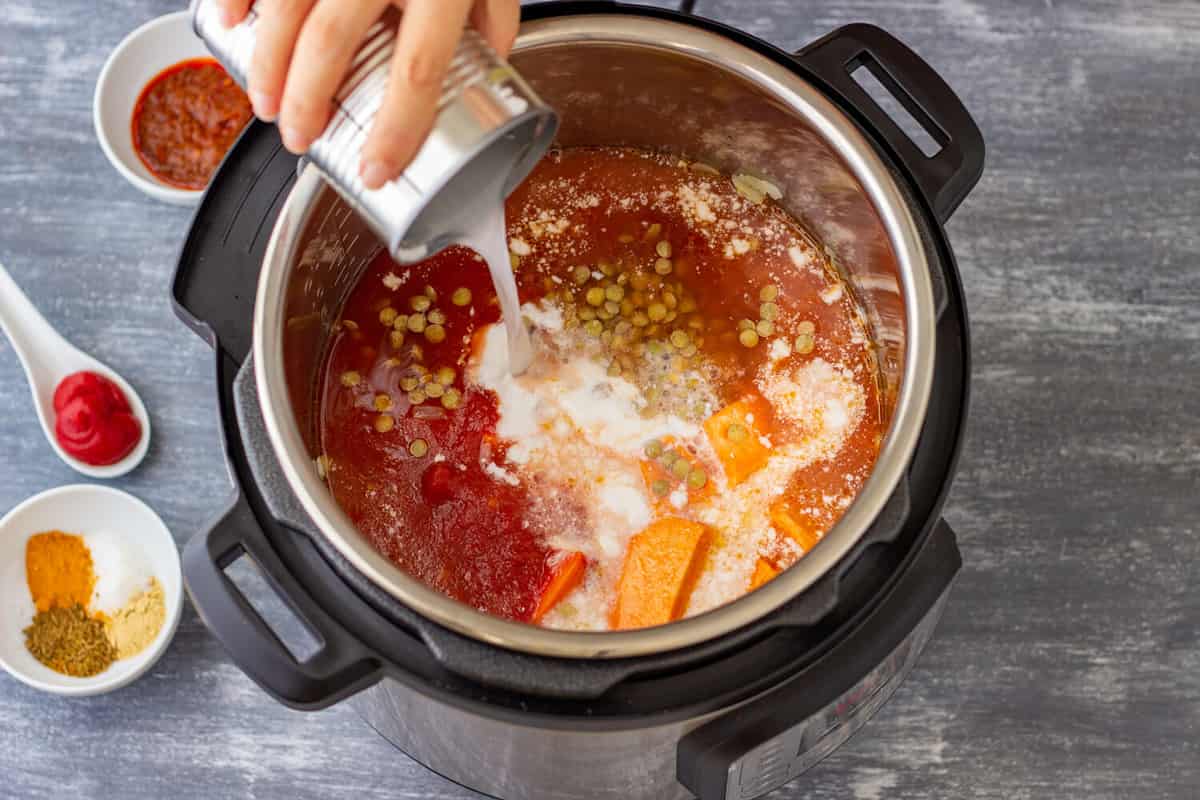 Recipes
This dessert baked sweet potato recipe is a great way to dress up your air-fried baked sweet potato. If you love sweet potato casserole, then you'll love this dessert baked potato! Once you've cooked your sweet potato, add on your choice of delicious toppings; cinnamon, brown sugar, nuts, chocolate chips, or mini marshmallows. You can mix all your toppings in a bowl first to add once the potato is done, or you can add them one at a time.
This praline sweet potato recipe is a southern-inspired dish. It was initially created to be a pudding but was adjusted to make it more like a casserole with a crumble on top. This recipe is going to be similar to a sweet potato casserole but is topped with only pecans. It does not have marshmallows. First, you'll mix mashed sweet potatoes with eggs, sugar, vanilla, and cream. Then top it with the pecan crumble and bake for 30 minutes.
This sweet potato and apple casserole is a fantastic Fall dessert. It's warm, cozy, and has all the delicious Fall flavors. You can change the flavor of this recipe depending on what kind of apples you buy. Keep it sweet with a Honeycrisp apple, make it tart and spicy with a Winesap apple, or use Jonagolds for a tart and tangy flavor. You can also customize this casserole by choosing a garnish. Garnishes that pair well with this recipe include cranberries, mint leaves, and toasted coconut or almonds.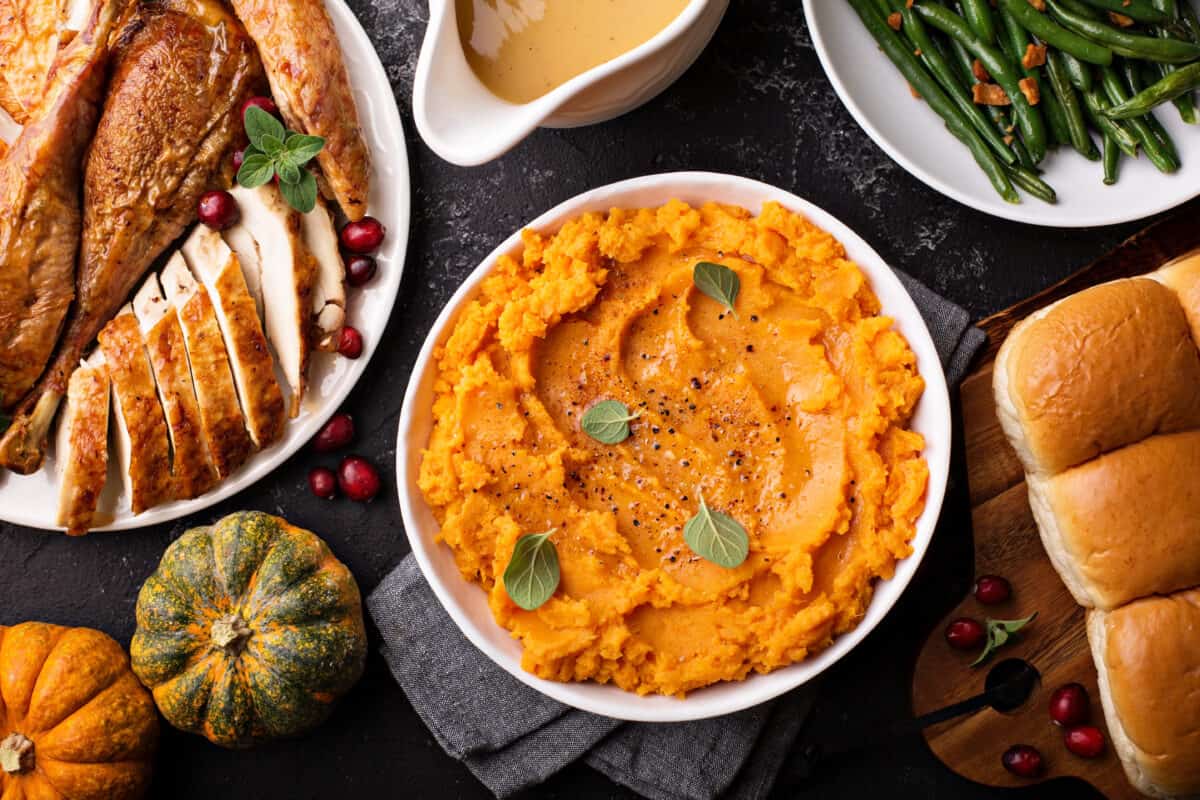 This sweet potato ball recipe is so easy and fun to make. It's also a great recipe to let the kids help with. It's almost like making Christmas cookies, but you're making a Fall dessert. You can use canned sweet potatoes or freshly cooked sweet potatoes from home. Roll them up in balls that are about 2 inches in diameter. Once you cook them in the oven, top with a marshmallow or other toppings of your choice.
If you're looking for a way to use your sweet potatoes in a savory dish, this roasted sweet potato lentil salad is delicious. It's a healthy meal that is well-balanced. This salad includes black lentils, red onion, and sweet potato as the main ingredients. Its dressing is made with balsamic vinegar, dijon mustard, maple syrup, olive oil, cilantro, cumin, ginger, and salt. This salad is excellent as a whole meal or can even be used as a side dish. If you're meal prepping, it can last up to five days in the fridge.
The image featured at the top of this post is ©Plateresca/Shutterstock.com.