There are few vegetables in the world as delicious and versatile as potatoes–it's no wonder they're the most popular vegetable in the United States. Whether you're making homemade french fries or roasted potatoes for dinner, you can use this starchy vegetable to make a flavorful side dish or they can be the main event of your meal.
If you're new to cooking potatoes at home or you're looking for some variety, you might be wondering how to cook potatoes perfectly.
While you may have a personal preference for the best ways to cook potatoes, there are numerous ways to cook them for a quick and easy meal. Let's first take a look at the types of potatoes you'll find in the store.
Types of Potatoes
Before deciding how to cook potatoes, you have to first decide what kind of potatoes you're cooking. While most people can tell the difference between potatoes and sweet potatoes, there are more varieties of potatoes than just your standard baking potatoes.
Each type of potato can bring something different to the meals you make at home. While russet potatoes are the best type for baking, red potatoes or creamer potatoes are great to throw in the slow cooker with a delicious roast. Overall, there are hundreds of potato varieties in the U.S., but they can all fit into one of the following seven types:
Russet potatoes
Red potatoes
White potatoes
Yellow potatoes
Blue or purple potatoes
Fingerling potatoes
Petite potatoes
Each type of potato has its own unique characteristics and it can be beneficial to experiment with different types in the kitchen. The most common variety you'll see is russet potatoes. Russet potatoes are the standard for making mashed potatoes, baked potatoes, and french fries. Regardless of what variety you're using, let's discover how to cook potatoes perfectly in 5 different ways.
How to Cook Potatoes in the Oven
One of the simplest ways to cook potatoes is by roasting them in the oven. While you can bake whole potatoes this way for a delicious and easy meal, you can also create numerous new recipes with sliced oven-roasted potatoes.
Here's how to roast sliced potatoes in the oven:
Preheat the oven to 425 degrees F
Cut potatoes into slices or cubes
Drizzle the potatoes with olive oil and any desired seasonings
Roast in the oven for 30-40 minutes, flipping them over halfway through
Remove from the oven once they're tender and golden brown on the outside
If you want to make whole baked potatoes, the process is similar but they may need to cook for longer.
Here's how to bake whole potatoes in the oven:
Preheat the oven to 450 degrees F
Poke holes in the outside of the potatoes
Drizzle olive oil on the outside of the potatoes and season with salt
Place the potatoes on a baking sheet
Bake in the oven for 45-50 minutes until tender
Slice the potatoes in half down the middle
With whole baked potatoes, you can stick with classic toppings like butter and sour cream, or you can get creative. Baked potatoes taste delicious with a variety of toppings from sour cream and cheese to bacon and chives.
How to Boil Potatoes
If you're looking for a way to cook potatoes to serve as a side, an easy way to cook whole potatoes or even chunks of potatoes is to boil them.
Here's how to boil potatoes:
Add your potatoes to a large pot
Add enough water to the pot to cover the potatoes
Bring the water to a boil
Once boiling, reduce the heat to medium and let the potatoes cook
Boil whole potatoes for about 20 minutes until tender
Drain the water and let the potatoes cool
If you're using cut potatoes instead, they'll cook faster so it's best to check them after about 10 minutes. How long the potatoes take to cook will also depend on the size of the potatoes, but you'll know that they're finished cooking when you can easily pierce them with a fork. Be careful not to boil them too long or they'll become mushy and difficult to remove from the pot.
How to Cook Potatoes in the Instant Pot
The Instant Pot is a magnificent tool to have on hand. Pressure cookers like the Instant Pot allow you to quickly cook meals. The Instant Pot also has several functions so you can easily switch between sauteing and pressure cooking.
Here's how to cook potatoes in the Instant Pot:
Cut your potatoes into smaller chunks or cubes, about 1 ½ inches across
Pour 1 cup of water into the Instant Pot
Place the potatoes in the steamer basket or trivet inside the Instant Pot
Make sure your vent is sealed and set it to pressure cook for 3 minutes on high-pressure
Once finished, release the pressure manually
If you can easily pierce the potatoes with a fork, remove them from the Instant Pot
The Instant Pot is one of the quickest ways to make a side dish like mashed potatoes. After pressure cooking your potatoes, you can then mash them and mix in your butter, cream, seasonings, and other ingredients without having to move the potatoes to a different pot.
How to Microwave Potatoes
If you're craving baked potatoes but you're low on time, you can cook potatoes in the microwave. Microwaving them won't lead to a crispy exterior like when you roast them in the oven, but it's a simple way to cook potatoes if you don't have an hour to spare.
Here's how to microwave potatoes:
Pierce your potato multiple times with a fork
Place the potato on a microwave-safe plate in the microwave
Cook it for 10 minutes, flipping it over halfway through
Once the potato can easily be pierced with a fork, remove it from the microwave
You can microwave the potatoes and then saute them to make breakfast potatoes or microwave them before mashing them. If you're just looking for a quick way to make baked potatoes without cooking them for an hour in the oven, this method will work as well.
How to Cook Potatoes in the Air Fryer
The air fryer is another way that you can easily cook potatoes for a simple lunch or dinner meal. This kitchen tool will make your potatoes crispy but is a healthy alternative to frying them.
Here's how to cook potatoes in the air fryer:
Cut your potatoes into chunks of your desired size
Toss the potato pieces with olive oil and seasonings
Preheat the air fryer to 400 degrees F
Place the potatoes in the air fryer basket and cook them for about 20 minutes, flipping them halfway through
Once the potatoes are tender, remove them from the air fryer
The air fryer is a perfect alternative to frying your potatoes. You can also choose to cut them into wedges and make potato wedges or french fries in the air fryer.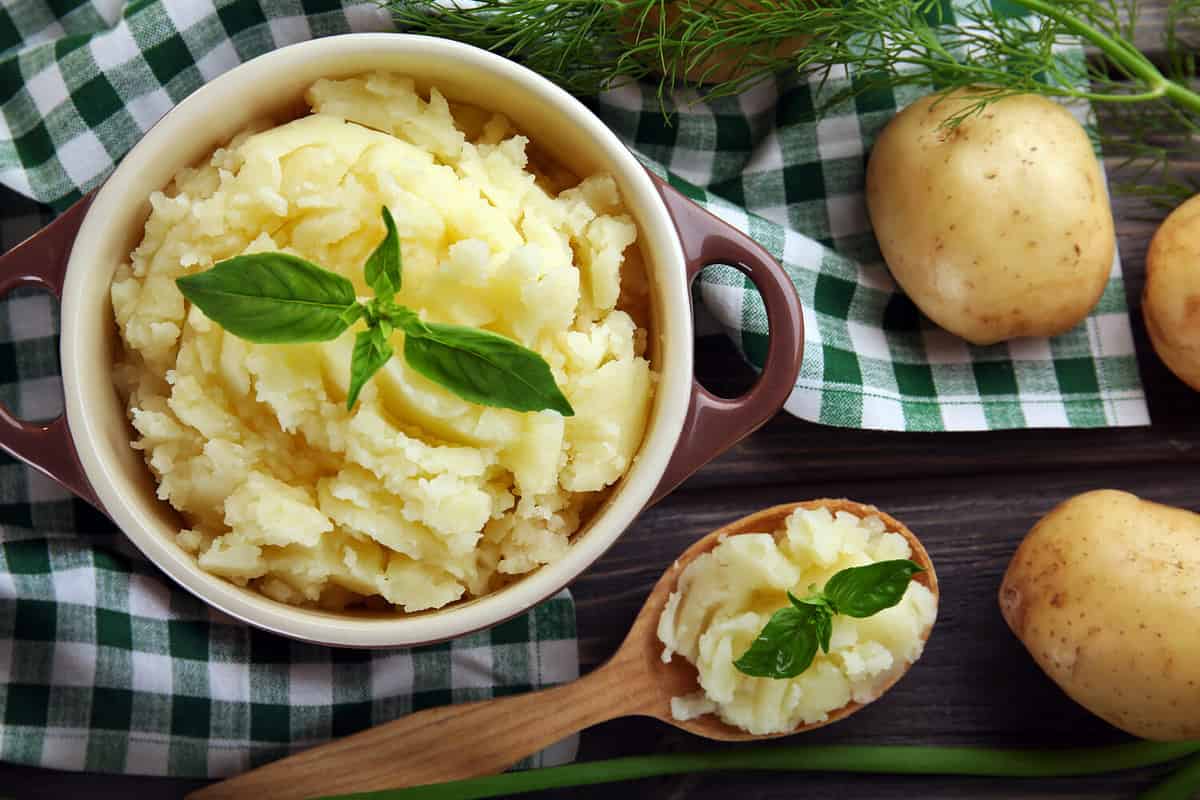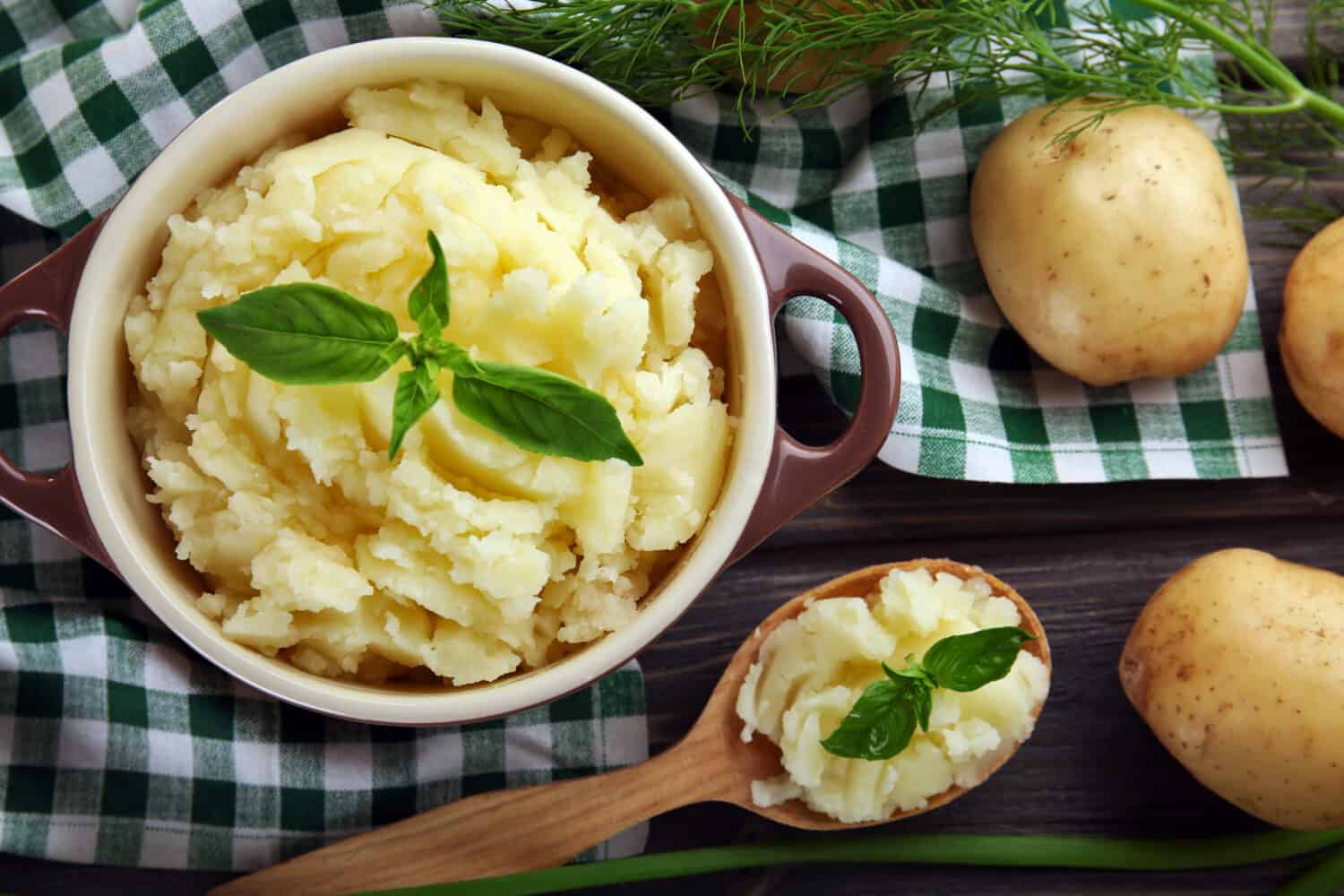 Ways to Serve Potatoes
If you're looking for something other than your traditional baked potato, keep in mind there are many creative ways to serve potatoes. Here are some ideas for how to serve potatoes:
Loaded baked potatoes
Mashed potatoes
Roasted potato slices
Homemade potato chips
Stuffed potatoes
Potato salad
Potato gnocchi
Whether you're looking for a quick weeknight meal or you're preparing a side dish for a potluck, potatoes are so versatile that you can make nearly any kind of meal with them. No matter what kitchen appliances you have available, you can find a way to cook delicious potatoes for the whole family.
Potato Recipes
The image featured at the top of this post is ©Olga Miltsova/Shutterstock.com.