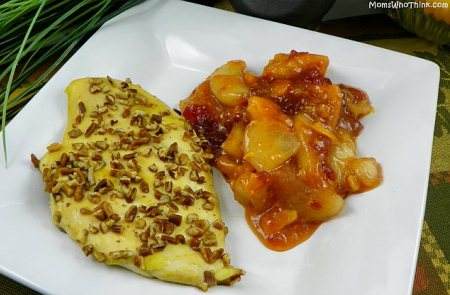 Pecan Chicken Baked Sweet Potatoes and Apples
Baked Sweet Potatoes and Apples
Let's Get Ready for Baby!
Sign up for our monthly pregnancy email series, and you'll get regular updates on your baby's development, helpful timelines to get ready for their arrival, must-have baby needs and so much more! PLUS, you'll get instant access to the MomsWhoThink "Ultimate Guide to Baby Naming in 2022."
CLICK HERE
to get started!
Ingredients:
29 ounce can sweet potatoes
21 ounce can apple pie filling
16 ounce can whole berry cranberry sauce
Directions:
1.  Carefully fold ingredients together, spread into a buttered 2 quart casserole dish.
2.  Bake at 350 degrees F until potatoes are heated, about 30 minutes.  While potatoes are baking, prepare Pecan Chicken.
3.  Halfway through baking time of potatoes, place prepared Pecan Chicken in oven.
Pecan Chicken Recipe
Ingredients:
4 boneless, skinless chicken breasts
2 Tablespoons honey
2 Tablespoons Dijon mustard
2 Tablespoons ground pecans
Directions:
1.  Place chicken between 2 sheets of heavy duty plastic wrap, flatten to ¼ inch thickness using a rolling pin.  Set aside.
2.  Mix honey and mustard together, spread over chicken.
3.  Coat chicken with pecans then arrange in a lightly greased 13×9 baking pan.
4.  Bake at 350 degrees F for 15 to 18 minutes.  Makes 4 servings.
Try one of our favorite 30 Minute Meals: