Squash is a versatile and nutty food that can add fantastic flavor to any recipe. Although butternut squash is often considered a vegetable, it is actually a fruit! Butternut squash is often enjoyed in the fall because the flavor reminds many of the autumn changes, plus it pairs excellent in soups! If you are looking for the best ways to cook butternut squash perfectly, you have come to the right place. This article will explore several ways to bring the flavor and perfection of butternut squash to your dinner table.
There are many ways to enjoy butternut squash; here are a few great ways:
Soup
Salad
Lasagna
Casserole
By itself
Pizza
A tart
A cake
Rolls
Bisque
The Flavor of Butternut Squash
The unique flavor of butternut squash means that it is pretty versatile. It has a relatively sweet and very nutty flavor. However, the sweetness is not overpowering, which means butternut squash goes well with flavorful and sweet dishes.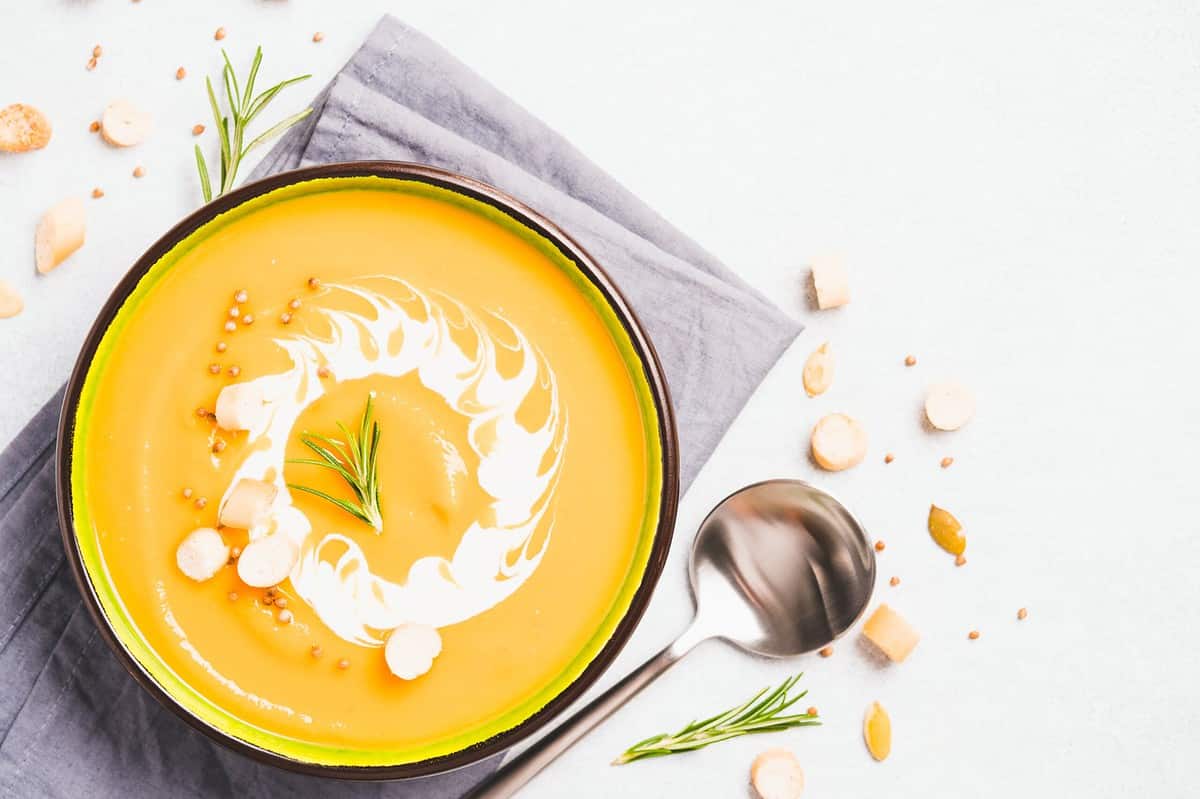 How to Cook Butternut Squash To Perfection
Butternut squash is reasonably easy to cook. It takes some prep work, but with these simple tips, you can cook your butternut squash to perfection for your next meal!
How to Bake Butternut Squash Perfectly
Baking butternut squash will give you a versatile ingredient to add to salads, casseroles, soups, and more. Bake your butternut squash perfectly with these simple tips. 
Ingredients
Butternut squash
Your preferred seasonings
Butter
Tools
Instructions
First, preheat your oven to 350 degrees Fahrenheit.
Cut your squash in half while you wait for the oven to preheat.
Place the squash in a baking dish with the cut half face down.
Next, pour the water (around two cups) into the baking dish. This will help the squash maintain moisture.
Bake the butternut squash in the oven for around one hour and a half. This time will vary depending on how large the butternut squash is. Therefore, keep a close eye on it while it cooks. You will know it is done when a fork goes through easily without resistance.
When the butternut squash is done cooking, remove from the heat.
Add the butter to the top of the butternut squash and add your seasoning.
If you want to remove the outer peel, it should easily come off with a peeler or fork.
Enjoy it on its own or in a different recipe!
How to Air Fry Butternut Squash
Air-fried foods are becoming increasingly popular! The air fryer cuts cooking time, making it easier to get dinner on the table in a hurry. Preparing and cooking various foods in the air fryer is also reasonably straightforward. This air fryer method will allow you to enjoy butternut squash's delicious, sweet, nutty flavor in less time!
Ingredients
Butternut squash
Olive oil
Seasoning
Tools
Air fryer
Vegetable peeler or knife
Instructions
The first step is to prepare your butternut squash. Remove the outer skin with a vegetable peeler or a knife.
Cut the butternut squash into cubes that are around one inch.
Toss the butternut squash with the olive oil (or butter) and the preferred seasonings.
Layer the butternut squash into the air fryer basket, ensuring they are only in one layer. If you need to cook the butternut squash in batches, that is okay, too.
Cook the butternut squash at 400 degrees Fahrenheit. The cooking time will be between 16 and 18 minutes.
Check the butternut squash halfway through and shake the basket to cook evenly.
The butternut squash will be done when you stick a fork through it, and it is tender.
Eat while hot on its own or added to any recipe!
How to Saute Butternut Squash
Sauteeing makes it quicker to get dinner on the table. It is possible to saute or pan-fry butternut squash. The quick cooking method will allow the butternut squash to caramelize and sweeten.
Ingredients
Butternut squash
Olive oil or butter
Seasonings of choice
Salt and pepper
Tools
Instructions
First, prepare the butternut squash by cutting off the outer skin and cutting it into one-inch cubes.
Heat the butter or olive oil in the cast iron skillet or pan until hot.
Once the pan is hot, add the butternut squash cubes. Be sure they are in a single layer to cook evenly.
Cover the pan with a lid and cook for around seven minutes on medium heat.
Next, stir the butternut squash cubes and reduce the heat. Continue to cook for five minutes while covered.
The butternut squash will begin to soften and become tender.
When you reach the desired tenderness, add your seasoning, stirring for a couple more minutes.
Remove from the heat and enjoy with your favorite recipe or as a side dish!
Delicious Options to Add to Your Butternut Squash
The flavor of butternut squash is sweet and a bit nutty. It is possible to add certain ingredients to your butternut recipes to play around with flavor. Here are several popular ingredients to try today!
Black beans
Quinoa
Maple brown butter
Balsamic vinegar
Cider vinaigrette
Thyme
Shallots
Bacon
Feta
Sage
Spinach
Maple syrup
Rosemary
Cinnamon
Notes
Butternut squash has plenty of nutrients and vitamins that are great for our health!
The flavor of butternut squash is a bit nutty and sweet.
This versatile winter squash can be great as a side dish, soup, or even lasagna.
Did you know butternut squash is actually a fruit? It's true!
The favorite way to cook butternut squash is by roasting or baking.
Butternut squash is low in carbs and calories.
There are plenty of essential nutrients in butternut squash, including iron and calcium.
Butternut squash also has vitamins A, C, potassium, and magnesium.
There is a chance that the health benefits of butternut squash include lowering the risk of certain diseases like cancer, mental deterioration, and heart disease.
Butternut squash is recognizable by its yellowish and tan skin and orange middle. It grows on a vine.
Interestingly, the nutrients of butternut squash were very prevalent for Native Americans. They believed it had so many nutrients that it could sustain their dead on their final journey. Therefore, they would often bury their dead with butternut squash.
Yummy Ways to Eat Butternut Squash
The image featured at the top of this post is ©iStock.com/sveta_zarzamora.