Beets are recognizable by their bright colors, typically purple or red. They have an earthy flavor and, to some, taste somewhat sweet. There are many different ways to eat beets, from roasting to eating them raw. This article will explore several ways to cook beets perfectly so you can enjoy all the health benefits and delicious flavor this vegetable offers!
The Interesting Flavor of Beets
Beets are one of those vegetables that people either love or can't stand. One of the reasons for the difference of opinion is in the flavor. Many people describe beets as having an earthy flavor. Which is another way of saying they taste like dirt or the earth. Other vegetables that are described as being earthy in flavor are:
Onion
Parsnips
Turnips
Carrots
Yams
Ginger
These are all root vegetables, meaning they grow underground. Therefore, during their growing period, they will absorb plenty of nutrients that come from the soil. In this soil is a chemical geosmin. Geosmin comes from organisms in the dirt and soil around the vegetables. One interesting fact about this chemical is that it smells like earth. Think back to a rainy day. Imagine you just stepped outside into your garden after the rain cleared up. What is that smell in the air? A fresh dirt aroma. Earth.
One of the chemicals that mix with rain during rainfall to produce this odor is geosmin, which can be found in beets. It is musty and earthy, and some people love this aroma, while others can't stand it.
Yet, despite the earthy flavor and aroma, it is possible to cook beets to perfection! Let's look at a few simple ways to whip up these nutritious and delicious root vegetables in a way that will have your kids begging for more! 
How to Cook Beets Perfectly, Even Your Kids Will Love Them!
Beets are nutritious and contain plenty of benefits. Offering them to our kids will give them a variety of essential nutrients that they need, that is, if they eat them! Beets contain the following:
Fiber
Folate
Potassium
Iron
Vitamin C
Manganese
Betanin
Inorganic Nitrates
Now that we know what makes beets great for our health let's look at ways to cook them so that you enjoy them!
How to Prepare Beets
Since beets are root vegetables, they need a certain amount of prepping before they can cook.
If you bought fresh beets, the first step is to cut off the green leaves. These leaves are also edible but toss them if you do not want to keep them. Leave a good amount of stem attached to the beets, around one inch.
Beets can stay in the refrigerator and maintain flavor and color if stored properly for around two weeks. To store them properly, wrap them in paper towels and store them in a zip-lock bag.
Before cooking, wash the beet thoroughly and be sure to remove any dirt that is still present.
How to Cook Beets Perfectly, By Roasting
Roasting beets will bring out any sweetness they have. Beets also can be roasted whole or sliced. Depending on how you want to roast them, the time will vary.
Ingredients
Tools
Instructions
Preheat your oven to 400 degrees Fahrenheit and prep your baking sheet with foil.
While you wait for the oven to heat up, remove the taproot from your beets and slice. If you are leaving your beets whole, skip this step.
Toss the beets with the olive oil and seasoning. Then, place them on the baking sheet in a single layer.
If you are roasting your beets whole, roast for 30 to 60 minutes, depending on the size of the beets. For sliced beets, roast for 20 to 30 minutes. You will know they are done when you easily stick a fork through them and go through without resistance.
After roasting, allow your beets to cool. Then remove the skin and enjoy!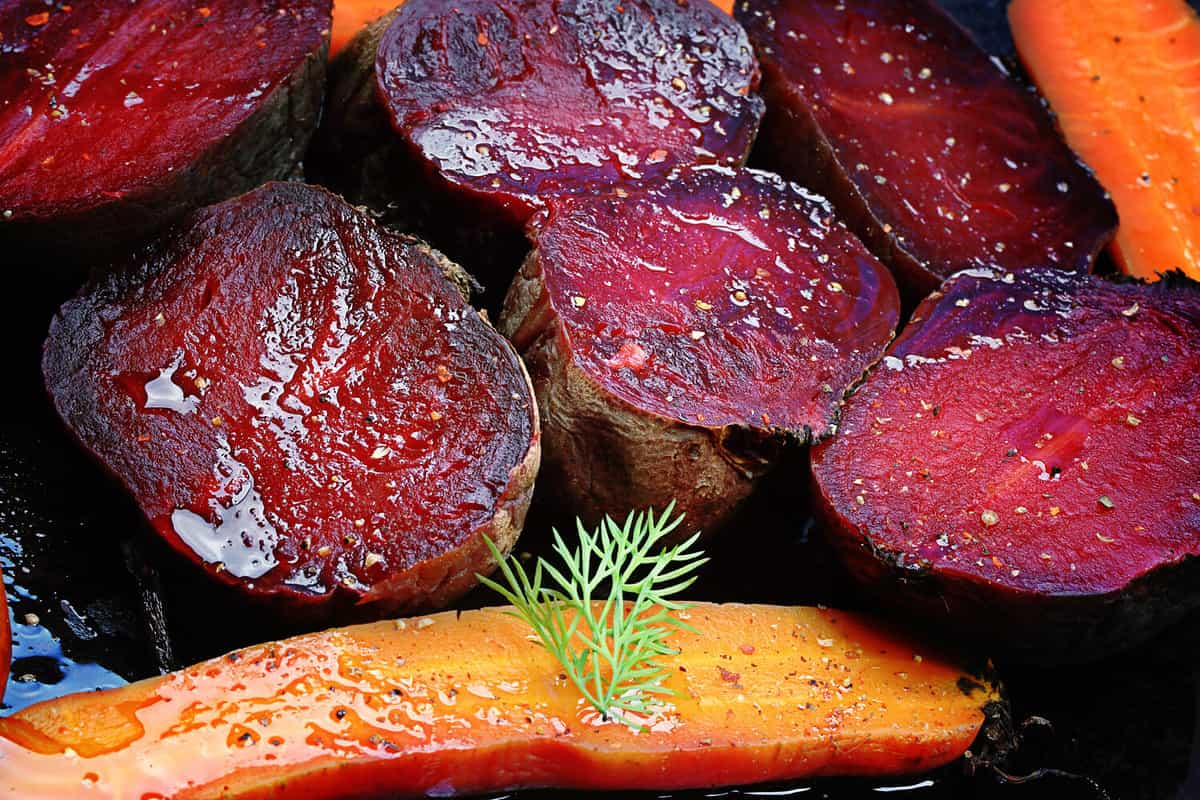 How to Cook Beets Perfectly, By Air-Frying
Reduce your cooking time by using this air-fryer method!
Ingredients
Beets
Seasoning
Oil
Salt and Pepper
Tools
Instructions
Prep your beets by cleaning the dirt off and cutting off the taproot.
Cube or slice your beets and toss with your oil and seasoning.
Place them into the air-fryer basket. Be sure that they are in a single layer!
Cook the beets for 15 to 20 minutes at 380 degrees Fahrenheit. Take the time to toss the basket a couple of times to ensure it is cooking evenly. You will know they are done with a fork test.
Remove from the airy fryer and enjoy while hot!
How to Cook Beets Perfectly, By Sauteeing
Sauteed beets take less time than roasting yet still produce a delicious and sweet flavor!
Ingredients
Beets
Olive oil or butter
Salt and pepper
Tools
Instructions
The first step is to prep and clean the beets. Cut off the stems and leaves after ensuring all the dirt is off the beets.
Cut the beets in half and boil them in a large pot of water. This will soften the beets and produce a tender texture. Boil for around 20 minutes.
Remove from the heat.
Once the beets are cool, peel the skin away and slice them into wedges.
Add the butter (or olive oil) to the large pan and melt over medium heat.
After the butter is melted, add the beets and seasoning and saute for one to two minutes on each side, adding any seasonings you prefer. Remove from the heat and enjoy while hot! 
How to Cook Beets Perfectly, by Oven-Steaming
Oven-steaming beets are a great way to make sure they maintain moisture and flavor. Although similar to roasting, this method utilizes natural steam for a soft and delicious texture.
Ingredients
Beets
Olive Oil
Seasoning
Salt and Pepper
Tools
Oven
13×9 baking pan
1/4 cup water
Foil
Instructions
Preheat the oven to 425 degrees Fahrenheit.
After cleaning the beets, toss them in olive oil and the preferred seasoning. Then, put them in the baking dish. Remember the salt and pepper! 
Add 1/4 cup of water to the baking dish. Cover the baking dish with foil.
Roast the beets for 60 to 75 minutes. You will know they are done when a fork or knife goes through them easily.
After removing the beets from the oven, let them cool and remove the skin. Enjoy while hot!
Delicious Options to Add to Your Beets
There are various delicious options to add to your beets that will highlight flavor and versatility. Take a look at some of the simple ingredients to experiment with!
Onions
Walnuts
Pistachios
Cider Vinegar
Sage Butter
Blue Cheese
Goat Cheese
Apples
Spinach
Citrus
Avacado
Yogurt
Grapefruit
Honey
Carrots
Simple Ways to Eat Beets
Not only are beets delicious as a side dish, but you can also add them to various dishes and recipes to add color and flavor!
Eat them raw and sliced!
Add to the top of a salad.
Make a soup out of beets.
Pickle the beets.
Add them to a cake!
Put beets on a sandwich.
Notes
Beetroots can be eaten both raw and cooked, as well as pickled.
Beets are a great source of fiber, vitamin C, and potassium.
They carry many health benefits. These include reducing blood pressure and heart health.
Their leaves can also be eaten.
Although the pink and dark purple roots are easily recognizable, they come in different colors. These include yellow and white!
Beets also carry some possible adverse side effects. These include the possibility of kidney stone formation, upset stomach, and the ability to turn your urine red or pink. (Though harmless, it can confuse adults and children alike.)
Beets will stain! Therefore, it can be beneficial to wear gloves while cooking them.
Yummy Ways to Eat Beets
The image featured at the top of this post is ©Anna_Pustynnikova/Shutterstock.com.