Green beans are a popular vegetable that is a favorite in many households. For starters, their flavor is mild yet appealing. They are even easy finger foods for the smallest toddlers. Green beans are also very versatile. This means they pair well with various ingredients and can be added to numerous dishes. These include salads, casseroles, and skillet dinners. While green beans have many perks, they can sometimes be tricky to cook. Knowing the best cooking methods to quickly cook green beans can make dinnertime a breeze. This article will explore the many ways to cook green beans perfectly!
Green beans offer plenty of nutrients that we need daily. They are also easy to eat and digest after cooking. The low-calorie count and carbs mean they are perfect for those who may be on a health journey. There are many ways to buy green beans, including fresh, canned, and frozen. For the purpose of this article, we will be taking a look at fresh green beans. However, if you do not have fresh green beans on hand, simply adjust your recipe and method accordingly.
The Flavor of Green Beans
The flavor of green beans is mild. However, when tender or crispy, they can give a fresh taste. Green beans pair great with tangy flavors like garlic, thyme, oregano, and basil.
Since green beans are mild in flavor, their versatility shines through. At the end of this article, glance at several delicious ingredients to add to your green beans for a burst of flavor. There are also additional recipes if you need more ideas!
Now, let's look at the multiple ways to cook green beans perfectly. There are several ways to cook green beans. They can be microwaved, boiled, steamed, roasted, and sauteed. This article takes a look at three of the more popular methods. These are boiling, roasting, and sauteeing.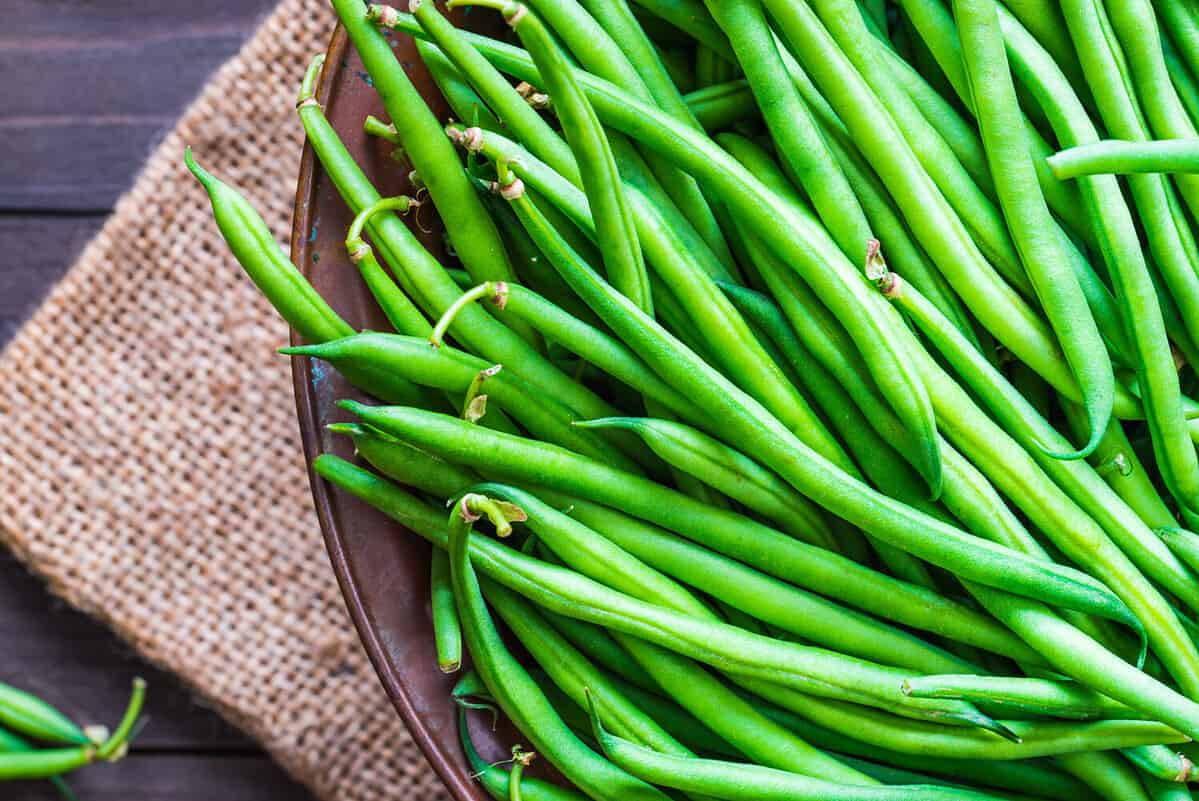 How to Cook Green Beans Perfectly By Boiling
Boiling green beans is one of the more popular ways to cook this vegetable. One of the most frequent questions is how long should we boil them. The answer is, well, it depends on how crispy you want your green beans. This method will produce a crispy and tender green bean that can be seasoned to your liking!
Ingredients
Fresh green beans that have been trimmed
Four quarts of water
Salt and pepper
Butter
Tools
Instructions
The first step is to bring four quarts of water to a boil.
During this time, wash your green beans and make sure they are trimmed.
After the water reaches a boil, add the green beans. For firmer green beans, boil for three to five minutes.
The more tender you want your green beans, the longer you need to boil them. Once the desired tenderness has been reached, test with a fork. Remove from heat.
Drain the water and add your green beans to a bowl. Add melted butter and seasoning to green beans.
Serve and enjoy while hot!
How to Cook Green Beans Perfectly By Roasting
Roasted green beans give a crunchy yet delicate texture and flavor. If you prefer the taste of roasted green beans, here is how to roast them perfectly!
Ingredients
Fresh green beans
Olive oil or butter
Salt and pepper
Any additional seasoning that you prefer
Tools
Instructions
First, preheat the oven to 425 degrees Fahrenheit.
While waiting for the oven to heat up, prep your baking sheet by adding foil. This is not necessary. However, it will make cleaning up easier.
Add the green beans to a bowl. Mix the olive oil or butter with the seasoning in a separate bowl.
Coat the green beans with the olive oil mixture. Make sure green beans are coated evenly.
Next, place the green beans on the prepared baking sheet in a single layer.
Place in the oven and roast for 15 minutes. You will know the green beans are done with a fork test and when they start to brown.
Serve while hot.
How to Cook Green Beans Perfectly On the Skillet
Another tasty method of cooking green beans includes sauteeing them in the skillet. This easy and quick way will have you putting your green beans on the dinner table in a flash.
Ingredients
Olive oil
Fresh green beans
Seasoning of choice: some great additions are onion salt, minced garlic, black pepper, and salt.
Tools
Stovetop
Pan frying skillet
A spatula
Instructions
First, prep the green beans by washing and de-stringing. Then, cut the tips off the green beans.
Heat the olive oil over medium heat in the skillet.
Coat the green beans with your preferred seasoning.
Add the green beans to the skillet and cook for ten minutes. Be sure to stir continuously.
Check the green beans with a fork test to assess the tenderness. The more tender you would like your green beans, the longer the cooking time will be.
When the green beans are as tender as you would like, remove them from the heat and serve while hot!
Delicious Options to Add to Your Green Beans
Green beans are very versatile. They are healthy as well. Both of these characteristics make them a terrific addition to any meal. If you are looking for enjoyable methods to play around with flavor when cooking green beans, here are additional flavors to try!
Cook in broth or stock
Butter
Minced garlic
Lemon-pepper
Bacon
Onions
shallots
Rosemary
Parsley
Sage
Thyme
Black peppercorns
Dried chiles
Bay leaves
Carrots
Spinach
Chives
Mushroom broth
Mushrooms
Cumin
Basil
Olive oil
Notes
Green beans are a versatile vegetable that many people enjoy.
There are a variety of ways to cook green beans. These include boiling, baking, and sauteing.
Green beans are great for your heart! This is because they do not have cholesterol.
Green beans contain fiber.
Did you know green beans also have protein?
They also contain vitamin C, Vitamin A, calcium, potassium, zinc, magnesium, and iron.
Green beans are of the species Phaseolus vulgaris.
Tasty Ways to Eat Green Beans
The image featured at the top of this post is ©Viktory Panchenko/Shutterstock.com.