Key Points
Side dishes are an important part of any Thanksgiving meal. The pecans complement the flavors in the other dishes.
Vegetarians have only a few options during Thanksgiving. This is a vegetarian-friendly dish that is sure to be favorite.
Adding dried cranberries or basil to this recipe enhances the essence of the green beans.
Every year, we love to find new ways to add something to the Thanksgiving table. Every family has their favorites, and it's our goal to help you find yours. This simple and inexpensive Green Beans and Pecan Salad is an excellent option for anyone who doesn't have a lot of time or doesn't want to spend their entire holiday in the kitchen.
You may think you have to default to store-bought sides or desserts if you don't want to spend a fortune, but this dish is just one of many Thanksgiving recipes we offer that are easy, affordable, and fun to make.
Thanksgiving Side Dishes
Side dishes make the meal. Turkey might be the main course, but everyone knows Thanksgiving wouldn't be complete without creamy mashed potatoes, old-fashioned stuffing, and tangy cranberry sauce.
The Green Beans and Pecan Salad recipe is simple but sophisticated; the pecans complement many of the other favors found on the Thanksgiving table, like sage, cloves, and cinnamon.
Although they may not have been served at the first Thanksgiving in 1621, green beans have been a staple at American dinner tables for decades. The mysterious green bean casserole has been served during the holidays with little explanation of its origins, and if you're ready to make a change from the traditional without breaking away from comfort, this Green Beans and Pecan Salad is just what you need.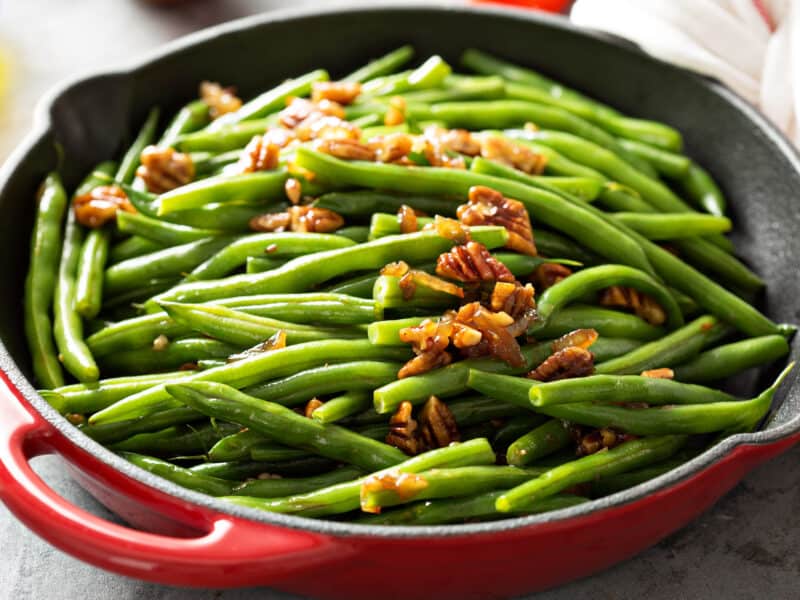 Vegetarian Thanksgiving Recipes
The turkey is the star of Thanksgiving, and many vegetarians dread having to attend a family dinner where they know they can't eat much of the food being served. While there may be plenty of turkey to go around, you can fix up a wide range of delicious, satisfying vegetarian-friendly Thanksgiving dishes that will be just as mouth-watering as a juicy drumstick.
Our Green Beans and Pecan Salad recipe is loaded with texture and taste. The crisp crunch of the green beans and nuts perfectly complement the lemon vinaigrette dressing. You may wish to put the dressing on the side so your guests can flavor their salad to taste; this will also prevent the beans and nuts from soaking up too much dressing and becoming soggy.
In addition to this recipe, you may also want to look at some of these easy recipes for a vegetarian Thanksgiving:
This healthy Thanksgiving recipe is just one way you can add some unexpected flavor to the table this year. In addition to pecans, you may want to also toss in some dried cranberries or basil to enhance the essence of the green beans.
Health Benefits of Green Beans and Pecans
There are many health benefits of green beans and pecans. For example, green beans are an excellent source of beta-carotene, which helps lower blood pressure and fight inflammation. You also get a large portion of your daily intake of vitamin C. In addition to beta-carotene and vitamin C, green beans are a great source of folate and potassium.
Pecans also help lower blood pressure because they have calcium, magnesium, and potassium. They are a healthy fat because the fat in pecans is mostly monounsaturated fat. You are getting a good amount of protein and fiber from pecans as well. So, these little guys pack a healthy punch. Combined with green beans in a delicious salad, these two healthy foods are a no brainer to add to any meal.
Print
Green Beans and Pecan Salad
---
Author:

Total Time:

14 minutes
Description
For the pecans:
2 Tablespoons vegetable oil
2 cups shelled pecan halves.
For the Lemon Vinaigrette:
½ cup lemon juice, freshly squeezed (2 to 3 whole lemons)
1½ teaspoons sugar
1½ teaspoons Dijon mustard
1 cup corn oil
⅓ cup walnut oil
Salt and pepper to taste.
For the green beans:
---
Heat vegetable oil over medium heat.
Add pecans and salt to taste.
Toast lightly, stirring constantly. (Nuts cook quickly, be careful not to burn them).
Whisk lemon juice, sugar, and mustard together, then slowly drizzle in corn and walnut oil until emulsified.
Add salt and pepper to taste. (Or use a hand-blender to make the whole thing go quicker and emulsify better).
Trim beans and cut into 3 inch lengths.
Place in a microwavable serving bowl and cover with plastic wrap, leaving a slight space for steam to escape.
Steam until crisply tender 2-4 minutes. (You may also use a regular steamer.)
Rinse with water to arrest the cooking process.
Drain thoroughly.
Lightly coat the beans with the dressing, adding only as much dressing as you need, and toss in the nuts. Adjust the salt and pepper. Serve at room temperature.
---