In the days of the first settlers to the colonies in the new world, Old-Fashioned Bread Stuffing was simple, delicious and ingredients depended on whatever was available.
One of the best kept secrets about old-fashioned turkey dressing in those days was the use of fresh herbs like parsley, sage, thyme, marjoram, rosemary and savory.
Colonials used stuffing as a way to "stretch" menus and provide a more filling meal when food was scarce. As time passed, stuffing for poultry became a traditional accompaniment to chicken and turkey.
There are many recipes for old-fashioned turkey dressing that are largely dependent on regional tastes. This alters the types of ingredients.
For example, New Englanders stick to the traditional day-old bread stuffing and add vegetables like celery, onion and finely chopped turkey giblets. In the south, an old fashioned turkey dressing is likely to be made with day–old cornbread, chopped green onion, turkey giblets and crisped bacon bits.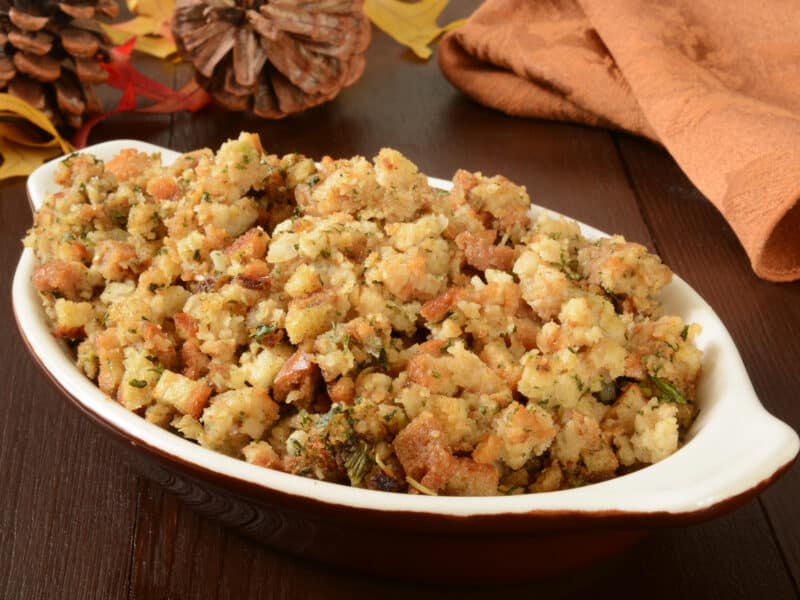 Westerners like their bread stuffing with substance and so roasted chestnuts and finely chopped sausage are combined with jalapeno or other hot peppers for heat. In some areas, bread stuffing is just that, bread and chopped onion brightened by chopped parsley.
In Cajun country, stuffing contains raw oysters chopped, herbs and special cajun seasoning spice mix of oregano, sour salt, onion powder, garlic powder, ground white pepper and dried celery flakes. However, the basic recipe for bread stuffing always begins with bread.
The type of bread depends on preference. It can be day–old white bread, cornbread, pumpernickel, French bread or sourdough rye.
Be sure to check out our other stuffing recipes as well. You might even try to make small batches of each before Thanksgiving to determine which one should be your main for the the big day!
Print
Old Fashioned Bread Stuffing
---
3

–

4

loaves of white bread (or

5

if you like leftovers)
Water
Chicken broth
Insides of the turkey

2

bunches of celery

1

or

2

onions

2 Tablespoons

butter

½ teaspoon

sage
Oysters (optional)
Mushrooms (optional)
---
Instructions
The night before you want to eat the stuffing, break the bread into small pieces (about 1 inch squares) into 2 huge bowls or pots. Let the bread sit overnight to dry out.
The next day, after you remove the insides of turkey, boil them in water in ⅔ quart sauce pan until cooked (about 20-30 minutes). Remove insides for later use or discard. Keep water and put aside.
Preheat oven to 350° F.
Chop onion and celery and place into food processor until minced.
Melt 2-3 Tablespoons of butter in large saucepan.
Sauté onion and celery until heated through. Do not brown! (Sauté mushrooms also at this time if wanted). Depending on how much stuffing you want and how much celery and onion you've chopped, you may have to sauté the onion and celery in two parts.
Once cooked, pour the onion/celery mixture directly over the dried out bread.
Pour ½ teaspoon sage over bread/onion/celery mixture.
Then take your reserved water and pour slowly over bread. The bread will shrink as you do this.
Be careful not to pour too much water in.
Mixture thoroughly and smell/taste for perfect stuffing.
If you need more liquid, open a can of chicken broth and pour over bread. If you need more spice, add more sage.
If you are using oysters, add them now.
Once stuffing is of a consistency that it will stick together and does not look too dry, do not add more liquid.
Either stuff in turkey to be baked in oven, or put in 9 x 13 pan. If using oysters, it is recommended that you bake the stuffing in a pan so as to ensure the oysters will be cooked through.
Bake in 350° oven for 45 minutes to an hour. You want the stuffing to have a nice brown crust on top.