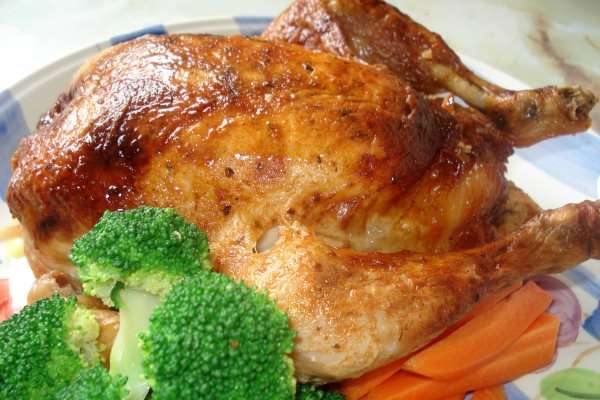 Turkey is a versatile protein source and goes well with just about any side dish. For a new spin on turkey and stuffing that is a little different, try this alternative recipe for Mustard-Glazed Turkey with Cornflake Stuffing and Mustard Gravy. It's great served for lunch the next day or late-night sandwiches after the game.
Mustard-Glazed Turkey with Cornflake Stuffing and Mustard Gravy Recipe
Turkey and stuffing have been the standard dish on nearly every dinner table in the US since the very first Thanksgiving dinner in 1621. Many cooks use bread or cornbread in their stuffing but the addition of the corn flakes gives it a slightly different flavor and texture than you're used to. The mustard glaze gives the turkey a little kick of flavor and tanginess.
Substitutions: most of the ingredients can be substituted or omitted if necessary. A tsp of prepared mustard can be substituted for mustard powder, and cornmeal can be substituted for the farina if you don't have any. The texture is very similar to Cream of Wheat cereal, just follow the directions for making it as a cereal or mush. Turkey pan drippings can be used in place of chicken stock in the gravy.
What to Serve it With?
Turkey and stuffing are good served with mashed potatoes, green beans, sweet potatoes, corn, peas, or any vegetable combination. Vegetable sides, crusty bread, fruit salad, or pies for dessert make great components for a satisfying holiday meal. It is the type of dish that goes with everything, no matter what your budget. Holiday meals are meant to be shared with the ones you love, and the only thing that matters is that you make plenty of food for leftovers.
Ways to Use Up Your Leftovers
Turkey can be used as an ingredient in sandwiches, soups, salads, casseroles, and more. If by some chance you end up with a ton of leftover turkey, it can be diced into bite-sized pieces and added to macaroni and cheese, cheese omelets, won-tons and corn and potato chowder. Turkey and gravy can be served over potatoes, rice, biscuits or dinner rolls. Reheat the turkey until warm and spoon the gravy over the top of the meat. Sop up the excess gravy and turkey juices with a nice piece of bread.
Leftovers can be repurposed or frozen in trays for future meals. Plastic trays with a lid that can go in the freezer are great for making freezer meals. These can be purchased at the big box stores inexpensively and keep food safe from freezer burn when stored long-term in your freezer.
One of the best benefits of cooking a huge turkey is having tons of leftovers the next day. The husband and kids can have lunches for a whole week, and finish up whatever is left at the end of the week with a big buffet-style meal with all the leftover bits of food. Don't worry about what you will do with all the extra food, send some home with guests and freeze what's left.
Print
Mustard-Glazed Turkey with Cornflake Stuffing and Mustard Gravy
---
3 Tablespoons

oil, divided

2

medium onions, chopped, about

2 cups

2

carrots, coarsely chopped

4½ cups

corn flakes, crushed

4

eggs, lightly beaten

¼ cup

uncooked farina, such as Cream of Wheat

¼ cup

Miracle Whip salad dressing

1½ teaspoons

salt, divided

¾ teaspoon

pepper divided

12

–

14

pound turkey, thawed if frozen, neck and giblets removed

2 teaspoon

mustard powder
Gravy
Chicken broth, as needed

3 Tablespoons

all-purpose flour

3 Tablespoons

Dijon mustard

1 teaspoon

dried thyme

¼ teaspoon

salt

¼ teaspoon

pepper
---
Instructions
Preheat oven to 375°F.
For stuffing, in large skillet heat 1 tbs. oil over medium heat. Add onions and carrots; cook until softened 8-10 minutes. Remove from heat; set aside.
In large bowl combine corn flakes, eggs, farina, salad dressing, 1 teaspoon salt, ½ teaspoon pepper and onion mixture. Fill turkey body and neck cavities with stuffing; truss if desired.
Place remaining stuffing in 1-qt. Casserole. Place turkey on rack set in roasting pan.
Combine remaining oil with mustard; brush over turkey. Sprinkle with remaining salt and pepper.
Roast 30 minutes; reduce oven temperature to 325°F. Roast, basting frequently with pan juices, until thermometer inserted into thickest part of thigh registers 180°F, 3 to 3½ hours.
Place casserole with stuffing in oven 30 minutes before turkey is done. Let turkey stand 15 minutes before carving.
Meanwhile for gravy, skim fat from pan juices, reserving 3 tbs. fat. Add enough broth to pan juices to equal 2 cups.
Over two burners on medium heat combine reserved fat with flour in roasting pan; cook, stirring constantly, 2 minutes. Stir in broth mixture, mustard, thyme, salt and pepper.
 Increase heat to high; bring to a boil. Cook stirring constantly, until mixture thickens slightly, about 3 minutes.