[addtoany]
Chicken is a great base for any meal. There are so many ways to prepare it…grilled, fried, breaded, baked…and the list goes on.
When thinking of breaded chicken, most assume that breadcrumbs are used to give the meat its crispy texture. However, a variety of ingredients will work to bread the chicken perfectly.
In fact, would you believe the cornflakes can do the trick?
Read on to find out more about how you can get a great breading on your chicken by using your favorite morning cereal.
Baked Crispy Chicken
To make the recipe we have here, start by combining cornflake crumbs, salt and pepper on a sheet of wax paper.
Place the chicken into a shallow bowl of evaporated milk and then roll it in the seasoned breadcrumbs.
Place the chicken in a baking pan and bake for one hour or until cooked through.
Cornflakes definitely serve to set this dish apart. The cereal was created by John Harvey Kellogg of the Kellogg's company in 1894 and is made by toasting flakes of corn.
Cornflakes is one of Kellogg's most popular cereals and it has been copied by other cereal companies throughout history.
Besides being a great breakfast cereal, cornflakes have been used as a breading in several dishes. It works well with fish, pork, other meats and even tofu. It can also be used to add a sweet crispy element to a variety of dessert dishes.
In our baked crispy chicken meal, we feel the cornflakes give the protein the perfect amount of breaded goodness. It makes for a dish that is sure to put a smile on your family's faces any day of the week. It works well with a variety of sides including rice, potatoes, macaroni and cheese, vegetables or a nice, healthy salad.
Baked Breaded Chicken
Of course, cornflakes and breadcrumbs aren't the only things you can use to bread chicken. Here are some alternatives that we recommend trying:
Crackers and wafers
Homemade breadcrumbs
Bran / Oat cereal
Cheerios and flakes
Panko
Oatmeal
Oats
Quinoa
Potato flour
Dried coconut
Cornstarch
Flakes, chips, and croutons
Cooked rice, veggies
Flaxseed, chia powder
Parmesan cheese
Each of these can add a unique flavor and are relatively easy to use in your breaded chicken dish.
If you are looking for recipes that use breadcrumb alternatives, here are a few you might want to try.
Crispy Parmesan Crusted Baked Chicken: Here the secret ingredient is Panko, an Asian type of breadcrumb that is lower in sodium and stays crispy longer than other types of breadcrumbs.
To make the recipe, start by pounding chicken breasts in ½" thickness.
Beat the egg and set aside. Then in a separate, shallow dish, combine flour, salt and pepper.
In a second shallow dish, combine Panko breadcrumbs, cornflake crumbs, parmesan cheese, parsley and garlic powder.
The chicken is first dipped in flour and then egg and finally the breadcrumb mix. It is then put on a pan with cooking spray and baked for 30-35 minutes.
Oatmeal Baked Chicken: Quick (not instant) oatmeal can also be used as a substitute for breadcrumbs in several dishes. It is a healthy alternative that can give your meals a delightful texture.
To make this recipe, start by combining oats, paprika, chili powder, garlic powder, cumin, pepper and salt (if desired) in a shallow bowl or plastic bag.
Dip the chicken in milk and coat with the oat mixture.
Place the chicken in a greased baking dish and drizzle with butter. Bake uncovered at 375 degrees for 45-50 minutes or until the juices run clear.
Quinoa Crusted Chicken: Quinoa is another healthy breadcrumb substitute. It is rich in fiber and protein and it's also gluten-free.
For this recipe, you will need to start by spreading the quinoa on a parchment-lined baking sheet and bake until it is lightly roasted. Let cool and break up any clumps.
Next combine the chicken in a bowl with the mustard, thyme, and pepper. Make sure it is well coated. Then dip the chicken in the quinoa.
Spritz the chicken with cooking spray and cook until baked through. Sprinkle with thyme and serve.
Chicken makes a great base for any meal and with so many breading options, a great crispy layer is easily achievable. What creative ways do you know of to prepare chicken for your family?
If you enjoyed this recipe, make sure to check out our Summertime Chicken and our Sweet and Saucy Chicken.
Print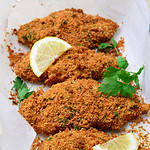 Baked Crispy Chicken Recipe
---
Description
Chicken makes a great base for any meal and with so many breading options, a great crispy layer is easily achievable.
---
1

chicken, cut into pieces

1 cup

cornflake crumbs (unsweetened)

1/2 teaspoon

ground pepper

1 teaspoon

salt

1/2 cup

evaporated milk, undiluted
---
Instructions
 Preheat oven to 350F.
On a sheet of wax paper combine the cornflake crumbs, salt and pepper.
Place evaporated milk into a shallow bowl and dip the chicken in it,  then roll in seasoned crumbs.
Place chicken skin side up, in a baking pan.
 Bake uncovered for 1 hour, or until cooked through.
The image featured at the top of this post is ©LuizFernandoMiguel / Pixabay.