This recipe is straight up Southern fare. One of the little secrets we've learned is that Southern-style cooking isn't hard. It's flavorful and rich and it definitely isn't diet food, especially since so much of it is fried. But one bite of these super tasty breaded pork chops with cream gravy will convince you that it's all worth it.
Breaded Pork Chops
If you love other classic Southern fare like fried chicken or chicken fried steak, you'll love these breaded pork chops. After all, they work on basically the same principle: it's meat dipped in flour, then fried. And like any good Southern fried dish, it's topped off with deliciously decadent cream gravy.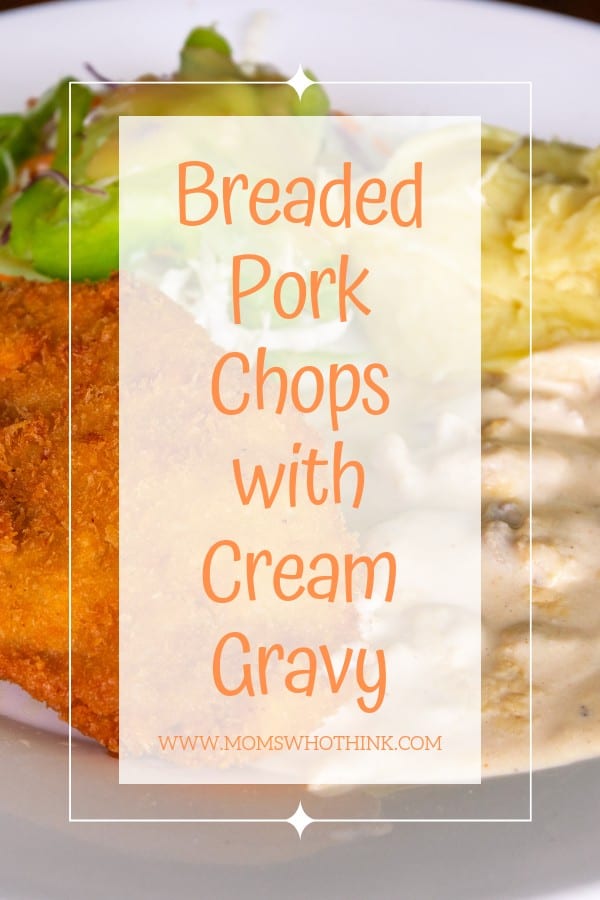 To make these really good, you want to choose the best-looking pork chops you can find. The thicker, the better. Then, you're going to add spices to some flour. Dredge the pork chops through a beaten egg, flour, and bread crumbs, and then fry 'em up in hot oil in a pan. It sounds so simple but the results are truly impressive. The cream gravy is really the perfect choice to top off these perfectly fried pork chops.
Variations of This Recipe
It may not seem like it, but this recipe still works well when you decide to make little changes. One thing that you can do is to make panko pork chops for a bit of extra crunch. Using panko bread crumbs instead of regular bread crumbs provides some great texture.
This is meant to be a full on, Southern fried kind of meal experience. But if you really must make a healthy version that's not fried, just don't tell Grandma. You can actually bake the pork chops in the oven but you need to modify the recipe a bit.
If you want to make your panko pork chops in the oven, the first thing you'll want to do is toast the panko bread crumbs first. Toasting the bread crumbs first will make sure that the pork chops stay crunchy when baked in the oven. Just toss the bread crumbs with two tablespoons of olive oil before putting them in the oven at 425 degrees. Let them toast for 5 to 7 minutes.
Then you'll want to coat the pork chops with the bread crumbs. Bake the pork chops in the oven at 400 degrees for 10 to 15 minutes. Use a meat thermometer to make sure the pork chops are cooked to an internal temperature of 160 degrees. (The USDA changed the safe cooking temperature for pork to 145 degrees, but we still use 160 degrees just to be on the safe side!)
Whether you bake them in the oven to make them healthier or you do it the good old Southern way and fry them, breaded pork chops with cream gravy will be a dish you'll love to eat.
Sides to Serve With These Pork Chops
Any good Southern meal needs a good side dish or two to really complete it. These fried pork chops can go great with a variety of sides, but here are a few we suggest. Choose just one, or go all-out and make all three!
You can't go wrong with some simple white rice. It may sound boring at first, but rice has its advantages. For one, white rice is cheap and easy to come by. In fact, you more than likely already have some in your pantry. For another, you can pour some of the gravy you make for these pork chops over the rice. Rice and gravy is an amazing combo!
Another idea is a child's favorite: mac and cheese. There are so many ways to get creative with mac and cheese, so put your imagination cap on and get thinking! Baked mac and cheese and mac and cheese with bacon are a couple ideas that we think would work great with this recipe.
For a healthier side, you can't go wrong with roasted veggies. The vegetables you choose is up to you, but common selections include zucchini, squash, carrots, and brussels sprouts. Add some spices to make it more appealing for the younger members of your family. Add as many or as few vegetables as you want!
If you enjoyed this recipe, make sure to check out our New England Corn Chowder Recipe and our Chopped Salad Recipe.
Print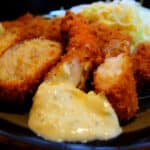 Breaded Pork Chops with Cream Gravy Recipe
---
Author:

Total Time:

30 minutes
Description
If you love other classic Southern fare like fried chicken or chicken fried steak, you'll love these breaded pork chops. After all, they work on basically the same principle: it's meat dipped in flour, then fried.
---
8

center cut pork chops, 1/2 inch thick each
salt and pepper

1

large egg

3 Tablespoons

milk

1/2 cup

all purpose flour

3 cups

fresh bread crumbs

1 teaspoon

dried thyme

1/4 cup

vegetable oil
Cream Gravy
6 Tablespoons

flour

1/2 teaspoon

salt

1 teaspoon

ground black pepper

2 1/2 cups

whole milk
---
Instructions
Pat pork chops dry with paper towels. Sprinkle with salt and pepper.
Heat oil in a heavy skillet.
Whisk egg and milk together in a shallow bowl.
Place flour in another shallow bowl.
Mix breadcrumbs and thyme in a third separate shallow pan.
Dip each pork chop in the flour, shake off the excess, then dip into the egg mixture and roll in the bread crumbs. Pat to make the bread crumbs stick.
Place chops in the skillet over medium heat and fry for about 4 to 6 minutes on each side. Remove from skillet and serve hot with cream gravy.
Cream Gravy:
Drain oil from skillet that pork chops were cooked in. Do not wash or dry pan.
Add 6 Tablespoons flour into pan (use any leftover flour) and blend well.
Gradually stir in salt, pepper, and 2 1/2 cups of milk. Cook and stir over medium heat until thickened.
Cover pork chops with gravy when served.
Prep Time:

15 Minutes

Cook Time:

15 Minutes

Category:

Main Course

Method:

Frying

Cuisine:

American
Keywords: breaded pork chops, panko pork chops