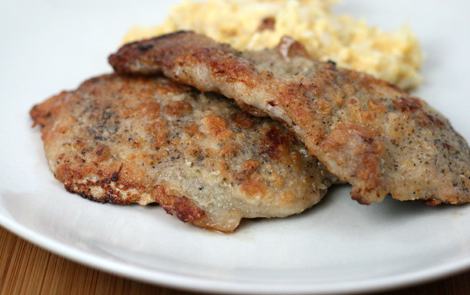 Let's Get Ready for Baby!
Sign up for our monthly pregnancy email series, and you'll get regular updates on your baby's development, helpful timelines to get ready for their arrival, must-have baby needs and so much more! PLUS, you'll get instant access to the MomsWhoThink "Ultimate Guide to Baby Naming in 2022."
CLICK HERE
to get started!
[addtoany]
No dish says Southern cooking like fried chicken. But in the South, lots of things can be called chicken fried. You have probably heard of chicken fried steak, for example. "Chicken fried" simply means that a cut of meat is battered and fried in the style of fried chicken. In what I think is an amusing name, there's even such a dish called chicken fried chicken.
Chicken fried pork applies the concept of battering and frying pork chops in the style of fried chicken. If you've never had pork chops cooked this way, you're about to fall in love! This style of cooking seals in all the juices, while creating a delicious crunch on the outside.
This recipe is inexpensive and has just a couple of simple ingredients. That means it's easy on your budget and won't chain you to the kitchen all night. My kids never turn up their nose at this meal either, which makes it even better.
Even the pickiest eaters (I have one in my house!) tend to like pork chops when they're prepared this way. Some recipes for pork call for fruit, which is a combination that some people don't like. But battering and frying make almost anything taste better, which you know if you've ever been to the state fair. From pickles and potatoes to pork chops, everything's better when it's batter-dipped and deep-fried.
Chicken Fried Pork
It really doesn't get much easier than chicken-fried pork. This dish has just four ingredients: pork chops, seasonings, flour, and oil. Prep time will be next to nothing. You'll be in and out of the kitchen in just a short period of time.
Pork chops are a winner because they're always one of the cheapest meats at the store. Usually, when you get more inexpensive cuts of meat, they tend to be tough or fatty. Not so with pork chops. Pork chops are extremely lean, which you may remember from the marketing campaign describing pork as "the other white meat."
If you're like me—and most other American families—you need to be mindful of your grocery budget. It can be a real challenging balancing act to make sure all the bills get paid every month. Your grocery bill is one of the few that you can really control. After all, most of us can't afford to eat steak and lobster every night.
But eating a family dinner together every night (or at least every night that the kids' schedules allow) is a tradition that really matters. Memories are made around the dinner table. Even if you're all just making small talk, it's a time of real connection.
Even though eating a family dinner together is important, it can also become a big headache for mom if you try to make complicated meals. That's why all the meals on this site are designed to be easy to prepare. Most have five ingredients or less. You want something that will be cheap, easy to make, and easy to clean up. Chicken fried pork definitely meets all three of those goals.
Country Fried Pork
Sometimes "chicken fried" meats are also called country fried. After all, fried cuts of meat are meant to be hearty and filling—hardly the city fare that's small, pricey, and artistically arranged. There's nothing wrong with being a little bit country.
The secret to making something country-fried is in serving it with a creamy gravy on top. This recipe includes directions about how to make the gravy. Even though it's described as optional, trust me on this one—you definitely want to make the gravy and serve it on top. It takes what is already a tasty dish and makes it over the top fabulous.
The side dishes that are most often served with country fried meat are mashed potatoes and corn. Mashed potatoes and corn are still inexpensive items to serve on the side. But they complement the flavors of the chicken fried pork very well. Even more than that, they're pretty universally popular. When chicken-fried pork, mashed potatoes, gravy, and corn are served together, you might as well just call it the "no picky eaters" meal.
This meal is a winner for so many reasons. It's easy to make and clean up, it's affordable, and it tastes great. But even more importantly, it's the kind of food that really fills you up and sticks to your ribs. You can be sure that nobody's leaving the table hungry.
If you enjoyed this recipe, make sure to check out our Maple Pecan Pork Chops and our Pork Chops Devine.
Print
Chicken Fried Pork Recipe
---
Author:

Total Time:

30 minutes
Description
It really doesn't get much easier than chicken fried pork. This dish has just four ingredients: pork chops, seasonings, flour, and oil. Prep time will be next to nothing. You'll be in and out of the kitchen in just a short period of time.
---
2

Thick cut boneless pork chops
Salt and pepper

½ cup

flour
Vegetable oil
---
Instructions
Cut pork lengthwise into 2 thin chops.
Place between plastic wrap and pound to ¼-inch thickness.
Sprinkle both sides with salt and pepper.
Dredge in flour, coating both sides and shaking off excess.
Heat ¼-inch oil in a heavy skillet.
 Add pork and fry until nicely browned, about 3 to 4 minutes on each side.
Optional Gravy:
Pour off all but 2 Tablespoons of the fat.
Add 1 cup milk.
Heat until boiling, scraping up all the browned bits. Cook until thickened. (No need to add flour since the flour from the cooked pork chops is usually enough.)
Prep Time:

10 Minutes

Cook Time:

20 Minutes

Category:

Main Course

Method:

Pan-Frying

Cuisine:

American
Keywords: chicken fried pork, country fried pork