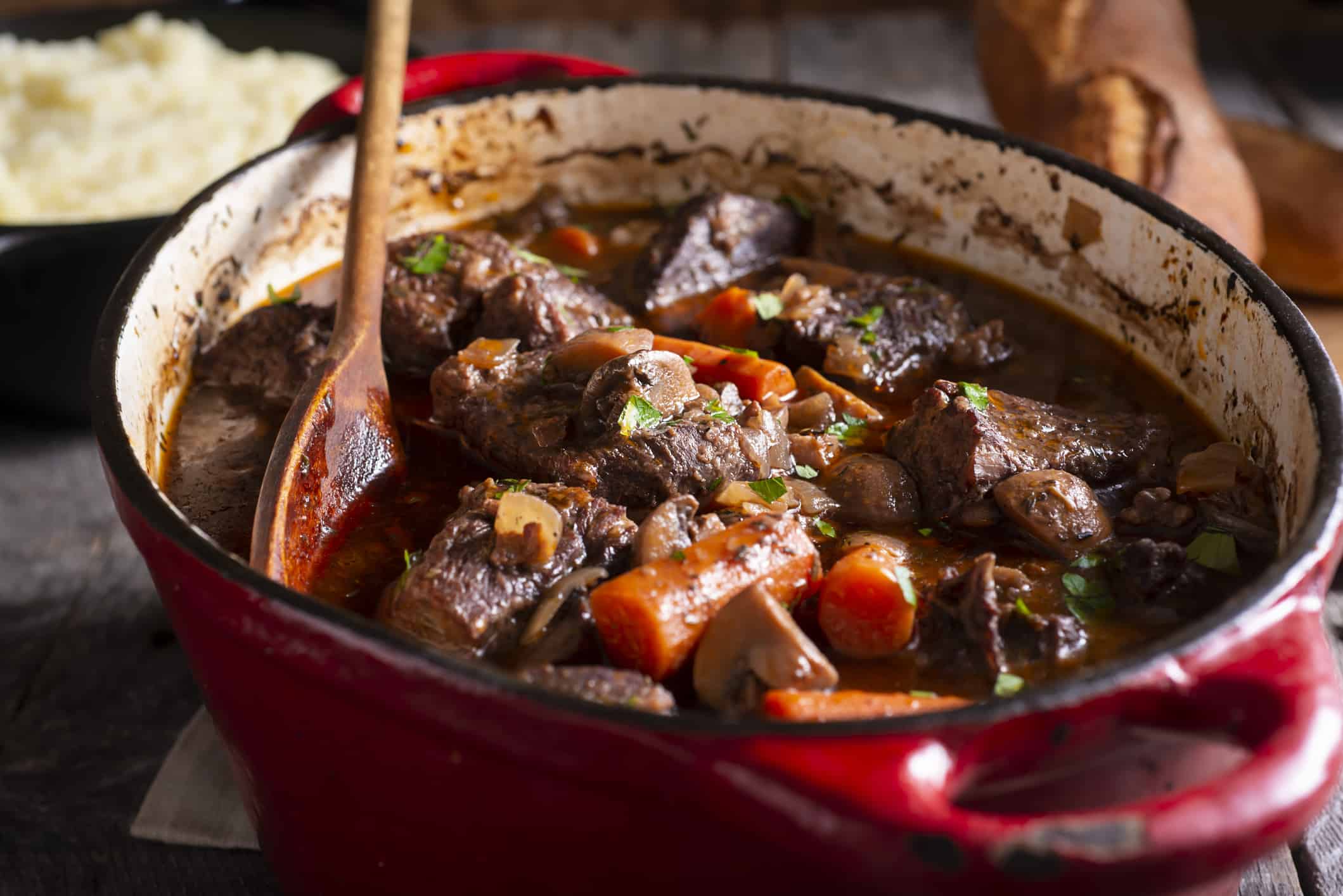 [addtoany]


On chilly winter afternoons, there's nothing more satisfying than a hearty bowl of beef stew. It's a great thing to make on Sunday afternoon, you can put the ingredients on the stove and let them simmer for a couple of hours. While the flavors mingle together in the pot, it fills your house with the mouth-watering smell of beef stew.
Perfect with crusty bread or rolls, this stew will leave your family feeling full and satisfied. Beef stew—especially on a cold day—is almost the definition of comfort food. It's the kind of family-friendly meal that everybody loves. It's likely to pass the test of even the pickiest eaters.
Mama's Stew
Beef stew is easy because you throw the ingredients in a large stock pot and just let it simmer. But even more than it being easy to cook, it's also very customizable based on whatever you want to include in it.
Carrots, potatoes, and beef are the classic ingredients. But you can do even more with it based on your preferences. This recipe calls for carrots, potatoes, beef, and peas, but you can leave out any of the ingredients that you want. You can also add ingredients like corn or tomato paste and it will still turn out great.
If you're feeding a crowd, possibly for a football watching party, this recipe doubles or triples very easily. Why order pizza when you can treat your guests to a hearty, home-cooked meal instead? You'll be popular with your dinner guests and they'll think you're a great cook.
Because of the long, slow cook time, you can also make this dish with cheaper cuts of meat. Cooking tougher cuts of meat for a long period of time can make them more tender. This can actually be a very budget-friendly meal, especially because it makes a large pot of stew. Nobody will leave the table hungry.
Hearty Beef Stew
I don't know about you, but I love meals that I can prepare in a slow cooker. I don't always want to spend a lot of time in the kitchen. One of the best things about beef stew is that you can make it in a slow cooker and it still turns out great.
Because you can put the food in the crockpot and then do other things—even leaving the house—you can make beef stew on days when you're not going to be home. You don't have to save this meal for a weekend day when you'll be at home all day. You can set it in the crock pot and come home to the scent of beef stew.
On the other end of the spectrum, if you're really craving beef stew and you just don't have the time to spend cooking it even in a slow cooker, you're not out of luck. You can make beef stew in a fraction of the time in an Instant Pot, too.
Another great thing about this meal is that you can modify it to be either gluten-free or low-carb or Paleo. To make a gluten-free beef stew, you can just use gluten-free flour in place of the flour that the recipe calls for.
To make low-carb beef stew or Paleo beef stew, you might need to change some of the vegetables you use. You can still use carrots and some potatoes are even allowed in moderation on many Paleo diets. You would just need to use fewer potatoes than the recipe calls for.
Beef stew is a family-friendly meal that sticks to your ribs. Your family will love it and so will you.
If you enjoyed this recipe, make sure to check out our Spiced Apple Pork Tenderloin Recipe and our Breaded Pork Chops with Cream Gravy Recipe.
Print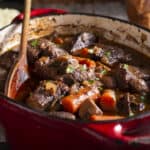 Mama's Hearty Beef Stew Recipe
---
Author:

Total Time:

150 Minutes
Description
On chilly winter afternoons, there's nothing more satisfying than a hearty bowl of beef stew. It's a great thing to make on Sunday afternoon, you can put the ingredients on the stove and let them simmer for a couple of hours.
---
3

lbs. boned chuck or round beef

1/3 cup

flour

½ teaspoon

pepper

½ teaspoon

celery salt

¼ cup

vegetable oil

¼ cup

minced onion

1

minced, peeled clove garlic

3 ¾ cups

boiling water

4 teaspoons

beef broth

½ teaspoon

salt

½ teaspoon

Worcestershire sauce

1

bay leaf

1 teaspoon

dried thyme

4

medium onions, coarsely chopped

6

small white potatoes. peeled and cut into cubes

4

large carrots, peeled and sliced 1/4 inch thick

1 cup

frozen peas, thawed
---
Instructions
Trim meat of most fat; cut into 1 ½" pieces.
Combine flour, pepper, and celery salt in large bowl. Drop in meat, few pieces at a time; toss until well coated. Reserve leftover flour.
Heat oil in Dutch oven or deep kettle. When hot, slowly sauté floured meat in it – a few pieces at a time – until richly browned on all sides. Remove each piece as it browns.
Add minced onion and garlic to oil in kettle and simmer until just tender; stir in leftover flour, until smooth and blended.
Slowly stir in boiling water, beef broth, salt, Worcestershire sauce, bay leaf and thyme.
Add meat, cover; simmer about 2 hours, or until meat cuts easily.
When stew has simmered 2 hours, add onions, potatoes, carrots and peas. Cover, simmer 15 minutes longer or until all vegetables are tender.
Discard the bay leaf, then let the stew stand for five minutes before serving.
Prep Time:

30 Minutes

Cook Time:

120 Minutes

Category:

Main Course

Method:

Stewing

Cuisine:

American
Keywords: mama's stew, hearty beef stew