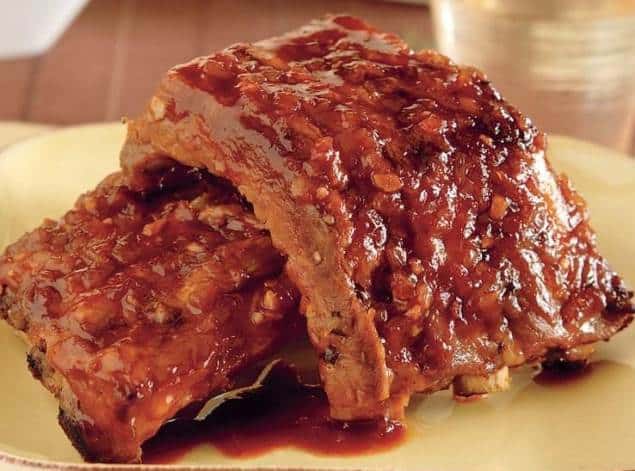 [addtoany]
There are few things I love more than some good barbecue ribs. But they can be a time-consuming affair, most often cooked on the grill. We most often make them in the summer, when my husband can be the grill master.
Imagine my joy to discover that I can have barbecue ribs any time of the year without spending hours slaving over a grill! It turns out that the secret to cutting down on the famously long cook time of barbecue ribs is as close as your kitchen. If you have a crockpot, you can make ribs in a super-easy way.
It still takes a while, of course. What gives ribs their famous appeal is that they should be tender, falling off the bone. There's no way around that other than a long cook time. But a crockpot makes it easy for you because it does all the work for you.
When you throw some ribs in the crockpot, you can even leave the house. You can go on playdates with the kids or even go to work for the day. Then you can come home to a delicious meal of slow-cooked, tender barbecue ribs.
This is one meal that is guaranteed to win you lots of appreciation from your family. I've never heard anyone complain about barbecue ribs! It doesn't even matter what you serve on the side (though we have some ideas for that, too.) The meat is the star of the show.
Easy Crock Pot Barbecue Ribs
Making barbecue ribs in a crockpot is about as easy as it gets. You just pour the sauce over the ribs, set the crockpot for slow or fast cook time, and forget about them until it's time to eat. Easy crockpot barbecue ribs are a really delicious meal with a huge payoff compared to the amount of time you put into it.
This recipe calls for making your own simple barbecue sauce. Don't be alarmed or find this intimidating: the recipe is actually extremely easy to make. If you're more confident in the kitchen, you can try tweaking the barbecue sauce according to your taste buds.
Onion powder, black pepper, and garlic salt can be good additions, though you'll want to use a light hand with the garlic salt if you're also using the garlic cloves. You may also want to add some smoke flavoring to give the ribs a bit more of that fresh off the grill flavor.
You can also remove some of the ingredients from the barbecue sauce if you don't think they would be a hit with your family. If your family doesn't like things particularly spicy, you can leave out the hot sauce (although it's in small enough quantities that it shouldn't be overpowering anyway.) You can also decrease the brown sugar a bit if you don't like things as sweet.
Another thing you can do if you want this to be an even easier meal is to skip making your own barbecue sauce. If you have a favorite jarred barbecue sauce that you normally use and you love it, you can just buy a bottle of that and pour it over the ribs instead. That makes this meal even easier and faster to prepare.
Slow Cooker Ribs
The slow cooker is a busy mom's favorite invention. You can make anything in it, from soups and stews to casserole-type mixed dishes. You can even make delicious desserts like apple crisp or peach cobbler in your slow cooker. (Some moms even have more than one slow cooker, so they can have both dinner and dessert cooking at the same time!)
You can set everything up with just a few minutes of prep time in the morning and leave to go to work for the day. By the time you come home, you're greeted by the delightful smell of a fully cooked fresh meal already waiting for you.
But where the crockpot really shines is when it comes to slow cooking large cuts of meat. Slow cooker ribs are a perfect example of this. Lots of other cuts of meat are great in the slow cooker, too. A beef roast or pork roast comes to mind. Beef stew is also delicious and filling.
Want to have barbecue ribs at any time of the year? You don't have to wait until next summer to use the grill again. Get out your slow cooker and come home to a great, hearty meal!
If you enjoyed this recipe, make sure to check out our Maple Pecan Pork Chops and our Pork Chops Devine.
Print
Crock Pot Barbecue Ribs Recipe
---
Author:

Total Time:

6 hours 15 minutes
Description
Making barbecue ribs in a crockpot is about as easy as it gets. You just pour the sauce over the ribs, set the crockpot for slow or fast cook time, and forget about them until it's time to eat.
---
Vegetable oil for cooking

3

cloves garlic, minced

1 1/4 cup

ketchup

1 1/4 cup

packed brown sugar

3 Tablespoons

Worcestershire sauce

1 1/2 Tablespoons

hot pepper sauce, or to taste

3/4 teaspoon

chili powder

2

racks pork baby back ribs, cut into

3

to

4

rib sections
---
Instructions
Heat oil in skillet over medium heat until hot.
Add ogarlic. Cook and stir until softened and lightly browned.
Stir in ketchup, brown sugar, Worcestershire sauce, hot sauce and chili powder.
Simmer gently about 5 minutes. Remove half of sauce and reserve.
Transfer remaining sauce to slow cooker. Add ribs, stirring well to coat.
Cover; cook on LOW 7 to 9 hours or on HIGH 4 to 6 hours.
To serve, cut ribs between bones and brush with reserved sauce.
Prep Time:

15 Minutes

Cook Time:

6 Hours

Category:

Main Course

Method:

Slow Cooking

Cuisine:

American
Keywords: easy crock pot barbecue ribs, slow cooker ribs