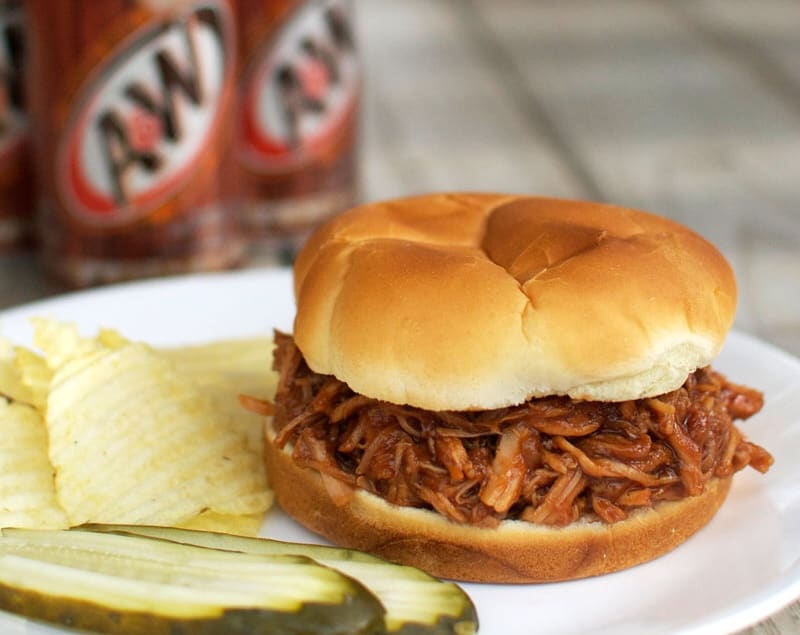 Root Beer Pulled Pork Sandwiches
Let's Get Ready for Baby!
Sign up for our monthly pregnancy email series, and you'll get regular updates on your baby's development, helpful timelines to get ready for their arrival, must-have baby needs and so much more! PLUS, you'll get instant access to the MomsWhoThink "Ultimate Guide to Baby Naming in 2022."
CLICK HERE
to get started!
Pulled pork is the type of recipe crock pots were made for. Slow cooking allows the meat to soak up every bit of flavor in this recipe; from the sweet brown sugar to the bold root beer, everything combines to make delicious, tender, savory, melt in your mouth sandwiches. Keep extra napkins handy, you'll want to have extra sauce in each bite.
Ingredients:
1 2½– to 3-pound pork sirloin roast
Salt and pepper to taste
1 tablespoon cooking oil
2 medium onions, cut into thin wedges
1 cup root beer*
6 cloves garlic, minced
Sauce ingredients:
3 cups root beer*
1 cup tomato sauce
¼ cup brown sugar
2 tablespoons vinegar
¼ teaspoon cinnamon
1 dash ground cloves
1 dash allspice
8 to 10 hamburger buns, split (toasted, if desired)
Lettuce leaves and tomato slices (optional)
Directions:
1. Trim fat from meat. If necessary, cut meat to fit into a 3½– to 5-quart slow cooker.
2. Sprinkle meat with salt and pepper; rub in. In a large non-stick skillet brown meat on all sides in hot oil. Drain off fat.
3. Transfer meat to slow cooker. Add onion, the 1 cup root beer, and garlic.
4. Cover and cook on low-heat setting for 8 to 10 hours or on high-heat setting for 4 to 5 hours.
5. Meanwhile, for sauce, whisk together sauce ingredients in a saucepan. Bring to a boil; reduce heat. Simmer, uncovered, stirring occasionally, about 30 minutes or until mixture is reduced to 2 cups.
6. Transfer meat to a cutting board or serving platter. Using two forks, pull meat apart into shreds.
7. Using a slotted spoon, transfer onion to serving platter; discard cooking juices. If desired, line buns with lettuce leaves and tomato slices.
8. Place shredded meat and onion on rolls. Drizzle meat with some of the root beer sauce.
*Do not use diet root beer
You might also like: