San Antonio, Texas has a great many things to see and do. From historical parks, the Alamo, a trip to Six Flags, or the art museum, you'll need to stop and eat to keep your energy up. For the best places to eat in San Antonio, look no further than this list. We'll round up the best recommendations from travel sites, and locals alike. From New American cuisine to classic Mexican, there are some incredible barbecue spots, a smokehouse, and fine dining spots as well. The roots of San Antonio are connected to a great many cultures (via Visit San Antonio). With cultural influences from parts of Mexico, Germany, Ireland, and numerous others, the food scene of San Antonio is a great one. Wherever you decide to go on this list, you're sure to have a lovely meal. 
Read on to learn about some of the best places to eat in San Antonio today. Whether you're craving classic barbecue, traditional Japanese cuisine, or nuanced American, San Antonio's got you covered. You'll learn about their menus, price points, and a bit about the restaurant. On your next trip to San Antonio, you'll be able to book your table ahead of time. Let's get into it. 
Clementine
2195 NW Military Hwy, San Antonio, TX 78213
Clementine is described as a "globally inspired restaurant." Co-owned by chefs John, and Elise Russ, this restaurant emphasizes sustainability, and fair workforce practices as part of their mission. John was up for the 2023 James Beard category for regional best chef and comes from a culinary background. Elise, their pastry chef, is a member of San Antonio's chapter of Les Dames d'Escoffier International. Combining their culinary skills has resulted in this gem of the dining scene. Let's take a look at the menu.
Guests have the option to partake in the chef's choice dining experience. It starts at $81 per person, served family style. Otherwise, their a la carte menu features dishes like hush puppies with labneh ($16), smoked bacon flame tart with bechamel ($16), and country-fried quail with charred eggplant mayo ($23). There are a number of charcuterie and vegetable appetizers and platters like king salmon with chickpea panisse ($36), camomile brined chicken ($38), seared beef in bordelaise sauce (market price), and octopus with 'nduja butter ($40). Leave room for the clementine crunch bar with chocolate mousse ($17), coffee créme brûlée ($17), and other seasonal menu items, well worth checking out.
Cured
306 Pearl Pkwy UNIT 101, San Antonio, TX 78215
Cured showcases the best of local San Antonio ingredients. Its menu is New American focused, with emphasis on organic, and hand-cured meats and pickled vegetables. Enjoy delicious food in the renovated restaurant located in the 1904 Pearl Administration Building. They received a James Beard Award nomination in 2022, as well as a "Smart Catch" award through the same organization. Cure was featured on the list of 100 good food restaurants in 2021. This is a true staple of the San Antonio food scene and no doubt one of the best places to eat in San Antonio. Check out their sister restaurant, Landrace. So, what's on the menu at Cured?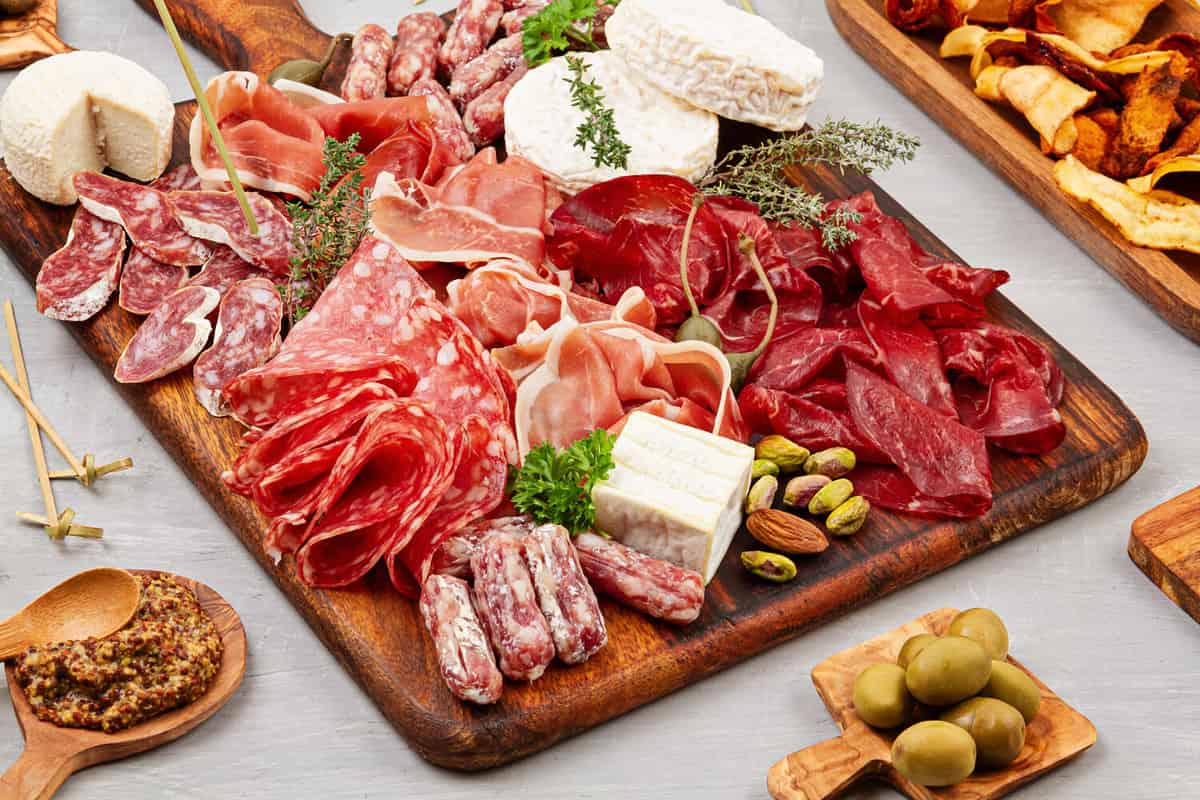 Enjoy sharing plates like fresh cheese platters or charcuterie boards (between $34-$65). All boards can be modified. Try additions like house-made sausage, cotechino, pork belly, jamon, and mussels in olive oil (between $7-$25). There are seasonal salads, and warm appetizers like fried chicken livers in apricot pepper jelly ($15), boudin empanadas ($16), and heritage hog fried poutine ($19). Mains include mesquite smoked chicken with hominy ($22), beer can pei mussels with whipped aioli ($40), king salmon ($45), and steak frites with bordeliase ($45). There's also a 45-day dry-aged strip for $125. Desserts feature doughnut bread pudding, and soft-served icecream with plum wine ($5-$9).
Maverick Texas Brasserie
710 S St Mary's St, San Antonio, TX 78205
This French-inspired restaurant combines Southern cooking with fine dining. The Maverick Texas Brasserie offers a step into the classic French brasserie. They offer plat du jour, numerous cocktails, and weekend brunch, alongside dinner. Start off with gougére baked cheese puffs ($12), truffle gnocchi ($17), escargot ($16), and mushroom paté with frisée ($18). There's foie gras with sour cherry jam ($29), beef tartare ($22), and charcuterie boards ($20/$35). Plats du jour cost $35, and the mains include mussels in saffron white wine cream sauce ($24), pan-seared trout ($24), and duck leg cassoulet ($29). Try their beef tenderloin with blue cheese gnocchi ($43), and seafood platters between $49-$79 USD.
Curry Boys BBQ
536 E Courtland Pl, San Antonio, TX 78212
Find the Curry Boys BBQ in a bright pink building! This window-service eatery offers an Asian twist on the classic barbecue experience. And, while it's not on the fine dining portion of this list, it is recommended as one of the best places to eat in San Antonio. The Curry Boys combines the bold flavor of curry with the savory traditional BBQ recipes integral to Texas BBQ, served over rice.
Let's take a look at the offerings. Start with shareable dishes like pulled pork nachos ($11.95), smoked edamame in sweet Thai sauce ($6.95), and curry queso with chips ($7.95). Pick from bowls with brisket and green curry ($14.50), smoked chicken in yellow curry ($11.95), and smoked pork with Penang curry ($11.95). There's a vegetable option, as well as a curry queso hot dog ($7.50), cold chili garlic noodles ($4.95), and a sweet flan with cold brew coffee and whipped cream for $5.50. For being one of the best places to eat in San Antonio, it's also one of the most affordable options.
Niki's Tokyo Inn
819 W Hildebrand Ave, San Antonio, TX 78212
This family-run Japanese eatery in the Edison neighborhood is a must-try in San Antonio, Texas. Recommended by Eater Magazine, Niki's Tokyo Inn has been open since 1970. Enjoy their offerings of traditional sashimi, maki, and nigiri sushi. There's also pork katsu, warm udon, and yakisoba noodles. Take your place at the indoor bar to watch the sushi being made, or take a seat on the floor as you eat.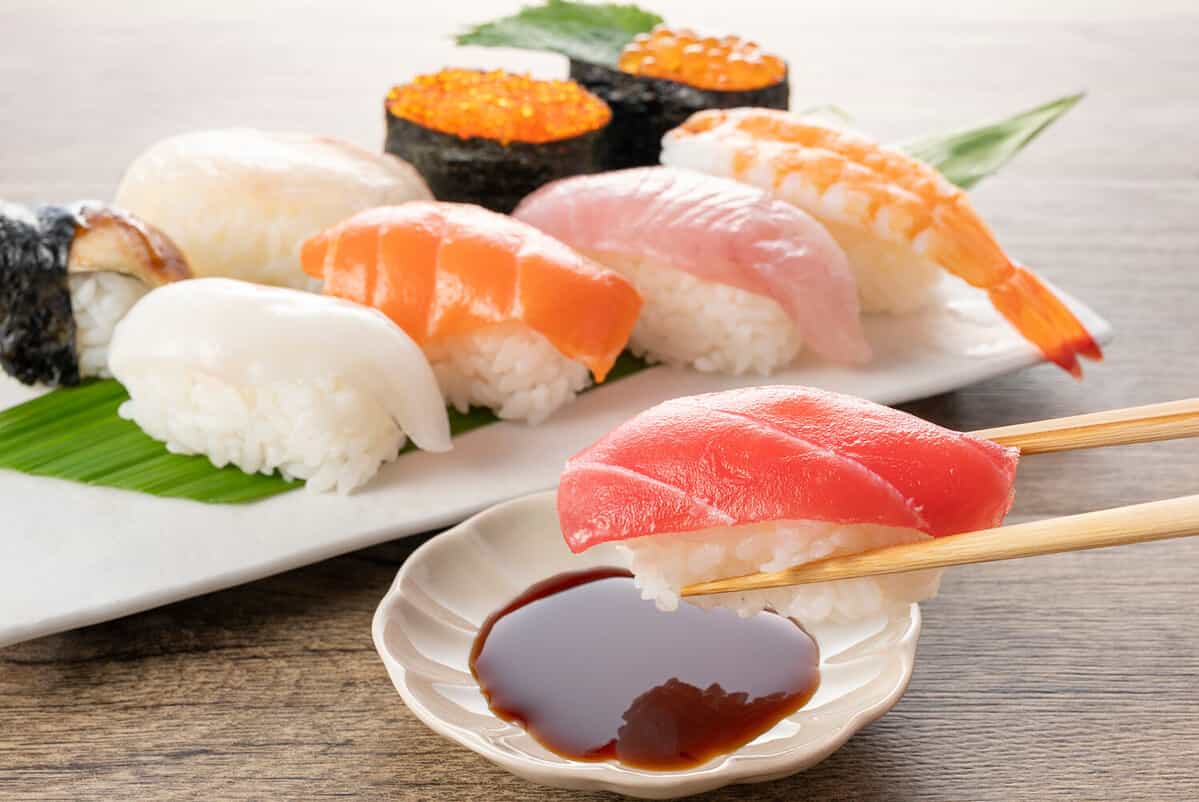 Carnitas Lonja
1107 Roosevelt Ave STE B, San Antonio, TX 78210
For some classic, delicious Mexican food, try out Carnitas Lonja in San Antonio. Their special dish features Michoacán, freshly made carnitas with daily ingredients and local produce. Enjoy classic tacos, with freshly made fillings, as well as tortas and quesadillas. There's fresh octopus, ceviche, and shrimp. Enjoy these as fish cocktails, or in tacos. Everything on the menu costs between $4-$14 USD, and there are lots of sides including guacamole, chorizo, and freshly made frijoles.

Southerleigh Fine Food And Brewery
136 E Grayson St Suite 120, San Antonio, TX 78215
Southerleigh Fine Food And Brewery is located within the historic Pearl brewhouse of San Antonio. The team is led by local Chef Jeff Balfour, showcasing the best of classic Texas cuisine with nuanced culinary techniques. Pair your meal with 15 different house-brewed drafts as part of the fine dining experience.
Start off with shared appetizers including snapper throats with celery root ($19), fried calamari ($17), and beef carpaccio ($16). Try 3 pieces or 12 pieces of Southerleigh's deviled eggs with bacon jam ($10/$36), enjoy a wood-fired pretzel with beer cheese ($10), and classic cornbread ($8). Soups include shrimp bisque, and mushroom strew with cognac (both for $14). There are seasonal salads, and all kinds of roasted sides including beer-braised carrots, fingerling potatoes, and jalepeño grits ($8-$13). Try iced shrimp, and chef's oysters ($36-$211).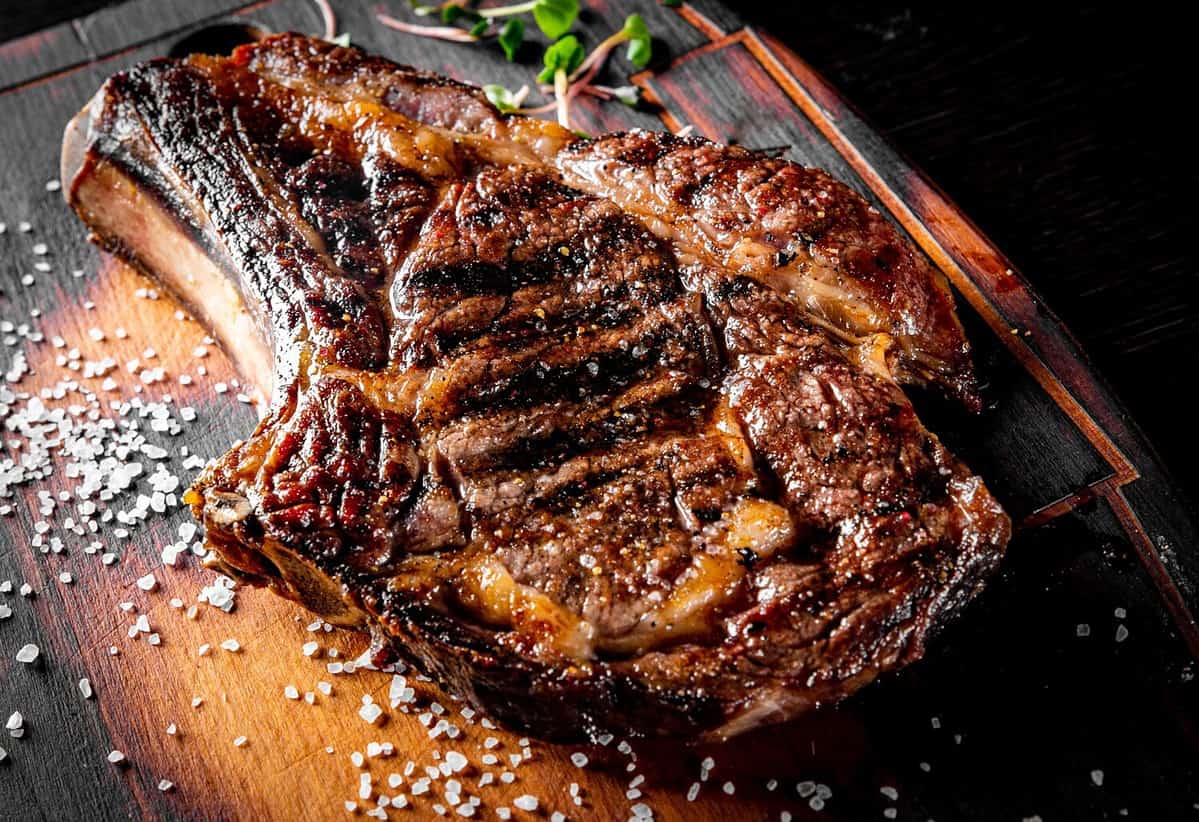 Mains include Southerleigh's Famous Fried Chicken ($25), grilled ribeye ($56), Nilgai antelope ($53), scallop and ham risotto ($36), grilled kampachi ($30), and the house burger with bacon jam ($18). End on a sweet note with three-layer carrot cake, chocolate tart, coconut and key lime pie, and pineapple upside-down cake with red cherry syrup (all for $9).
The image featured at the top of this post is ©f11photo/Shutterstock.com.