Are you and your family planning to travel to San Antonio? In a city known for the Battle of the Alamo, the beautiful and scenic River Walk, and its essence of Spanish colonial architecture, San Antonio is full of tourist attractions that deserve a visit. San Antonio has also been ranked as the 5th most family-friendly city in the nation according to MySanAntonio.com, which makes it an excellent and popular place to travel with kids.
From outdoor adventures to educational attractions, you can find something for everyone in this historic and beautiful city. Museums, parks, and activities provide fun and entertainment for all. Here are 14 of the best things for kids to do in San Antonio, Texas.
Outdoor Adventures
San Antonio's generally mild weather allows for an incredible amount of outdoor activities. From animal sightseeing at the San Antonio Zoo to the Six Flags amusement park, there are plenty of ways to get outside when visiting this city. If you're looking to enjoy some fresh air and entertainment, here are some of the best outdoor adventures you and your family can enjoy in San Antonio.
San Antonio Zoo
No matter what time of year you travel to San Antonio, the zoo is always open. According to the San Antonio Zoo's website, more than a million people visit each year, and it's owned and operated by the San Antonio Zoological Society. Their mission is to focus on love, engagement, action, and protection. Additionally, experiences at the zoo include giraffe feeding, the zoo train, a carousel, a 4D theater, and a butterfly landing to name a few. Kids young and old can enjoy numerous activities at the San Antonio Zoo.
San Antonio Botanical Garden
If you're looking to experience the beauty of plants and enjoy a scenic walk, be sure to check out the San Antonio Botanical Garden. Known for its impressive displays and educational opportunities, the Botanical Garden has everything from special events to live music and classes that serve both adults and children. It also has special events and exhibits including Summer Nights in the Garden and Lush: Twilight in the Garden. Visitors can stop by the gift shop or dine at Jardin, an on-site restaurant, as well.
Natural Bridge Caverns
Take your family trip underground with a visit to the Natural Bridge Caverns in San Antonio. Open daily, these caverns offer numerous different tours and activities for families, including the Mining Company where kids can mine and pan for fossils and gems. There are also six different tours/experiences available underground as well as above-ground adventures like the Twisted Trails Zip Rails and Ropes Course. Enjoy the wonder of underground caves at the Natural Bridge Caverns.
SeaWorld San Antonio
Are you looking for hands-on and unique animal experiences? SeaWorld San Antonio has it all! From their famous orca encounters to penguin interactions, SeaWorld has something for everyone and makes for a unique stop during your visit. Additionally, families can book a vacation package through the company's website. Package deals can include admission to the Aquatica (that we'll visit in a moment) which sits right next to SeaWorld.
Aquatica
While SeaWorld is known for its animal experiences, its next-door neighbor, the Aquatica, is home to water rides and pools. The Aquatica offers thrilling water slides, cabanas by the pool, and Kata's Kookaburra Cove, a splash pad area for littles. The park also features a wave pool, a lazy river, and a separate pool for families with toddlers, along with all-day dining options.
Six Flags Fiesta Texas
If an amusement park is on your list of things to do while visiting San Antonio, be sure to check out Six Flags Fiesta Texas. From rides to shopping, entertainment, and restaurants, Six Flags has you covered. There's even a section of the park dedicated to smaller children that features a smaller roller coaster and an old Western-themed Ferris wheel. This Six Flags location is also known for its festivals, concerts, and live entertainment that can be found within the park.
Morgan's Wonderland
Morgan's Wonderland is special to the state of Texas in that it's the world's first Ultra-Accessible theme park. The park, named after the owner's daughter, was designed for those with special needs but has something for everyone to enjoy on its 25-acre location. From catch-and-release fishing to wheelchair swings, a carousel, and the Wonderland Express train, Morgan's Wonderland is one-of-a-kind. Their extensive attraction list shows why this park is well-known in San Antonio.
San Antonio River Walk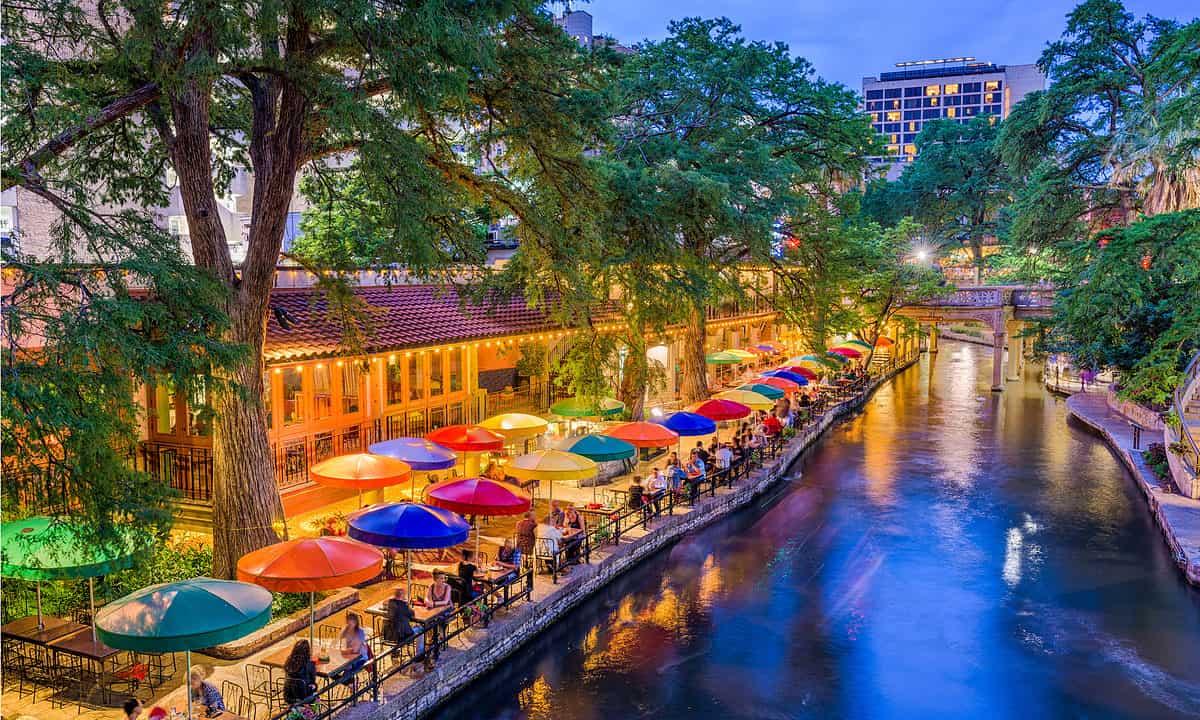 According to their website, the San Antonio River Walk is the number one attraction in the state of Texas. It's easy to see why as this tourist attraction is more than just a stroll next to the San Antonio River. Located in the heart of downtown, the River Walk is home to numerous restaurants, hotels, and entertainment. This iconic walk is also covered with Cypress trees and is home to recreation spots that kids will love.
Hop-On Hop-Off Bus Tour
If you can't quite decide exactly what you want to see in San Antonio, be sure to check out the city's Hop-On Hop-Off Bus Tours. These excursions are exactly what they sound like. As the bus stops at numerous points throughout the city, you can hop off to check out the surrounding area, then grab the next bus when it comes along and you're ready to see something new. Some tour options even include a River Walk cruise.
Educational Experiences
While outdoor adventures give everyone in the family a chance to burn off some energy and enjoy some fresh air and sunlight, San Antonio also has several indoor educational activities to choose from. Here are a few ways to spend your time indoors in this historic city.
Magik Theatre
Are you looking to take in a show or send your kiddo to a theater class? Look no further than the Magik Theater in San Antonio. The theater is located downtown in historic Hemisfair Park and has been in operation since 1994. The Board of Directors puts a large focus on educating the next generation and therefore creates storytelling experiences for children. Additionally, the theater features 594 seats so there's room for everyone to enjoy the experience at Magik Theater.
The DoSeum
The DoSeum is San Antonio's well-known museum for kids. Instead of calling itself a "children's museum," the DoSeum focuses on the power of play and hands-on experiences. Exhibits include the Semmes Foundation Spy Academy, Innovation Station, Little Town, and Force Course to name a few. Other camps, do-at-home projects, and experiences are also featured at the DoSeum. There's something for everyone to enjoy with this interactive museum's plethora of activities.
San Antonio Aquarium
While SeaWorld offers an outdoor experience, the San Antonio Aquarium offers interactive indoor adventures for the whole family to enjoy. The aquarium features more than just sea creatures as well with thousands of species on display including sloths, lemurs, and other mammals. Visitors can also experience interactive activities like feeding fish and other animals. Additionally, for an extra fee, you can snorkel with the stingrays and sharks, making the aquarium and fully immersive experience.
LEGOLAND Discovery Center
If you're looking to get creative, be sure to check out the LEGOLAND Discovery Center while in San Antonio. This interactive educational facility offers more than just Lego building. With attractions like Kingdom Quest, LEGO Cinema, Merlin's Apprentice Ride, and LEGO City Play Zone, there's something for everyone to enjoy here.
The Alamo
Last, but certainly not least, is San Antonio's most famous attraction: The Alamo. This historic location is now open to tours, exhibits, and living history events that demonstrate what life was like in the 1830s. While you can enjoy a self-guided tour of this iconic attraction, a guided tour offers more in-depth information and includes entry into the Alamo Church and the Alamo exhibit at the Ralston Family Collections Center. When you visit San Antonio, don't forget to explore the history-rich Alamo.
Planning a family trip to San Antonio?
San Antonio is a beautiful and historic city that's known for the River Walk and the Battle of the Alamo. But there are also a lot of fun things for kids to do in this iconic city. From outdoor adventures to indoor educational experiences, San Antonio has something for everyone to enjoy!
The image featured at the top of this post is ©Sean Pavone/Shutterstock.com.