Austin, Texas, is an amazing city with plenty of things to do, ranging from live music to University of Texas sporting events. It's also a super family-friendly town with activities like the Thinkery, the Austin Zoo, and Zilker Park. But one of the best things about living in Austin is that even when you run out of things to do there, dozens of fantastic Lone Star State day trips are right at your fingertips. Here are 10 of our favorite day trips from Austin, all less than a two-hour drive.
Palmetto State Park
Located about an hour from Austin in Gonzales County, Palmetto State Park sits on over 270 beautiful acres that feel and look like a tropical rain forest in some spots. It's a beloved park for swimming, fishing, tubing, canoeing, kayaking, and other water sports along the San Marcos River.
There are also barbecue pits and picnic tables located here. You may even spot some wildlife during your visit. The park is home to deer, armadillos, hawks, raccoons, and a variety of interesting birds that often attract bird watchers and wildlife photographers.
Dripping Springs
Speaking of beautiful scenery, you can be in Dripping Springs from Austin in less than 45 minutes (depending on traffic). Known as the "Gateway to the Hill Country," the rural town has plenty to offer visitors of all ages.
The Hamilton Pool Preserve is one of the most beloved attractions. The grotto and waterfall are both Instagram-worthy and a great place to cool down on a hot Texas summer day. Go back in time with a visit to Historic Mercer Street, and for the grownups, the area is home to multiple vineyards and brewpubs.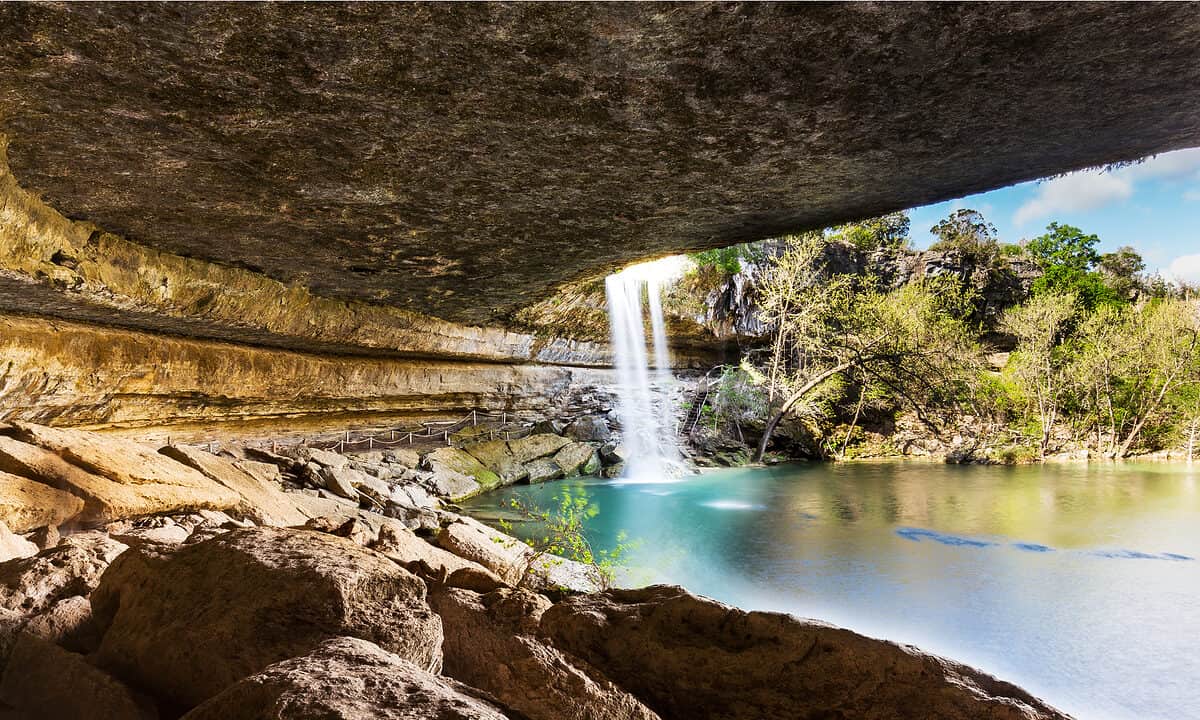 Johnson City
Johnson City, known as the hometown of President Lyndon B. Johnson, is about an hour and 15 minutes west of Austin. As you might imagine, you can get a huge dose of history and education here when visiting the various historic sites dedicated to Johnson's life, like his childhood home and the ranch that was owned by his great-grandfather during the 1800s. There's also a museum and a living history farm.
After all of that learning, you'll want to head to Main Street, where you can shop at charming antique shops and boutiques. Before you head home, grab a bite to eat at Pecan Street Brewing, Bryan's on 290, or Lady Bird Lane Cafe.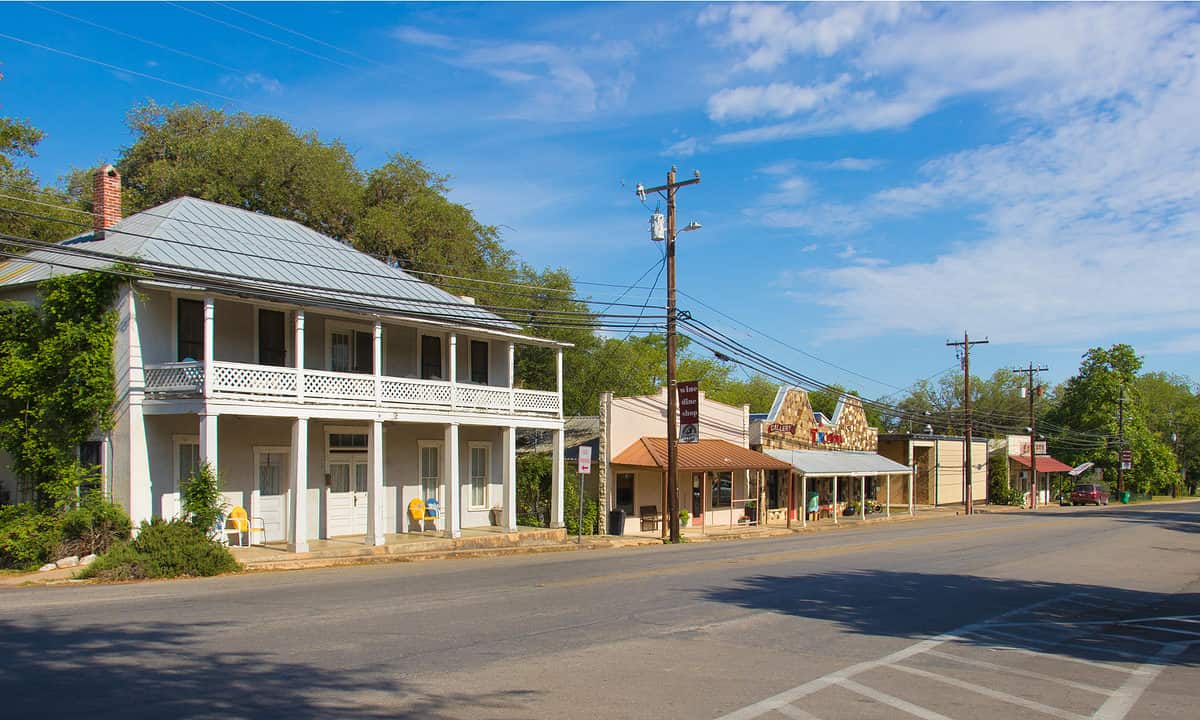 San Antonio
You may not realize it, but San Antonio is just under two hours away from Austin. Ranked as one of the family-friendliest cities in the United States, there's so much to do that you might want to stick around for a few days.
River Walk is one of the city's main attractions. At 15 miles, this pedestrian park is not just a historic site, but the best place to get a dose of modern San Antonio culture. Dine at favorite spots like Boudro's, Casa Rio, and Acenar, where you'll enjoy some of the finest Tex-Mex food in the area. River Walk also connects to some other major city attractions, like the Shops at Rivercenter, San Antonio Museum of Art, and HemisFair Park.
If you're looking for something educational to do, visit The Alamo while you're in San Antonio or take your kids to the hands-on STEM museum The DoSeum. You can also take a river cruise or enjoy a day of adventure at Six Flags Fiesta Texas.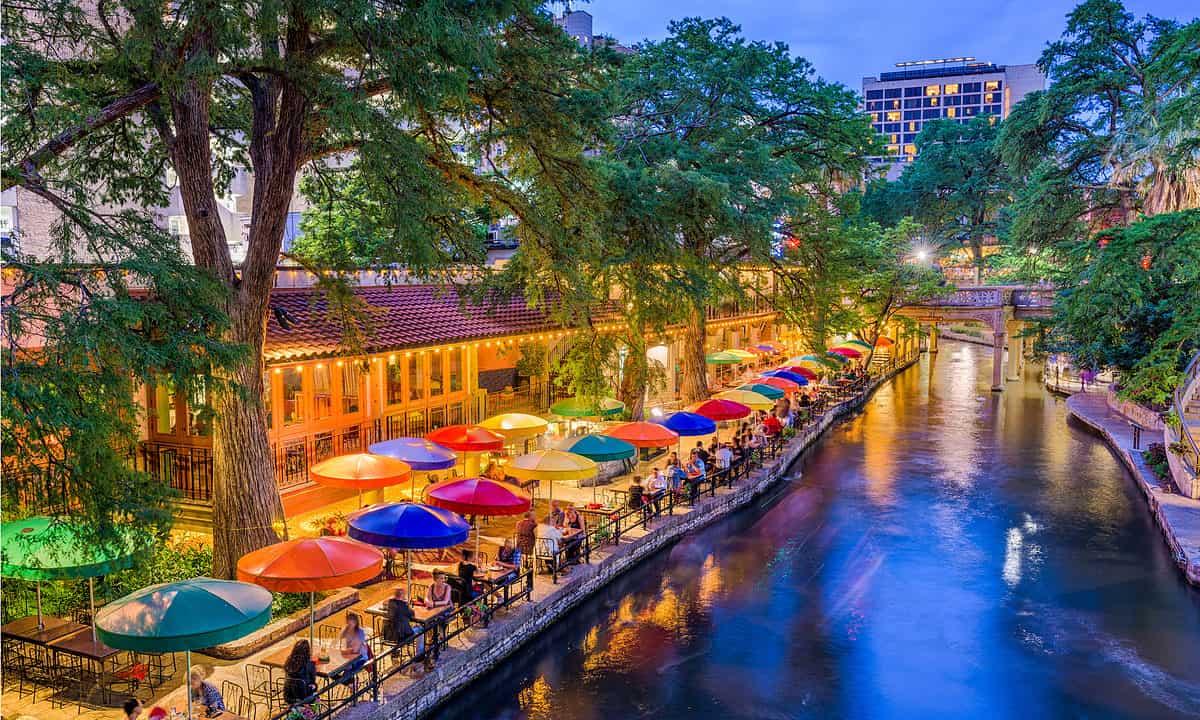 Fredericksburg
Day trips from Austin to Fredericksburg may take just under two hours to get there, but it's well worth the drive. The city is known for its German culture, as well as its wineries, but there's plenty for the entire family to do as well.
The picturesque town's Main Street is a great place to shop, dine, or just go for a walk and soak up the local architecture and Hill Country scenery. Kids and grownups alike will enjoy a visit to the National Museum of the Pacific War, which is filled with old planes and cool war exhibits. The area is also home to the Enchanted Rock State Natural Area, a fun place for hiking, camping, rock climbing, and outdoor adventures.
Inks Lake State Park
You can take several day trips to state parks in Texas, but few are as fun as Inks Lake State Park. Located about an hour and a half from Austin, the park sits on 1,200 scenic acres. The beautiful blue lake is a favorite spot for a swim, but it's also a great spot for fishing, boating, water skiing, canoeing, paddle boating, and even scuba diving.
If you prefer to stay on dry land, explore the over nine miles of hiking trails, go bird watching, play volleyball, geocache, or enjoy a picnic at one of the park's pavilions. Inks Lake State Park is also a great site for camping if you want to stay the night.
New Braunfels
The city of New Braunfels is just over an hour away from Austin, and it's packed with a vibrant culture, outdoor adventures galore, and amazing food. There's the charming Gruene Historic District where you can shop and dine until your heart is content. Both the Guadalupe and Comal Rivers run through New Braunfels, and it's a beloved spot for tubing.
The 70-acre Schlitterbahn Waterpark is another place to cool off during the summer, and be sure to take the kids to the Animal World and Snake Farm Zoo or the McKenna Children's Museum while you're in town for a fun-filled family day.
Lake Travis
Lake Travis is said to be the most-visited freshwater recreation spot in Texas, and the good news is that it's only 45 minutes from Austin. Of course, outdoor adventures galore await. Visitors can swim, hike, or enjoy a picnic. You can also rent everything from a kayak to a pontoon boat and spend a day out on the water. For the kids, there are four water parks at Lake Travis and ziplining is available too.
In addition to the adventures you can have on the lake, there is plenty to do on the shore as well. The Lake Travis area has several marinas and entertainment spots with bowling, pubs, restaurants, shops, and seasonal activities, like 4th of July fireworks.
Waco
Thanks to Magnolia Market, the city of Waco has become a bustling tourist attraction and a great spot for quick day trips in Texas. It's just about two hours north of Austin. At Magnolia, you can shop until your heart is content and enjoy a bite to eat at Magnolia Table, Magnolia Press, or Silos Baking Co. You can also attend regular events, like concerts and workshops.
But there's more to Waco than Magnolia. Take in a sporting event at Baylor University, or visit Cameron Park where you'll find over 20 miles of hiking trails, a disc golf course, and playgrounds. The 52-acre Cameron Park zoo is home to over 1,700 cool animals. There are also several unique museums in Waco, like the Dr. Pepper Museum and the Texas Ranger Hall of Fame and Museum. Last but not least, stop by the Waco Mammoth National Monument archeology site for an educational experience you won't find anywhere else in the country.
San Marcos
On most days, you can be in San Marcos from Austin in just under an hour. Considered to be one of the oldest cities in the entire country, it sits along the San Marcos and Blanco Rivers, so as you can imagine, there are unlimited opportunities for water sports, like swimming and tubing.
San Marcos is a college town — it's home to Texas State University — so sporting events and a tour of the gorgeous campus architecture are always on the agenda. There's also the LBJ Museum, glass-bottom boat tours, and the Wonder World Cave & Adventure Park. Shop until you drop at San Marcos Outlets, and finish the day at one of the city's most beloved restaurants. Some local favorites are The Root Cellar Cafe, Herbert's Taco Hut, and Black's BBQ.
Each of these day trips from Austin offers something interesting and unique. Enjoy your travels!
YOU MAY ALSO LIKE: