Thanks to the Cherry Blossom Festival and other events, Philadelphia offers fun activities all year round. The Reading Terminal Market is the best place to find unique and specialty ingredients. Chefs come from all across the country to shop here and visit some of the market's restaurants. There are only so many times you can visit the Liberty Bell and explore parks though, which is why you should take a look at the best day trips from Philadelphia. These destinations let you explore Pennsylvania and other states.
Lancaster County, PA
Located just over an hour from Philadelphia, day trips to Lancaster County let you learn more about the Amish. This Pennsylvania county is one of the largest communities of Amish in the world. The Amish Farm and House is a large farm run by the Amish that is open to the public. You can take a tour of the farm and enjoy fun activities. Make sure you check out some of the authentic Dutch restaurants in the county, too.
Lancaster Central Market offers unique ingredients, some of which you never heard of before. You can also pick up ready-made and packaged dishes to enjoy on a picnic. At the Wolf Sanctuary of PA, you have the chance to get close to wolves via guided tours. Lancaster County also boasts the Strasburg Rail Road, which offers scenic tours, and Dutch Wonderland, which is the state's biggest amusement park.
New Hope, PA
Less than an hour away from Philadelphia, New Hope is a quiet and peaceful community. The New Hope Railroad makes it easy for visitors to explore the region with railroad tours that run for 18 miles. At the Washington Crossing Historic Park, you'll see the spot where President Washington crossed the river. Make sure you take advantage of one of the historic tours offered.
If you're looking for day trips for kids, consider hitting the Bucks County Children's Museum or Delaware Canal State Park. While the children's museum has hands-on activities designed for kids, the state park has a recreation path that lets you explore different wooded areas. You'll also find a pond and river. Another fun place to visit in New Hope is Bowman's Hill Wildflower Preserve, which has thousands of flowers scattered across more than 130 acres.
Doylestown, PA
It's easy to live in Philadelphia and never take the 45-minute drive to Doylestown. For fans of architecture and history though, this small town is well worth the trip. Henry Chapman Mercer worked as an artist and designed three amazing buildings influenced by European architecture, all of which you can still check out. Fonthill Castle dates back to 1910 and features many of the tiles from Mercer's private collection. The Mercer Museum has a charming feel and has hundreds of antiques on display.
Mercer spent a lot of time working in Doylestown and built the Moravian Pottery and Tile Works to produce some of his pieces. This tile factory still produces and ships tiles around the world. It also offers public tours. Once you're done with history, head over to Peace Valley Park. It has tons of fishing and boating spots along with some hiking trails.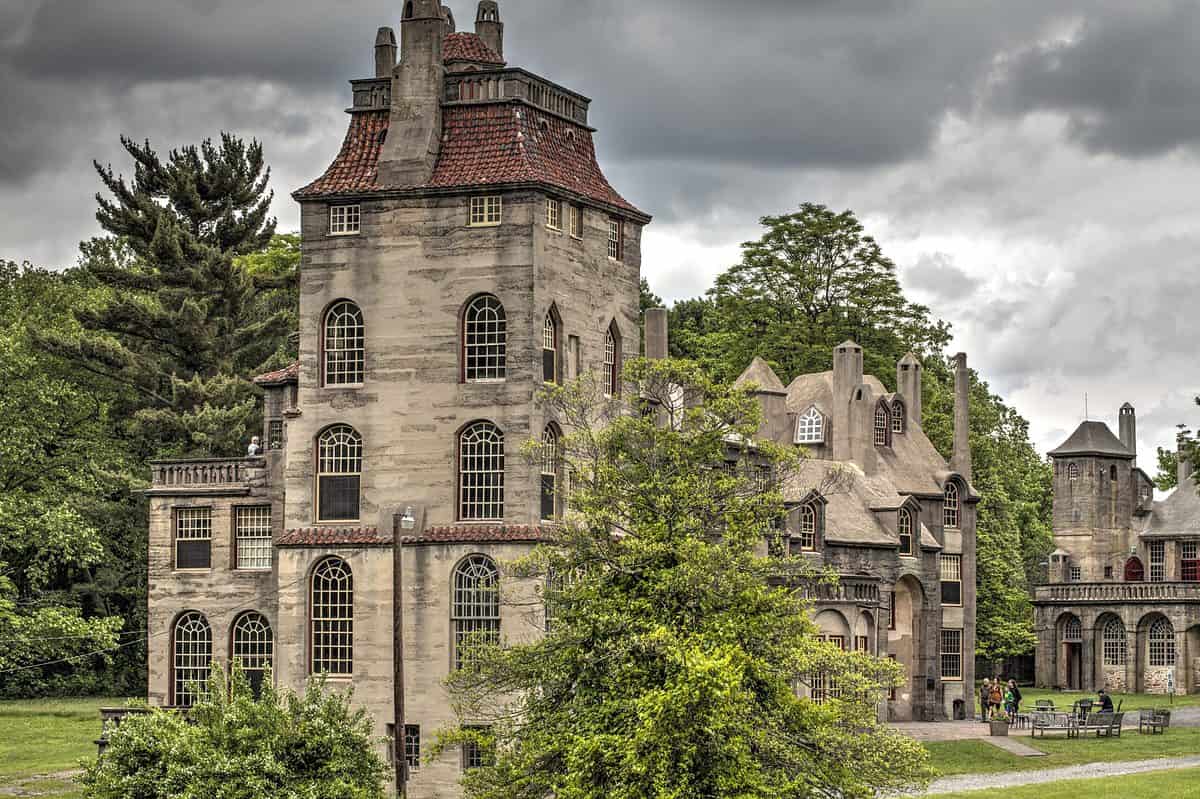 Washington, DC
Though it may feel like a world away, Washington, DC is less than 2.5 hours from Philadelphia. As the nation's capital, it should not surprise you that many of the top things to do here concern history. The Lincoln Memorial honors President Lincoln and is part of the National Mall. More than 24 million people visit the National Mall every year. You may want to visit other memorials like the Vietnam Veterans Memorial or the Washington Monument.
No matter what you love to do, you'll find a Smithsonian Museum that is right for you. The National Air and Space Museum is the best place to see early planes and important space artifacts, while the Smithsonian National Zoological Park is the nation's best zoo. You can also see the Hope Diamond and other artifacts in the National Museum of Natural History.
Lambertville, NJ
It takes less than an hour to reach Lambertville from Philadelphia. This New Jersey city has a quaint and small-town feel that appeals to those getting away from the city. During Shad Fest, people who love fishing hit the town to compete for one of the big prizes. Even if you visit after the festival, you'll find plenty of local fish on the menus of local restaurants.
The Farm Cooking School focuses on teaching students how to make delicious dishes from fresh ingredients. Though you do need to reserve a spot in advance, you'll learn how to make food your family and friends love. If you're not in the mood to cook, check out Liberty Hall Pizza or Lambertville Station Restaurant and Inn. Don't forget about all of the specialty shops in the city like The People's Store, which highlights goods created by Pennsylvanian artists.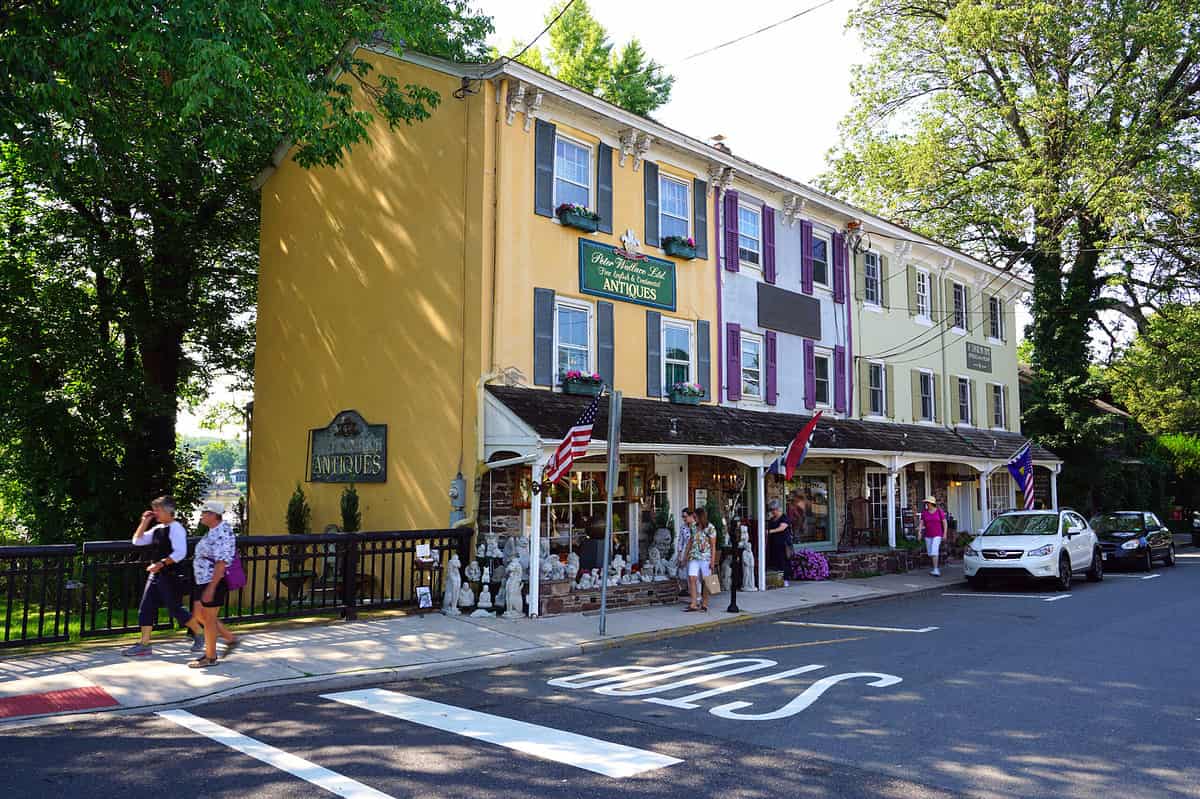 York, PA
If you love history, you'll love day trips like the one to York. Known as the Factory Capital of the World, York has tons of factories where you can take tours and learn about the products they make. The York Colonial Complex is home to some of the city's oldest buildings, including some that date back to the early days of the Continental Congress. There's also The Haines Shoe House, which is a small home that looks just like a shoe.
Taking the Harley-Davidson Factory Tour lets you see how the company makes all of its motorcycles. Fans of salty snacks might prefer the Martin's Potato Chip Factory Tour. Don't be surprised if you find yourself picking up a few bags to take home. Some of the top restaurants in York include Collusion Tap Works and Holy Hound Taproom.
New York City, NY
Popular day trips from Philadelphia take you to destinations like New York City. You can hop on the bus or take a train to The Big Apple. With so many things to see and do, you may want to head back often or spend a few days. You can head to Ellis Island to learn more about your family's history or check out the Statue of Liberty. The National September 11 Memorial and Museum has a sobering effect but is a spot that everyone should visit at least once.
Central Park is a huge zoo in the heart of NYC that boasts a long list of things to do, including relaxing in the Conservatory Garden and taking a rowboat trip across the lake. Many visitors also like seeing the Alice in Wonderland sculpture. Other places to visit on your NYC trip include the Metropolitan Museum of Art and the Empire State Building.
Cape May, NJ
Located around two hours away, Cape May is the perfect place to escape the city and commune with nature. Both dolphin and whale watching trips are available. These tours allow you to get close to some of the animals, but you should bring a jacket because the trips are often quite cold. The Cape May Lighthouse is a national landmark you can tour. Make sure you check out the museum inside.
With multiple beaches, Cape May helps you find the perfect one for what you want to do. While Sunset Beach is the ultimate spot to watch the sunset, Poverty Beach has tons of food stalls and restaurants. The Cape May Airport is home to the Naval Air Station Wildwood Aviation Museum. This museum has lots of planes and artifacts from World War II and lets you sit inside a real cockpit,
Jim Thorpe, PA
You might know the name Jim Thorpe because you remember he was an All-American. Day trips to the city named after him only take around 90 minutes when you leave Philadelphia. Though Thorpe wasn't a native resident, his burial spot is right outside of the city, which led to locals renaming the town in his honor. You can visit his grave to pay your respects before heading into the city.
Downtown features multiple restaurants with yummy food and stores that sell artwork along with souvenirs. Tommy's Subs and Stone Row Pub are a few local favorites. Don't be surprised if the Asa Packer Mansion Museum looks familiar to it because Disney used it as the basis for their parks' Haunted Mansion rides. Once you finish touring the historic mansion, head to the Old Jail Museum where you have the chance to see a few ghosts. The Lehigh Gorge State Park with its fishing spots and hiking trails is right outside of the city. Also close by is the Lehigh Gorge Scenic Railway.
When you live and work in Philadelphia every day, looking for day trips from the city helps you get away from it all. You can easily stay in Pennsylvania and choose a destination you can reach in an hour or less. When you expand your search, you can head into neighboring states like New Jersey and New York City. The top day trips from Philadelphia are perfect for couples, families, and anyone looking for something new to do.
YOU MAY ALSO LIKE:
The image featured at the top of this post is ©Gang Liu/Shutterstock.com.