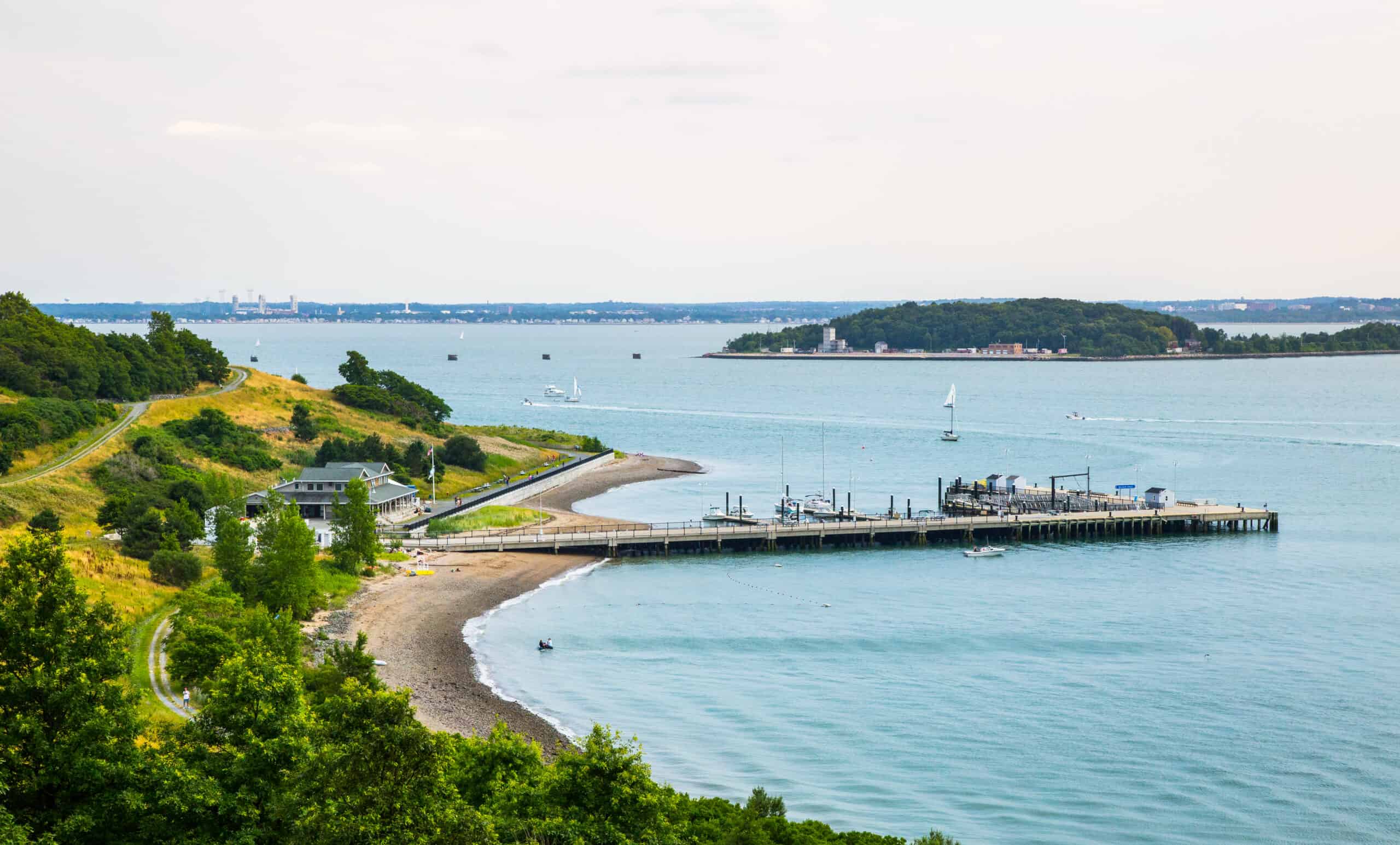 The beautiful city of Boston, Massachusetts is located right in the heart of New England, just along the coast. That means that you can take a short drive and be in almost any other state, numerous other cities in Massachusetts, or at a variety of beaches and state parks in two hours or less. That also means a lot of fun, family-friendly day trips from Boston if you happen to live there. Here are our favorites.
Cape Cod National Seashore
If your family is in the mood for a trip to the beach, then you must add Cape Cod National Seashore to your list of day trips to take this year. Just under two hours from Boston, the protected coastal area is one of the most beautiful beaches in the United States. It features 40 miles of white sand, but there's much more to do than swim and build sandcastles. There are hiking and biking trails for you to explore, and, of course, you can take part in water sports, like fishing, kayaking, and paddle boarding. There is plenty of wildlife to spot in the area, and you can check out the wild cranberry bogs. Don't forget to check out the Three Sisters Lighthouse while you're there and learn more about the area's history. Finish the day with a bonfire on the beach.
Westford, Massachusetts
Westford, Massachusetts is about an hour from Boston, and it's an awesome town to explore. The biggest attraction is probably The Butterfly Place, a nature center that focuses on, well, butterflies. The indoor exhibit is both fun and educational, as you'll learn about butterflies from all over the world. You'll also encounter koi fish and quail within the environment. Other things you can do in Westford include horseback riding at Bobby's Ranch, hiking at Nashoba Brook Wildlife Sanctuary, and games like mini golf and bumper boats at Kimball Farm. All great day trips should end with a meal, and in Westford, you'll find plenty of wonderful places to eat, like the kid-friendly 99 Restaurants or a local favorite, Burton's Grill & Bar.
Concord, Massachusetts
The town of Concord, Massachusetts is about 40 minutes from Boston, and it's rich with historical sites that every family should visit at least once in their lifetime. It was one of the first settlements in the United States, the setting for the first battle in the Revolutionary War, and it's been home to many famous writers, like Henry David Thoreau, Nathaniel Hawthorne, Louisa May Alcott, and Ralph Waldo Emerson. If you're looking for day trips that won't leave you feeling guilty for pulling the kids out of school, this is the one. Start with a trip to Minute Man National Historic Park, the 900-acre site where the American Revolution began. Next up, visit the infamous Walden Pond, which is now part of a state park. Literary buffs will also enjoy a trip to Louisa May Alcott's Orchard House, the place where she wrote "Little Women" and several other works. There there is the famous Sleepy Hollow Cemetary where notable people like Alcott, Thoreau, and Emerson are buried. Finish the day with a trip to the Concord Museum, which will help you piece together all the history you learned, and you can enjoy some other cool exhibits while you're there.
Kennebunkport, Maine
Many people know Kennebunkport, Maine as a place where presidents and world leaders spend their downtime. President George H. W. Bush spent his summers here, but it's also a charming little coastal town that's perfect for family-friendly day trips and weekend trips from Boston. It's just a two-hour drive away from the city. The town's beaches are said to be some of the prettiest in the state of Maine, but there is so much more to do here. Join First Chance Whale Watch for a trip out on the Atlantic Ocean to spot some of the most magnificent marine creatures you'll ever see in your lifetime. If you prefer to stay on dry land, Kennebunkport is also home to some fun museums and other activities. At the Kennebunkport Historical Society, you can visit the First Family Exhibit, which focuses on the Bush family. The Seashore Trolley Museum is also a local favorite. Kids will love riding on a vintage trolley across this 330-acre living history museum and park. Finish your day in town, shopping at some of the charming boutiques or enjoying fresh seafood at favorite eateries like Alisson's Restaurant or The Boathouse.
Salem, Massachusetts
Salem, Massachusetts is known best for the witch trials that took place there centuries ago. That gives the town a bit of a spooky reputation and makes it a great option for fall and Halloween day trips. Located about 40 minutes from Boston, it's worth visiting for the history alone, but there are some other fun things to do here as well. To learn more about the Salem Witch Trials and local history, consider visiting The Witch House for a tour, or check out the live reenactments at the Witch Dungeon Museum. You can also visit the House of Seven Gables, which was the subject of the book of the same name by Nathaniel Hawthorne. Today, it's a museum. If your kids behaved themselves all day, head to the Salem Willows Arcade and treat them to food and fun galore. The place serves seafood, pizza, sandwiches, and ice cream. The Bewitched After Dark Tour is considered a cant-miss event in Salem. The walking history tours take about two hours.
Wompatuck State Park
If your family enjoys day trips that involve the great outdoors, Boston is just under an hour from Wompatuck State Park. With over 3,526 acres of forests, ponds, and streams, you'll find there's much to see and do here. It's also a popular camping spot should you decide to stay overnight. Other activities here include biking, hiking, horseback riding, and boating, and during the winter, it's a great place for skiing and snowmobiles. The park features picnic areas, a boat launch, showers, and paved trails.
Spectacle Island
Spectacle Island is located in Boston Harbor. It'll take about a 30-minute drive, and a ferry ride to get there, and once you arrive, you will not be disappointed. The island sits on 114 acres and offers gorgeous views of the harbor. You can also explore its hiking trails, swim at the beach, fly kites, take tours, and enjoy a bite to eat from the snack carts. There's an event pavilion located on the island as well, so if you play your cards right, you might catch a concert.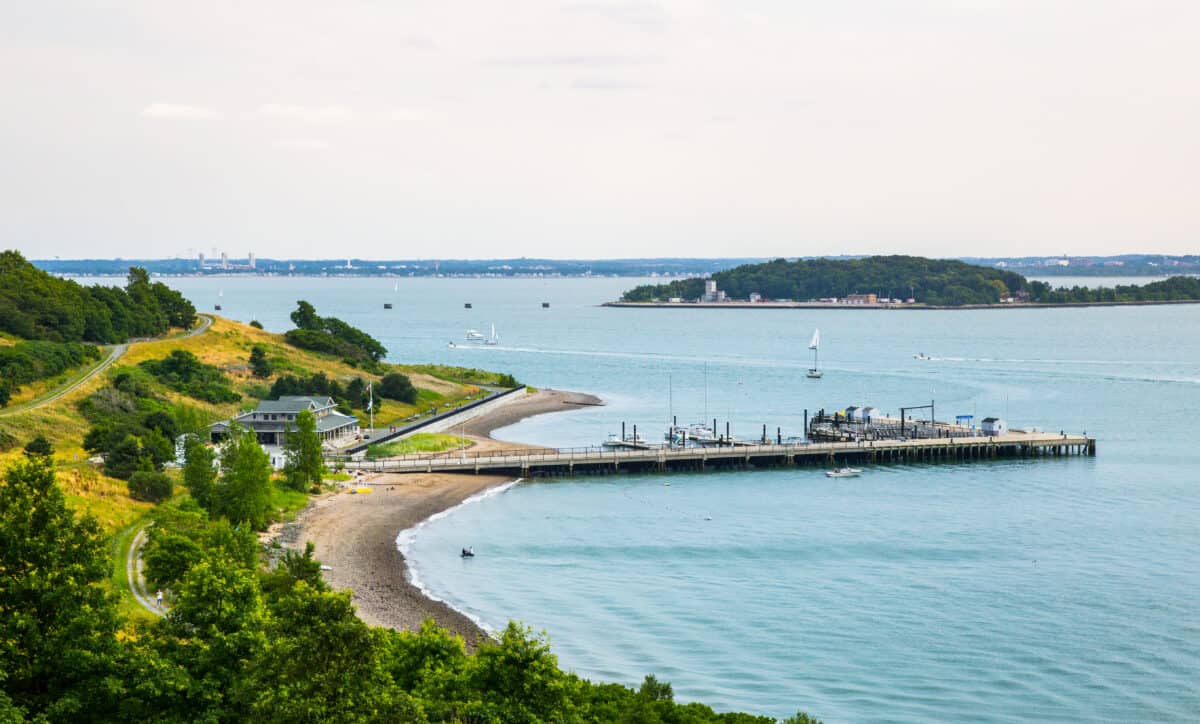 Plymouth, Massachusetts
Plymouth, Massachusetts is a town about an hour and 15 minutes south of Boston that sits along Cape Cod Bay. It's a great mix of coastal activities and an education in history with some great food thrown into the mix. Start with a trip to Pilgrim Memorial State Park, where you'll see the infamous Plymouth Rock, along with some other cool monuments and gorgeous scenic views. At the Plimoth Patuxet Museum, you'll see a real-size replica of the Mayflower, along with hundreds of exhibits and living history displays. It's like a step back in time. Learn even more and see artifacts from the Pilgrims and Native Americans at the Pilgrim Hall Museum. After all of that education, have some fun in the sun at Nelson Memorial Beach Park. This family-friendly spot has a splash pad, playground, picnic area, and bike path to enjoy, as well as the beach. Plymouth is also known for having some great places to eat. Enjoy fresh seafood at the waterfront East Bay Grille, or enjoy an award-winning burger at KKatie's Burger Bar.
Find more amazing family day trips from major U.S. cities here!