Seattle, WA, is a tourist attraction of its own. Residents who live here or nearby often prefer to take day trips that take them on short excursions about 2 1/2 hours away. Parents are often looking for fun day trips that their children will enjoy that are located within a few hours of Seattle. Read on for 10 exciting day trips from Seattle with a few attraction details for each destination.
1. Port Townsend
Port Townsend is an ideal spot for a family day trip. You can get to this fun destination by a ferry ride across the Puget Sound or opt for a longer drive around and access the area from Olympia and the Hood Canal.
A must-visit locale is the former military installation of Fort Worden which is now an intriguing state park. Kids love to run through this area using flashlights and pretending that they are soldiers protecting this collection of old batteries that provide plenty of climbing fun and adventures.
Drop in the nearby Marine Science Center with viewing tanks of marine life from spring until they are released in the fall. Plan to eat lunch at the Ajax Cafe situated in nearby Port Hadlock that boasts a wall of hats that kids can try. The menu offers local dish favorites and a variety of more traditional kids meal choices to provide fuel for their adventures. Stop at the eco-friendly Elevated Ice Cream & Candy Shop with delicious flavors then hit the candy store next door for a sweet treat before heading home.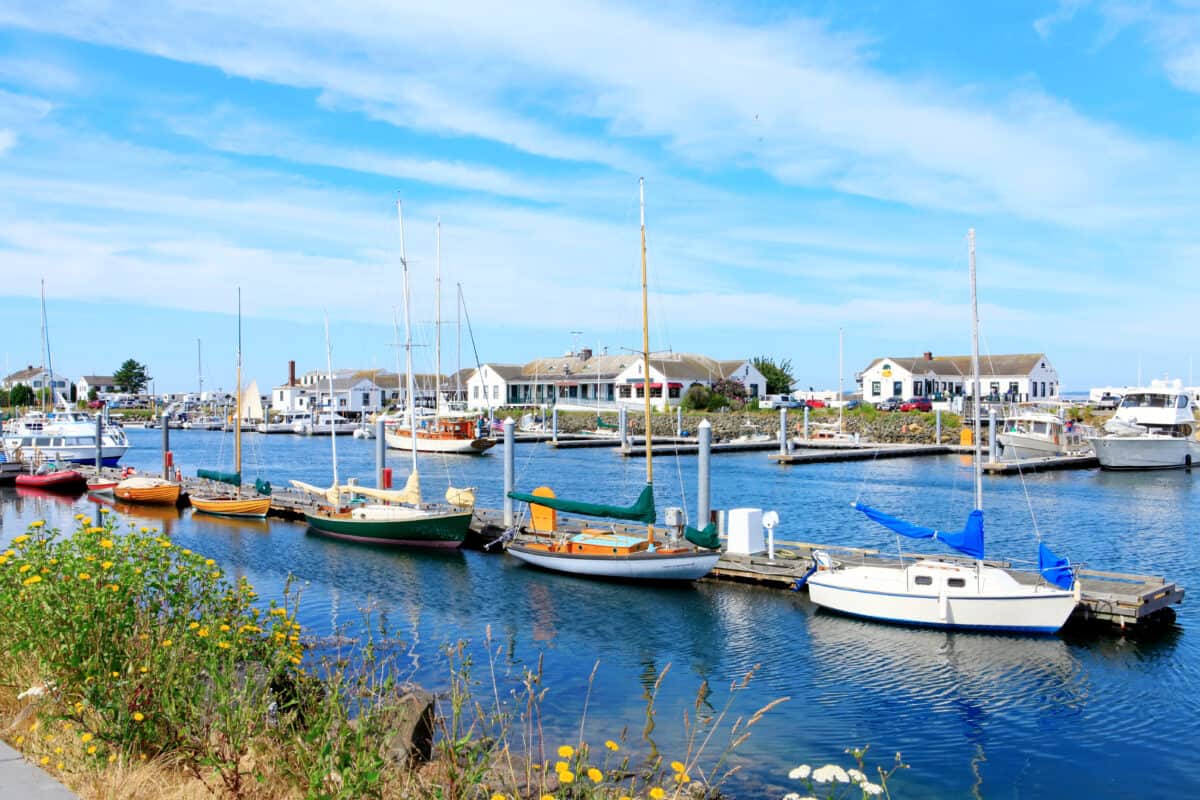 2. Great Wolf Lodge Located in Grand Mound
Another fun place for family adventures is Great Wolf Lodge situated in Grand Mound just 90 minutes from Seattle. There is a huge indoor water park that everyone in the family will enjoy. Kids and teens will love the ShadowQuest Game here which is interactive and offers a challenging pastime or take advantage of the mini golf setting with glow-in-the-dark fun.
Parents in need of some relaxation can undergo luxurious spa treatments on-site, and this destination also includes appropriate kid facials and other treatments for something different. This is a great calming activity to balance energy levels used when engaging in this region's more adventurous pursuits.
3. Iron Springs Resort in Copalis Beach
If you are looking for a family-friendly beach destination, many families head to the well-known and highly-rated Ocean Shores. However, there is another phenomenal beach locale just a bit north that is a truly spectacular Pacific Northwest beach option named Corpalis Beach. This is home to the fabulous Iron Springs Resort located just about 2 1/2 miles from Seattle.
There are quaint lodges available with amenities that include fireplaces with fully stocked kitchen cabinets that parents will find incredibly convenient. Bring along your beach attire and ample sunscreen along with sand buckets and shovels. You may be able to dig for seasonal clams that are prevalent here.
These cabins are situated on a shady bluff that overlooks the water and provides lots of opportunities for hiking in the woods. The nearby resort general store even stocks fun family board games that can be checked out. The resort also allows dogs.
4. Tacoma
Families searching for closer destinations, for their intended day trips, should head to Tacoma about a 40-minute drive from Seattle. This city is situated on Puget Sound and offers lots of kid-friendly tourist attractions such as the Washington State History Museum, the Museum of Glass, LeMay Americas Car Museum, and the Tacoma Art Museum.
Head to nearby Port Defiance to take advantage of the Port Defiance Zoo, tour the gorgeous gardens here, and relax on miles of pristine sandy beaches perfect for swimming and other water adventures. The Fort Nisqually Living History Museum is always a family fun adventure, and this region holds lots of special events throughout the year.
Downtown Tacoma can be a challenge to navigate by car, especially during rush hour, and many experienced visitors to the area recommend taking the available public transportation options if wanting to see the sites without the traffic hassles.
Wander the old-fashioned streets of this Bavarian-inspired town that are simply enchanting to see in person. Leavenworth is about a 2 1/2-hour drive from Seattle and makes an ideal option among possible day trips with or without kids in tow. Lake Wenatchee offers a wealth of exciting water-related activities such as boating and more.
Take a hike along the nearby trails that meander through the trees, plan to go horseback riding, or bike the nature paths full of delightful glimpses of area wildlife and gorgeous wild floral blooms and other plant life found in this laid-back setting.
The scenery is pretty all year round, but the fall season here is memorable for the boldly colored foliage that gives the land here a refreshing and crisp atmosphere.
Plan some shopping downtown in the quaint shops that are reminiscent of life in an earlier era where everyone is friendly and willing to help anyone else when needed. Leavenworth also holds yearly festivals that are known to attract large crowds each season.
6. North Cascades National Park
Many individuals have seen stunning postcards and pictures of the beautiful North Cascades National Park. The sparkling and vibrant blue-green waters amidst the splendor of glaciers and mountain forests of pine and conifer trees are something that must be seen up close and in person to fully appreciate the glorious scene.
During the winter months, plan to ski on the snowy alpine peaks at the Mount Baker Ski Area or opt to hike along the slopes of Mount Shuksan. There are terrific camping sites here, but many prefer to take day trips. Drop by Diablo Lake at some point, as this destination offers breathtaking views from this higher vantage point.
The park provides outstanding hiking trails and rugged vistas of intense natural beauty not seen elsewhere.
7. Olympic National Park
Considered a rainforest, Olympic National Park is a huge expanse of mostly untouched and pristine wilderness region that is now under protection. This is done to keep this region's unique and unspoiled ecosystems safe from harm while preserving valuable and scarce natural resources.
It is possible to spend weeks and more exploring all the diverse wildlife and other natural area eco-systems, but there are some great shorter day trips too. Olympic National Park is about a 2 1/2-hour drive from Seattle.
Head towards dense and vibrantly green Hoe Rain Forest walking the short trail here or make Hurricane Ridge your destination instead. This scenic road trip takes you through charming towns and sandy beaches that are mostly wild and untamed with incredible marine treasures to see and appreciate.
There are some splendid and convenient tours that take passengers from Seattle to this invigorating natural wonderland. Parents can relax and enjoy the panoramic views during the trip, so bring along your camera for memorable shots that will be cherished for a lifetime.
Despite the Spanish-sounding name, these lovely island retreats are located northwest of Seattle. The travel time is about 2 1/2 hours with an hour-long ferry ride. One ferry boat also carries cars across the water, and there are three islands that the ferries serve that include San Juan Island, Lopez Island and Orcas Island.
Each island offers totally different and unique activities to enjoy. There are superb overnight and extended stay accommodations, but it is possible to make this a day trip. Along with the ferry service, these islands may also be accessed by private plane or boat as well. Using private and faster transportation cuts down on the travel time.
Activities to enjoy on the islands include whale watching, swimming, hiking, kayaking. Many visitors also enjoy the laid-back and delicious waterfront dining venues and specialty shops and boutiques to explore in Friday Harbor.
This smaller town is home to the gorgeous tulips that are at full bloom in April during this area's popular spring Tulip Festival that draws many. There are many impressive and trendy shops that sell a wide variety of retail items, and visitors can watch local artisans work at Handmade La Conner and/or shop their beautiful wares. The compact and convenient collection of boutiques, restaurants and other venues are easy-to-walk and offer unique items.
Visitors are amazed by the peaceful atmosphere that this pastoral landscape exudes, and there is a top-rated art museum situated in the center of the upbeat and friendly town. Plan to tour the tiny marina here and relax along the leisurely flowing Swinomish Channel after eating at the divine Seeds Bistro for a blissful escape from everyday stressors. La Conner is about 2 hours from Seattle ensuring its place as one of the best fun and relaxing day trips around.
A simple day trip that's fun for children, teens and adults is a day trip to Vashon. Catch the handy ferry from West Seattle, then drive a few scenic roads to reach your destination. Get wet and soak up some mud and fun at the Vashon Island Beach Park.
Stop for a chance to enjoy the candy wall at The Little House and grab a fun toy. Relax and warm up on cooler days by drinking hot chocolates or lattes at the popular Cafe Luna. Take time to visit the still-working lighthouse at Point Robison Park before you head home.
Honorable Mentions
Due to the nature of the Pacific Northwest, there are dozens of ideas that didn't make the list. If none of these ideas suit your fancy, here are a few more honorable mentions that will definitely make for some amazing family memories.
Drive Up to Vancouver
Vancouver is an amazing city with insanely good food, museums, and countless activities. You will need passports for you and the whole family but it is 1000% worth the effort and time.
Mount Rainer
Rainer national park is coveted as an amazing national park that attracts thousands of visitors every year! Located just a short 2 hours away from Seattle, this national park has plenty of hiking trails, nature areas, and tons of opportunities for your kids to learn about the natural world!
Find more amazing day trip destinations from major U.S. cities here.
The image featured at the top of this post is ©Artazum/Shutterstock.com.