Los Angeles, CA, is one of the most popular tourist destinations in the United States and the world. Sojourners travel to America's second-largest city to see celebrities, stand in the epicenter of the entertainment industry, and soak in the sun and typically warm temperatures.
That said, however, some visitors might wish to leave the large metropolis for a time and check out other places and attractions the surrounding regions offer. Fortunately, the Los Angeles area provides numerous opportunities for memorable day trips supplying fun for the entire family. Here are 10 great day trips from Los Angeles.
This quaint town is situated in California's Santa Ynez Valley region that was settled by Danish settlers. The location's Scandinavian heritage is evident in almost every facet of its people, architecture, and food. Many travel industry professionals maintain that Solvang usually ranks in the top 10 of family day trips from Los Angeles because it introduces children to a different culture. Numerous homes and other constructions were built in the style of actual Danish villages. This little slice of Scandinavia offers the perfect backdrop for family photos.
Furthermore, visitors are afforded many options for which to sight-see. In addition to vehicles, the town houses various bike rental shops. Families truly yearning to get an insider's perspective are encouraged to ride the old-fashioned trolley car tours offered by townsfolk. Or perhaps exploring by horse-drawn carriage is more your thing.
Kids and adults who are interested in different animals can check out Ostrichland, which is home to the unique birds of the same name. And when a day of sightseeing concludes, families can refuel at any of the town's numerous eateries. Many of these establishments are known for crafting sweet Danish pastries.
Solvang is approximately two hours from Los Angeles.
Wrightwood
Everyone knows that Los Angeles and the southern California region is known for its abundant sunshine and palm trees. That said, locals and visitors yearning for snow and cold might find such phenomena at a destination called Wrightwood. This location is found high up in the San Gabriel Mountains about an hour and a quarter from downtown Los Angeles.
Wrightwood boasts a winter paradise called Mountain High Resort, where revelers can engage in activities such as snow ball fights, building snowmen, and creating snow angels. Families who wish to remain out of the snow can still enjoy Wrightwood's beautiful scenery by renting a bike and pedaling throughout its grounds. History buffs will love the Wrightwood Historical Society and Museum. Moreover, the tourist attraction is home to several kid-friendly eateries serving popular children's fare like pizza and burgers.
Wrightwood is about a one hour and 15 minute ride from Los Angeles.
Lake Arrowhead is affectionately referred to as the mini Lake Tahoe. Located roughly 90 minutes from Los Angeles, this is an extremely popular destination for family day trips. Those who love water and water sports will feel right at home during excursions to this destination. Choose from swimming, boating, and water skiing. Individuals seeking quieter and less strenuous activities might enjoy observing the water fowl and other creatures that call the lake home.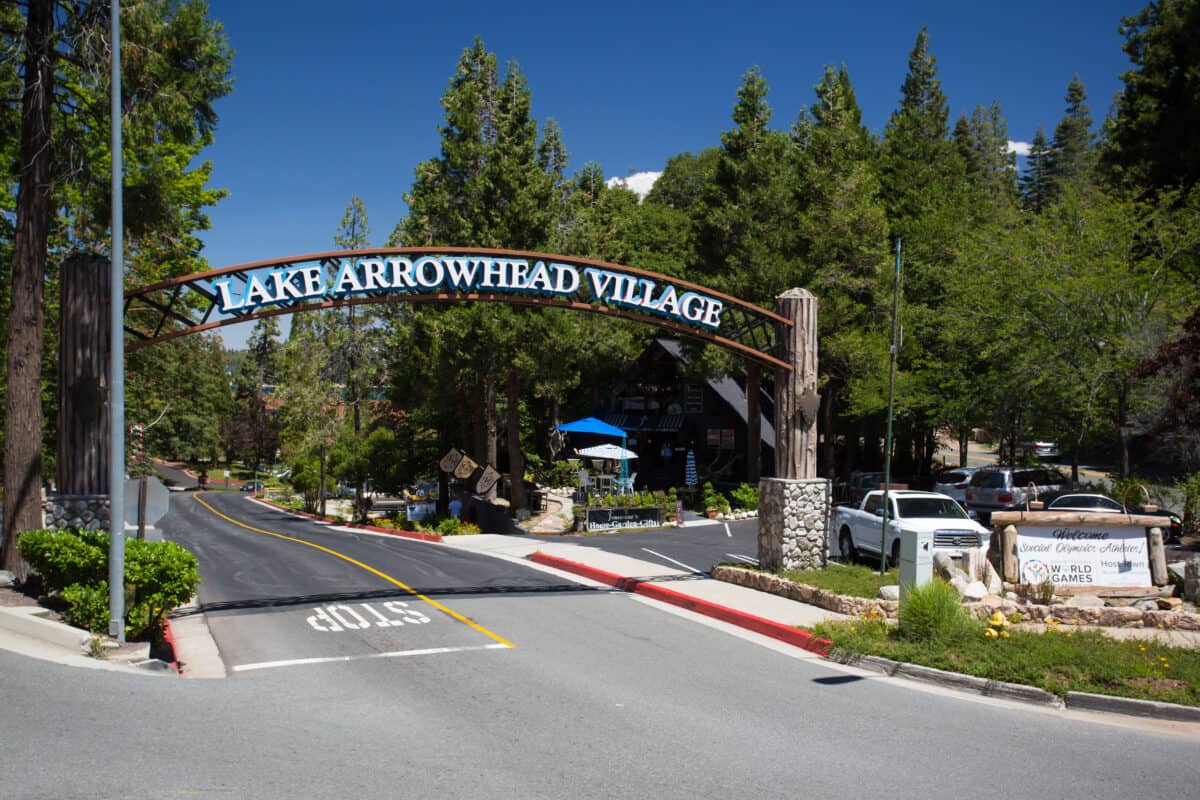 Parents looking for an educational spin on their day trips often favor Lake Arrowhead because its staff members offer lessons on nature, ecology, the environment, and wildlife at outposts like the Heaps Peak Arboretum and Wildhaven Ranch. Subjects desiring a greater view of the expansive grounds might opt for boat tours or rent a bicycle and challenge themselves on several cycling trails.
Additionally, Lake Arrowhead is also home to SkyPark at Santa's Village. This fun, family-friendly attraction features a bike park, roller rink, fly fishing, rock climbing and more. Additionally, grab a bite to eat there or snag a souvenir.
When visitors get hungry, they can enjoy picnic lunches on the lush green grass surrounding the lake. Those seeking fancier options are invited to venture into the vibrant town center harboring numerous restaurants offering a variety of culinary favorites.
Moorpark is home to Underwood Family Farms. This is the ultimate destination for families who are fond of nature and love spending time outdoors. The most optimal times to visit are the fall and summer. During the fall, farm folks offer visitors hayrides and the opportunity to pick the perfect jack-o-lantern in the expansive pumpkin patch. In the summertime, visitors often enjoy picking berries and other farm-grown produce.
Underwood Family Farms also serves an educational outpost where young people receive instruction on topics such as the importance of farming, the farming process, and the latest farming equipment.
The farm also houses an animal center sheltering a fair balance of commonly seen and relatively exotic creatures. Kids love the petting zoo, where young people can pet and pose with friendly farm animals.
Underwood Farms at Moorpark is about 45 minutes from Los Angeles.
Calico
Families hoping for adventure might head to Calico. This town located just under two hours from Los Angeles is home to an abandoned mining center turned into a tourist destination. It offers a significant amount of kid-approved fun such as the Mystery Shack, Maggie Mine, and the Odessa Railroad, all attractions at the Calico Ghost Town. Those yearning to follow in the footsteps of the historic California gold prospectors can search for the precious metal at the Gold Panning Adventures Center, also located on the property.
Additionally, caricatures of the town's legendary figures continually roam around the town's streets to meet, greet, and pose for pictures with visitors. The town is also home to several restaurants offering various culinary choices.
Palm Springs
This desert oasis is a popular getaway for Los Angeles's celebrity set. That said, the city has morphed into a preferred excursion for family day trips. Roughly 90 minutes from Los Angeles, Palm Springs harbors countless family-style resorts with amenities such as pools and nice restaurants. Families who enjoy sports like golf and tennis have ample opportunity to partake in such events.
Persons who enjoy hiking are encouraged to test their mettle at the famed Indian Canyons, which is touted for providing several challenging courses. Those favoring a calmer activity like horseback riding might wish to visit CottonWood Canyon Ranch.
However, many choose to absorb the picturesque tranquility Palm Springs has to offer. Palm tree-lined streets draped by a mountainous background provide countless memorable photo opportunities.
Santa Barbara
Though sometimes overlooked, Santa Barbara is continually growing as a popular southern California family day trip destination. Families with children who love animals are urged to stop by the Santa Barbara Zoo, which is home to hundreds of creatures and animal exhibits. The MOXI Wolf Museum for Innovation and Exploration is another educationally based destination housing numerous exhibits celebrating innovations in science and technology.
That said, an appreciable number of people head to Santa Barbara to spend time along its famous coastline. Those desiring more time on the sea should consider taking a boat tour traveling to interesting destinations like the nearby Channel Islands.
Another prime point of interest is the Marine Sanctuary. Visitors can rake in the beautiful sea visuals or opt to challenge themselves on kayak rides.
Santa Barbara is a little more than an hour and a half from Los Angeles.
This major city situated roughly two hours from Los Angeles provides countless fun family excursions. San Diego is home to the world-famous San Diego Zoo. Moreover, the destination harbors 11 public beaches. Included among such sandy outposts is a child-friendly location called Children's Pool, which is partially sheltered by a seawall.
Families looking for more action are urged to visit Belmont Park. This landmark amusement park is located adjacent to a beach and boasts numerous rides and attractions. Other prime family attractions found in San Diego include Legoland and SeaWorld.
Baseball fans visiting during the spring, summer, and early fall might opt for a visit to the exciting and modern Petco Park to watch the home Padres ply their craft.
Malibu Creek State Park, located in Calabasas, CA, features a body of water, which runs an astounding 25 miles, sits in the backdrop of the Santa Monica Mountains and serves as an incredibly desirable destination for outdoor-loving families. Naturally, the place is the perfect spot for swimmers, fishing enthusiasts and wildlife observers. Persons interested in seeing the rest of the park may do so by exploring the several hiking and cycling trails offered.
Families who enjoy camping out can do so at any one of several family-friendly campsites on the park's grounds. These facilities typically offer basic amenities including showers, grill pits, picnic areas, and water supplies. That said, they tend to fill up quickly, so travelers are implored to reserve their spots well in advance of their anticipated arrival.
Malibu Creek State Park is 45 minutes from Los Angeles.
Catalina Island
Catalina Island is one of the more popular family day trips taken by those living both inside and outside of Los Angeles. The excursion to this ocean-surrounded destination begins with a one-hour ferry ride leaving from ports at Long Beach, San Pedro, Dana Point, or Newport Beach. Upon arrival in Catalina, visitors can participate in various tours, engage in extreme sports like paddleball and kayaking, or partake in more common endeavors like swimming, sunbathing, and beach side strolls. One highlighted undertaking for families to consider is cruise on a glass-bottomed vessel. Such an outing offers breathtaking views of the plant and sea life below the ocean's surface.
Find more amazing day trip destinations from major U.S. cities here.
The image featured at the top of this post is ©Chones/Shutterstock.com.