Portland is a fun, quirky city that can make for a wonderful family vacation, but it isn't the only destination worth visiting in Oregon. Here are just a few day trips from Portland that can keep the good times rolling!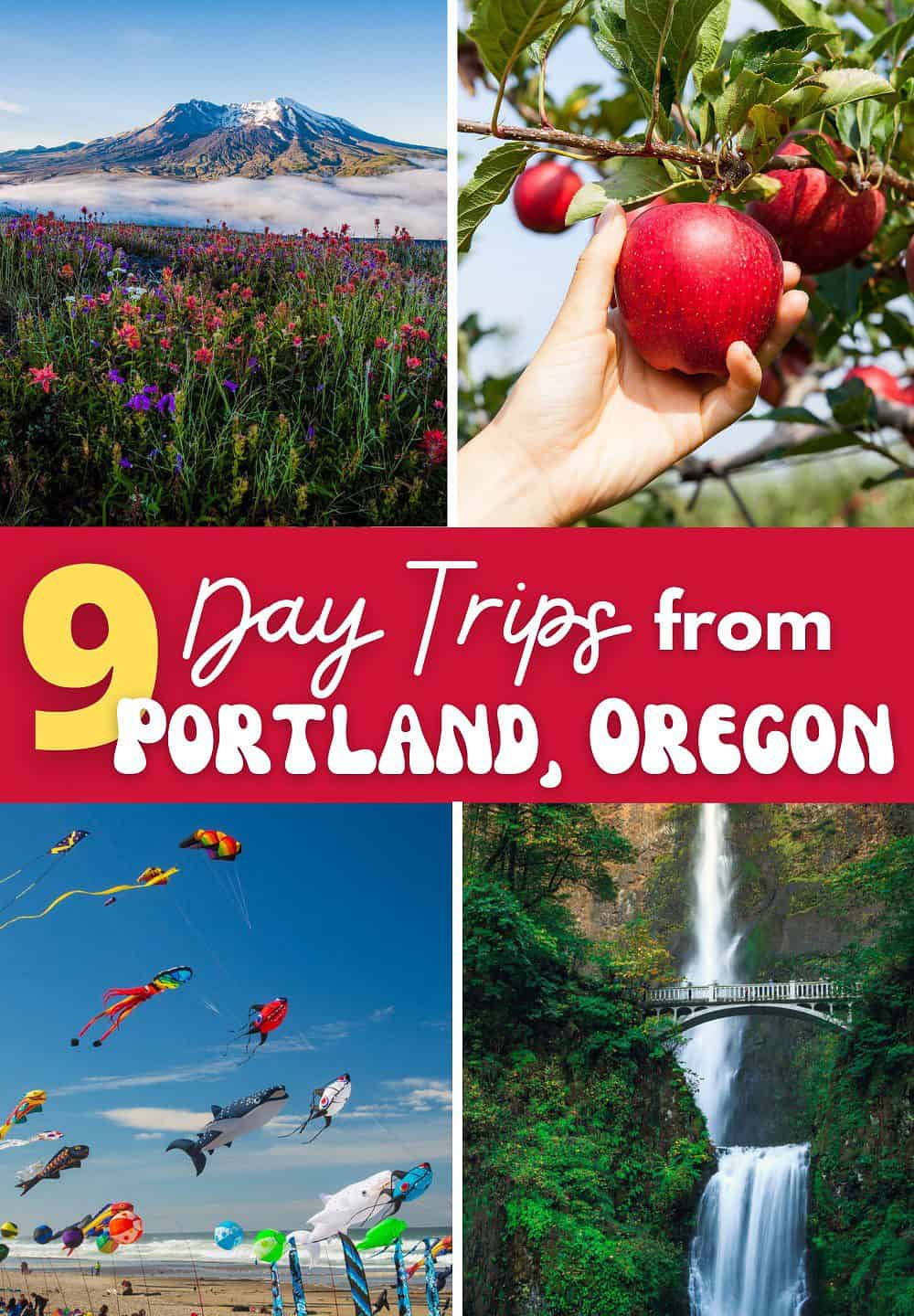 Columbia River Gorge
Located right along I-84, the Columbia River Gorge is a popular destination for Portland day trippers. Its proximity makes it easy to reach in less than 30 minutes, and its scenery is lush, green, and almost jungle-like. You definitely won't be in Portland anymore, Dorothy!
Hot spots at the gorge include 90 different waterfalls, including Multnomah Falls, the tallest in Oregon. You can check them out on a scenic drive along the Historic Columbia River Highway, or you can park the car and go on a hike to Crown Point or Mount Defiance, two well-known lookouts for sunsets over the canyons.
Another popular pastime is windsurfing. The unique geography of the gorge creates wind tunnels of up to 35 miles per hour, so windsurfers from all across the country flock to places like The Hatch, where the land meets the sea in perfect conditions for taking flight.
If you're an outdoorsy family, you won't want to miss the many adventures to be had at the Columbia River Gorge. There's a reason why Portlanders love it!
Lincoln City
Offering beaches, kite festivals, sandcastle competitions, and all of the saltwater taffy that you can eat, Lincoln City is a lively tourist town just two hours south of Portland. Your vacation options will depend on when you visit. There are actually two Lincoln City Kite Festivals, one in the summer and one in the fall, and there are a number of other seasonal events that range from the Great Oregon Coast Garage Sale to the Lincoln City Arts Week. Spring breakers might enjoy The Festival of Illusions in March. Ghost hunters will appreciate the Haunted Taft in October.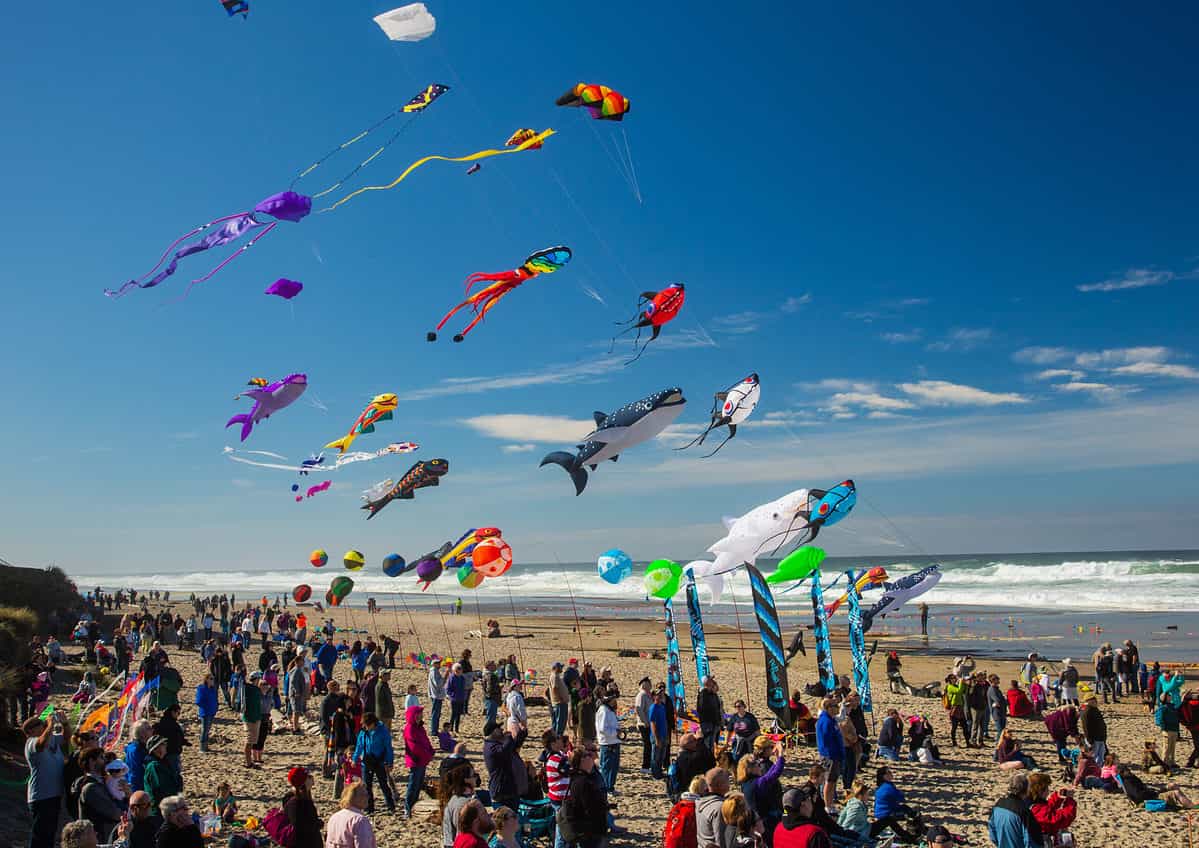 Other tourist attractions are available year-round, especially for nature lovers. One of the most stunning sights is Drift Creek Falls, a waterfall poised over a suspension bridge 100 feet in the air! Bring your sweet tooth and a taste for adventure to Lincoln City. You'll be able to satisfy both.
Mount St. Helens
Though it's located across state lines in Washington, Mount St. Helens is just a two-hour drive from Portland, and it's worth the extra mileage. How many times in your life will you get the chance to see an active volcano?
Adventures on the rock include everything from ziplining through the trees to camping under the stars. You can also go hiking, biking, horseback riding, four wheeling, and helicopter touring. Climbing is allowed, but you'll need a permit.
If you're traveling with kids who aren't quite ready to go mountaineering, more leisurely activities might include a trip to Mount St. Helens Visitor Center with its seismographs and model volcanoes.
No matter what you do, however, a trip to Mount St. Helens is the kind of vacation memory that'll last a lifetime. It's a real volcano! It just doesn't get any cooler than that.
Tillamook
Are you a cheese connoisseur? You won't want to miss Tillamook. It sits at the heart of Oregon's "dairy country," and in addition to notable attractions like the Tillamook Creamery, it also offers an exciting time for culinary enthusiasts of all types. The Tillamook County Fair, for example, is an annual event filled with sundaes, hot dogs, elephant ears, and cheese curds. You'll be so stuffed that you might actually miss other attractions like its demolition derbies or Pig-N-Ford races.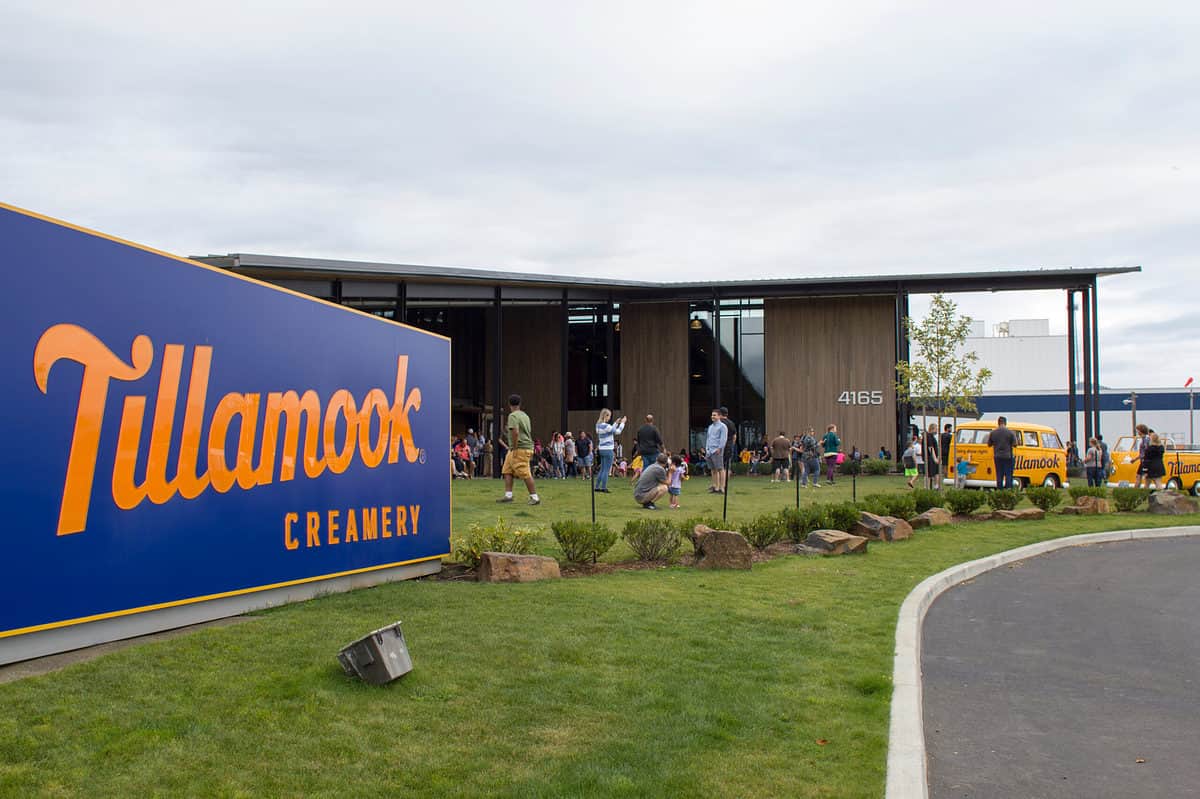 If you're lactose intolerant, don't worry; you can have fun in Tillamook, too. Just visit non-foodie destinations like the Tillamook Air Museum, or sign up for outdoor excursions with groups like Kayak Tillamook County. It's actually known as something of a kayaking hot spot thanks to its proximity to freshwater river currents. Tillamook Bay is always quite lively in the summer.
All in all, Tillamook is a unique destination that you won't want to pass up. It's less than 1.5 hours away from Portland, so it's easy day trip material, and it has a unique calling card for cheese and daisy lovers. Who's in the mood for some ice cream?
Willamette Valley Wine Country
Home to more than 600 wineries, Willamette Valley Wine Country could arguably put Napa Valley to shame. Its rolling hills and valleys look like the very portrait of a vineyard utopia. You don't have to drink, however, to appreciate the beauty and tranquility of the area. And you don't have to travel far: Portland is technically located within the area along with cities like Eugene and Salem.
What distinguishes the valley from the rest of Oregon is its beautiful scenery, small-town charm, and interconnected network of businesses. The South Willamette Valley Food Trail, for example, is comprised of more than 50 different restaurants committed to sustainable, farm-to-fork practices. There are also family-friendly farms along the route where kids can pick apples, take hay rides, and run among pumpkin patches.
Willamette Valley Wine Country might be a big region, but it'll give you a warm and fuzzy feeling, and you won't even have to drink a glass of Pinot noir to get it.
Mount Hood
Another great outdoor destination, Mount Hood offers stirring sights that will take your breath away with their natural beauty. Between fields of wildflowers and crystal-clear lakes framed against misty, snow-capped mountains, it's the kind of destination that'll make you stop and stare for awhile.
Once you get over your awe, however, you'll find plenty of activities to keep you busy. Trillium Lake offers equipment rental for boating, fishing, and camping, and Mirror Lake adds skiing and snowshoeing to the mix. You can also hike, bike, and picnic along nature trails such as the McNeil Point Trail.
If you're really in the mood to challenge yourself, try trekking to local waterfalls like Ramona Falls, a hidden gem tucked away in the woods after a seven-mile hike.
Mount Hood is a gorgeous destination year-round, and since it's only 60 miles east of Portland, it can make for an awesome day trip as well.
Eugene
If you're looking for day trips from Portland that are just as exciting as what you're leaving behind, consider Eugene. It's chock-full of tourist attractions ranging from the Cascades Raptor Center to the Eugene Science Center. You could spend days in Eugene and still not finish with everything on your itinerary!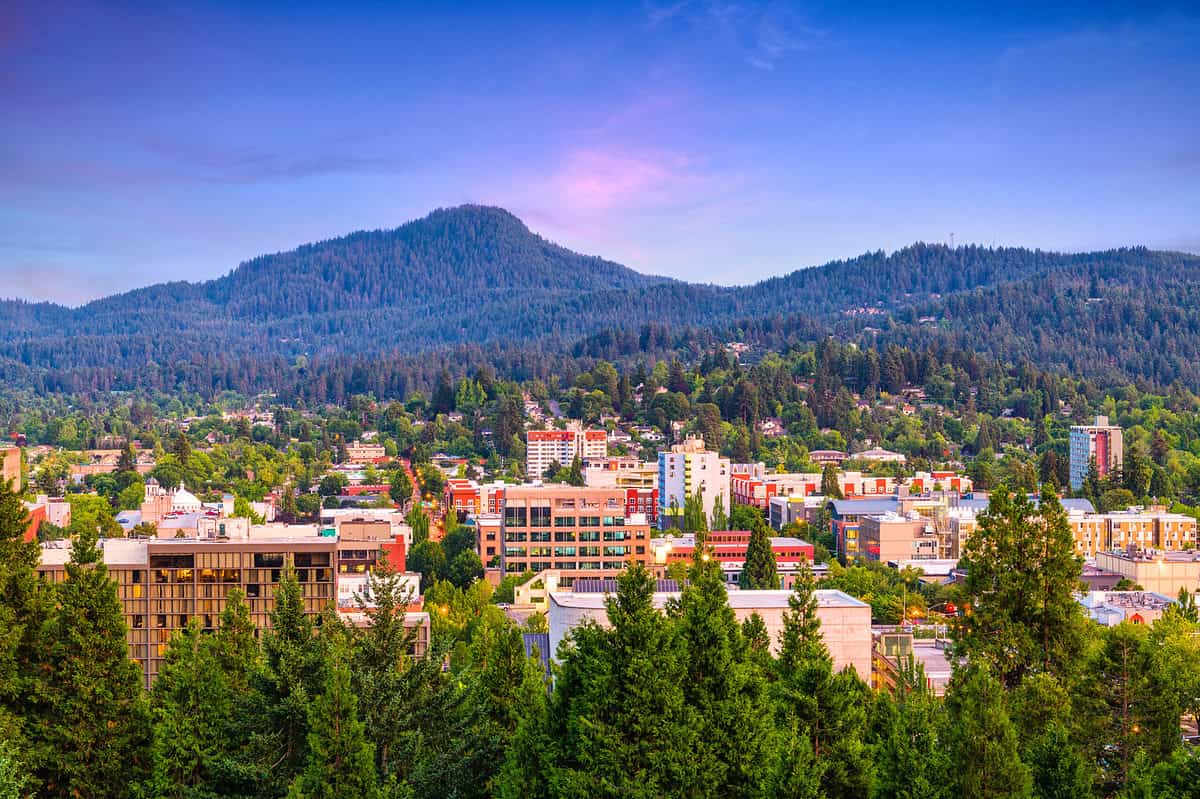 You can give it a try, however, by circling the city based on your interests. For example, history buffs might like the Shelton McMurphey Johnson House with its Victorian tours and tea times. Shopaholics might enjoy the festival-like atmosphere of the Eugene Saturday Market with its many vendors, crafters, foodies, and music performers. Nature lovers might dig the Owen Rose Garden, especially since it has free admission.
Eugene is a top-notch tourist destination in its own right, so it'll be excellent as a day trip from Portland. The only bad thing about the city is that, with so many entertainment options, you won't know where to start!
Sauvie Island
Fun for kids and adults like, Sauvie Island is known for its family-friendliness. Its most famous feature is its large number of farms, orchards, nurseries, and gardens, many of which are open to the public for fruit and vegetable picking. Just a few examples are Topaz Farm, Sauvie Island Farms, and Columbia Farms U-Pick.
Many of these farms offer other wholesome activities as well. For example, Pumpkin Patch has corn mazes, hay rides, and a live animal barn.
When you're done petting goats and stuffing yourself with fresh-picked berries, consider a kayaking trip around the Multnomah Channel or a sightseeing adventure at the Warrior Rock Lighthouse. There are tons of tourist attractions available on Sauvie Island, so it's just a matter of figuring out where you want to go and what you want to see while you're there!
Cannon Beach
It would be a shame to visit the Pacific Northwest without hitting up its most iconic beaches, so after you've had your fill of Portland, take off your shoes and dig your toes in the sand of Cannon Beach. It offers sweeping coastline views that are so beautiful they're actually cinematic: Haystack Rock has been featured everywhere from The Goonies to Kindergarten Cop.
Other things to do at the beach range from exploring tide pools to watching tufted puffins at play. If you feel like driving a little further north, you can also visit Ecola State Park, which is a part of the Oregon Coast Trail (OCT) and includes many historic landmarks such as the Tillamook Rock Lighthouse.
There's no beating the beach for fun, family-friendly vacation time. While Portland has several of its own, you can also hit up Cannon Beach for further splashing under the sun!
These are just a few of the best day trips from Portland. Whether you're looking for high-stakes ziplining excursions or leisurely trips through pumpkin patches with the kids, Portland can be a gateway for many adventures along the Oregon coast.
Find more amazing family-friendly day trip destinations here.
The image featured at the top of this post is ©Dene' Miles/Shutterstock.com.